Sam Boyd Stadium
Las Vegas

,

NV
Las Vegas
Monster Energy AMA Supercross Championship
Oh, you know the dreaded friend zone. You've either been in it or pushed someone else into it. You can try to pretend you're confused by it or don't understand it, but you know, deep down what it's all about.
"I don't understand! There's so much drama! Why can't she go for the nice guy?"
"If she would just commit to him things would go so smoothly!"
"It was there all along, right under her nose. Why doesn't she see it?"
Yeah, well, I'll tell you why, and, also, when I tell you it, I'll tell you what you already know. The reason why, is talent.
In the case of friend zone, the talent is the dude that brings the attention/drama/excitement, or just plain looks better or makes more money. The talent is the upside, the potential that things could go really, really well, and the thrill of trying to trap that potential and use it on yourself. Hey, rock stars are known as the most selfish, least reliable, least normal people on earth and yet chicks dig them because they have this one incredible talent very few people have—to write and play music—and, if you hook them, you'll know that while 50,000 people will pay money to watch them from hundreds of feet away, you actually get to go home with the guy, for free, and hang out one-on-one. He validates your hotness/prettiness/awesomeness (at least, he does when you're there. When you're not, he's, um, validating someone else). With the nice guy, you know you'll never have to deal with the (literal) highs and lows of a rockstar, but, you'll also never have a rockstar.
Anyone in the friend zone doesn't have that in them. The friend zone is predictable. You know it will never be bad, always be good, but also, never be stratospherically great.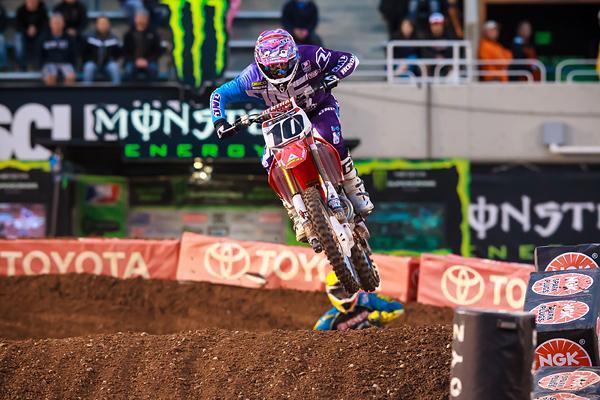 With the four of the big five out, the doors have opened for the likes of Justin Brayton.
Simon Cudby photo
In the case of racing, we are there, too. Like I touched on last week with Andrew Short, we have this group of great guys that hold beta status to the alpha dogs. With the Short/Weimer/Metcalfe/Brayton/Tedesco/Wey type of guys, you know what you get. You'll never hear a complaint that those guys aren't working hard enough. Blowing off fans or press. Seriously, you think Mike Webb has ever had to uttered the words, "Yup, just pulling my hair out trying to figure out how get Metty in shape." You think Kehoe is on the phone right now saying, "More Brayton drama today"? Larry Brooks is saying, "Be it Reed, Stewart or Short, they're all the same"?
These dudes are in so many ways good, but they don't present the upside on the track to be an alpha. That's why Ryan Villopoto will miss his third 450 MX tour in four years but never has to worry about Kawasaki unemployment. Ditto for Trey Canard with his injuries. That's why you're still hearing about Stewart drama. Those guys have the potential to win, and it's only when that potential seems completely exhausted that people move on. Most thought Reed's potential was extinguished in 2010, but it wasn't, because of his superhuman ability to believe in himself more when everything around indicates he shouldn't believe any longer. And that's exactly the type of personality trait that separates the alphas from the rest, as annoying as it can be at times. Oh, and because Reed has mass quantities of natural talent. Only when those things no longer help do those riders get thrown to the wayside. But, by then, the next alpha will have moved up from the Lites class!
Or, they can all get hurt at once.
That's the scenario we found this year, with five alpha dogs (as well as the in-a-class-by-himself Kevin Windham) all out injured. And suddenly, the spotlight is on the other guys.
In the movies, people can move smoothly from the friend zone to the heart of the matter, but that's only because in the movies, even girls and guys in the friend zone look like models. But I have to say, the last few weeks at the races have taken on a similar, movie-like quality.
It started with Short getting that feel-good win last week. Lots of stories, from his team falling apart and rebuilding around him, to the reappearance of his old KTM 350 trying to take his glory away.
But there's quite a dynamic brewing under the JGR tent with Millsaps as well. Many billed Millsaps as the guy with enough talent to actually become one of those alpha dogs, but he's never quite gotten there. He's been billed as lazy and an underachiever, and that could be true, but, you don't have to be lazy or an underachiever to not meet alpha expectations. For example, this year, Millsaps was not as fast as his teammate Stewart. Stewart passed him for the lead and the win at Daytona. And when it happened, we all knew Stewart wasn't going faster because he trained harder than Millsaps—he did it because Stewart is just on another level, talent wise. It's that alpha thing.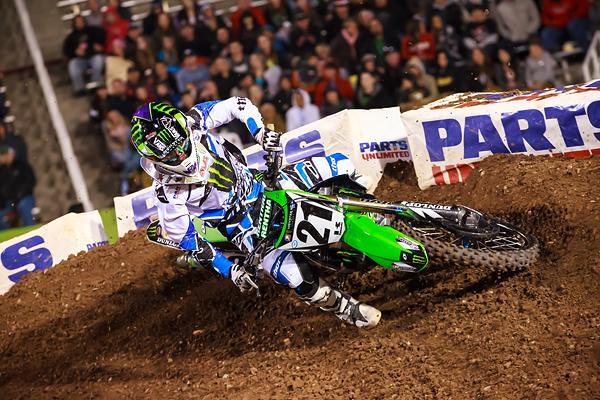 Weimer was hoping to grab that elusive first win at his home town race.
Simon Cudby photo
So maybe Millsaps has underachieved a bit based on his stellar amateur career, but it's hard to say how much he has left on the table. Could he really have reeled off a bunch of National and Supercross Championships by now if he was the world's gnarliest trainer? Not so sure about that.
Last year, though, he was the underachiever guy again on the JGR team. His teammate Brayton was the workhorse, while Millsaps, who was essentially replacing the high-flying, race-winning-for-the-team Josh Grant, struggled. And even when Millsaps did well for a brief spell early in the Nationals, most quickly chalked that up to "contract motivation." Yes, with Millsaps, no one ever seems quite satisfied.
Then this season he entered second-fiddle status to Stewart. Team Honda had spent a long time grooming Davi, hoping he would be their leader. JGR hoped for the same in 2011. It wasn't happening. For this season, he almost was left without a ride, and Coy Gibbs told us last week: "That was our fault more than anything because we had already committed a large portion of resources towards James and I only had X amount left. That was it and we were honest the whole time. We said this is what he have and go see if you can get more from someone else and if you can't, this amount is always here for you. And fortunately for him and us, it all worked out."
Millsaps was back, but now in the friend zone. Love and lust came for Stewart, just as it did for every other team's lead man. Not in support, either. Weimer and Villopoto get the same stuff at Kawasaki, as do Brayton and Canard at Honda. Ryan Dungey didn't get special parts compared to Brett Metcalfe at Suzuki last year. Aside from a trick tank-air box part for Stewart, Millsaps got the good stuff, too. But the special attention isn't quantifiable through parts. It comes through expectations.
But a strange thing started developing throughout a season and ups and downs for the JGR team, not unlike one of those movies. Here is Millsaps, once thought of as having the upside potential, but now basically given up on, showing up slimmer and better than before. Here he is causing zero drama. And, lo and behold, just as the Stewart/JGR relationship is headed to a breakup, what does Millsaps begin to do? He starts riding better!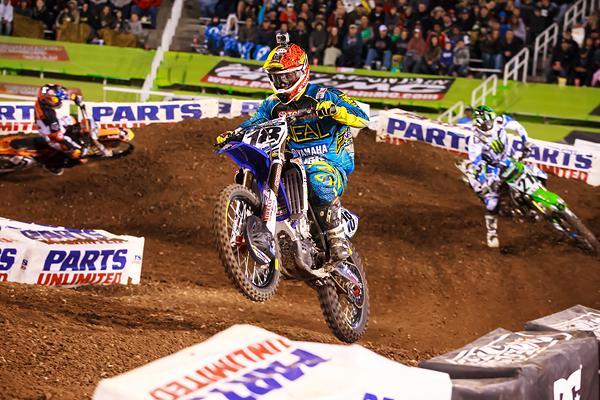 The night looked like it was going to belong to Millsaps (near) and Weimer (far right). But Dungey (far left) was lurking.
Simon Cudby photo
Last year, Millsaps was struggling and not getting the results, and being criticized for not putting in the effort. Because of that, maybe he had grown underappreciated by the team. And Millsaps, perhaps, was not fully appreciating his team, either. Things have started to get better, and easier, and over the last month or so, it seems like there's a little glean in the team's eye toward Davi, and Davi is looking at them in the same way. He was there for them in a time of need, and likewise, they were there for him.
And all of that brings us to Saturday in Salt Lake City. With injuries to so many stars, there's basically a two-race season (three, if you want to count Seattle) for the other guys to get a win. That includes Brayton, who just a few weeks ago seemed like the strongest of the bunch, but hasn't quite delivered lately. It includes Short, again. It includes Metcalfe, who is only the lead man on the Suzuki team because Dungey left. It includes Weimer, who would garner extra cheers since he grew up just two hours from Salt Lake City.
The vibe began in opening ceremonies, where riders were introduced in order of points. That made Brayton the next-to-last guy to come out, and Millsaps, for perhaps the first time in his career, the grand finale. And then Millsaps and Weimer win the heat races, and get out to a 1-2 start in the main event. For one of these dudes, the dream is going to come true! Weimer is going to get his first career 450 win, and do it for a team that just lost its star. Or, similarly, Millsaps is going to come all the way back from the career doldrums, from "we committed most of our resources to Stewart," to come all the way back to win a darned race. And these riders were right there, under our noses all along!
This was going to happen in Salt Lake City. Until, over the last four laps, reality set in: one of the lead riders was back.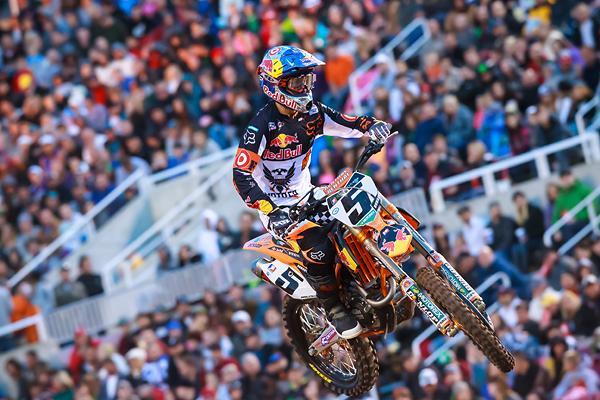 When all was said and done, it was Dungey taking the win in Salt Lake City.
Simon Cudby photo
Oh yeah that's right, Ryan Dungey was there. We kind of forgot about him due to six weeks off with an injury, the fact that he conveniently fell at Seattle before he had a chance to become a factor, and because he's Ryan Dungey, not at all flashy. To add to it, Dungey crashed just two turns into practice, and didn't really get to log fast laps throughout the day while Red Bull KTM massaged his bike into health. So, for most of the day, we're looking at guys like Weimer on top of the board and forgetting about Dungey—until, with four laps left in practice, Dungey finally got it back together, started clicking off laps, and magically ended the session on top of the board. He also made a big error on the first lap of his heat race, which allowed Brayton and Millsaps to get away (never mind that Dunge reeled them in once he got moving).
The night could of and should have belonged to Millsaps or Weimer. That's what the script writers would have wanted—Weimer getting one for the home folks, or Millsaps getting his boy's back, and they getting his. But it 'twas not to be. For Dungey, the upside is just too good, and in the last four laps, he was able to reel in and blow past Weimer (despite getting knocked down), and then track down Millsaps from three seconds back with three laps to go, take the lead and steal the win.
Third to first in the final four laps of the main. That lead group is still just too darned good.