Rice-eccles Stadium
Salt Lake City

,

UT
Salt Lake City
Monster Energy AMA Supercross Championship
A look at the results from Monster Energy Supercross in Salt Lake City will say that Red Bull KTM's Ryan Dungey took the win, but that doesn't at all explain how close the race for the victory was. For most of the race, and most of the day, it looked like Dungey didn't have a shot, in fact. The 2010 AMA Supercross Champion had only returned to action last weekend following collarbone surgery, and couldn't quite find his old form in his first race back. At Salt Lake City, he crashed early in practice and totally trashed his KTM 450 SX-F, causing him to miss most of the first two practices while his team made repairs. Only late in the final practice did he begin to find his stride, and on the very last lap of the final session, Dungey clicked off the fastest lap of the day It was a theme that would continue into the night.
After all, with 2011 and 2012 Monster Energy SX Champion Ryan Villopoto out with a torn ACL, and Dungey having his problems, quite a few riders were feeling like this was their chance to grab a breakthrough win. Chief among them was JGR Toyota Yamaha rider Davi Millsaps and Monster Energy Kawasaki's Jake Weimer, who won the heat races. Millsaps victory was epecially thrilling, as he overhauled Honda Muscle Milk's Justin Brayton late in a thrilling eight-lap race, which Dungey could only muster a third behind them. Then, in the main event. Millsaps just edged out in front of Dungey to get the early lead, and Weimer quickly shot past Dungey to take over second.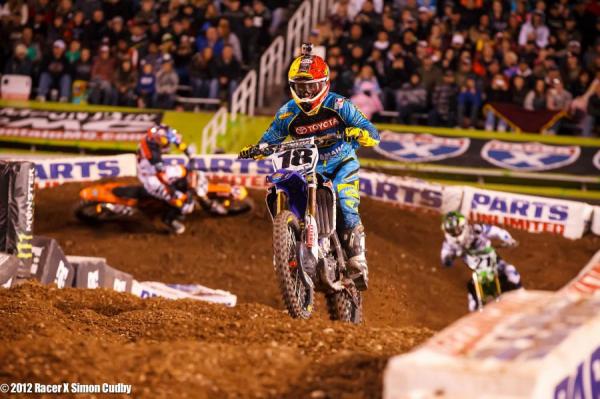 Millsaps jumped out to the early lead with Weimer and Dungey not far behind.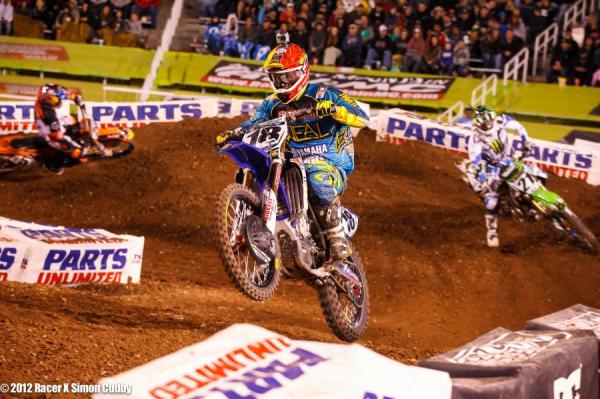 And that battle stayed close for the first half of the race.
Cudby photos
Weimer rode well and kept Millsaps honest, with Dungey starting to put things together after a few laps. Eventually Dungey found his groove and closed on Weimer, then got inside of Weimer on the left-handed sweeper across the start straight. Weimer and Dungey have had a few aggressive run ins this year, and a quick game of cat and mouse broke out as Dungey and Weimer slammed on the brakes and tried to cut underneath each other. Dungey stood Weimer up a bit to take second. Weimer wasn't happy and rode Dungey high in the next turn, and then did it again in the next and knocked Dungey down.
"I mean, I'm not going to be pushed around anymore," said Weimer.
"It was a little dirty," said Dungey. "Kind of caught me off guard, I thought I had it in there pretty tight, but he got inside of me and I hit the tuff blocks."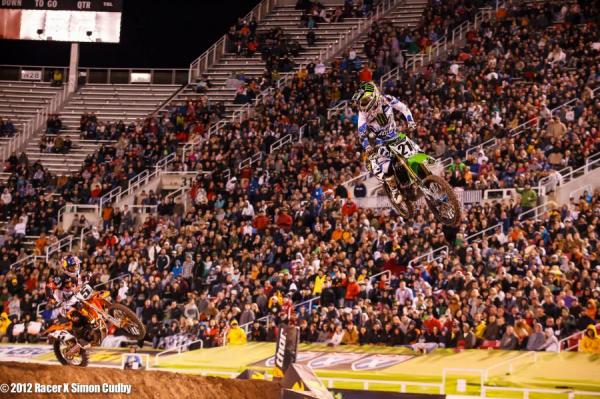 Weimer and Dungey went back and forth for second.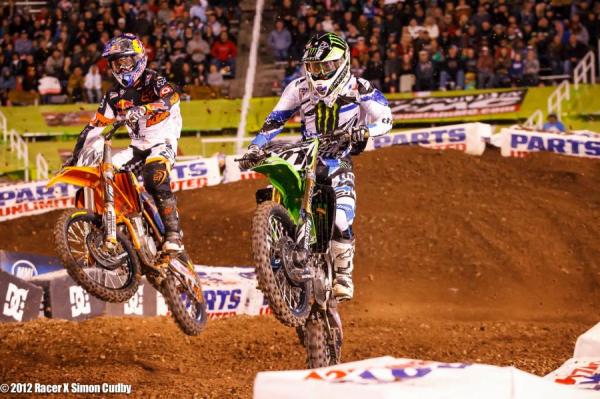 And at one point Weimer knocked the KTM rider down.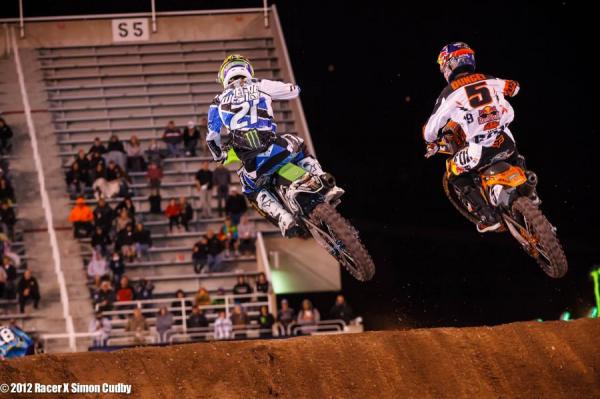 Dungey recovered quickly and was able to reel Weimer back in and make the pass.
Cudby photos
Meanwhile, Millsaps had built a 3.5 second lead by the halfway mark and was looking for his first SX victory in over two years.
Then Dungey got fired up. He started clicking off hard, fast laps, closing back in on Weimer after the knockdown. Everyone braced for a Dungey revenge pass, but he didn't need it when Weimer made a bg mistake in a 90 degree turn, allowing Dungey to take the inside and take second in a clean pass.
Dungey then began closing slightly on Millsaps, but it appeared he wouldn't have time to catch him for the win, until Millsaps started to get jacked by lapped traffic. Then, on the 18th lap, Millsaps made a huge mistake in a rhythm lane, as a lapped rider cut into his line and forced him not to use the proper timing through the section. Dungey shot past to steal the lead just before the white flag came out. Millsaps pushed hard and tried to retaliate on the last lap, but there was too much traffic to set up a pass, and with that, Dungey was on his way to his third win of the year.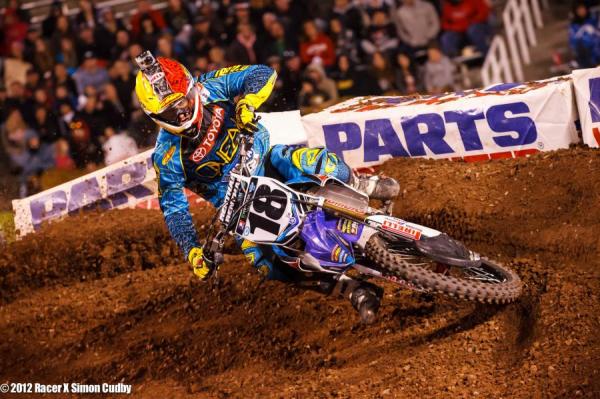 It looked like Millsaps had this one...until lapped traffic slowed him enough to lose the lead.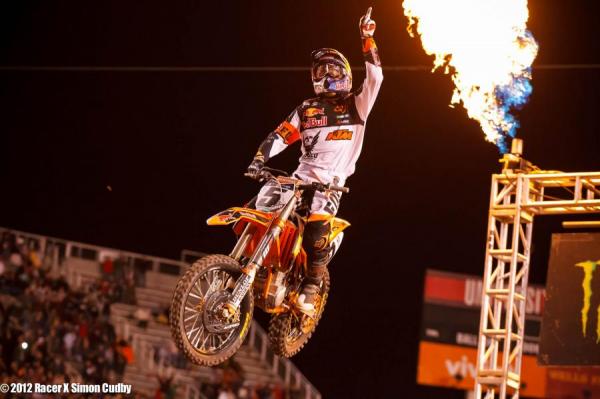 Dungey is back after missing a few races with a broken collarbone and surgery.
Cudby photos
Millsaps took second—surely disappointed after leading 18 laps—while Weimer ended up third. Brayton got a bad start in the main event but came back for fourth, and Motoconcept's Mike Alessi rounded out the top five in a solid ride. Monster Energy Pro Circuit Kawasaki's Broc Tickle was sixth, wth last week's winner, Andrew Short, seventh. Josh Grant took eighth on his Jeff Ward Racing/DNA Energy Kawasaki, and Dodge/Sycuan/Hart & Huntington's Tyler Bowers rounded out the top ten.
Main Event
1. R. Dungey
2. D. Millsaps
3. J. Weimer
4. J. Brayton
5. M. Alessi
6. B. Tickle
7. A. Short
8. J. Grant
9. R. Kiniry
10. T. Bowers
11. M. Goerke
12. W. Peick
13. N. Wey
14. G. Faith
15. J. Thomas
16. C. Blose
17. K. Chisholm
18. J. Albertson
19. K. Regal
20. B. Metcalfe
Heat 1
1. J. Weimer
2. A. Short
3. B. Tickle
4. M. Alessi
5. K. Regal
6. B. Metcalfe
7. G. Faith
8. K. Chisholm
9. J. Thomas
10. J. Grant
11. P. Mull
12. A. Enticknap
13. C. Gilmore
14. C. Howell
15. K. Urquhart
16. B. Ripple
17. M. Akaydin
18. D. Vawser
19. C. Schlacht
20. B. Hall
Heat 2
1. D. Millsaps
2. J. Brayton
3. R. Dungey
4. T. Bowers
5. M. Goerke
6. J. Albertson
7. C. Blose
8. N. Wey
9. W. Peick
10. R. Kiniry
11. A. Politelli
12. J. Sipes
13. M. Horban
14. A. Ray
15. J. Potter
16. J. Oswald
17. J. Odriscoll
18. R. Clark
19. G. Crater
20. R. Noftz
LCQ
1. R. Kiniry
2. J. Grant
3. J. Sipes
4. R. Clark
5. M. Horban
6. A. Enticknap
7. C. Gilmore
8. A. Politelli
9. P. Mull
10. G. Crater
11. J. Oswald
12. C. Howell
13. A. Ray
14. B. Ripple
15. K. Urquhart
16. J. Odriscoll
17. M. Akaydin
18. J. Potter
19. D. Vawser
20. R. Noftz
21. B. Hall
22. C. Schlacht

Supercross Class Season Standings
1. Ryan Villopoto, Poulsbo, Wash., Kawasaki, 323
2. Davi Millsaps, Murrieta, Calif., Yamaha, 244
3. Justin Brayton, Fort Dodge, Iowa, Honda, 237
4. Ryan Dungey, Belle Plaine, Minn., KTM, 232
5. Jake Weimer, Rupert, Idaho, Kawasaki, 211
6. Mike Alessi, Hilliard, Fla., Suzuki, 192
7. James Stewart, Haines City, Fla., Yamaha, 178
8. Brett Metcalfe, Lake Elsinore, Calif., Suzuki, 174
9. Kevin Windham, Centreville, Miss., Honda, 166
10. Broc Tickle, Holly, Mich., Kawasaki, 161
The Lites class was a shocker right off the bat. Rockstar Suzuki's Jason Anderson plowed into Ryan Sipes, who won last weekend's race, in the first turn….of the parade lap. It was a hard hit, but both riders got up. Sipes never fully recovered, however, and pulled out of the race about halfway through. But things went much better for Anderson, who pulled the holeshot in the main and immediately started pulling away!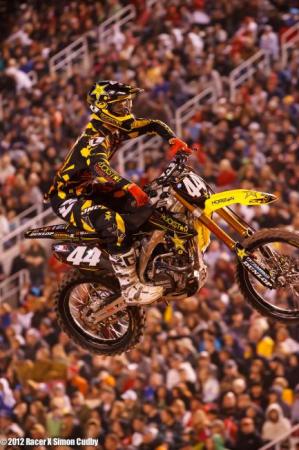 Jason Anderson got off to the best start of his pro career by leading early.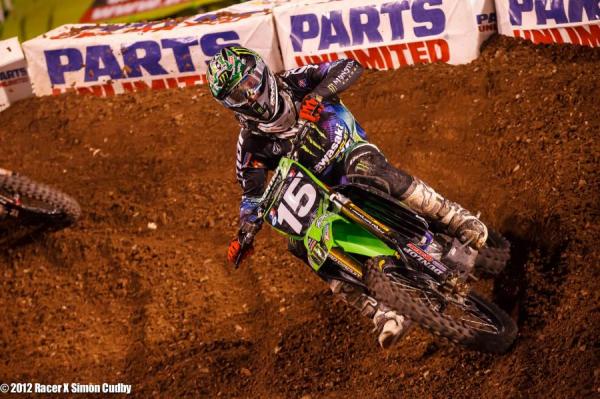 Dean Wilson rode through shoulder pain to run second early.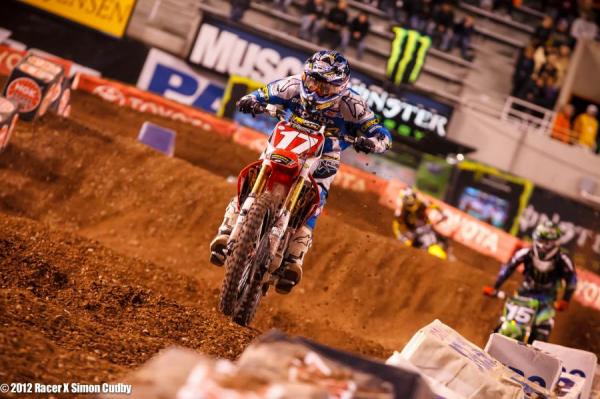 Eli Tomac didn't get a great start, but he came through to pass Wilson for second.
Cudby photos
Meanwhile, there was a focus on the championship battle between Monster Energy Pro Circuit Kawasaki's Dean Wilson and GEICO Honda's Eli Tomac. Wilson, sore shoulder and all, had won his heat race and looked good early in the main, moving up into second, ahead of Red Bull KTM's Marvin Musquin and Anderson's teammate Martin Davalos. But soon Wilson's title rival, Tomac, was on the move, charging from about 7th to challenge the leaders. Davalos tried a move on Musquin and couldn't triple, allowing Tomac to swoop past him. Moments later, Tomac pulled a slick move on the inside of the start sweeper to get past Musquin. That put him into third and started a battle with Wilson. Wilson made a few mistakes, allowing Tomac to close and set up duel. A few laps later, Wilson didn't get the final jump in a rhythm lane cleanly, and Tomac pounced by jumping to the inside and making a clean pass. Then Wilson could only double the next triple, allowing Tomac to get some breathing room. Still, at that point, Tomac stood to gain only two points on Wilson in the championship fight, which would have extended his lead to just six points with next weekend's Vegas finale yet to run.
At one point, Anderson had a lead of 5.2 seconds, but in the second half of the race, he began to falter, making big mistakes and allowing the Tomac/Wilson battle to close in. Tomac executed a quick pass to take the lead, and he checked out from there.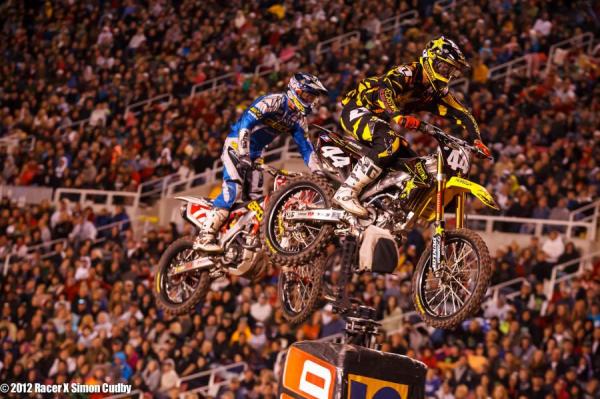 Old amateur rivals Anderson and Tomac hooked up in a battle for the lead, which Tomac won.
Cudby photo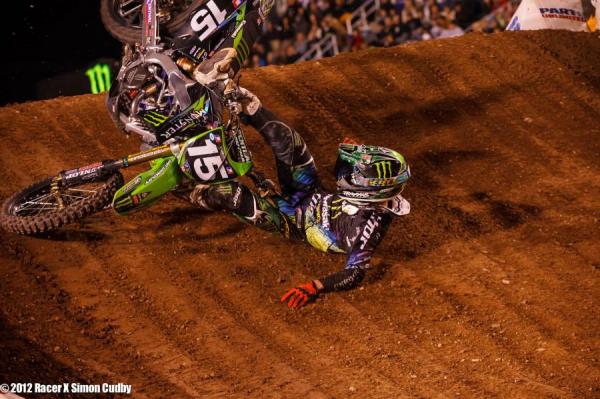 A Wilson crash suddenly opened the door for Tomac to secure the championship with one race left in the season.
Then, suddenly, the title picture changed completely when Wilson, running third, swapped in the whoops before the finish and crashed hard. Already ailing, that knocked him out of the race, and suddenly, surprisingly, Tomac was in position to wrap up the championship. A few laps later, he won the race, and combined with Wilson's 19th-place finish (and a DNS for Lucas Oil Troy Lee Honda's Cole Seely, who crashed out in practice), and Tomac had suddenly clinched the 2012 Lites West Championship!
"It's a dream come true!" said Tomac. "I definitely wasn't thinking about wrapping this up tonight, I just wanted to focus on winning the race. But now we'll have two number-one GEICO Honda's in Vegas. I can't wait!"
Tomac's teammate Justin Barcia clinched the East Lites title two weeks ago.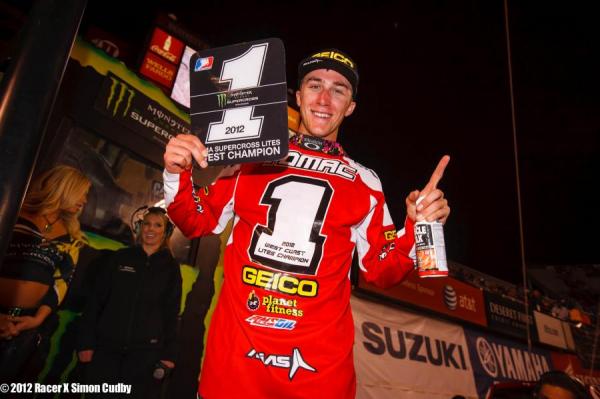 Avenging a close loss last season, Tomac is 2012 West Lites SX Champ.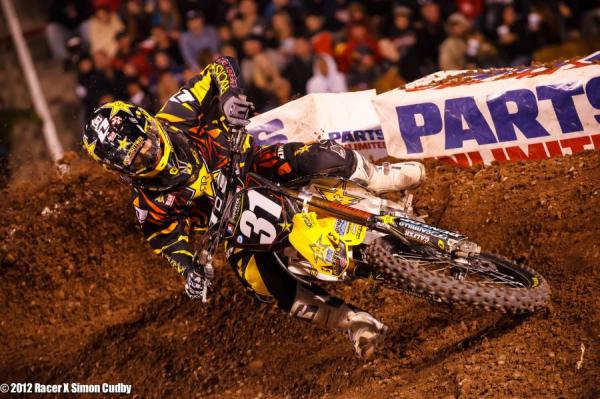 In a tough season, Martin Davalos finally grabbed a podium finish.
Cudby photos
Anderson and Davalos took second and third on their Suzukis, marking the first podium finishes of the season for either rider, and the first of Anderson's two-year pro career.
Main Event
1. E. Tomac
2. J. Anderson
3. M. Davalos
4. W. Hahn
5. M. Musquin
6. M. Moss
7. B. Laninovich
8. T. Ingalls
9. V. Friese
10. S. Champion
11. K. Rusk
12. L. Powell
13. P. Tilford
14. B. Hudson
15. C. Plouffe
16. R. Sipes
17. M. Tedder
18. T. Bright
19. D. Wilson
20. C. Jurin
Heat 1
1. D. Wilson
2. W. Hahn
3. M. Moss
4. R. Sipes
5. C. Plouffe
6. T. Ingalls
7. K. Rusk
8. M. Tedder
9. B. Hudson
10. P. Tilford
11. R. Smith
12. T. Bell
13. M. Alcorn
14. B. Rangel
15. B. Foster
16. J. Hicks
17. B. Nauditt
18. C. Church
19. C. Seely
Heat 2
1. E. Tomac
2. J. Anderson
3. M. Davalos
4. B. Laninovich
5. M. Musquin
6. V. Friese
7. L. Powell
8. T. Bright
9. C. Jurin
10. C. Martinez
11. J. Greco
12. S. Champion
13. E. Meusling
14. B. Gillespie
15. S. Rhinehart
16. D. Schmoke
17. R. Rangel
18. J. Withrow
19. T. Baker
LCQ
1. S. Champion
2. P. Tilford
3. R. Smith
4. T. Bell
5. J. Greco
6. E. Meusling
7. C. Martinez
8. C. Church
9. S. Rhinehart
10. M. Alcorn
11. B. Gillespie
12. B. Rangel
13. D. Schmoke
14. J. Withrow
15. B. Nauditt
16. R. Rangel
17. B. Foster
18. J. Hicks
19. C. Seely
20. T. Baker

Western Regional Supercross Lites Class Season Standings
1. Eli Tomac, Cortez, Colo., Honda, 159
2. Dean Wilson, Menifee, Calif., Kawasaki, 132
3. Marvin Musquin, Murrieta, Calif., KTM, 127
4. Cole Seely, Murrieta, Calif., Honda, 119
5. Jason Anderson, Edgewood, N.M., Suzuki, 95
6. Matt Moss, Murrieta, Calif., KTM, 92
7. Billy Laninovich, Riverside, Calif., Honda, 84
8. Ryan Sipes, Ekron, Kent., Yamaha, 83
9. Nico Izzi, Menifee, Calif., Yamaha, 78
10. Travis Baker, Temecula, Calif., Honda, 75