Rice-eccles Stadium
Salt Lake City

,

UT
Salt Lake City
Monster Energy AMA Supercross Championship
This win was for the 99 percent.
Andrew Short is the regular guy. He carries himself the way we wish all riders would, he digs the sport the way we do. In every walk of life, as a co-worker, a neighbor, a friend or a relative, Andrew Short would be your guy.
But in professional sports, we don't fixate on the regular guys. We go for the supermen. That's who we talk about, that's who we watch and that's who makes the big bucks. The supermen get the results, the points, the wins. But often the supermen, in everything else besides the results, aren't always as super as Andrew Short.
We all know Shorty is a great dude. And not just a nice guy, but a fun guy, too. That's where the Smiling Assassin nickname comes in. Andrew can somehow toe the line, first as the clean-cut family guy whose first words on the podium Saturday were, "First I have to give the glory to God" but also as a guy who is competitive and aggressive. And he's not shy about mixing things up. The first time I ever hosted the Supercross Awards Ceremony, in 2008, I went way over the top with the insult jokes and eventually ended up getting heckled and booed by what felt like the whole industry. I went to apologize to Shorty later on, but he said he loved it! And just a few weeks ago in Houston, Shorty was telling Matthes and I how he likes the articles that stir it up and drop an opinion—even if that article contains a bad opinion about him. In this business, most riders can't handle criticism in the press, even if it's true and warranted. Not Shorty. He wants to be treated just like anyone else would.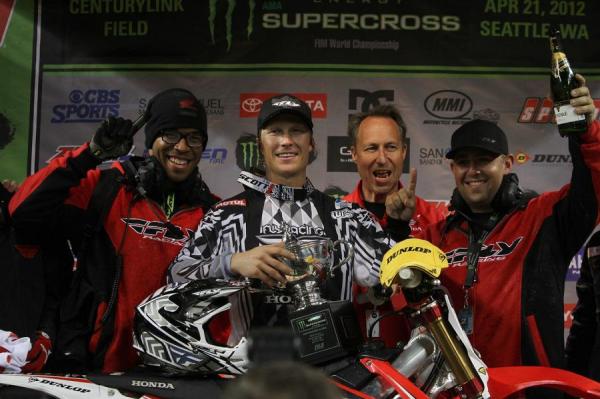 The nice guy finished first in Seattle.
BrownDogWilson photo
Because of this, you often hear, "Imagine if that guy was just a little bit faster. He would be the coolest, friendliest guy, and he'd also win the most races!" It's true, but those two things don't mix. Winning often requires some strange personality traits. We know racing is highly mental, and confidence is king. You can't be the down-to-earth regular guy and have supreme confidence that you're superior to others at the same time.
We all know nice guys finish last. Bosses who are jerks are not described as cool or nice, but sometimes being mean delivers the results. So maybe a star rider played a power game or got selfish. That makes him a jerk, but it also helped make him successful.
And even if, somehow, the regular guy does find a ton of success, that success is almost bound to change him in someway. When you're at the top, people start treating you differently. It's impossible to remain the regular guy, because you're living the most incredibly not regular life.
And so, Shorty's Seattle win is one worth remembering forever. We know he's the nice guy, and we know he'll never change. And for once, that guy won!
Andrew Short's regular guy status starts toward the end of his amateur days, when he was still attending classes at a regular high school. No home school for Shorty, instead, he followed the same path most of us would have, except, he was just fast enough to get some support. He won a title at Loretta's, transitioned into the pros with Team Green, and even got an ill-fated shot with Mitch Payton's Pro Circuit team. But Shorty wasn't destined to be an over night sensation, he was a workhorse. So he got some help from the fledging Motoworld.com Suzuki team and went to work. And that's when I first met Andrew Short, as we put together the "Colorado Issue" for Racer X Illustrated in 2002. I was assigned a feature story on him, where we noted fellow Colorado native Paul Lindsey served as his Team Manager. Throughout the interview, Shorty was way too humble about his potential. Most riders are positive throughout their interviews, usually going right up to (or, occasionally) over the line that divides confidence from cocky, and positive from arrogant. You usually end the interview thinking the rider is about to break through and win a ton, or, that the rider is crazy and needs a reality check. But Short was neither—he was just happy to be able to race dirt bikes. I actually started to wonder if Short had only gotten a ride through Lindsey's homestate hookup. After all, nothing that Short said seemed to indicate he'd be winning races soon.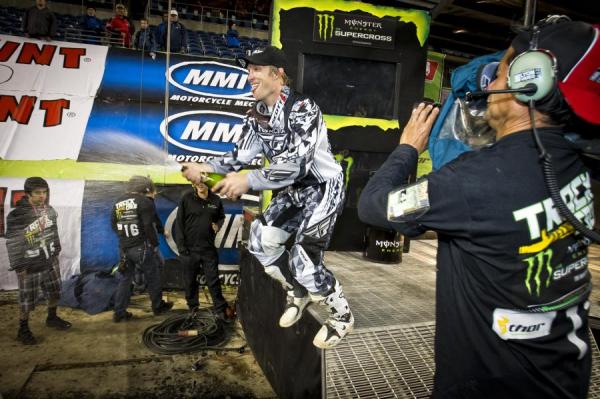 The always humble Short celebrates his first career SX win.
Garth Milan photo
But he did. He worked and worked and improved, and then won the Dave Coombs East/West Shootout the next year. In an interview, he later said he couldn't believe he had gotten good enough to just avoid being lapped!
At the races, Short was one of the first riders who recognized me and called me by name, and I remember a conversation at High Point in 2003, where Short was struggling. Just a few weeks after that Shootout win, Short told me he just wasn't man enough and tough enough, yet, to win outdoors. He admitted this! A year later, I saw Shorty sitting on a hay bale at Steel City, holding a bum wrist that would keep him out of the race. He wasn't mad, though, saying that, as a racer, you're eventually going to get injured, and he was just happy he had made it as long as he did.
By 2005, Short was a member of Team Honda. During Team Honda's glory days, a rider like Short would have blossomed into a multi-time champion, the same way Jeff Stanton did. In fact, "next Jeff Stanton" was said a lot back then, as Short was expected to turn his workhorse, unflashy ways into number-one plates. But, each time he got close, he couldn't close the deal. He led most of the 2006 West Region Lites SX chase in a close battle with Grant Langston, but a bobble in the mud of Seattle opened the door for GL to get the title. It didn't help that, all season, Short admitted he was a terrible mud rider. Most riders, even when they suck in the mud, will lie and tell you they love it just to try to convince themselves that they can actually ride it well. But if Shorty doesn't believe it, he doesn't say it.
In 2007, Short found himself in the thick of a four-rider battle for the AMA Motocross Championship. Langston, Tim Ferry and Mike Alessi were in the hunt as well, and Shorty staked a claim with a first moto win at the first-ever Freestone National in Texas. But he crashed while leading moto two. Langston was the one who stepped up under the pressure to claim the title—the same way Stanton would have.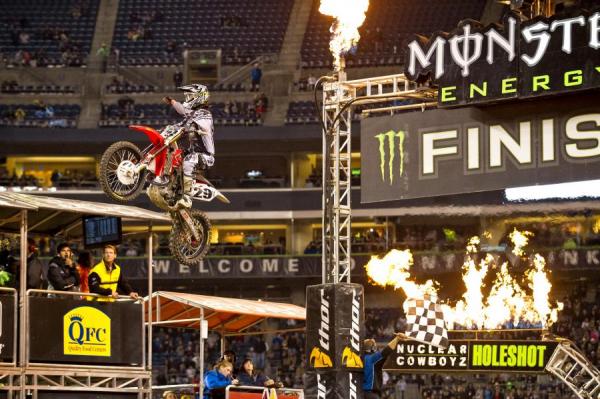 With the confidence of a win now in hand, where can Short go from here?
Garth Milan photo
But here's the difference between a guy like Stanton and a guy like Short. Stanton developed such a rude rep in his racing days that he eventually ran a butt patch that said "Mr. Mean." Today, Stanton is a cool, funny guy, but he admits he wasn't funny or cool when he raced—he couldn't focus on kicking people's ass and be friendly at the same time. He had to change his persona to win races and titles. In Stanton's prime, he had to deal with super talents like Jean-Michel Bayle and Damon Bradshaw, guys who were as fast and innovative as could be. But, while he was racing them, you never once heard Stanton utter the magic words "They are faster than I am." It didn't matter what the lap times said, he couldn't let his guard down like that.
Shorty isn't afraid of saying it. He's said it before and he'll say it again, and he'll keep working to try to erase that gap, but until he really does, he won't pretend that he did.
Shorty doesn't change. He's the same humble guy I talked to on the phone for a magazine story 10 years ago, and he'll be the same guy 10 years from now. Heck, he'll probably still be on the bike and training in 2022, because that's what he likes. Some riders ride and train and do this because they have to, because it has become their job, because their parents pushed them, because they have an unrealistic view of their own potential and an unrealistic belief that someday they'll finally live up to that. Or, they do it because they don't know what else to do. But Shorty does this only because he wants to. And that's the tie that binds a rider like Andrew Short to the 99 percent of us who also love dirt bike racing—there are no mental games, no smoke and no mirrors. He's here only because he loves it. That's something we can all relate to.