Rice-eccles Stadium
Salt Lake City

,

UT
Salt Lake City
Monster Energy AMA Supercross Championship
Larry Brooks doesn't really care all that much what you think about him if you've never met him. He's a former top privateer racer and one of the winningest team managers in the sport. He's passionate about his riders and his team and makes no excuses. This year, teamed up with old friend Jeremy McGrath on a Honda team, Brooks has had a trying time as the team's title sponsors dropped out shortly into the year, and his only rider, Andrew Short, was injured. Things were bleak.
But it all came together in Seattle as Short captured his first career SX win in a great ride. Afterwards, Brooks and team were loading up their official team vehicle (a Dodge Sprinter van, although the team did receive help from, and pit under, the Honda Muscle Milk factory tent), and a relieved and happy Brooks gave me a few minutes to talk about the ups and downs of the year.
Racer X: Larry, congrats on the win. You might be the first team to win a supercross while bringing the bike to the race in a van in a long time!
Larry Brooks: Thanks and yeah, the Sprinter is working for us. Obviously the team has been going through some rough times and Honda's been great in working with us. We don't have our rig here, didn't have it last week either and honestly, we were planning on working out of our van here this weekend but Honda was nice enough to let us under their tent, and the weekend couldn't have gone any better. Andrew won his first ever main event supercross. That's pretty cool.
He was solid the whole race, I knew he could do it. It's one of those things that I just knew he could. He's been right there but never gotten over the hump, and with just the right kind of changes, the way we have changed things, it takes a lot of time to break people out of their habits. And he's got some great people around him here and in Texas helping him out as well, like his coach Seiji, his friends, his wife Jacki and now everything is starting to come around. I couldn't be any happier to tell you the truth. He's a great guy, one of the best.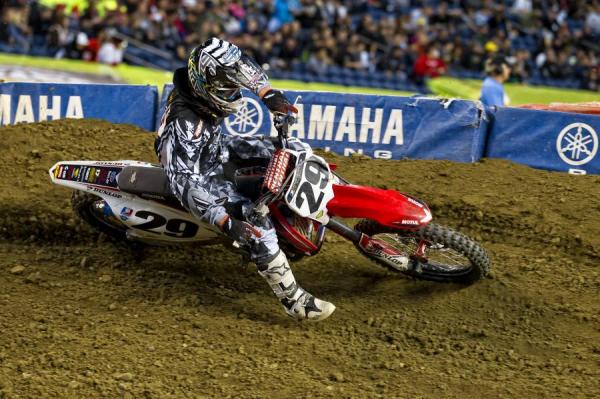 Short and the L&Mc team won their first Supercross class main event in Seattle.
Garth Milan photo
Yeah, there's no cheering in the media and even among other riders, but I think we all broke that rule tonight. It's great to see a vet like Shorty get his first career win.
Yeah, it's Andrew Short man. It's been eleven years or whatever for him to get a supercross win. He's late in his career and he's still got potential to win more, don't get me wrong, but he's onto the back side of his career and he's someone that a lot of people want to see win. With the hardship we've been going through, to happen now, that's pretty cool.
Here's my theory on that: he's kind of an OCD guy, has to have everything just perfect, and maybe with all this sort of team chaos that has been going on, maybe it's messed up his mind just enough where it's throwing him for a loop and he's going outside his limitation box. I don't know, just throwing that out there.
Yeah, maybe. I don't know, that sounds like something that would work. Well, there are so many things that these guys go through. It's such a mental game and you can never say it's blue or red or this or that to make you win. It's so many things stacked on top of one another. It's how it's delivered or how it's said. You've worked with good riders before and you know that you say just the right thing and it works. And obviously a lot of good things worked tonight. Last weekend I saw a lot of potential in his speed for being off for so long. This weekend the track was weird and it just happened. That's all that matters. He got a start, they had a checkered flag and when it flew, he was in the lead.
Lots of talk about the team. What is the status of it and what's the future look like?
Two days ago I couldn't have told you. If I would show you an email back and forth with our new sponsor because I said we were going to win tonight. The whole deal hinged on Andrew getting on the podium and I said, "Fine, we'll go and win." Don't think I'm a fortune teller, I got lucky! So anyways, we're going to announce it next week but we do have a new title sponsor. Our old one decided to just not be with us any more and that's another story. The new title sponsor, we've agreed on everything and he's going to be for the next two years. It's going to be really cool to have him back into the sport.
We'll have our truck back and we're back in business. It was a bit stressful there for a bit but it all worked out.
You've won a ton with a lot of different riders and I know this is hard to do but where does this rank for you?
It's huge, it's very big for all of us. Everyone always says that, "Brooks always wins because he has good guys" and whatever, I just go with it and laugh. It's always one of those things, at the beginning of the season, you know those goals that you have inside of you. One of them was helping Andrew win a race. Mainly for him but I also thought that would shut some of those people up. It was a lot of work, a long road and a lot of hurdles that you don't even know about.
Well you haven't always had a top guy. You took a KTM team that was in shambles in the mid 2000s, signed some guys and although you didn't win a title, you came pretty close.
Tied for a title with that team with Josh Hansen.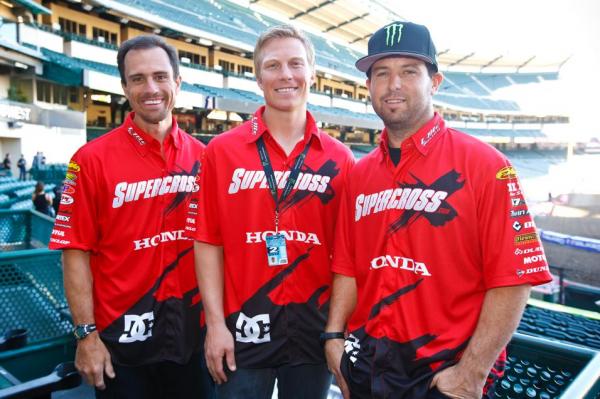 Brooks (left) is hoping to announce a new title sponsor for the team sometime this week.
Simon Cudby photo
Well, here you are winning with a guy that has never won a supercross before so maybe there's something to that, despite some people thinking that you're a dick or whatever…
Well I'm still a dick, but whatever! I work hard and it always seems to work out well for us. We have great people on the team. That's another thing, having the right people around the rider. It's not all me, I'm a piece of it and I get to choose the guys that get to hang out with me I guess.
Is there something you've been working on with Andrew?
Dude, I'm not taking the credit here. I just think there are a lot of things that came into play to help him and he was the one who put it all together. The biggest thing is how mentally stressful everything has been with losing sponsors. To lose a title sponsor is huge and for him to come out and win with all that going on is cool. Like you said, maybe that's something that helped him. Racing is 75 percent mental and there are so many different things that can contribute to a win and whatever it is, we'll take it.
What you did must have been pretty great, as Chad Reed even found the time to shake your hand. So it must have been a big deal!
[Laughs] Yeah, it must have been. No, everyone thinks that Chad and I hate each other, and he might hate me, I don't know. I don't have a problem with Chad and it was one of those things that I almost fell down on the floor. It was a shocker but Chad's a good guy and he appreciates things like that. You give people credit when credit is due and he must have felt like we deserved some credit. I thought it was cool of him.