Qwest Field
Seattle

,

WA
Seattle
Monster Energy AMA Supercross Championship
In his sixth year in the SX Class, Andrew Short finally delivered his first career Monster Energy Supercross win after a great race in Seattle. But this win was made more shocking not by just the victory itself, but what proceeded it—Short has missed nearly two months of racing with a separated shoulder, and his L&Mc Racing team was struggling to stay alive after losing a title sponsor.
We talked to a very, very happy Short after the race.
Racer X: We've been waiting a long time to do the Andrew Short won a supercross Monday Conversation.
Andrew Short: Yeah it's pretty unreal. It's one of those nights where, I wouldn't say I'm struggling, but its' just my second race back from injury, and I haven't been close to the podium. So to go from where I was to winning that quickly just makes it that much more special.
And you've gone through all kinds of weird stuff to get here. For example, last week you raced on your practice bike.
Yeah. And that makes it real sweet, too. There are a lot of people that believed in me and still supported me, even while I went through struggles with the injury, and the team went through its own struggles with support. Some people just dug deep and got me here and never quit. That's what makes it really unique, and I'll never forget what it means to be associated with these people.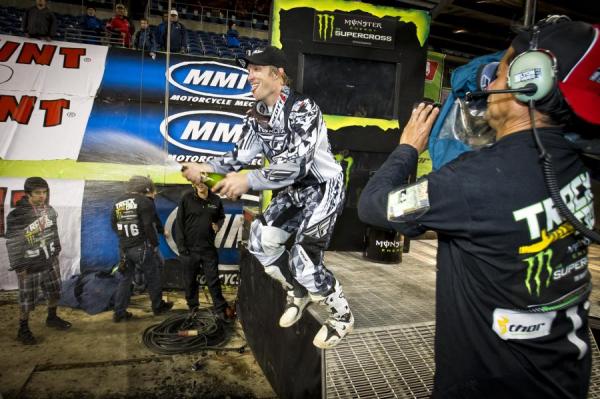 Andrew Short celebrates his first career Supercross class win in Seattle.
Garth Milan photo
You mentioned before that this building has actually taken some things away from you, and I'm sure you're talking about that Lites Championship years ago.
Yeah, in 2006, I came into this race with a great chance to win the Lites West Championship, and I had led the series in points since the first round and pretty much lost it right here at the end. I'll never forget that night, too, sitting in the restaurant after the race and feeling like you almost just blew it. I've been there a few times here. In 2008 I was battling with Chad Reed and Kevin Windham for the lead here, and they were battling for the championship. I was close to winning that night and I fell apart at the end. Tonight I put it together. It's something that is just…unreal.
Yeah do you even know what to say or do or anything right now?
No! And that's what makes it so cool. This was so unexpected! And with this team, we've had so many ups and downs, we didn't even know at one point if we were going racing, but Larry [Brooks] and Jeremy [McGrath] wouldn't lay down. Other people would have packed their bags and given up, but those guys dug deep for me. And Honda's support has been huge, too, we're pitting out of their rig. We had people driving stuff up here from California in a van. It's been a fiasco, but that's just what we have been dealt with. Everyone works hard, and it pays off when something like this happens.
What's also cool is you're back on a Honda this year, and you had worked with the people on that team forever. It has to feel good to finally deliver a win for them, and vice versa.
Yeah exactly. You know, I've been racing at this level for 11 years now. And you look down from the podium and you see so many people you've worked with through those years. Even guys from KTM, like my old mechanic Frankie. People that I am so close with. That just makes it more special. All of these people in this paddock, you become really close with them, and they become part of your life. So to look down and see those people smiling…I keep having to go back to the word special, but it really is. It really is special! There are so many people that helped me along the way, first and foremost my family, and all of the people at home. From my trainer and friend Seiji, to my parents, my wife and my kids, there are so many people on so many levels that have to contribute to achieve something like this.

Short held off his friend, and former KTM teammate, Ken Roczen to secure the win in Seattle.
Garth Milan photo
Take me through the race. Did you get the holeshot or did you just kind of weave your way into it through those first few turns.
I don't even know! But track position was huge tonight. I knew I had to get up front. You saw that in the heat race, where I started fourth and finished fourth. I knew if I could start up front that it would be game on. Then I saw Villo down and walking off the track. He's the strongest guy, no doubt. So that was one more card that was dealt. I just kept pushing, and the laps counted down, and before you know it, it was a reality.
You had a battle with your buddy Kenny, there.
Yeah, yeah! Kenny is my buddy, we spent a lot of time working together last year at KTM. And it's pretty funny, he kept telling me he wanted to show me what the 350 can do! We're buddies, so he would keep telling me the 350 was great, and I'd tell him "Oh you need that Honda power, I'm on a 450!" and things like that. Just joking around as friends. So then we got to battle and that was fun. A lot of people are here that I got to share this with, my buddy Moser is here, and it goes on and on. Just a lot of people.
You mentioned that in some of these past races where you led, you fell apart at the end. Is there something you think you have learned or figured out or fixed that helped prevent that from happening this time?
Nope! I just think that in year's past, I dug down deep, too, but on that night I wasn't the best rider. You know, even tonight, there were times when you have to dig deep and just kind of grab yourself by the balls and go! But it's hard when you haven't been racing, and now you're back in a stadium with all of these elements. The surroundings during a race like this, they can make your mind play tricks on you. But tonight, I was able to keep my vision open and my body relaxed. I did it and won, and I think from here on out it will make those situations easier to handle in the future.