Qwest Field
Seattle

,

WA
Seattle
Monster Energy AMA Supercross Championship
Interviews by Jason Weigandt, Steve Matthes and Jordan Roberts
Eli Tomac, GEICO Honda, 3rd in West Region Lites Class

Racer X: An interesting night, a good battle with Wilson, and you came up on top, and took the points lead.
Eli Tomac: Obviously it's a good confidence booster, I guess you could say, coming off an injury and not having that red plate anymore. So obviously the main event got a little crazy. Actually I almost holeshotted, but I went in a little bit deep though. [Ryan] Sipes got out front and Dean [Wilson] made the pass on me after the finish line there, and if I would have gassed it, same thing would have probably happened as when we collided that last time. I ended up on the tough blocks and I was kind of going to let him get away with that one, you know, one time, whatever, but once I got him back and he really did it to me again, and I launched off the track by the triple, I was like "Alright you've got one coming."
So, yeah it came after the finish line, and he didn't check up at all and just drilled me. It's definitely good that I'm one of the biggest guys out there and I don't move that easily! After that happened, my shift lever, you can see it right there, but it was obviously bent way in, so I was riding around in third gear the entire time. The clutch was holding on decently, and I was actually catching Sipes a little bit. I was like "Wow I'm about to win this thing in third gear!" But then all of a sudden, like all of the play went out [of the clutch] and the thing was going like an automatic transmission in a car.
So I rolled it all out and almost stalled it once because I went into the next corner with no clutch, and the thing pulled me out of the rut. I put it [clutch adjuster] somewhere in between and that was just enough to give me enough bite. The thing is just absolutely smoked! So I was in third gear until like three or four laps to go and I actually went to second gear and that saved it even more. So I started doing everything in second gear!
With it all told, that's probably like the best thing that could of happened to you. It could have been a lot worse.
Yeah I thought I was going to DNF and then I would have really looked like an idiot! But the thing held through.
Last time we saw you were on the ground you hurt your elbow and lost a big points lead. Coming in, did you actually feel some pressure? Did you feel like it's kind of a new series?
It did feel like that. That first practice kind of felt like A1 to me, I was tight and didn't feel like myself. The second practice came around and I felt like myself. I actually got docked cause I doubled the triple with the flag out. Yeah, I was just dinking around having fun and it bit me in the butt, but anyway, I got it together in that second practice.
Did you have any words with him [Wilson] after the race?
No, not any words with him but the AMA guy said he [Wilson] obviously instigated it, but he doesn't want to see any passes like I did from either of us. He [AMA guy] said, "It ends here."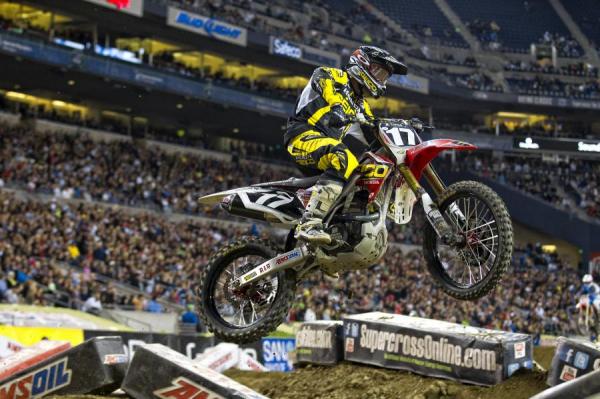 "So, yeah it came after the finish line, and he [Dean Wilson] didn't check up at all and just drilled me." - Eli Tomac
Garth Milan photo
Dean Wilson, Monster Energy Pro Circuit Kawasaki, 7th in West Region Lites Class
Racer X: What happened out there?
Dean Wilson: It started off alright, I got a third place start, I got around Eli and passed him near the finish. It was fairly aggressive, yeah. So we got going again, and he passes me back, and he was pretty much dive bombing every corner… which is cool. I'm fine with that, we are going for a championship. So, I went to pass him and I kind of pushed him off the track. Then after the finish he was right on me, I went outside, went to cut in, and I just got cleaned out. That was it, really.
As soon as I crashed I landed right on my shoulder, and popped it out. Then it popped back in and I got going. It must have popped in and out at least five more times when I was riding. The throttle was sticking wide-open because the bike crashed on the throttle side. So twice the throttle stuck on me. It was just the scariest experience, and I just wanted to survive and score as many points as I could. I would go to jump on a table and it would just go out, and wiggle around. It just sucks, but, if that's the way he wants to win a championship, then congrats to him.
When you bumped him off the track, and then he got back on and was right behind you, were you thinking "Uh oh, he's going to run it in on me?"
Oh, I knew he was going to. I could just see his fender in every corner, and I knew he was going for the block pass in every corner, or obviously the take out. It was aggressive. If he thinks I was riding dirty, it wasn't dirty it was aggressive, like I said, this is a championship. But it's fine, I believe in karma and I think he'll get it. But if he wants to laugh about it after… I just saw an interview he did after the race. If I was in his shoes, I would at least wait to even see if I was all right. It's tough racing, but an apology, or at least just come over and talk about it and be cool, but he just didn't even want to be bothered. I'm over it, I'm ready to move on from it and see the doctor tomorrow.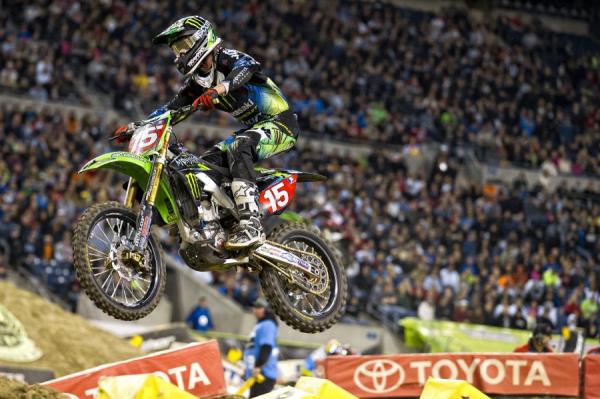 "As soon as I crashed I landed right on my shoulder, and popped it out." - Dean Wilson
Garth Milan photo
Ken Roczen, Red Bull KTM, 2nd in Supercross Class
Racer X: First career podium on the 350, and a great ride.
Ken Roczen: Yeah awesome heat race, so the night was great already. I got the holeshot there, got some solid laps in and I was happy with that qualifying for the main event. I said to myself I was going to take it [the race] as a good practice, twenty laps is always good.
So I had a good start again and almost holeshotted, so from then on the racing was great, I battled with Shorty and we passed each other like three or four times, so this was super fun, and I've been doing this triple staircase there for like fifteen laps perfect and then there was the one time I had the moment when I almost pooped my pants! After that, I pumped up and couldn't hold on though and just said whatever happens, just please stay on the bike, and that is what I did. I'm super happy for Shorty, I'm happy for me finishing second on the podium and I think everyone saw that the 350 was good enough to get up there and hopefully I can prove it again next week.
How was that triple staircase? You and Davi Millsaps were the only guys I saw do it all day.
Yeah it was not that hard, to be honest, but only it got a little rough and then it got sketchier.  I'd been doing it good for fifteen laps, I think I could have done it more but I didn't want to force it, to be honest. I wanted to just stay there. It was the place that I made up a lot of ground. But anyways, it was not actually that hard but not that many people did it, it was fun for me to be the only one doing it. It was just fun to race in front of the crowd. They went crazy! I think it was the first time ever that I heard it while I was riding, so it was good.
I loved your reaction, you and Shorty have been friends and buddies for awhile, you threw down your bike and seemed genuinely happy for him.
Yeah for sure, even if I could have got him in the last corner there [with a dirty pass] there is no way I could ever touch him or anything like that. I wouldn't do that to him. It's amazing for him, you know, first career win and you know I'm right there with him finishing in second, so it was just great.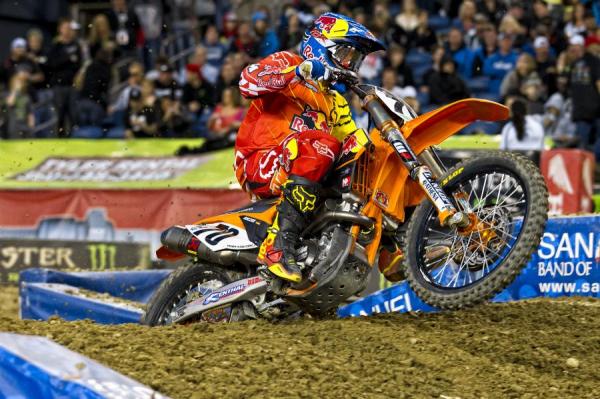 "Yeah for sure, even if I could have got him in the last corner there [with a dirty pass] there is no way I could ever touch him or anything like that. I wouldn't do that to him." - Ken Roczen
Garth Milan photo
Jake Weimer, Monster Energy Kawasaki, 3rd in Supecross Class
Overall, considering the past times I've been here, and today, I never really felt comfortable, it's good. Honestly I've always been a little bit scared coming here, because of the ruts on the triples. Some people, it doesn't really bother them. To me, considering how the day went, I'm happy. I made a few mistakes at the beginning and they got away from me a little bit. I tried to be steady and not think about that and focus on the track.
You closed in on Shorty and Roczen at the end.
I felt like I was holding a steady pace. I felt like Brayton picked it up, and I felt like I had to get going. I felt like he knew where he was going to try to make a move. After the start it goes left right, and we were taking different lines through there, because I could see him when we were close. Luckily, I found a little extra and was able to hold him off.
Justin Brayton, Honda Muscle Milk, 4th in Supercross Class
Racer X: You and Jake Weimer seemed to be running the same pace for most of the race. Did you guys step it up near the end or do you think Roczen backed it off a little bit?
Yeah, I feel like we stepped it up a little bit. I feel like I was riding better towards the end of the main event. I just wasn't able to make it happen. It was a one-line track and I needed to get in there and make a pass, but I didn't do it. It's all on me. I had an awesome start, but I overshot the first turn and [Andrew] Shorty snuck underneath me. That's racing and that's honestly what I needed—a little kick in the butt. I've rode terribly these past two weeks. To ride like that and get a third and a fourth, you know, we're going to come out and have some fun these next two weeks.
How's your leg feeling?
My leg's good. No excuses at all there. It's good, and like I said, I'm just ready to go these next two weeks.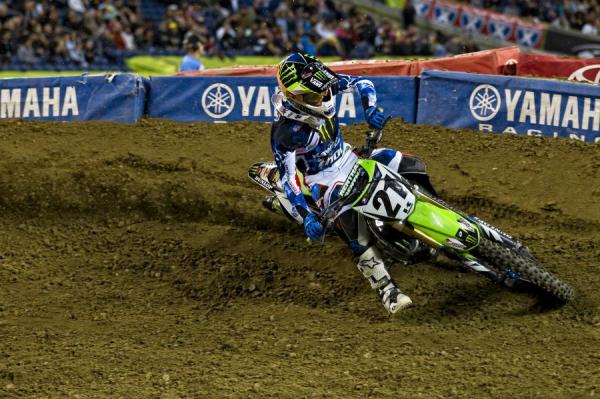 "I felt like I was holding a steady pace. I felt like Brayton picked it up, and I felt like I had to get going." - Jake Weimer
Garth Milan photo
Cole Seely, Lucas Oil Troy Lee Honda, 4th in West Region Lites Class
Racer X: I think a good night for you tonight coming from the back a little bit.
Cole Seely: Yeah I think it was alright, I think I came from 15th to 4th, well to 3rd actually, and then I got passed with like two laps to go, so it's alright. I was trying really, really hard in the beginning and kind of tightened myself up and made a couple mistakes. By the end of the moto I was a little spent. I'm just going to go home and work harder, because I feel like I still have a tiny shot at this if Wilson and Tomac keep going at each others' necks. So like I said I'm just going to go home work hard and come to Salt Lake ready for it if those guys make mistakes.
Do you feel your 450 racing maybe helped you a little bit tonight? A couple guys I talked to said it felt like A1 all over again with the long break.
Yeah, I don't know, the track was kinda' different, it wasn't typical Seattle where it's deep ruts and you feel like you're riding on planting soil. Tonight it was actually pretty rough and pretty hard packed. It was just different and [Marvin] Musquin really had an advantage because it kind of replicated some of the tracks the he's used to racing on, and he was going fast. He got around me and Tomac. You know, I wanted to finish in front of Tomac and Wilson and I finished in front of Wilson and right behind Tomac so I can't be too mad but points are valuable for me right now.
Did you have a good view of there little battle going on, it was pretty exciting?
I didn't, I was way back I was like eleventh or twelfth when that happened, I came from way back and me and [Wil] Hahn were kind of duking it out all the way through the field. We are friends off the track and we were teammates at one point so we still have a little love connection. So when we go in to pass each other we are not trying to take each other out, it's a little bit more nice.
Nick Wey, Motosport.com/Foremost Insurance/TiLube Kawasaki, 10th in Supercross Class
Yeah it was pretty good. Luckily it was kind of sandy so when it dried out it wasn't so rutty. But the track was kind of mellow so it made it kind of hard to race on. Me and Kyle Regal were kind of battle royaling, and I lost some time there, made some mistakes and lost some time there. Tenth kind of ties my season's best for the fourth or fifth time here.
Weston Peick, Rockstar Star/Valli Yamaha, 9th in Supercross Class
In the heat race, I was up there in 8th or 7th or something, got a little too anxious and slid out and crashed. I got up in tenth but I didn't know what position I was in. If I had known I would have tried to come in on someone or make something happen! I won the LCQ, bad gate pick in the main, but you've got to do what you've got to do. I started outside the top 10, just worked my way up, up and up and got a nice top 10. I'm trying to get as far as a I can in the points. Gotta' try to get top-10 in points.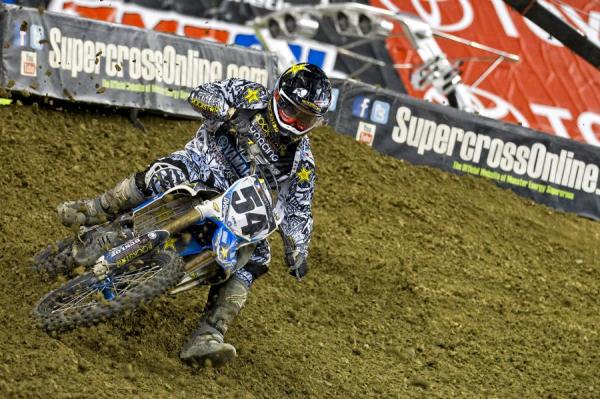 "I'm trying to get as far as a I can in the points. Gotta' try to get top-10 in points." - Weston Peick.
Garth Milan photos
Bobby Kiniry, Rockstar Star/Valli Yamaha, 12th in Supercross Class
Had a little bit of a frustrating night, felt off all day. Got off to a mid-pack start, but it ended up that [Josh] Grant went down, he kind of cross rutted in a rhythm section, and I had just no where to go, you know. I got up and going, I was dead last, just tried to salvage something. Kind of bummed because I know I can be up front, and I'm trying to catch Hansen for 15th in points.
Allan Brown, Motosport.com/TiLube/Foremost Insurance/Kawasaki, Team Manager
Racer X: This was an abnormal race for your team. You had three guys under your tent instead of two, and all three made the main.
You know, it was just a really fantastic weekend. The start of the year we had [Nick] Wey and [Chris] Blose, and Blose got hurt. He separated his shoulder in L.A. He was out for quite a while so we picked up Justin Sipes, and as a replacement, he's been doing really well for us. Blose recently called me back and said, 'Hey, I want to race'. I said, 'Are you sure you're ready?' and he said, 'I'm ready, I'm ready to go.' We had a couple weekends of testing and we were shooting for New Orleans, but then we thought it would be better to wait one more week and just come out this weekend. We had three guys, and our truck isn't really set up for three guys; it's set up for two. It's really a smaller truck, so it's kind of tough, but we showed up and put all of our guys in the main event. That's a tough thing. I've been doing this for a long time. To have a team of three guys and get all three in the main event… It's pretty fun and very rewarding.
What are some of the sacrifices you guys have had to make to make this happen?
Everybody had to pitch in a little bit more because we didn't have any additional staff, but we had an additional rider. It was a little bit more work for our guys. We're trying to get some additional staff. I have one other guy that's going to come on this weekend to help out with Chris [Blose], but he had prior commitments this weekend. It was a really good team effort from everybody.