Superdome
New Orleans

,

LA
New Orleans
Monster Energy AMA Supercross Championship
Welcome to Racerhead, coming to you from Bourbon Street in New Orleans.... Okay, that's not exactly true. I may or may not be on Bourbon Street by now, just somewhere near it, or even lying down on it. But I am in the Big Easy. At least I hope I am. I wrote this part en route to New Orleans and then sent it along to the boys back home as the executive management of Racer X—Bryan Stealey, Julie Kramer, and myself—were all forced into taking one for the team and attending this race as day laborers at our little Racer X booth. Yes, while jet-setters like Jordan Roberts, Steve Matthes, and Andrew Fredrickson get to go to the high-end, super-exciting events like St. Louis or Salt Lake City and even the extraordinarily hip Oakland, Bryan and Julie and I got stuck with the short straws and have to go to New Orleans instead. So bummed.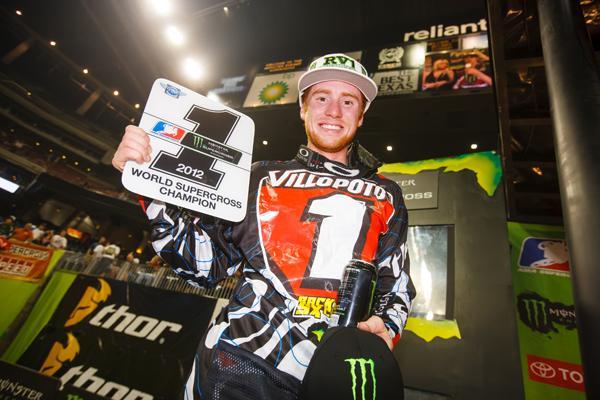 Ryan Villopoto is already the champion, but you just know he's going all-out for the win anyway
Simon Cudby photo
And since the championship was already clinched at the last round—which must be some kind of record for the red-hot redhead
Ryan Villopoto
—and local favorite
Kevin Windham
is hurt and
James Stewart
is scratched and
Ryan Dungey
is still not back and
Chad Reed
is done for the year and Ben Townley is not here yet and
Ricky Carmichael
is still retired and Jeremy McGrath is racing trucks and the Saints' coach is on suspension for rewarding big hits to his defense, well, who knows what might happen here?
Seriously, I think it's going to be an awesome event. They all have been really good this year, and it will be cool to see if someone like Justin Brayton or Jake Weimer or Mike Alessi has a first win in him, or Davi Millsaps can keep rolling things forward, how Andrew Short and Ivan Tedesco do in their returns to action, and hopefully a real race between all of the fast Lites guys: Barcia, Roczen, Baggett, Wharton, Durham, etc.
Then again, it's New Orleans, and that usually means a good time. Racer X is sponsoring a party somewhere down on Bourbon Street at a place called The Beach, with Sycuan Casino Dodge/Hart & Huntington, and we're due later on for a visit to my favorite spot in the Big Easy, the Preservation Hall. At least that's the plan. This town is like Las Vegas, only with cheaper drinks and none of the pretty light shows. But the music is 100 times better, and unlike Vegas, what happens down here will probably follow you home.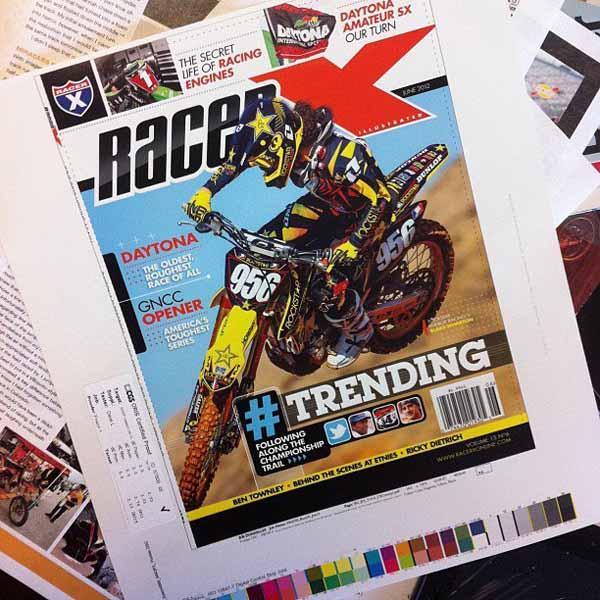 I mentioned
Blake Wharton
briefly above. Congratulations to the Rockstar Energy rider on earning his first Racer X cover! Wharton took advantage of a Roczen slip to snatch the win in Indianapolis on the #956 Suzuki. Simon Cudby snapped the photo of the rider with the most hair since Billy Grossi was around.
I do wish James Stewart were here to get himself back up to speed and help put to rest some of the noise racing around him. My esteemed colleague Jason Weigandt penned a piece about Stewart's recent struggles in Redux, and I honestly can't remember seeing more varied feedback than some of the reader banter and blowback at the bottom of the page. It's a good read, but it lacks an ending right now.
With the New Orleans race coming up this weekend, I went digging into the Dick Miller Archives to pull some of his old photos from the 1976 New Orleans 125/500 National that was held at Moto-Cross West Cycle Park outside of town, on the banks of the Mississippi River. We found some slides and ran some wallpapers here of the race, which was won by Danny LaPorte (125) and Kent Howerton (500).
What was really cool for an avowed bench racer like myself was seeing some of the responses online and by email. For instance, here's a note and a couple of photos I got from friend Jeff Greenburg, a former pro from Ohio:
"Awesome article on the '76 Nat. I have great memories of that race and track. Here is a picture that I believe was from that race. Brock putting the pass on my #98 Honda. Ha!! My AMA pay stub from that race. My total payday = $35.00 !! Wow! Paid for my gas back to Toledo."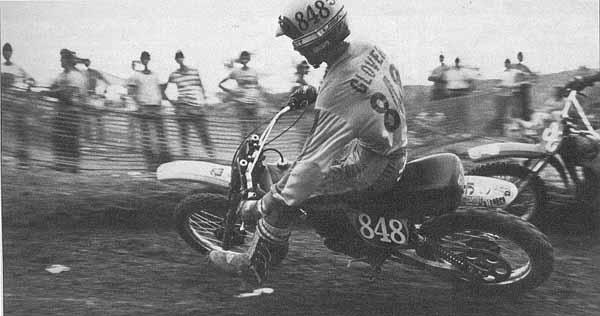 That's future multi-time champion Broc Glover leading future Racer X reader Jeff Greenburg back in 1976 at the New Orleans National.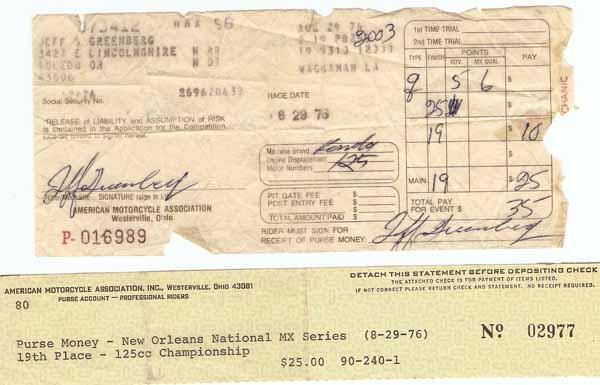 Greenburg's paycheck stub for $35.00 He cashed it to pay for enough gas to get him all the way back to Ohio!

And then I spotted a note in the comments from none other than Chuck "The Rising" Sun:
"As a REAL privateer pitting out of my '65 Chevy truck, it was my goal to get into the top ten OA for the series. I had to beat John Ayers to do that and he was very fit. I was very pumped at the time to finish 8th for the day and top ten for the season! John went on to sell t-shirts. Best of all was prize money for dinner and a hotel room for a shower!"
Riding a Husqvarna, Sun indeed finished eighth, while Ayers, riding a Maico, would placed eleventh overall. Sun would go on to be the AMA 500cc Motocross Champion in 1980 while riding for Team Honda. He would also anchor the 1981 Team USA triumphs at the Trophee and Motocross des Nations. Ayers is now the owner of Gear Racewear and Moto-Tees, as well as the operations manager for the Lucas Oil AMA Pro Motocross Championships.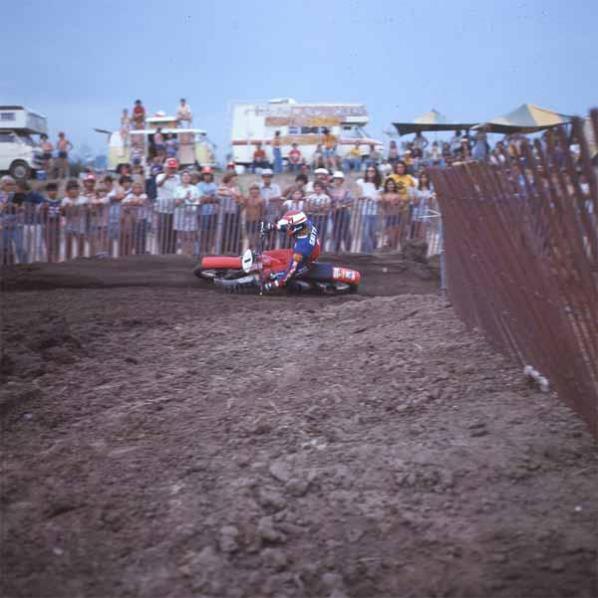 Here's a cool Marty Smith photo that we left out from the
1976 New Orleans National piece
earlier this week.
The strangest news of the week must come from either the road racing world or college football. First, before MotoGP kicked off in Dubai, Repsol Honda rider Dani Pedrosa had to apologize to his sponsors and fans for getting arrested the previous week in Valencia, Spain, for cheating on a captain's exam he needed to pass in order to pilot a yacht. Police raided the examination room and apparently found Pedrosa wearing an earpiece. Pedrosa was arrested, along with some twenty others, for participating in the cheating scandal.
Meanwhile, down in Arkansas, embattled football coach Bobby Petrino was fired for lying to police about a motorcycle-riding accident that occurred earlier this month. Petrino told police he was riding the bike alone when he crashed, banging himself and his face up pretty good. But when the police report came out it turns out that Petrino had a 25-year-old woman on the back who happens to be a recent hire to the University of Arkansas football program, as well as a former U of A volleyball player. Petrino admitted an "improper affair" while wearing a neck brace and showing a face beat to all hell because he wasn't wearing a helmet. Add it all up and he's looking for a new job and a new motorcycle (and probably a divorce attorney).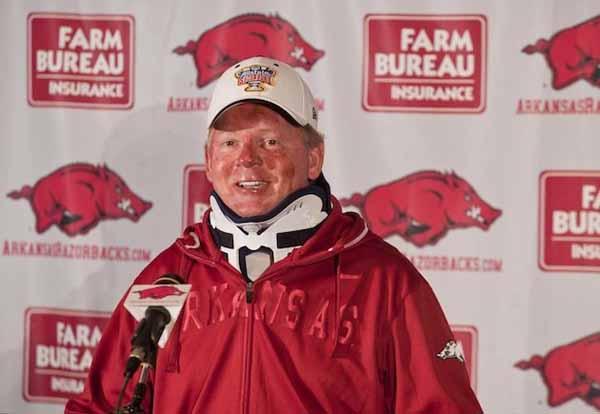 What a weird week it was for now-former Arkansas Razorbacks football coach Bobby Petrino and his motorcycle....
Two weeks ago, before the Houston Supercross, we posted The List: Ten Best Texans of All-Time. It got a tremendous amount of responses, including quite a few questioning why
Matt Lemoine
was not on that list (he's actually from Louisiana, which may make up this week's list). We also got a nice note from Steve Wise, who was on the Texas list. Back in 1979 Steve Wise won the New Orleans SX. I asked him if he was going to make it to the Superdome—now the Mercedes-Benz Superdome—and he said he could not, but he will be at Diamond Don's Vintage Classic next weekend in Jefferson, Texas.
"I'm going to ride (not race - LOL) in the Marty Tripes' 100 Revenge event," replied Wise. "I will be riding same bike I raced at Hangtown in 1976. A works Kawasaki! I really looking forward to riding at DD's and sharing with the precious people Sunday morning."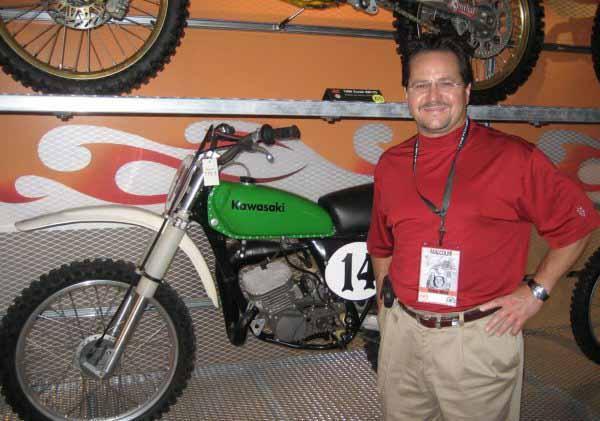 Steve Wise and the bike he will be riding at Diamond Don's next weekend.
The nationals are starting to shape up nicely, and the buzz is starting to build earlier than usual. How do we know? The American Motocross Facebook page, which serves as the series page, was started last spring. It was growing steadily until a few weeks back, when it seemed to grab another gear. At quitting time on Monday, the page count was at exactly 56,000.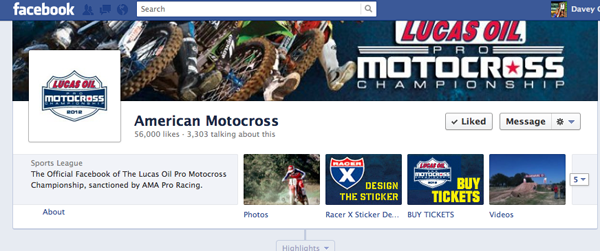 The American Motocross Facebook page on Monday afternoon with 56,000 likes.
And now it's 59,102. We've been keeping it light, with a Moto Plate of the Day, as well as the countdown to Hangtown, which features photos of riders with corresponding numbers each day, and right now we're getting down to the big-hitters: #39 Bob Hannah was featured on Monday from back in 1976.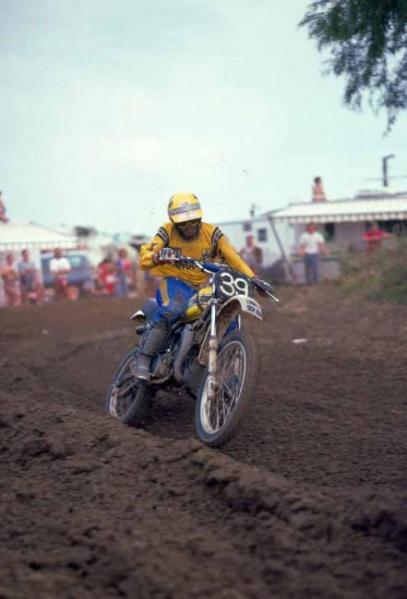 That's Bob "Hurricane" Hannah at the 1976 New Orleans National.
As you know, Ben Townley is coming back to the states to pursue some unfinished business, going back to his chase after the championship in 2007 with then-Monster Energy/Pro Circuit Kawasaki teammate Ryan Villopoto. The guys at MotoOnline caught up with Ben last weekend to discuss his return; the video is also cool because the tracks look so fun and green down there right now!
I plunked down the $94 to be able to watch all of the Grand Prix races this year online at
www.mx-life.tv
. The opener was last Monday in the cold and fairly wet Valkenswaard, and the series as a while looks pretty good. As expected, Jeffrey Herlings destroyed the Lites class, winning both motos by ridiculous margins and showing Stefan Everts-like sand skills—maybe faster, but not quite as smooth or elegant. But then again, he's 18 years old! His closest competitors were
Tommy Searle
, Joel Rolents, and Jeremy Van Horebeek; his most distant rivals were
Ken Roczen
and
Marvin Musquin
, the last three world title winners in MX2 but they are now in America, where Herlings hopes to be as soon as 2014.
In MX1 it was Tony Cairoli, as expected, and the Italian legend looked superb out there in the sand, an area he once struggled in until making the commitment to move to the Lommel, Belgium, area and submersing himself in sand-riding culture. He's now very tough to beat. The Belgian and French riders Clement Desalle and Steven Frossard were fairly close, but Desalle is from the French-speaking, more hard-pack part of southern Belgium and is admittedly not much of a sand master. I imagine he will be tougher when they reach Sevlievo next weekend.
I will say that I could not help noticing the lack of "global" riders on that tour. Yes, it's the FIM World Championship, but there were no Americans to speak of (Zach Osborne is hurt), which was no surprise. But there was also the missing presence of anyone from Australia, South Africa, or New Zealand—a change from the recent past. This is not a knock on Youthstream or the Grand Prix tour but rather an observation. They want to expand across the world soon, and that will most certainly include another foray into the USA, but it's got to be tough for motocross teams based in Europe, and with European riders and Europe-based sponsors, to foot the bill to go race all around the four corners of the world, just as it's tough for Monster Energy Supercross here in the States to go much more outside the U.S. than that single race in Toronto. Yet the crowds are healthy on both sides of the ocean—particularly U.S. supercross, though the hardy Dutch fans stood out in the cold and rain and seemed to really enjoy Valkenswaard—which makes expansion a risky proposition.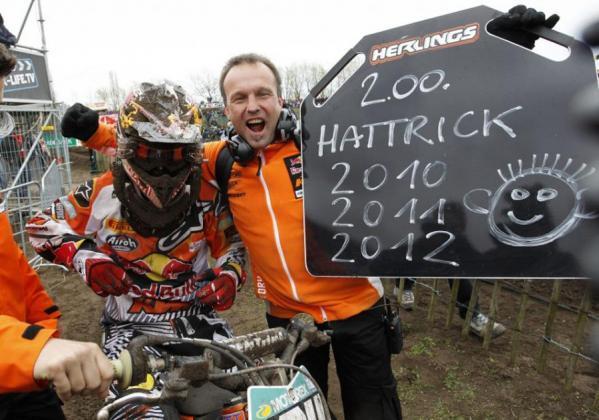 Herlings dominated the MX2 class at the opening round in Valkenswaard.
Ray Archer // KTM Images photo
As far as what might interest U.S. fans about the GP series, as I mentioned on the VitalMX forum, I think Herlings will be extremely tough to beat at the Motocross of Nations in Belgium in September because it's on one of the sandiest tracks of all in Lommel. But I couldn't tell you who the next closest Dutchman was. And Cairoli and David Philippaerts were fast for Italy, but that third man has yet to emerge. Belgium seems the most well-rounded, with Desalle and Ken De Dycker possibly, and maybe Reolents and Van Horebeek. But I still think RV, RD, and either Barcia or Tomac or Baggett will be tough to beat as a team.
One other funny note from Holland: On the Saturday before the race I received a frantic email from Max Anstie, the Englishman who is back in Europe, and he was freaked out because he was lacking his proof of an AMA Pro license, which would allow him to his FIM license clearance for the race. Max was looking for help from anyone, and since I was all the way over here at Steel City doing an amateur race, I tried calling Kevin Crowther of the AMA to see if he could help. Crowther was actually already headed to the AMA office in Ohio with a key to open the place up, find Anstie's paperwork, and fax it to Holland so he could race. It went though fine, the FIM accepted it, and Max had a good ride for 10-5 in his two MX2 motos, even after starting dead last in the first moto.
Also, let's not count out Team France, though they did not have a great day. The aforementioned Steve Frossard was mostly solid, though he ran off the track a couple of time while battling with Cairoli in the first moto. And Gautier Paulin had a hell of a ride after crashing off the start and coming from last to I believe seventh in the first moto, taking full advantage of every tear-off he had on his 100% goggles. Add Marvin Musquin to that team in September and they could be fast.
The biggest disappointment was Christophe Pourcel, who was said to be sick before the race and mostly rode like he was. Not sure what's going on with CP377, but he's still nowhere close to where I thought he should be. Maybe he can turn it all around in Bulgaria.
Okay, they're playing Robert Johnson on the jukebox, which means it's time for me to shut this off. Here's Steve Matthes:
After a week off, we're back to SX racing. The Big Easy has seen the SX series races come and go over the years and sometimes I can remember a really big crowd while other times, well, I think the fans in NoLa had somewhere else to be that night. So we'll see what 2012 brings and I'm definitely bummed for the hometown fans, as one of their own will be a DNS on the night.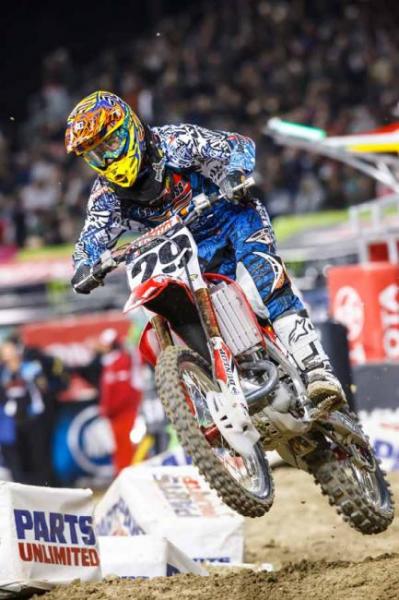 After a long layoff, Andrew Short makes his return to racing this week.
Simon Cudby photo
GEICO Honda's Kevin Windham drilled himself into the ground before the break and is out for the rest of the year. I know how much Windham was looking forward to this race, and truthfully I thought he could win the whole thing. The post-broken-leg Kevin Windham has a habit of rising up to the circumstances. I'm betting that we'll see KW still get the loudest applause when introduced for opening ceremonies, and who knows, maybe he'll run really fast and jump from one lane to another in sort of a mini-transfer.
The news came down yesterday that JGR Yamaha's James Stewart would miss New Orleans with a hand injury, and really, most people saw this coming. I have no doubt that James is dealing with a broken hand, but he raced Houston with it (although not successfully) and was plenty fast there. So he probably could race the rest of the races this year as well, but if there was an official injury report for Stewart I believe it would look something like this:
Stewart, James: OUT (Hand, Frustration)
Everything is quiet in the JGR camp (at least publicly), but I believe in talking to some people in and around the scene that there's a chance James is quietly trying to get out of his deal with JGR.
Notice I say chance, because there's nothing for sure, but I do think there's a chance. And you know what? I think JGR would let him go. There's no denying this isn't working, and what I see happening is Stewart getting out of his deal and pulling the plug on 2012. Then I see him striking a deal with Suzuki and coming back in 2013 on the bike that he initially wanted to ride this year but couldn't make happen.
Will this happen? Maybe, maybe not. Let's see how this plays out in the coming weeks. I'm as interested as anyone, because if this happens, it will mean that the #7 bet on himself. It means he turned down a lot of money to keep going on a Yamaha and decided that it is the bike that's the problem. As a fan of stories, this would be the biggest one yet.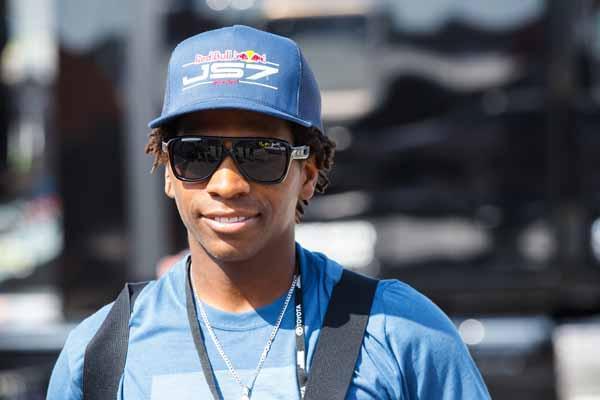 James Stewart will miss New Orleans with a hand injury.
Simon Cudby photo
Nick Wey, Ivan Tedesco, and Andrew Short are back, which is trying to turn a negative to a positive. These vets have been hurt and missed a bunch of races and they are a welcome sight to the fans and their teams. Look for Short to be under the factory Honda tent with his usual team manger (Larry Brooks) and mechanic (Mark Valcore) as the team looks to regroup (using Brooks' words) after losing their primary sponsor.
The 250 series should be wrapped up this weekend with just the Las Vegas round remaining. GEICO Honda's Justin Barcia has a nice points lead, and unless disaster strikes, he should clinch his second straight 250 East crown. I'm also looking forward to him being wheeled out strapped to a gurney with a Silence of the Lambs mask on after his meltdown in Houston. I may have just made that last sentence up.
It was podcast time in the Matthes household and this week I tracked down 42-time Canadian champion Ross "Rollerball" Pederson for this podcast and as well I spoke with Yamaha R&D rider, Dirt Rider test rider and former pro racer Kris Keefer for this interesting podcast. I know you're thinking "Kris who?" but it's a good listen from a guy behind the scenes who has some good info.
Speaking of Pederson, this column I wrote years ago where my tongue was fully in my cheek came to mind the other day. I still think about the hate mail that this got me and it makes me laugh. And it proved to me that no matter what you do, some people just won't get it.
Thanks for reading and remember, if your bookie offers you odds that someone from the industry will be arrested on Saturday night on Bourbon Street, take the odds and make that money!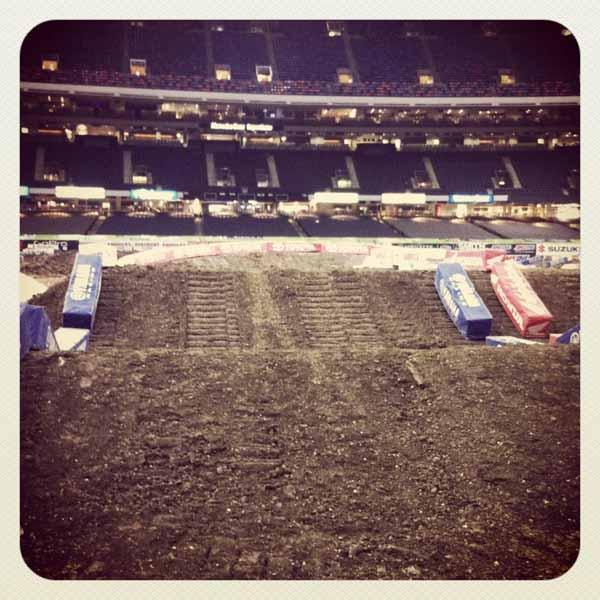 A preview of New Orleans.
Jeff Canfield photo
Thanks, Steve. Okay, some random notes to close this out....
The boys at Fox has been spending a lot of time with RC lately and will be releasing a three-episode video feature titled The Road Back to Loretta's.
Episode 1: "The Decision" will debut this Monday, April 16. Basically, RC wants to go back to Loretta Lynn's with his entire family, camp out in a motorhome and spend the week racing in a couple of classes. It's a low pressure situation with a high fun factor, according to Ricky!
Episode 2: "Putting in the Time" will release in June (after his LL Regional Qualifier) and the final Episode "A Week at the Ranch" will debut shortly after the most prestigious amateur race in America concludes.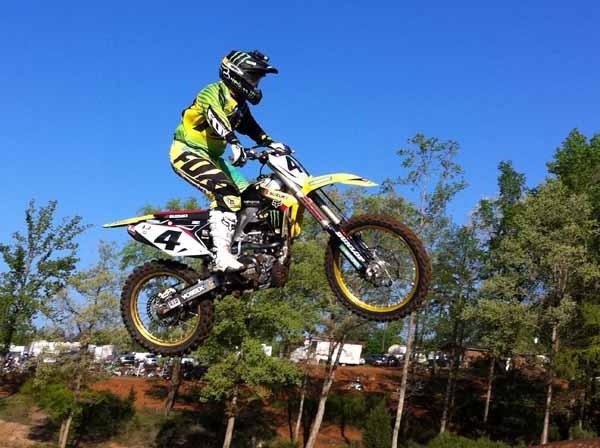 RC at Aonia Pass, sizing up the fun in Georgia
Additionally, Fox and RC have produced a five-part riding tips video series. Part 1 will be released May 1. Look for a subsequent new riding tip video release each month thereafter. These riding tips are a prelude of the Ricky Carmichael University (RCU) which could be coming to a National near you this Summer.
That's awesome. I was with Ricky at the Aonia Pass Area Qualifier, and he had his dad as his mechanic, some old friends like JH Leale and Winn Peoples along, and it's easy to see that the greatest of all time still just loves riding his motorcycle and having fun. This should be a cool summer for Carmichael and his family.
On a totally different note, we received some tragic news from Britain earlier this week from my friend Rob Kinsey:
Wish I didn't have to write this but the whole Vintage Motocross community in Britain is in shock from the tragic events that happened at the opening round of the National Twinshock Series on Easter Sunday at Polesworth. The second race of the day, the Elite/Expert class was red flagged after 2 laps when Matt Murphy crashed hard and sustained head injuries. Paramedics and Marshalls were immediately on scene and the Air Ambulance was summoned, together with a doctor. Matt was anesthetized for the short flight to hospital and admitted to Intensive care Unit where he was reported as stable. He was taken to the operating theatre but sadly didn't make it through the operation.
Matt was only 22 years old, a fun loving lad who was the life & soul of the party. Together with his dad Gary and younger brother they developed Long Lane, Telford into a championship class circuit and raced all events on the National circuit. This quote on his facebook profile summed up his outlook on life!

"MATT TO SOME, MAD MURPH TO MANY, BORN WITH PETROL IN MY VEINS, LOVE BIKES & CARS AND THE ODD WOMEN. LIFES TOO SHORT TO BE BORING, SO BE WILD WHILE YOU CAN BEFORE AGE CATCHES YOU OUT. MENTAL AND UP FOR A LAUGH LIVING LIFE TO THE FULL ANY TIME OF THE YEAR!"

Sincere condolences to his family and friends and their tragic loss.
The Racing Paper is back! Racer X's regional amateur racing newspaper has returned with renewed efforts and a brand new look. We're providing readers with written and visual rundowns of who the fastest up and coming riders are in the Northeast week in and week out. Check out www.theracingpaper.com and www.facebook.com/theracingpaper to find out how you can get in on the action.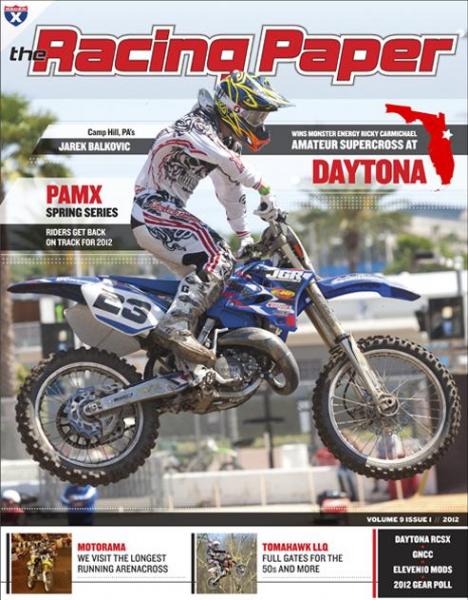 Want a little motocross history? Check out this website Scott Wallenberg found that is dedicated to the accomplishments of legendary California motorcycle racing brothers Bud and Dave Ekins. Both were excellent racers and highly respected all over the world (though Bud is probably best known for his work as Steve McQueen's stuntman and jumping that fence at the climax of The Great Escape).
And what about this gem from Dave himself, back in 1964 while they were racing around Europe:
"While we were all waiting at the border Bud made his way back a few more cars and heard two young men speaking French. Still teenagers, Roger DeCoster and Joel Robert were wondering about the delay. Bud, who spoke some French, jumped into the conversation. Joel Robert had just won his first World Championship, the youngest ever to do that. He and Roger were going to ride this Six Days and wondered about the holdup. Bud invited them to stay with him if they came to race in the U.S. Three years later they did just that! This was the beginning of professional motocross in the U.S. Edison Dye was promoting the first motocross races held in the United States."
Check out the
latest Unplugged video
over at Vurb featuring Racer X's Garth Milan.
Ebay Find of the Week: Matt Davis of Throttle Jockey spotted these very rare Fisher Price "Adventure People" complete with a "moto van" from way back in the day.
The only drawback is the asking price: $400!
Style Check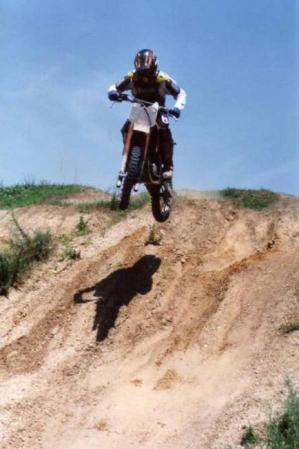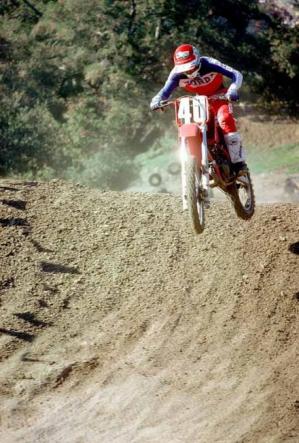 This weekend, and deep in the Pine Barrens of New Jersey, round two of the ECEA off-road series will be going off. The event is called The Stump Jumper Hare Scramble and is organized by MCI (Motorcycle Competition Inc.) and in partnership with Eagleswood Township. And yes, that is really in partnership with the local township.
Some readers might recall that the winner of round one a few weeks ago was none other than (the real) Jason Lawrence. No one knows if J-Law is going to show up again, but regardless, the event is worth checking out.
If you've never done one of these events before, they're lots of fun and include some of the best scrub-brush trails on the East Coast. It's a two-day event, with the kids racing on Saturday and a full schedule on Sunday starting at 10 a.m.
The first round of the All-Japan MX Series kicked off last weekend and our friend and correspondent Yuichi Furukawa sent us this shot of his crew out to support the event and promote Think Pink! He also sent this YouTube link of action footage: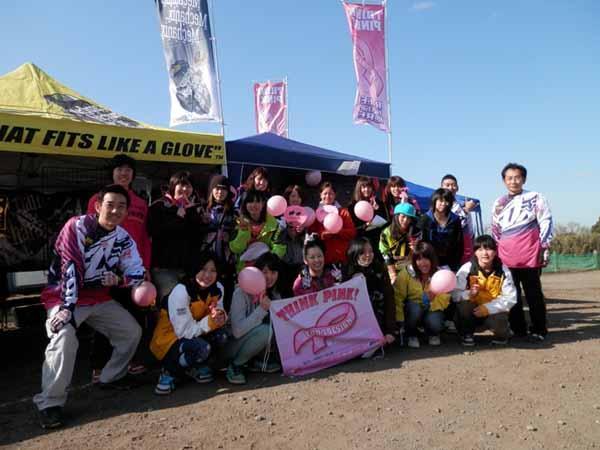 Motocross in Morocco? You bet! Check out the video here.
Okay, that's it from near Bourbon Street. Or maybe I am on it. Or maybe it's already Saturday. Who knows! But thanks for reading Racerhead, see you at the races, and looking forward to wrapping up Monster Energy AMA Supercross and heading on out to Hangtown. See you at the races.