Superdome
New Orleans

,

LA
New Orleans
Monster Energy AMA Supercross Championship
When James Stewart and JGR came to terms for the 2012 season, I wrote this in our February issue of Racer X Illustrated:
It's a leap of faith, in each other, for both, because the new pairing only works if Stewart really still is the best rider in the game, and the Gibbs team really can build the best bike.
The season is now four months old, and we still don't know the answer to either. Has time and competition simply eclipsed Stewart, or is he being held back by his equipment? Or is the equipment up to par, and Stewart just doesn't have the ability to dominate anymore?
Such questions are not a surprise, as there always seems to be more than meets the eye with Stewart. This is a rider so polarizing that he once had to show a video of himself emerging from ACL surgery to prove he had actually had ACL surgery. He had dropped out of the 2008 SX season the week after winning a race in Phoenix, which set off all sorts of crazy conspiracy theories, including the idea that James was "sitting out" because he was mad at Kawasaki for singing with Monster Energy. True? False. Not only did Stewart have ACL surgery (with video proof, too boot), but he returned to the Kawasaki team that summer, ran the Monster logos, and dominated the AMA Nationals to the tune of a perfect season.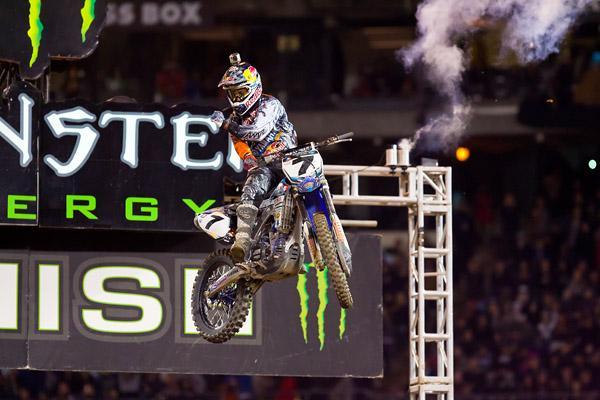 For James Stewart, 2012 has been a series of highs...
Andrew Fredrickson photo
Every other title contender for this year's Monster Energy Supercross Championship was quickly a known quantity—Villopoto was on it from the start, Reed was up for the challenge until he got hurt, Dungey proved his KTM was up to the task minus some faux paus in the whoops—but Stewart, despite winning two races, despite competing in 12 of 13 rounds, despite being nearly six months down the road with his new team, remains a mystery. Ask around and you'll hear every theory possible: He's lost it. He still has it. His bike sucks. His team sucks. He sucks. He can turn it around at any time. He's not fit enough. He doesn't want it bad enough. He would be killing everyone on ___ brand of bike….On down the line we go, one theory contradicting the next. The only thing we know for certain is neither Stewart nor the JGR squad envisioned it would go this way.
After all, JGR's Stewart signing was filled with such great hope (and hype). At the press conference to announce the signing, no one scoffed that it couldn't or wouldn't work. After watching him grow up and win early and often at every level, Stewart's speed and skills are rarely questioned, and the idea that a simple team switch—even on the same brand of bike—could give him the boost to deliver another title seemed valid. Was he the absolute favorite? No way, the title would have to go through the 2011 champion Villopoto, but it didn't seem far-fetched that Stewart could find his old groove and start reeling off massive win streaks. His past record demands that kind of respect, and you better believe that riders such as Reed, Villopoto and Dungey, who have all raced, tested or ridden with him at some point during his peak, know exactly how dangerous he can be.
But can is the word now. The belief is that Stewart, at just 26-years-old, still has the potential to do big things again, even though he hasn't been doing it consistently. And that's why JGR recruited him.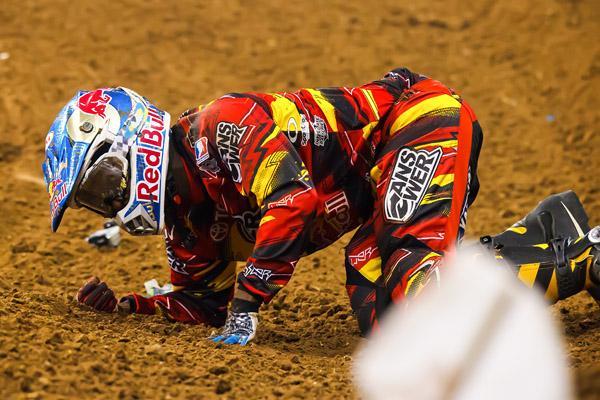 ...and lows.
Simon Cudby photo
Simon Cudby photosThey didn't sign him or court him, they straight-up recruited him. This is an organization that knows winning and demands it, so even Stewart, presenting a risk after a jacked-up 2011 season, was still worth going all-in. Coach Joe Gibbs didn't just coach in the NFL, he won Super Bowl's. He didn't start a NASCAR team, he won Cup titles. He wants the MX outfit to win, and Stewart presented their best bet—and remember, Dungey went to KTM, and guys like Reed, Villopoto and Trey Canard weren't available. JGR's options were to recruit Stewart or wait until another big free agent went on the market in 2013. Their 2011 riders, Davi Millsaps and Justin Brayton, were good, but they didn't deliver wins, either. If they wanted a chance, they had to take a chance.
In Stewart's case, he didn't have many other bets to make. Even "fastest man on the planet" hype wasn't making him the most valuable free agent on the planet, and his options were limited. He's been there before, when Kawasaki walked away following that perfect outdoor season in '08. This time, it basically came down to Suzuki, now without Dungey but in a state of managerial flux, and JGR, who was ready to go with money, a long-term deal, the promise of fixing anything he didn't like about the Yamaha, and even a NASCAR deal down the road.
It's true that in today's environment, a rider like Stewart always has options if he's willing to check those boxes on his own. That's what Chad Reed did last year, effectively ending the excuse for any other top rider ever. From here on out, any top rider with a bunch of money in the bank can no longer say they didn't have choices—because you could always do what Reed did, get bikes you like, and build a team around them.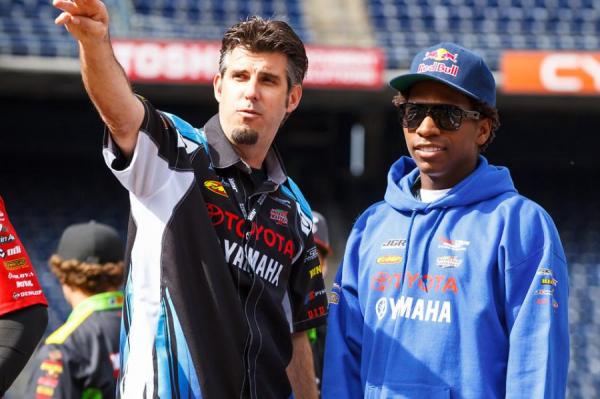 Will Stewart return to JGR for 2013?
Simon Cudby photo
But Stewart was being recruited. Reed, prior to the 2011 season, was not. Reed had a few options and tested with a few teams, but it was nothing like the press JGR was putting on James. Coach Gibbs dialing him late at night telling him how badly he wanted him. Good money. Long term deal. Old friends running the team. The promise that they could fix whatever didn't work on his 2011 Yamaha. Weigh those positives against the two other options—take a low money, short term Suzuki deal (which, at the time of negotiations, wasn't even a guarantee since Suzuki was in a state of flux at the wrong time), build your own team from scratch, or take the full JGR kit, the money, the years, the ability to fix the bike, pump-up speeches from the Coach…and mix that with Stewart's own self-confidence that he can still win and still get it done. Surely, when James decided to make his decision, he never envisioned things going badly, because no one ever does in the off-season. Was he taking the money with JGR? Yes. But he thought he was taking the money AND the wins.
Well, now the outfit has won two races in 13 rounds. That's twice the number of SX wins the team had generated before, but way less than hoped. Stewart, remember, said winning 30-some more races and going after Jeremy McGrath's 72-race-win-record was "Stewable." That's how confident everyone in his camp was in October. Now? Not so much. However the incredible thing is that the team is just one month removed from a 1-2 finish at Daytona, by far the best night ever for the JGRMX outfit. But with Stewart, the ups come quickly and the downs come just as fast. He's not known as the win-or-crash guy for nothing.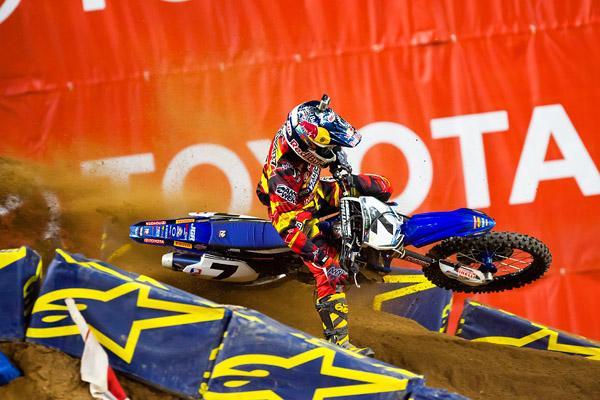 Can Stewart rebound and salvage his season down the stretch?
Andrew Fredrickson photo
Now we know what comes next—endless James-Stewart-style conjecture over what comes next! In the same manner as ACL surgery possibly not being ACL surgery, his rough season has quickly kicked off rumors of a Stewart/JGR breakup. Other riders have had bad years before, but rare is it for a deal with such promise in January to be rumored to be finished by April.
For the record, Stewart has never uttered one bad thing about his team or bike. But he doesn't have to for people to get talking. For example, while it seems widely known and understood that James doesn't get along with the current generation Yamaha, he has never once actually said that in an interview. And even now, while rumors swirl that he could be out at JGR, either by his decision, theirs, or both, you've never heard a word from Stewart, not once, about not liking the team or wanting out. Somehow, with Stewart, these things either leak out or simply get made up. In the case of not really getting ACL surgery in 2008, it wasn't true. In the case of 2012? Anything is possible. That's James Stewart for you.