Reliant Stadium
Houston

,

TX
Houston
Monster Energy AMA Supercross Championship
Since we interviewed Justin Barcia about his Houston incident today (click HERE to read), we felt it only fair to ring up Munn Racing/Moto Innovations KTM rider Lance Vincent and get his take on the situation. Here is what he had to say.
Racer X: Hi, Lance. First of all, are you hurt from the crash?
Lance Vincent: I'm actually not injured. I went to the emergency room because I was coughing up blood, but they did x-rays and said my ribs are bruised along with my lung. But they said it's not too bad, I should be able to take a week off and just go from there.
Only motocross riders would consider a trip to the emergency room and bruised ribs and a lung actually being good.
Yeah!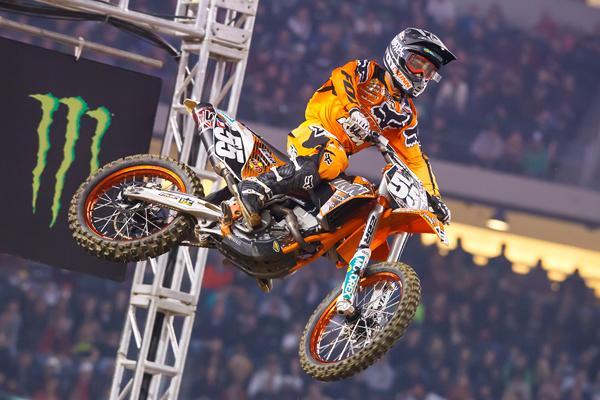 Vincent currently sits 20th in the Lites East Region points standings.
Simon Cudby photo
Okay so take me through the incident from your side. What do you think happened?
Like I said last night on the PulpMX show, yeah, I saw the blue flags, but I was looking over my shoulder to see exactly where he [Barcia] was. But from my perspective, I was racing Kyle Peters for 11th place, so I wasn't just going to stop and let my race go away. So I just kept checking over to see where he was, I didn't see him anywhere close enough to me to where I would have to move over to the side of the track to let him go. I mean, we're pretty good friends, I stayed at his house the whole two weeks around Daytona and Indy. I left, but there were no harsh feelings at all. I think his dad just wanted us to leave so Justin wouldn't have as many distractions, but he told me that and I totally understood that, I had no problems with that whatsoever. His dad said thanks for understanding, and we moved on.
As far as the race, I was just racing with Kyle [Peters]. He [Barcia] went inside of me in the whoops after the start, then I jumped the triple on the right, he was on the left. I was expecting him to jump that double and hit the outside, but he went from the outside to the inside. I mean, I really don't think it was either of our faults, it was just a racing incident. But, he does cross over on people on jumps like that. I think on lap two, he did it to [Ken] Roczen right before the whoops near the finish line. I don't think cross jumping should be anywhere in racing, but whatever. It's over.
You ended up on the ground hurting, so I guess jumping into someone the way you did would have been a crazy way to try to take someone out.
Yeah, again, I had no intentions, at all, of taking Justin down. He's my buddy and I would never take him out on purpose.
Well, that is something that added to the drama here, because you had been riding at his house, and he mentioned today that you had a little incident in Toronto, also. But you weren't enemies coming into this race?
No, no problems at all. Even the incident in Toronto, we talked it out, I said, "Sorry I didn't see you there," and he was like "No worries, bud." So we were cool. No hard feelings going into Houston at all, it was just one of those things that happened.
So, after the race in Houston. What happened there?
Well, when I was laying on the ground with the medic, he kinda runs over there and just pretty much flipped out. He pretty much said everything, but at the end, before he takes off, he just said, "I'm going to come over to your rig and beat the eff out of you." And, I think you can read my lips on TV, I said, "eff off" or something like that. Anyway, I don't care who it is, if they say something like that, I want to find out if they're really going to do it, or what I should expect. So he said he was going to come over to my pits, but I obviously never saw him over there, so I walked over to his truck to talk to him about it. I went over with my mom and dad and that's it. Obviously, people saw me walking over there after an incident like this, so people started following me over there. I don't know if it was my fans, his fans, friends, whatever, I don't know, they just started following me over there. I guess the GEICO guys thought that whole group was just my people. But it wasn't, it was just my mom and dad with me. Anyway, he wasn't there, I didn't get to talk to him about it. I just left and that's where it went.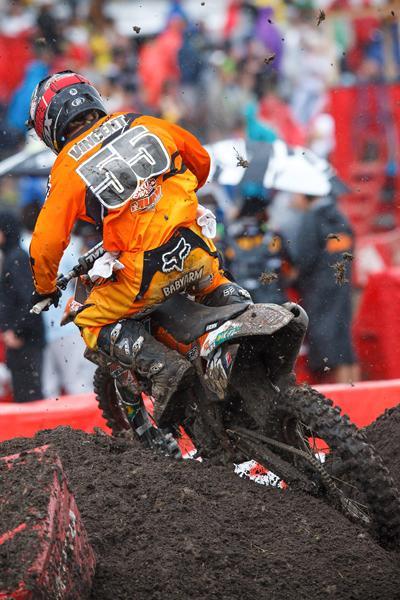 This is Vincent's second pro season, and first with Munn Racing/Moto Innovations KTM.
Simon Cudby photo
You rode for that team last year.
Yeah I know all the mechanics, the suspension guy, Mike [LaRocco, Team Manager}, I know Jeff [Majkrzak] the owner, I know all of those guys and I get along with all of them. I'm not a trouble maker kid. It was just one of those freak accidents. It's no one's fault, really.
From here you just move on?
Yeah, I'm just taking this week off to heal up for New Orleans. I'd like to show up there like this never happened, and just move on.
Last thing: how's your season going in general? It's year two as a pro for you.
Yeah, it's year two. I've had some ups and downs, and I'm just struggling trying to figure out some things. It's a new team and we're learning, so that's the biggest thing. We'll just keep working and plugging away.