Reliant Stadium
Houston

,

TX
Houston
Monster Energy AMA Supercross Championship
Red Bull KTM's Ken Roczen looked to have the Indy SX win sewn up a few weeks ago, until he threw it away all by himself. Kenny chalked that one up to bad luck, and then found out what good luck can do in Houston, when race leader Justin Barcia crashed with a lapped rider on the final lap, allowing Roczen to cruise by for his first win of the year. We talked to him in the KTM semi after the race.
Racer X: You won. Did you realize you had won?
Ken Roczen: [Laughs] Yeah. I mean, I'm glad I won. I just said to Roger [DeCoster] it's not the way I want to win, but I'll take it. People have good luck, people have bad luck, you know? Tonight it was just the luck on my side. Tonight I felt solid. I felt a little rusty because of the flu. I haven't been riding for this whole week. I'm just happy to come out with the big win right now. It's a monkey off my back. Now, with a weekend off, no traveling, I'll get a lot of rest, but at the same time hard practice for New Orleans. Also getting ready for outdoors.
So you think you're going to get over this where you can finally go to normal, clean riding?
Exactly. I can't just go back at it 100 percent and do 10 hours of training a day. I've got to get back in it slow, but it's good to put in solid practice over two weeks. So my confidence is getting better, too. This was a big monkey off of my back, every week it seemed like something was happening.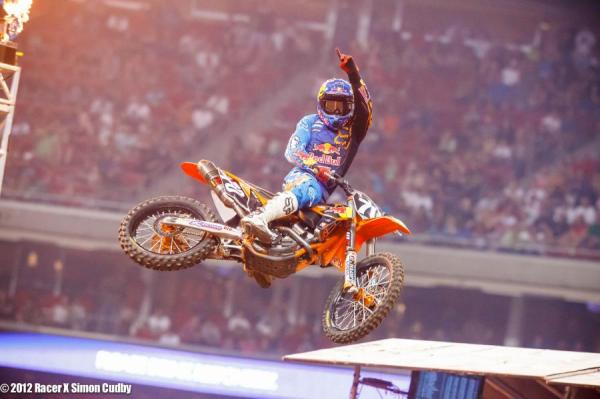 A late crash from Justin Barcia allowed Ken Roczen to pick up his first win of 2012.
Simon Cudby photo
The thing is, though, I know you were in second, but you actually ended up fighting for the win because Blake Baggett was on you and you managed to hold him off, which is what eventually got you the win.
I would've been super happy if I could finish in second place if the race would have kept going the way it was.  My dad said that if we can get a second place here, it's like a win. Then finally with him crashing and stuff, I got the win, so it was good.
What was the track like? People usually like the Houston dirt. What did you think?
I didn't like it the whole day. There were a lot of fast spots. It was mainly one line. There were a couple sections where you could pass overall, but you always have to take it the way it is. For everyone, it was the same, so you can't complain. It was important to get a good start.
How hard was that one rhythm on the far side where you had to go triple on? Was that tough?
It was not hard, to be honest. Out of the corner, there was a rut. This triple was hard, but once you had done that, you could triple-on easy. But like I said, I felt a little rusty for not riding, you know? It took me a lot of time to get going and I didn't really ride the way I wanted.
So you've been sick and not riding as much during the week. It's actually slowing you down at the beginning of the races, getting going, than it is making you tired at the end?
Yeah, exactly. That was a big part. But also I'm only 80 percent. I was just trying to get my rhythm and ride the way I want, you know?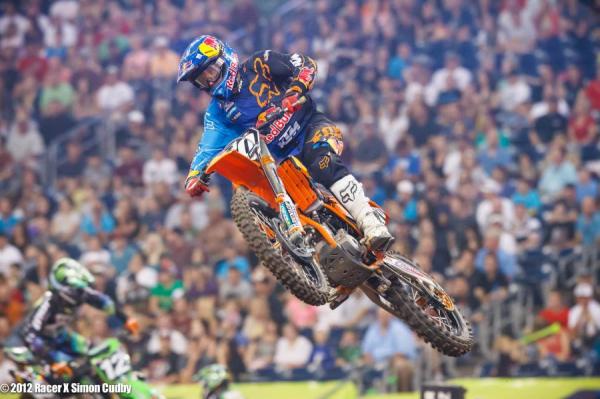 With an off-week on the horizon, Roczen looks to get back to 100 percent.
Simon Cudby photo
You rode the West Region last year, and I know you did some crazy traveling beyond that, going back go Europe between some of the supercross races. But is it a little harder traveling to the East than West?
Oh, it's hard as hell!
It's a big difference?
Yeah, I mean in the beginning I thought traveling back and forth, flying doesn't matter, but it does. It's a whole day of flying. It starts early with your flight at like seven in the morning or something. You have to get up at three, go to the airport, you always have to get there a little earlier. Then it's three hours riding the first flight, stop, and then three hours again. It totally makes you tired.
So that's another thing you've kind of had to adjust to.
Yeah, exactly, that has been hard. I'm trying to find a rhythm, though.