Reliant Stadium
Houston

,

TX
Houston
Monster Energy AMA Supercross Championship
We knew it was pretty much over, but now it's official: Ryan Villopoto is the Monster Energy Supercross Champion. Again. He's the first rider to repeat as champion since Ricky Carmichael in 2005 and 2006. After the race, Matthes talked to him about it.

Racer X: Back to back titles, clinching it earlier than anyone in history. Great job. Pretty easy win for you tonight.
Ryan Villopoto: Well yeah, I mean I had a good start. Davi [Millspas] just knicked me for the holeshot, but I was able to get around him then pull a decent gap.
How's it feel?
It feels really good, obviously, to back to back it. I think Ricky was the last one to do that, so that feels good. It feels really good to get it out of the way. Last year it came down to the end there and I think the real thing that is really cool is that we get to start working on some outdoor stuff. Last year, we didn't have that time at all.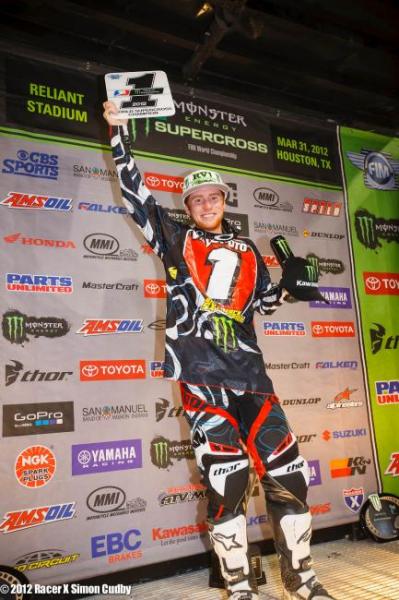 Villopoto captured his second straight title in Houston on Saturday.
Simon Cudby photo
So you're already looking forward to that.
Well, I mean getting some motos underneath us and testing and all that. Where we didn't do anything [for outdoors at this time] last year.
Did you see Stew on the ground? Did you know what happened?
Well, I was paying attention to who was second, third and fourth. And I knew it was like Jake [Weimer] and Davi and stuff like that. So I knew he wasn't in contention, so I knew I was good there. But I was like okay, those guys need to stay on it. They need to not make any mistakes. Then the crowd went wild. I saw a blue fender over there because I was actually just jumping the turn jump. Then I came around in a couple more corners and saw it was him. Then I was like well okay, just focus and finish it off.
It's kind of opposite of last year, where you were maybe the fastest guy, but didn't qualify one week and battled through and, like you said, took it to the wire. This year you got rewarded with kind of an easier way to get it.
Obviously once some guys dropped out, then it became a little bit easier. But other than that, James is still out there and other people have stepped up their game like Brayton and Jake. So it kept me on my toes, you know?
What about this track tonight? What'd you think?
Houston's dirt's always really good and the track was the fastest this week. The problem is that if the dirt's really good, the track breaks down. One the triples on the far side out of the turn got very technical and hard to do halfway through the race.

With four rounds still on the schedule Villopoto's win in Houston set a record for quickest rider to capture a championship.
Simon Cudby photo
You were one of the only guys to do that triple-triple every lap, or most laps. How easy or hard was that to do?
It was tough, because at first that berm was brand new when we started, and then all the sudden there's a rut. Then we went underneath that. Then we keep going underneath it and it becomes barely any run, so it becomes all about the bike's power.
What about Barcia? You were on the starting line for that.
Yeah, it was kind of a big deal. I mean, I understand why he was mad, for sure. But I think he took it out on the wrong guys.
You're not one to get caught up in history, but do you think about it? You've now gone back to back and passed a lot of people in the history books.
My goal isn't to beat MC's record. Even if I set them or break them, that's great. But I'm just out there to win races and championships. Those are my goals and that's what I'm trying to do.