Reliant Stadium
Houston

,

TX
Houston
Monster Energy AMA Supercross Championship
We doubt anyone is going to say
Justin Barcia
did the right thing after Saturday night's Lites Main Event in Houston. However, the core reason why he did what he did is a little easier to understand: Barcia really, really wants to win, and really, really hates losing.
This passion and desire is part of the reason Barcia wins races, but it does get him into trouble at times. A few months before this Houston meltdown came an outburst at the Paris-Bercy SX. Barcia waited on the track to get some hits in on Greg Aranda, who Barcia felt had taken him down in the race. The partisan French fans rained boos down on Barcia, who then came back to apologize the next night. In the heat of the moment, his temper had gotten to him.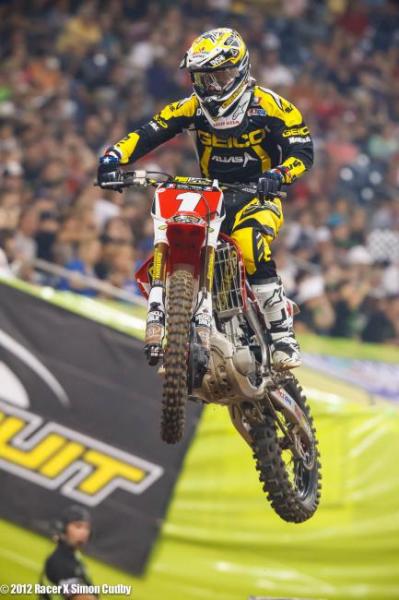 Barcia let his emotions get the best of him at Houston.
Simon Cudby photo
At Houston, he was fined $5000, ten times the amount Justin Bogle and Malcolm Stewart were fined for their run-in at Dallas, but the money isn't even the issue. Once Barcia cooled off, he felt terribly about what he had done, and the public flogging he's going to get from the fans—like the boos that rained down on him in Houston just like they had at Bercy—stings more than the hit to the wallet.
Barcia will have to learn to channel such emotions better, but he certainly doesn't want to turn them off completely. The fans in Houston had a reason to boo him, but deep down, he was acting out because he has the quality every fan wants to see in an athlete: an unyielding passion for winning. And that will serve him just as well as it did do him harm in Texas.