Reliant Stadium
Houston

,

TX
Houston
Monster Energy AMA Supercross Championship
After missing three of the first four mains at the beginning of the 2012 Eastern Regional Supercross Lites season, it would have been easy for privateer Shawn Rife to mail in the rest of the season. But the Ohio native was determined to prove that he belongs on the same level as the factory riders, and he kept at it. A tenth in Indianapolis would jump start his stagnant season, but that was just the beginning. Rife would run inside the top five at Toronto before a late dustup with Darryn Durham left him in nineteenth. We caught up with Rife earlier this week to get his take on what went down in Toronto and how he has turned his season around.
Racer X: You had a career best ride going last weekend in Toronto before a late run in with Darryn Durham. Can you take us through what happened there?
Shawn Rife: I really didn't even know I was in the top five. I was just riding and I saw a couple of people go down and I thought I was in tenth and then my mechanic put fourth on the pit board and I was like, "Oh, man I'm in fourth." Then [Jake] Canada got by me in the whoops and to be honest I didn't know [Darryn] Durham was that close. I hit that little double and saw him in my peripheral and I kind of checked up and let him have it [the position]. I don't think it was intentional or anything. I went into the corner and was going to follow him in because I didn't want to mess up that whole rhythm section. I don't think he took me out, but I was bummed because I was having the best ride of my life. But, overall I thought the night was good and hopefully I can do the same this weekend.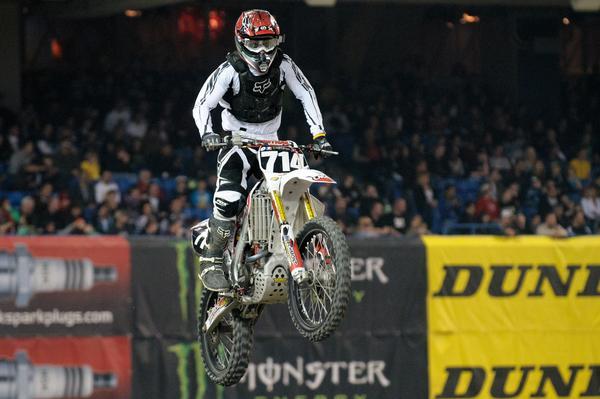 A late run in with Darryn Durham in Toronto would cost Rife his second top ten of the season.
James Lissimore photo
It had to be deflating to go from a top five position to nineteenth. Do you feel that hurts your confidence going forward?
I don't think it deflated my confidence any. I think it was more of a mistake on my end because I wasn't pushing at the moment that I crashed. I was more contemplating what he was going to do than thinking to myself, "This is my spot and you're going to have to take it." But I definitely got some confidence from the last two weekends, and it really helps to get a good start, which I've been getting.
You had some early struggles to begin the season, missing three of the first four main events. But you have turned the corner these last two rounds, finishing tenth in Indy and putting together a great ride in Toronto. What has helped you turn your season around?
I was really riding timid last year and this year in supercross. I was thinking way too much about what was next, basically just over-thinking everything. I really think it's more mental for me than physical. I trained in Florida in January and we rode and trained so much that I really thought that I should be inside the top ten. I was riding with people like [Jeff] Gibson and all the Arenacross guys and was beating them by ten to fifteen seconds. Then I go to the supercross and we are the same speed and I'm like, "How did this happen?" So I really need to put my head down and not worry about my bike being slower or my suspension not working as good. I know people that have made it from the privateer perspective and I feel like I should be able to put it up there whether I'm on a factory bike or not. If you want it bad enough you will be able to get it.
You mentioned that you rode with Jeff Gibson this off-season. You're both Ohio natives and he has been around the sport for a long time. What, if anything, has he taught you about being a pro?
I haven't really talked with him that much but just riding with him has really taught me a lot. I really watch his body, because I know he is going just as fast as I am but he is using a lot less energy getting around the track. Typically I just ride and train on my own but this year I trained down in Florida with Zack Freeberg.
I think I have improved every week. In the beginning I wasn't as good at qualifying but I've managed to get my lap times better. But I think my biggest problem has been the whoops. I think if I can get those down this weekend I should be pretty solid. This past weekend I was running the same speed of just about everyone except through the whoops, I was getting killed there. So I think if I can commit to them better and think of them of just another obstacle I should be good.
Yeah, and the whoops were gnarly in Toronto.
Oh man, they were eating me up.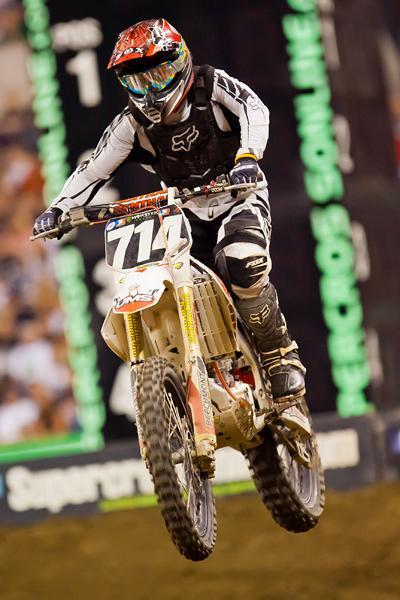 After a slow start to the season, Rife turned the corner at Indy.
Andrew Fredrickson photo
What have these last two races done for you mentally?
Mentally it puts it in my mind that those guys are the same and that they put their boots on the same as I do. I really want to do better than I did in Toronto this weekend, whether it's getting a bad start and coming from tenth to fifth or getting a good start and staying with those guys. I don't want to let anybody get away from me. I'm really looking forward to racing with those guys. I want to have that aggressiveness to where if someone passes me, I want to be able to pass them back. I think the last two rounds have showed me that if I ride hard, and ride aggressive and be smooth, I think anything is possible. I definitely want to be in the top five these last couple of races.
We have two rounds left of the Eastern Region and then the season finale in Las Vegas. What are your expectations going forward?
I want to keep getting good starts and get my practice times better. I want to run with the top guys and put in some good laps with them in practice to see how fast they are going. I at least want to be in the top ten, which with the way the East Coast is, is pretty good. I want to be better, but my main goal is to progress each weekend and take it race by race. I'm going into Houston with the same mentality that I've had the past couple of races which I really feel has helped.
Who would you like to thank for helping you this season?
I would like to thank my family; my mom, my dad, just everyone that is behind me. Dwayne and Doug at Utter Motosports, they have been super good to me. I would also like to thank Factory Connection, Logic Trucking, Utter Construction, Moto Tassinari, Moto Hose, Makers Clothing, Sunstar, Motorex, Fox, Pit Posse, SCOTT, Dunlop, Works Connection, Cycra, Magnummx.com, Renthal, Pro Circuit, my mechanic, my girlfriend and just everyone that has been behind me.