Reliant Stadium
Houston

,

TX
Houston
Monster Energy AMA Supercross Championship
Author: David Vuillemin
Photos: James Lissimore
For this edition of The Breakdown, let's dissect the braking and set-up of a flat section. Let's start with the champ.
You can see RV has nice form; he's leaning with the bike the right way, one finger on the front brake lever for direction. Also look at his right foot; it stays on the footpeg and not on the rear brake pedal. It helps with traction and the old saying, "put weight on the outside peg".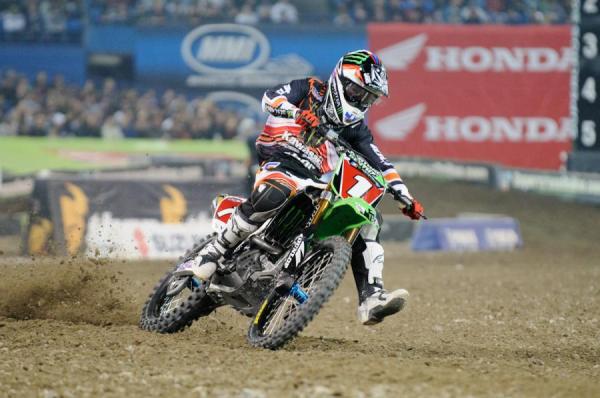 Now we have Jason "JT$" Thomas at the same spot. There are a few things that can't really work. First of all, Jason is using way too much brake. You can see his forks are going pretty low considering the texture of the track and the fact there isn't a berm. By doing so, the rear end becomes lighter, and there's too much weight on the front and not enough on the rear. Now look at his right foot compared to RV. Jason is using his whole foot to brake. With the lack of weight on the rear end and the excessive use of the rear brake, you can see the back wheel skidding and wanting to push to the outside. He is going to have to slow his momentum down more than RV to get his bike where he wants it to go. By doing so, he will lose a few precious tenths of a second.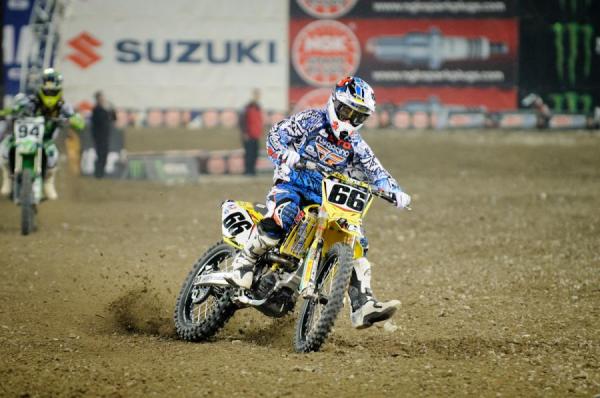 Let's check Marvin Musquin out. I notice a lot of the same stuff I said about Jason Thomas. But there are a couple more things I want to add. First, look at his position on the track. Marvin is getting into this turn way too tight. This is a flat 90 degree turn followed by a tight 180 degree turn. He's making the track tight and you can't carry your momentum by doing that. If you watch Villopoto on TV or live, you will notice how he uses the whole track to slow down. He almost uses MotoGP lines in supercross. Another thing on Marvin's photo is the way he sits on the gas cap, way too much on the front. Like Jason, he is losing a lot of traction on the rear end. Whenever most of your body is on front of the footpegs, you can kiss the traction goodbye.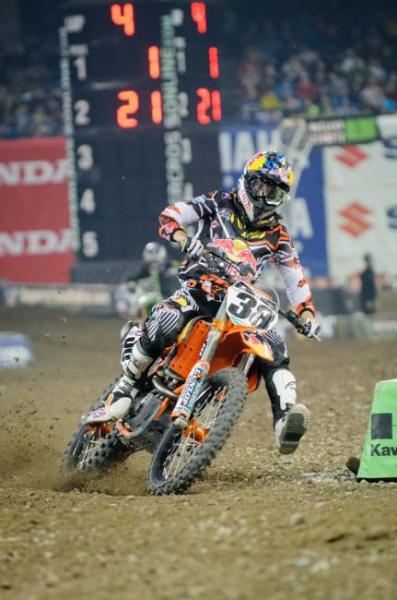 My favorite position is on Broc Tickle's photo. I like the way he stands right there and puts weight on the pegs for traction. You can see he is coming from way outside to open his turn and keep his momentum. To do that you have to anticipate and square the corner before -- where you can see Kyle Chisholm (you'll see Kyle way in the back of this photo, in the previous turn). Where Kyle is, if you get out of the turn wide open and drift to the outside, you will close yourself up for this flat turn. Now, let's check Tickle's right foot. Yes, he is on the brake, but not as much as JT and Musquin. Broc has to be on the brake right here. Because he's standing up, his center of gravity is high and he's using the brake to make the bike squat and to stabilize it. I really like what he's doing in this shot.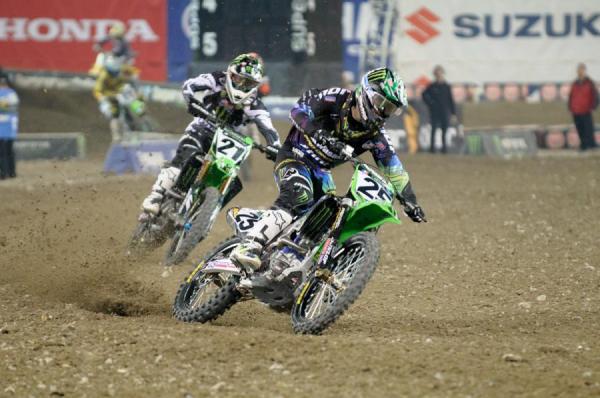 Look at this back shot. Marvin is still sitting, not as far in front as the other photo, but you can see the difference in traction between him and Metty. What I said about JT, wanting to push the rear out, you can see real well here. Metcalfe looks way smoother and more in control. Standing up will help him for the next jump, too. Marvin will have to sit-bounce which means setting up, slowing down some and then gassing it. Metty will stand up the whole way and then just jump without losing time.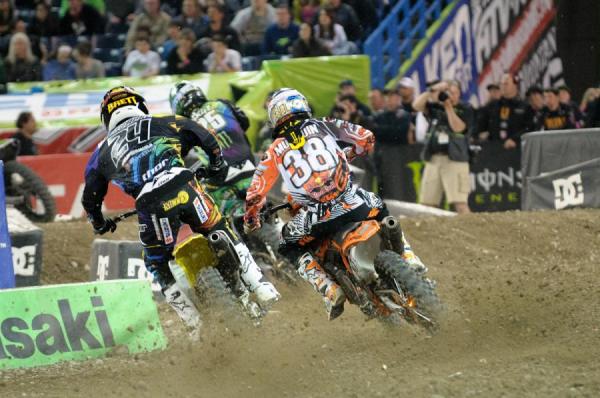 Supercross riding has evolved in the last 10-15 years and riders sit way more on the four-strokes than we did on the smokers. It's understandable on the 450 because they have so much torque that it's tough not to let the bike go under acceleration. But, sitting down and sit-bouncing isn't the key. You lose traction like we saw in these pictures, and by sit-bouncing you jump high and can't hit small jumps as fast as you can when you're standing up. For me, sitting down is the easy way (lazy way?), but it's not the most efficient.
David Vuillemin is a former factory rider for Yamaha and Suzuki. Check out his blog at http://dv12.blogspot.com/ and follow him on twitter, @DavidVuillemin