Reliant Stadium
Houston

,

TX
Houston
Monster Energy AMA Supercross Championship
Team Motosport.com/Foremost Insurance/Ti-Lube's Justin Sipes has been filling in for the team since Chris Blose got hurt at the beginning of the year. The younger brother of Star/Valli Yamaha's Ryan Sipes, Justin has gone the privateer route the last few years before getting some support this year. And really, he's done all you could ask of a fill-in guy: he's made most of the main events, and this past weekend in Toronto, got his career best with an eleventh. We figured that he deserved some love for his efforts and hooked him up with a Racer X interview.
Racer X: Justin, thanks for doing this for us and good job in Toronto!
Justin Sipes: Thanks, it was my best ever on a 450 and it was pretty good, the class is stacked this year. The main went well for me but in my heat, I was bad. I got passed in the same rhythm section by three guys, I kept sliding in it.
So for the main instead of going double-triple-triple I went single-double-double-triple and it was almost as fast but I could do it easy. I got a terrible start, moved up a little bit and was behind [Nico] Izzi and [Matt] Goerke for a bit but they were just trying to clean each other out the whole time. Which was fine for me, I sat back until Izzi took him way high and I slipped underneath and tried to get away from him so he couldn't do it to me! And it worked fine and did just that. I don't know what that was all about but it worked out [for me].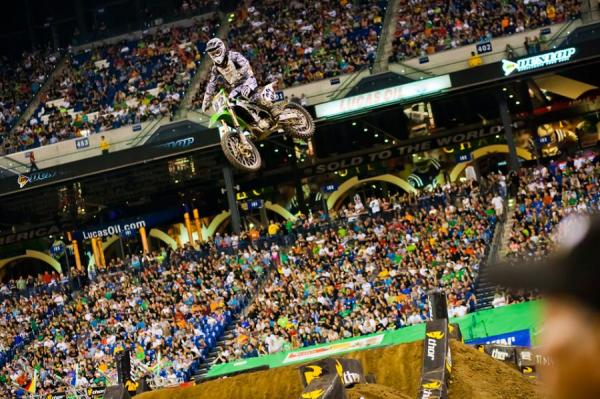 Sipes has been steady in his fill-in ride for Motosport.com/Foremost Insurance/Ti-Lube.
Andrew Fredrickson photo
What did you think of the track?
I liked it in practice because it had some moisture in it, and for the night show, it dried up a bit but was still rutty, soft and yet still dry. It was weird for sure, slick in some spots and rutted up in others.
What about your season as a whole? Even when the class was full, you were in mains more often than not.
At the beginning of the year, it was rough. I was right on the bubble every weekend and one weekend, I got taken out twice while I was in qualifying spots! I just kept working on it and got a little quicker and quicker and consistent at the same time. Now I'm at the point where I expect to be in there every week. Steve Hatch, my trainer this year, we've been working on the mental side of things. I have been expecting to be there and [I'm] not surprised by being there.
What is it like having this much support?
I've always been the privateer guy. Although I did the Warthog thing and the Privateer Racing league thing, even though they hauled the bike, I was sort of on my own. I was on Suzuki City one year, but this is the best support for me. It's really nice to show up at the track and have the race bike ready and don't have to worry about anything.
How do you get along with everyone on the team?
Everyone is good, my mechanic Donk is great and I get along with most everyone so that's not a problem. Nick [Wey] has been a cool teammate when he's been there.
With your team not doing all the outdoors, what's your plan for those?
I haven't got a clue to tell you the truth! I'll cross the bridge when I get there I guess. I've got to get something going and try to talk to some people. It's been hectic because I've been driving to all the supercrosses and it's been a lot of getting up early and driving and trying to ride as well. I need to let some people know that I need an outdoor ride and with all the guys out, maybe that will work to my advantage.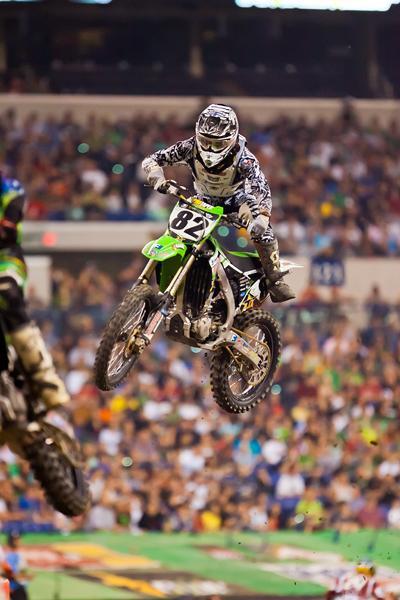 Can Sipes continue his success in Houston?
Andrew Fredrickson photo
What do you feel like you need to work on to step it up to that next level?
Right now I really need to work on my starts. If I can get some decent starts in the heat races….and mains haven't been good. I've been forced to come from the back every time and once the top ten gaps everyone, it's really hard to catch back up. I've got to be one of those guys. I know I can stay up there if it happens.
What's it like to have a brother like Ryan Sipes? Do you feel like you've been overshadowed a bit in your career?
It's fine, there's always someone there to ride with. Although this year he's been out in California all year so that hasn't worked out. I've got a buddy I've been staying with down in Georgia. Everyone always says I have more talent than Ryan but I don't know how to tap into it or something (laughs). Steve's been helping me with that and it's getting better. As long as I can get into that natural talent, it should be good.
Does he help you out with your racing?
Yeah, he watches and we talk here and there. He just got released to ride last week, and after Indy he went to my house in Kentucky and pushed up a little supercross track on the dozer so he can ride. He's not 100 percent yet but he's riding and I always appreciate any help he can give me.
Justin's team's sponsors are:
Motosport.com, Ti-Lube, Foremost Insurance, Wiseco, Motion Pro, Podium ink, Pit Pass Radio, UFO Plastic, Mafia M/C, Fusion Graphics, Dunlop, Crower Performance, ARC Levers, SDG USA, Excel A60, Crank Works, Sunstar Sprockets & Chains, MetalTek, ODI Grips, Brembo, Talon, Dubya, Pro Filter, Bermcannon, CIA Stands