Reliant Stadium
Houston

,

TX
Houston
Monster Energy AMA Supercross Championship
Hello, everyone, and welcome to Rev Up. As the boys push to the line this Saturday night we'll see the month of March come to an end. I just don't see how the days rip off the calendar with such velocity. Devoid of Chad Reed, we had the gruesome Daytona mudder and lost James Stewart to injury a week later at Indy. These 31 days have been rougher than a corn cob for the charge. It would be nice to send March off with a proper dust up in Houston. Ah, Southern Texas. Pretty rowdy down there, son.

Music lover that I am, and when I think of Texas the first sound that comes to my head is the slap of Vinnie Paul's double bass kick drum. Did you know that he used to tape quarters to the back of the mallet to give off that little extra snap? They pound like a primal concrete sledge. Ho ho, the time has come for the annual "Pantera Rev." Pay attention to how many song titles I use this week and it could be winner, winner, chicken dinner. The good folks at One Industries are going to reward the first five correct answers with a t-shirt. (Of course, stickers too)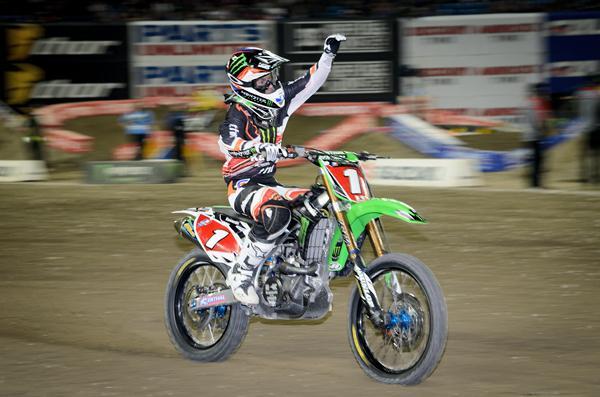 Villopoto looks to continue his winning streak in Houston.
James Lissimore photo
These hard lines and sunken cheeks have been watching supercross since 1982. I've never seen a display of domination the way Ryan Villopoto has handled the 2012 Monster Energy Supercross season. He's finished off the podium, what, twice? The man has ridden masterfully, and left his competition with sandblasted skin. He can drive the nail in the coffin this weekend, and hoist the title belt... with five rounds remaining. Which, I can't really wrap my head around how this is possible. But, such is the case. Alas, five rounds remain. And I can sure as hell tell you that I'm ready to watch every remaining lap. Anybody ready to hear the crew's mouth for war in Houston?

Should be a good gang of crazies for the show this time around. Regular people, these southern Texans are not. Let's take a look at both classes.

Supercross

The message in blood is that "Rambo" Ryan can mathematically clinch this weekend if Stewart fails to make the show. Pretty solid possibility he'll close it out regardless. And good for him. This is Ryan's time. All of the great ones get their time at the top of the mountain. Try as we may for a five rider duel in Las Vegas, our sport is dominated by, dominators. Over 90 percent of motocross history produces the Alpha Wolf. The man is nails and it could be a while before he wears a white number plate again.

There's still an ocean of chaos to come. In these times, every race counts for those with a factory contract. Devastated with injuries, there are still some guys that need to finish the season strong. Brett Metcalfe has been almost invisible all season and needs to get that yellow machine on the podium. Josh Grant talked a lot of smack about being one of the "top guys", and losing out to a lesser rider. Said lesser rider, Andrew Short, got injured but was running at the front until then. Grant can put it down. It's hard telling how hurt he still is, the man has been jacked up for two seasons, but he can carry the mail. I'd like to see him finish out well for Jeff Ward.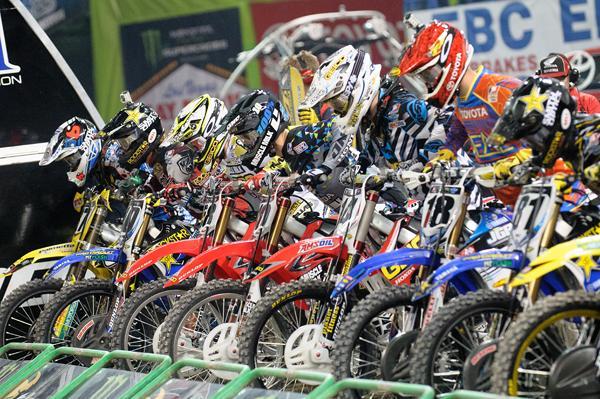 The charge heads to Houston this weekend.
James Lissimore photo
The only two guys that have stepped it up, Davi Millsaps and Justin Brayton, are all that stand in the way of Villopoto sweeping. It could get interesting, because those two riders are expected to win by their sponsors, and don't be surprised to see the duo show a little strength beyond strength.

I'm going to give a shoutout to my fellow Kansas native, Wil Hahn. I'm sure some somebody has noted this, but its rad as hell to see a pair of brothers throw a leg over a factory Honda. Thomas and Wil have had worse luck than, well...pretty bad. I love seeing Wil on the mighty red beast, but I hope he takes it easy. He won't. Texas is pretty much "local" to him and he'll be yanking holeshots and riding hard. Wilbur knows it doesn't matter where you come from. The knows the throttle is on the right.

Lites

Justin Barcia doesn't appear to be in the throes of rejection about missing the sweep. He should be ready to master the art of shredding again. That said, this division showed up rude and only gotten saltier with each passing event. Malcom Stewart is mega fast, but has shown he is still very "green" on the pro tour. He's learning and could surprise some folks. I'd like to see him do it.

Some vulgar display of power has manifested between Ken Roczen and Darryn Durham as well. East Coast guys have always been aggressive and dirty, but those Germans have never been afraid of enjoying five minutes alone with anyone.

Blake Wharton has been one of my favorite guys in the series, although he's been pushed around pretty bad. Especially at Dallas. "Slash" needs to take a little extra around the track, use the tacklin' fuel of his home state crowd, and make these guys, "Re-spect. Walk." This weekend's rendition of the tiddler division could prove to be the great southern trend kill. The flaggers better get ready to pick up some fork guards.
Can Roczen and the rest of the East Region Lites crew slow down Barcia in Houston?
James Lissimore photo
In closing, I hope you guys caught some adrenaline from the Pantera references. I'd actually like to ask; How many of you guys listen to metal or have actually seen Phil, Rex, Darrell, and Vinnie perform? I got to see them twice. First time was in San Jose and it was one of the heaviest experiences of my life. It smells like a truck stop bathroom in the pit. There is no oxygen and it feels like you are in an oven of molten sweat. The fury of the band drives you to push. It is pure aggression and violence, but everyone is having a good time. When they break into the chorus everyone jumps, convulses, and bangs their head in unison. Anger, violence, and still a lot of love.

Just like American Supercross: If you're a metal head, be a metal head with me this time, let's be far beyond driven and get the shoulders back! You hear me talking to you?! Houston Supercross, dammit! Let's take this love we share and get ready to see the gates drop.

Thanks for reading, see you next week.