Reliant Stadium
Houston

,

TX
Houston
Monster Energy AMA Supercross Championship
With his win in Toronto, his seventh of 2012 and 22nd of his career, Ryan Villopoto now sits seventh on the all-time AMA SX wins list. Ahead of him sit six riders, four of them who raced within the last decade (Jeremy McGrath, Ricky Carmichael, James Stewart and Chad Reed) along with one star of the 1980s—Ricky Johnson—and one star of the 1970s—Bob Hannah. But five races remain this season, and at RV's current clip, he could grab wins in each or at least most of them. If he wins all five, the 23-year-old could end his fourth season in the SX class tied with Hannah for all-time SX wins, and just one behind Johnson. By early next year, the all-time SX victory top five could read McGrath, Carmichael, Stewart, Reed and Villopoto.
Can you spot the trend here? That would make the all-time top five riders in supercross wins all riders that came after McGrath (AM?). MC not only rewrote the record books himself, but also rewrote it for everyone else. Now that's dominance!
Villopoto has not even completed his fourth year in the premier SX class, and he missed part of his '09 rookie season to illness and the last few rounds of 2010 with a broken leg. But in his limited time, he has already surpassed legends like Jeff Ward, Jeff Stanton, David Bailey, Broc Glover, Mark Barnett and Johnny O'Mara in all-time wins. Just take Ward for example, who has 20 wins. He was an amazing talent, a two-time series' champion and retired with a record of his own, having won at least one supercross race for eight-straight years (MC later broke that with wins in nine-straight seasons). But even with all of Wardy's accolades and longevity, Villopoto has very quickly sailed past his SX win mark.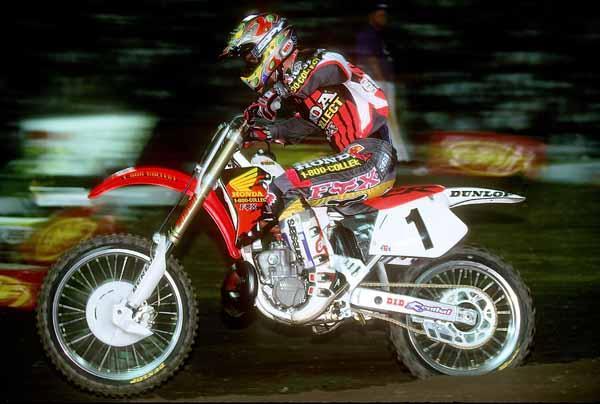 McGrath set the bar, but others have followed suit.
Fran Kuhn photo
This is a sign of how strong Villopoto has become, yes, but also a sign of the times. Since McGrath plowed through the record books, the standard of excellence has changed, and anyone who dominates is much more dominant than before. And even though McGrath's racing days are done, that standard remains. Before McGrath, the supercross champion was expected to win a lot of races. But during, and now since, McGrath, the champion is expected to win all of the races. Because McGrath proved it's very nearly possible, taking 15 of 16 rounds in 1996. That eventually paved the way to even more ridiculous stats, like Carmichael and Stewart producing three perfect 24-0 seasons outdoors in the span of seven years, even though there had not been a single perfect season over the previous 30.
The modern guys do benefit from a longer schedule, with today's 17-race season dwarfing the 12 races Hannah competed in on way to the 1979 Championship, for example. And yes, we know Hannah was cut down in his prime by a freak water skiing accident that broke his leg. Johnson, too, was at the absolute peak of his powers in 1989 when he snapped his wrist. But this really isn't a referendum on RJ and the Hurricane—anyone who watched those guys ride know they were as strong as strong could be. When those riders lined up in their prime, they were also the favorites to win every single time. But that is actually what set them apart. Hannah and RJ dominated, which was rare back then. Today, it's totally normal.
Let's spin the numbers a few other ways to illustrate the point. Through the 1970s and 1980s, no rider had ever won more than seven supercross races in a season. Jean-Michel Bayle broke that record with eight wins in 1991, and Damon Bradshaw won nine in 1992. Then McGrath broke that record again in 1993 with 10 wins. After that? McGrath won seven or more every time he won the SX title, seven seasons in all. Carmichael won at least seven in all but one of his five championship seasons (four total), and both Reed and Stewart also won at least seven in both of their championship years.
RV won six last year, but actually took seven wins (despite not winning the title) in 2010. In all, during the 20 seasons since McGrath burst onto the scene, a rider has won at least seven races 17 times. In the 19 supercross seasons previous to McGrath, it happened four times.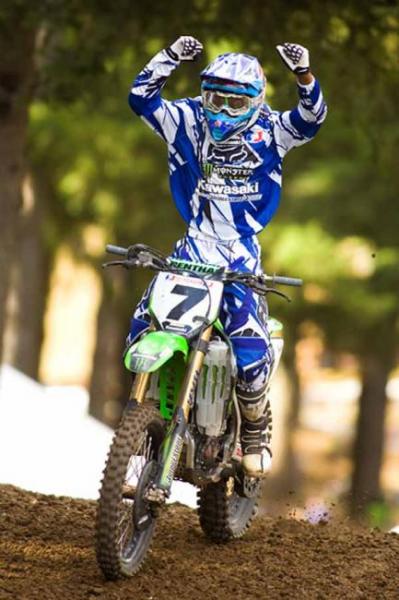 A perfect season outdoors has Stewart in elite company.
Andrew Fredrickson photo
Granted, again, many of those old supercross seasons were shorter, but even within those short seasons, no one ever built a win streak of more than five-straight wins. And when someone did win even five, it was positively huge (Hannah, RJ and Damon Bradshaw each did it once. That's it. There were only three five-race win streaks ever prior to 1993). McGrath had a five-race (or more) streak in 1995, 1996 and 1999, Carmichael had them in 2001, 2002 and 2005, Reed had one in 2003, and Stewart had one in 2007 and 2009. That's nine five-race win streaks. Right now, Villopoto has won two straight but is certainly in position to get a few more. At this point, a five-race win streak isn't even in doubt for Villopoto. We're actually wondering if he can win out for the rest of the season, which would give him a seven-race streak to end the year.
Yeah, but this year's field has been ravaged by injuries. True, but even last year, in an incredibly deep field with five riders capable of winning each week, Villopoto won six times. Jeff Stanton won three supercross titles and never once won six races in a season. Neither did Ward, O'Mara, Bailey…you get the picture.
I think of this in others ways. In 2009, James Stewart crashed out of Anaheim 1. Some folks started immediately doing the math on how many races Stewart would need to win in a row to make up the points he lost to Reed. He left A1 down 21 points to Reed, so the math said Stewart needed to simply reel off a seven-race win streak to make those points up. And that is exactly what he did! In 2009, this didn't seem all that impressive. It really just seemed like business as usual. But consider that until McGrath came along, no rider had ever even put together so much as a six-race win streak! Ever!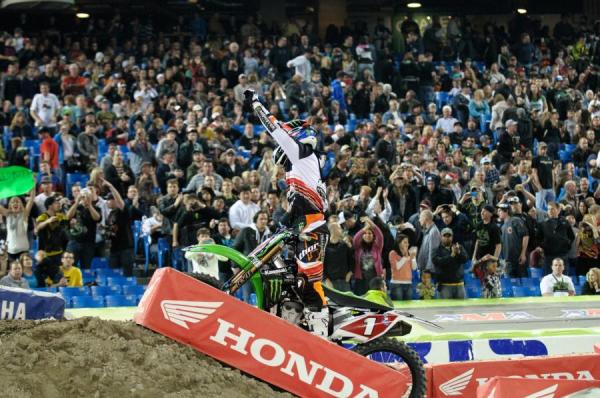 Villopoto has become the new standard.
James Lissimore photo
At the end of the 2003 SX season, the field had been depleted by injuries in much the same manner as has happened in 2012. In fact, it was actually worse, because in '03 teams hadn't really picked up on the replacement rider thing yet. By the end of that year, the field was so thin that the last six races had the exact same podium at every race. Reed won the last six, Carmichael was second every time, and Ernesto Fonseca took third. Six-straight times! Once Reed won a few races toward the end of the season, folks once again started doing the math and realized that even winning six in a row against Carmichael's six-straight runner up rides wasn't going to win him the title. And so Reed won six straight in a casual manner, with most fans just shrugging their shoulders saying, "Ah, he's too far back in points. Oh well." The six race win streak wasn't getting anyone excited by then.
If Villopoto keeps on charging and does get into that fifth place spot on the all-time list, with just MC, RC, Stewart and Reed ahead of him, the numbers will obviously point to something. The modern era simply produces more wins for fewer riders than ever before. Somewhere, there has become a greater level of consistency at the front. Maybe the bikes are more reliable, or less varied from year to year. Perhaps the mental game has changed, and the riders that do win have a bigger mental edge over those that do not. I really can't say why things have evolved to where massive win streaks and win totals are the norm rather than the exception; I can only say that it's definitely the new normal.
In fact, in an injury-ravaged season like this, perhaps the only race left is to watch Villopoto go after the record books.