Daytona International Speedway
Daytona

,

FL
Daytona
Monster Energy AMA Supercross Championship
JGR/Toyota Yamaha's James Stewart collected his second win of the season at Daytona, but a lot has gone wrong between his first win a month ago in Oakland, and this one. Poor starts, crashes and generally sub-par finishes (for a two-time SX Champion) have put Stewart way back in the Monster Energy Supercross standings. But his win at Daytona indicates there is still some fight in Stewart and his team—especially with his teammate Davi Millsaps finishing second in Daytona.
Stewart talked about his win at Daytona at the post-race press conference.
Racer X: Take us through the race and how things were out there, and how special it means to win here in Daytona.
James Stewart: It means a lot for us, you know, just to get a win and then to go 1-2 for our race team. We had a lot of, I don't want to say bad luck, but we had some struggles with some starts, at least I have, and some weird things happening. So to come back from last year where I was out front and then having an accident over in the little triple thing, it's definitely special to come back here. It feels good. I've been saying if I could get a start, I felt like I could win one of these things. So tonight it was definitely good enough for me, so I was stoked.
What was the worst part of the track for you guys out there tonight?
Probably the roller section where all the water was, because the rest of the track and the main line were alright. I think it was tough to pass. You had to kind of pick your places along there, just going lap after lap and [worrying about] flooding the motorcycle and getting it all over the gloves. I mean, I don't know about these guys, but halfway, I couldn't even hold on anymore. I was just trying not to stall the motorcycle. So that was probably the worst part for me, the rollers after the first triple.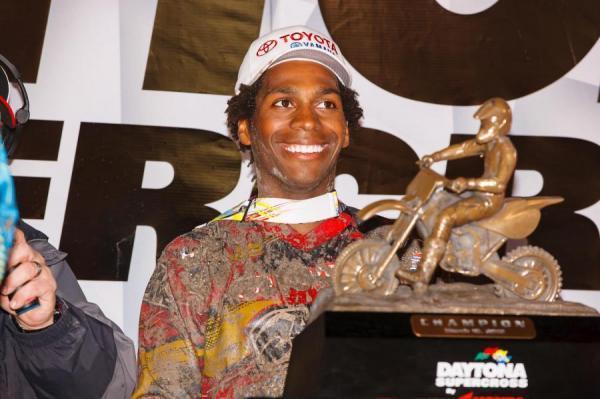 After a rocky start to the season, Stewart captured his second win of 2012 at Daytona.
Photo: Simon Cudby
What does this mean to your championship chances? Any chance of catching Villopoto?
Honestly, I'm just focusing on race wins. To try to make any kind of run at him, it's hard when you're not even competing for wins. Last week I was dead last off the start, and then things happen. My main focus, even here, was to just get a win. And that was hard. The track conditions were really tough—I think you see three of the most talented dudes here on this podium with me, Davi and K-Dub. It was technical, and for us, it was a fun but gnarly race. Moving forward, it's the same thing, just try to win some races and stay healthy. I seem to be moving up just by still being here! We'll see.
What things have you been struggling with and what improvements have you made?
I think the biggest thing is just the starts. When you're in the back of the pack you have to ride, I don't want to say ride over your head, but I will say you ride it past the limits of where you have it set up. So for us, it was about getting a start and kind of getting away from all the things that can happen in the back—you know, running into the back of someone like last week. That was really hurting us. Obviously the whoops were pretty gnarly at some of the races and I think we struggled with that, too. So we made some changes. It's pretty special to get a win here tonight, and for Davi to finish second, for all of us on the team.
JGR obviously has a huge presence in NASCAR what's it like to go 1-2 at Daytona?
It's a real laid back atmosphere on this team, but at the same time, Coy [Team Owner Coy Gibbs] comes from the football side of things, as well. And he called me on Sunday and said, "Hey, we're 1-8." So that wasn't a pleasant phone call! But the team really wants to work, and we understand how much effort everyone is putting into it. Whether you are winning races or finishing 20th, you're putting the same amount of effort in. It was more like, 'Man, can we catch a break?' To keep having to go from dead last, and dealing with things like that, to going out and getting a 1-2 finish, I think it's a morale booster. I mean, it's good—somebody is probably going to have to get drunk tonight and celebrate. Not me though! Not me.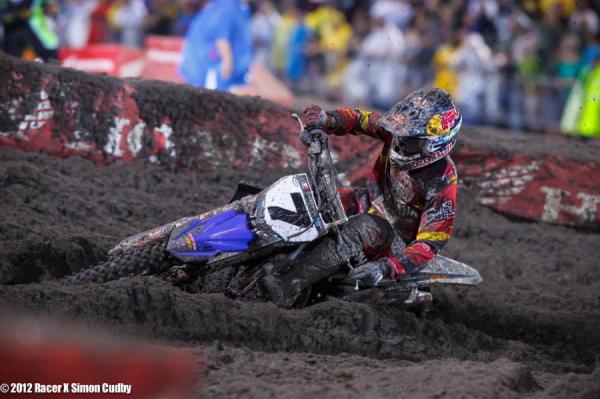 Can Stewart carry this momentum with him to Indy?
Photo: Simon Cudby
Explain running the #259 in practice.
That was cool. I wanted to run it all day but obviously rules are rules. I just felt like it being my hometown race with all of my family here, and also my first ever win here was on the Lites bike in '04, and I ran 259 then and won it. That's really it, not much more to it than that. And actually, not a lot of people know this but #259 wasn't my first number, I first raced with 171.
Talk about that drag race with you and Davi down to turn two.
We put on a different tire for the heat race, and it was actually too much traction! I almost over ran it. Then we all switched to mud tires for the main event. He got me, he held it on a little longer than me, but it was good to be 1-2. It's hard, we're basically on the same bike, motor wise, so whoever gets the jump is going to get the power down. It was pretty cool, except for when he splashed me! Then Davi missed the triple, it was kind of hard, with all of the ruts, but I was able to triple, and I just scrubbed it a little bit and carried the momentum. I wasn't sure, I didn't know who was going to let off. I was like, 'I ain't letting off!' And I think he was the same way, too. I was able to dive in there. The hardest part was, he was killing me with the roost from that water puddle back there. Then I almost flipped over the handlebars through it! Then I was like, 'Wow, I am actually leading a race for a change! I don't know what this feels like!' It was good, probably makes for a nice photo.