Georgia Dome
Atlanta

,

GA
Atlanta
Monster Energy AMA Supercross Championship
The thing the about a rider's last win is that they almost never seem like they'll be the last win when they take place. The promoters don't drop confetti and "Happy Retirement" banners down on the podium when a rider wins his final race—because you usually think after a rider wins one, more are soon to come.
Here is the perfect example (and we'll have another in a few weeks): The 1993 Atlanta Supercross. Yamaha superstar Damon Bradshaw was the odds-on favorite for the '93 AMA Supercross Championship after winning nine races in 1992, but narrowly losing the championship to Jeff Stanton. But the Stanton/Bradshaw era faced kryptonite in a rookie named Jeremy McGrath, who reeled off a four-race win streak in rounds three through six to take over the points lead. Was McGrath for real, or would he fade under the pressure like many rookies had before?
The Atlanta race appeared to provide an answer. McGrath had been winning based partially on his awesome holeshots, while Bradshaw and Stanton had been getting terrible starts for most of the season. But in the first-ever SX held in the new Georgia Dome, McGrath started mid-pack, and Bradshaw and Stanton started toward the front. Kawasaki's Mike Craig grabbed the holeshot and led a few laps, but Bradshaw was soon on him, and then took the lead and pulled away on his YZ250. Stanton eventually shoved his way into second, with Mike Kiedrowski taking third. McGrath finished fourth.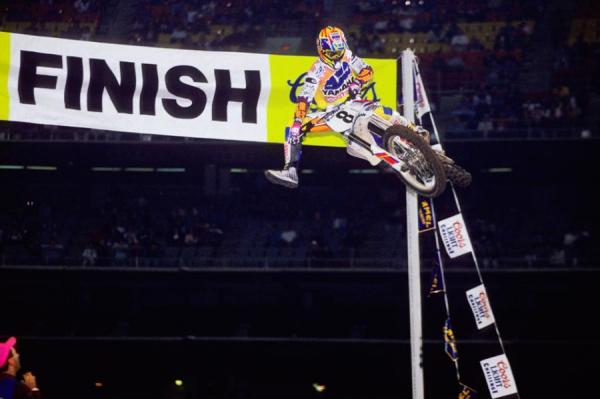 Bradshaw in '93. 'Cept for the dude in the pink hat, this still looks cool.
Fran Kuhn photo
It wasn't a spectacular battle or epic race. Bradshaw just checked out, and it seemed all was back to normal in the supercross world. Bradshaw had taken his 19th career SX win, and had closed to just eleven points of McGrath in the series. More importantly, the race seemed to prove that if McGrath didn't start up front, he couldn't win. Surely Bradshaw was about to rip off a win streak and claim the championship.
Nope. Bradshaw never got it going, and never won another race all season. McGrath got on another role and ended up winning a record ten races en route to the title. Bradshaw then retired for a few seasons. He would win one more race at the National level (the epic High Point mudder in 1997) but he would never win another supercross. The 1993 Atlanta race was supposed to signal the start of Bradshaw win streak. It ended up being the last supercross win of his career—but at the time, surely no one expected it would be.
Check out highlights from this race on this YouTube link: