Georgia Dome
Atlanta

,

GA
Atlanta
Monster Energy AMA Supercross Championship
When the Red Bull KTM team finally made the signing of Ryan Dungey official, they held a big press event at their California headquarters. A few weeks later, the Joe Gibbs Racing Toyota/Yamaha team did the same thing at their North Carolina shop to tout the signing of James Stewart.
Teams should follow this model. Both press events were a hit. The moto media covered the Dungey deal to death because this was the off-season. It was the biggest news at the time, and there wasn't any clutter—everyone was thinking about Dungey and KTM that week. We lapped it up. In fact, the hits on this website show that the initial Dungey to KTM stories were some of the biggest we had all year. Not a single story from an actual race in 2011 drew more hits than the first photos and videos of Dungey on his new bike.
The Stewart presser was not only a hit with the moto media, but NASCAR people were all over it, including ESPN's car shows. Red Bull, KTM, Yamaha, Toyota, JGR and any other brands associated with the riders got a huge push out of these events. And that push was 100 percent positive. The teams and their new riders got to frame the message and put together their own sound bites. When Dungey and Stewart signed, they were months away from racing against the truth serum that is the results column. It's situations like this that breed classic lines like, "I was immediately two seconds a lap faster on my new bike than my old one." Although credit to both Dungey and Stewart for not going that far.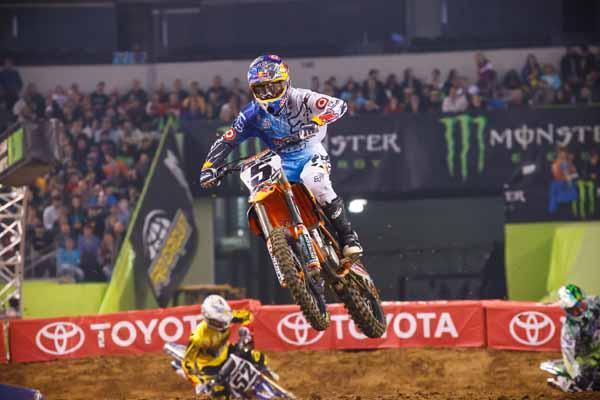 Can Dungey and KTM pick up their second win of the season in Atlanta?
Photo: Simon Cudby
Every team can do this. If Kawasaki held a press event in October just to reintroduce Ryan Villopoto and Jake Weimer during the off-season, we would have covered it, and the riders would have been teed up to say awesome things about their brand and bike. When Chad Reed finally announced the details of his 2012 TwoTwo Motorsports program, it was filled with awesomeness as well—a closer relationship with the factory Honda squad, and some key new hires. There is nothing bad said during the off-season, and teams should be holding press events and pushing the heck out of it, because a solid three months can pass with buyers purchasing bikes and gear and products based on all the positive stuff said before the first race.
Through all the positives, though, one team manager told me something interesting: "Everything is always great when you first sign," he said.
It's true. You'll never hear a rider say he's bummed with his new team, or a team say they're bummed with their new rider. In the off-season, everyone is happy. In the off-season, it's all good.
But that's not possible when the races start, because each week only one rider wins and only three get on the podium. Some people are going to reach their goals and others aren't, and everyone that watches is extremely impatient. How impatient? Most of us try to make judgments based on single races. I've covered the tendency of all of us to do that—media, fans, and team/industry people alike—a few times in this column this year.
I'll give you an example. Dungey forever wiped out the, "KTM can't win supercross races" stigma in one fell swoop just seven days into the season. Done. Stamp it. New standard set.
So guess what happens next? A few weeks later Dungey racks up a couple of fourth-place finishes, followed by two podium finishes where he's not on pace with the race winner. And just like that, a friend of mine—a friend, not an industry guy, just a fan—sends me a text asking, "Is KTM freaking out about Dungey?"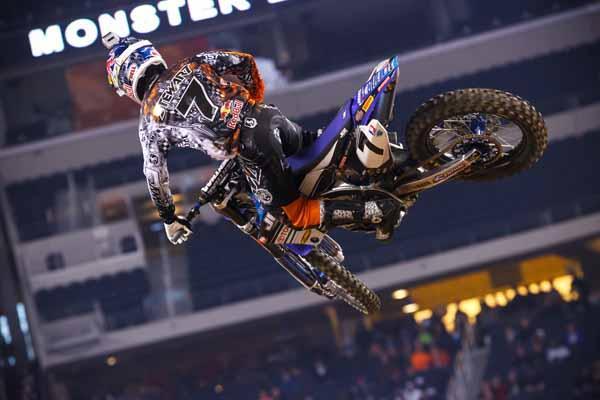 Stewart and JGR have failed to meet pre-season expectations thus far.
Photo: Simon Cudby
See, KTM winning a race early, but then not being in contention to win races since, now seems like a let down. That's the harsh reality of racing—Ryan Villopoto is now taking control and that makes everything else pale in comparison. This weekend, I think Dungey was taking steps to temper expectations. Dungey told me that he and his new team still want to win and expect to win, and that's what they're working toward. They're not giving up or resetting their goals at all—but, they know you shouldn't grab a second-place finish on a brand new bike and hang your head. They're accomplished quite a bit this year and they need to be happy about that.
It's not going James Stewart's way, either. The finishes just aren't coming, and while typical racing problems (bad starts and crashes) can take the blame for the some of the really bad results, the bottom line is James just doesn't seem to be riding the way we expect James Stewart to ride. He just doesn't seem as dangerous as the old days.
As always, when it comes to Stewart, everyone will have an opinion and few will agree. The team is definitely still working on the bike, and a lot of people think what they've learned at James' house in Florida will really start paying off now that we're into the eastern swing of the series (dirt like we'll see in Atlanta and St. Louis, for example). Also, Dallas was an exceptionally bad race for James last year, and while his result wasn't so good this time (due to a freak incident where he stalled his bike after getting stopped by his downed teammate), his setup at least seemed like a step forward.
That said, Stewart's team last year couldn't get the setup right, and JGR was supposed to fix that, and here we are seven races deep talking about the same thing again. Ah, so you know where this is going—the talk is either going to focus on the Yamaha, the team, or James himself, but none of it is going to positive right now. It's a stark contrast to the happy days of that press event a few months back.
Racing is absolutely the cruelest game of all. It's a test that's so fair, it actually becomes unfair at times. Only three people get trophies, and even at that, if these guys finish second, they aren't even happy.

Reed and TwoTwo Motorsports title hopes came to an end in Dallas.
Photo: Simon Cudby
But it can get worse. Chad Reed's TwoTwo effort has stalled now in the cruelest and most sudden manner possible. Moments before the crash, the vibes and thoughts surrounding that team couldn't not have been better. Chad was riding incredibly well. It was all gelling, and now it's all over. Will they have a replacement? You'd have to know the business plan for the team to know the answer to that, and I have no idea how the team is structured financially. And really, what difference does a replacement rider even make at this point? The good vibes came not just from the mix of personalities over there, but because they were succeeding on the track. They were in contention to win the races and win the championship, and that's what makes people really happy in this environment.
On Friday I interviewed Broc Tickle, and he said he was not happy with his results so far this year. Broc believes he should be in the top five, and his team thinks the same. But to be in the top five, Broc would have to be running with or beating the likes of Kevin Windham, for example. We all know Windham is a bad dude! Top five sure sounds like a nice goal, but if Broc is leaving the races bummed because he's not getting there, well, it's just another example of how hard it is to keep your chin up in supercross.
Meanwhile, one man gets to write the perfect story. For as long as Ryan Villopoto remains the ass-kicking, race-winning machine that he is, everything is positive. And really, there is no end in sight to these race wins and positive vibes. The word is: he's awesome, his bike is awesome, his team is awesome, his trainer, his friends, everything. It's the only program that got to start with positive messages and actually still has them going this far into the year. Championships deliver a big reward alongside the fame and riches—the elimination of second guesses. Winning races can pay up to a million bucks at a time, but right now, the feeling that Villopoto and company have is priceless.