Georgia Dome
Atlanta

,

GA
Atlanta
Monster Energy AMA Supercross Championship
The 2012 Eastern Regional Supercross Lites series got underway last Saturday, and if you were watching, you saw Phil Nicoletti race to a career best of fifth place after being absent from AMA supercross for an entire year. With a performance like that, we thought an interview was in order, which is why we caught up with the New Yorker for this edition of the Shoei Privateer Profile.
Racer X: Phil, where have you been?
Phil Nicoletti
: Last year I went to Australia to ride for Monster Energy Kawasaki on Troy Carroll's team, which was a great opportunity for me. It was real last minute, I left pretty much a week before the opening round of East Coast supercross in 2011. I figured that I had a chance to go do something different, meet new people and experience a whole different lifestyle, so I took it. It was a once-in-a-lifetime opportunity to go ride a dirt bike and have a whole new adventure.
What's the level of competition like down there in that series?
No matter where you go in the world, you're always going to have fast guys. Down there I had Matt Moss, Kirk Gibbs,
Jake Moss
and a bunch of other guys, so it was stacked every weekend. I didn't do as well as I wanted to, I didn't come away with the championship, I ended up third. But I made really good gains over the second half of the season, and I still learned a lot and came out of there with a whole new knowledge of things.
You put in a fantastic ride in Dallas, talk a little about that.
The night went by pretty quickly. For the past couple months I didn't really have anything. I was supposed to go back to Australia and ride over there, but I had some major complications with my Visa getting messed up, which caused me to be banned there for three years. It left me with zero opportunity for this year, and I was lucky enough to get picked up by Eleven-10 Mods, Chad Sanner's team. I'm fortunate to have a good bike, which was really all I was looking for at this point with it being so close to the series. It worked out well for me, even though I didn't have a whole lot of time. I rode the race-bike a day before the race, and I had only been on the Honda for a week. It was real last minute, but I kept a level head and it all worked out for the best.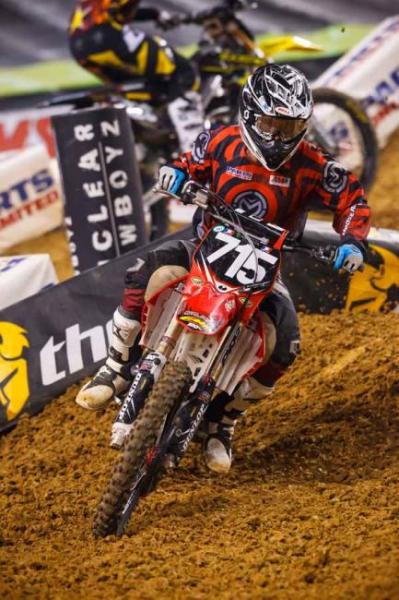 Nicoletti finished fifth in his return to the States.
Photo: Simon Cudby
What happened with your Visa?
Kawasaki of Australia sent in my Visa, and somehow when they sent it in to immigration in Australia, it never got processed. So basically, the whole time I was over there, I was staying there illegally, and not knowing it. I was able to go over there for the first ninety days on a touring Visa, which was going to be fixed, but somehow it got screwed up and didn't get processed. When I went to fly back from Brisbane to L.A., they stopped me at immigration and they were giving me a hard time and saying that I was staying there illegally. It's not what I wanted, and it was so late here, to get a ride. All the teams were already filled up.
Fifth is a career best for you too.
Yeah, it was a career best. I'm happy, I went in there with an open mind. It was a bit intense for me, you know, missing a whole year of supercross then just jumping right back in there in a field as deep as it is. I was tight all day, but as soon as the main event dropped, I got my flow back. I still didn't ride the greatest, I felt like I was slow out there, and I have some things to work on in the next couple weeks.
Well, even if you were slow, you still ended up with a fifth. You think you got a few podiums in you once you loosen up and get a better feel for the bike?
Man, that'd be great, but at this point, with the class being so stacked, I just want to keep improving on what I'm doing. I think I can, that's every rider's goal, to be up on the box, and with the bike that I have and the support I have from the people that have helped me out at the last minute, I believe it can get done in the near future.
What's the plan for the rest of 2012? Are you going to race the outdoors, or maybe race abroad again?
Well, it's not an option for me at this point to go back to race in Australia, I can't go back. I really don't know what I'm doing after supercross, I don't have anything. Right now I'm just with Eleven-10 Mods for supercross. I'd like to stay with them for outdoors, but who knows. I'll just keep plugging away and doing what I'm doing and hope for the best. I'd like to stay here in the States for the outdoors, but if I get a call to go to Europe, I wouldn't mind trying that too, it'd be a cool experience.
Who's helping you out?
Dr. Maresca, St. Lawrence Radiology, Moose Racing, Parts Unlimited, SCOTT Goggles, Club MX, and obviously, my family. Team Sponsors: Eleven 10 Mods, rideMPS.com, Renegade Fuels, Saint Lawrence Radiology, K&N Air Filters, Simply Yogurt, FMF, Larry Brooks, Motion Pro, SDG, Galfer Brakes, Tag Metals, ICW, Crankworks, Wiseco, Dubya, Cycra, Moto Tassarani, 180 graphics, Motorex Oil, Zeta, Kicker Car Audio, Total Image Autosport, RK chains, Excel wheels, Leo Vince Carbon Fiber, Dunlop Tires, TREMX.com, Vortex Ignitions, Bristol Core, Talon, CV4 / Xceldyne, Gravity Agency, Recmx.com, RC-10.com, On-Track Learning Solutions, Ride Eng, PR2 Suspension, GMS Machine.