Qualcomm Stadium
San Diego

,

CA
San Diego
Monster Energy AMA Supercross Championship
The 2012 Monster Energy Supercross season has seen an influx of former amateur prodigies making their return to the U.S. after dipping their toes in the European waters. But while Max Anstie and Zach Osborne will be returning to Europe to contest the GP's, California native Michael Leib is staying home. The California-based former Factory Husqvarna rider (in Europe) is back and lighting up the Lites West class on a privateer ride. Leib has two top tens through five rounds and is fresh off a career best sixth last week at Anaheim 2. We caught up with the SX rookie to talk 2012 and his expectations going forward for this edition of Privateer Profile.
(We talked with Leib late last year as he was beginning preparations for his rookie season. Click HERE to read.)
Racer X: I think everyone comes in with their own expectations, but I think a lot of people would say that you've exceeded their expectations this year. What has been the biggest thing that has helped you get to where you are now?
Michael Leib: I honesty kind of give it up to the time I spent in Europe and, of course, the people who have helped me since I've been home. I think just the different mindset and just training as hard as I can on the Honda is what's really helping me push harder and get some results.
The last time we spoke, before the season, you mentioned getting back to having fun. Obviously, you've got to be having fun getting top ten finishes.
Yeah, it's cool. A lot of people underestimated me. And it's cool, I understand that. I went to Europe and I sucked it up. Someone posted something funny on a website the other day and it's just cool that people are realizing that I wasn't just full of it for the last few years. So I'd say that's been pretty cool.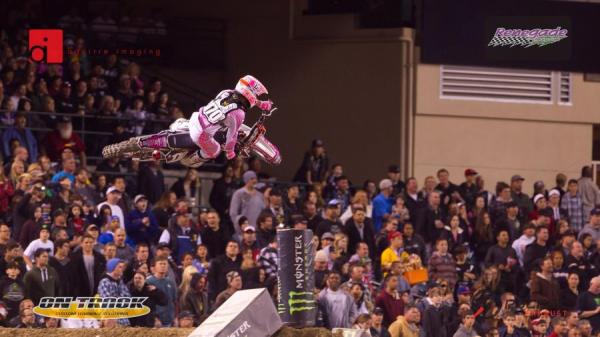 Leib finished a career best sixth at A2. For more wallpapers of Leib from Carlos Aguirre click here.
Photo: Carlos Aguirre
You had a career best sixth at Anaheim 2. Take us through your night, and what it meant to you.
Yeah, it was actually kind of funny how the whole night worked out. I had bronchitis for two weeks. I rode in Oakland and that was pretty much all I rode between L.A. and last weekend in Anaheim. I started out the night really rocky. Practice went horrible. I was like 18th fastest. Then I kinda found some stuff that was there in practice and kind of turned it around a little bit. The heat race, once again, I got a fifth for like three time in a row. That was pretty cool. Then I got out in the main, got a decent start, and kind of tried to stay in there and did as much as I could.
It's only your rookie season, obviously you're taking things one step at a time, but you're right on the cusp of the top five, battling for podiums. What do you think it's going to take to get to that next level?
It's a tough answer for that question. What I've realized is that there are so many variables that come into play and there has to be a perfect opportunity at certain moments. So I would say the best thing that's going to help me get there is to just keep doing what I'm doing. I mean obviously it's working so far. Things are coming. And like I said a hundred times before, the key for me right now is to go out and have fun and get some experience. I'm just finishing my fifth supercross race that I've ever done and I'm getting close to cracking top five on a privateer bike, so that's out of my own pocket. I mean, yeah, there's people that come in that get podiums and people have won races, but on a factory level. So right now, where I'm at, and what I got going on, I'm pretty pleased and I'm just having fun with it. I'm enjoying myself. I'm going to the races in my old trailer. It's just kind of a cool thing that worked out. I think the results are going to get better and better and we'll just kind of see where things go. We've got four more.
The Lites West class takes a big break after this weekend. What are you going to do to keep your momentum going and be race ready when you come back in Seattle?
Just train away. Get some outdoors stuff in. A big thing that Europe helped me with is that I kind of had to stay mentally stable. It's not something that I've been the best at. Just taking what I learned in Europe, as far as that, and bringing it here has really allowed me to not worry about trying to get back to where I was that last weekend. Not worrying about the pressure on myself, saying I've got to go out and finish here. I'm just going out there and riding to my ability and if I do that, things are going to go the way that they have been.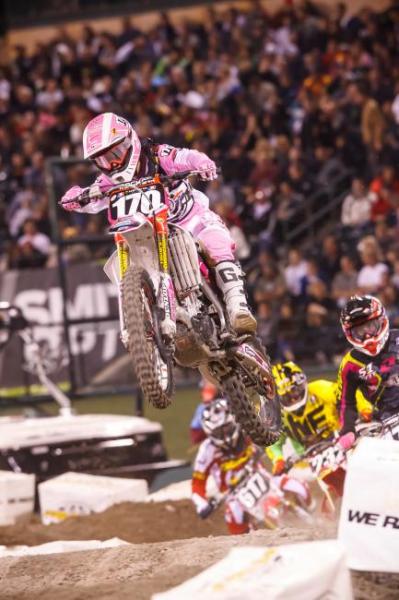 Leib has finished inside the top ten twice during his rookie campaign.
Photo: Simon Cudby
Looking ahead to next week, I don't know if you've seen the track map, but it's probably the longest whoops section there's been this year. Does that change your training during the week?
It doesn't. Like today, we went out and rode and it was a little too wet to ride the whoops, so we actually spent the day outside the whoops. But whoops, for me, are pretty difficult. I'm still trying to get that whole learning curve of the whoops and stuff. But, I'd say just keep training and go out there and put laps in. I'm trying not to put whoops on a big scale. I'm trying to look at them as just a section of the straightaway and not let them stand out.
That's a good mentality, because I think a lot of other peoples' minds take them out of it.
I'm totally guilty of that.
They see them and before they even hit them, it just mind warps them?
Last weekend was a perfect example. I don't know if you saw it, but in the first practice, no one made it through them. I was sitting there watching the first practice and I was like, "Great. This is just what I need."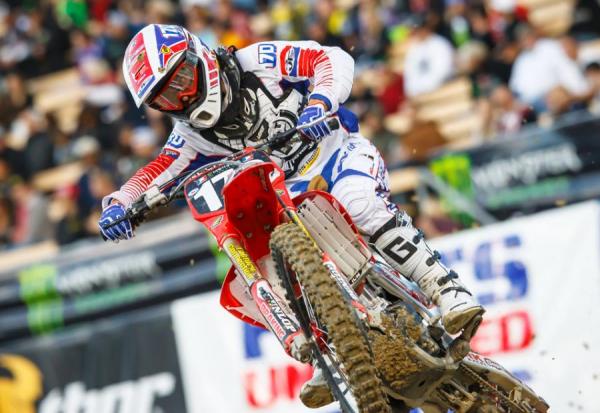 Leib is looking to make it back-to-back top ten's in San Diego.
Photo: Simon Cudby
You have to be happy with your season thus far; but where do you see yourself being at the end of the season compared to now?
I wouldn't say that I'm happy with where I'm at right now. I'm pleased with the progress, is the way I'd say it. But if I switch places to where I want to be, I'd be showing up on the weekends where everyone's goal there is to win races. If that's a realistic goal for me this year or not, I don't know and no one's to say. But I think my next goal for right now is to break into the top five. And once I do that, then there's the podium. It is cool to be that close and to be able to say I've got two more goals and then I'm on the podium. I didn't expect to be so close to the top five already. I mean, yeah, that's where I wanted to be. That's where I've been training to be. But I don't have expectations. I'm going there to ride to my ability and to check a goal off the list one by one.
Well thank you for your time. Who would you like to thank for helping you out this season?
My dad at Rocket Exhaust, my mom at On Track, Renegade Fuels, my buddy Josh Pitts over there is really helping me out, Eleven 10Mods for helping me out huge with engine stuff, Milestone MX, Race SoCal, JT, X Brand, Gaerne Boots, Leatt Brace, Super Sprockets, Motorex, Moto 2 Fitness, A'ME, Asterisk, Autism MS, Boyesen Engineering, Braking, CYCRA Racing, Dunlp Tires, EKS, Factory Connection, GoPro, Hammer Nutriton, Hinson Racing, Hot Cams, Leo Vince Carbon, Malcolm Smith Motorsports, Motion Pro, Moto Hose, Moto Tassinari, Renegade, Rim Wrapz, R&D, REC-MX, RK/Excel, SDG USA, SDI, Seal Savers, Split Designs, Super Sprox, Tamer, TRE, Twin Air, Wiseco Pistons, Vitamin Water, Vortex and Alexander Orthopedics. Those people definitely helped me out a lot.