Qualcomm Stadium
San Diego

,

CA
San Diego
Monster Energy AMA Supercross Championship
Hello, everyone, and welcome to the Rev Up. We close our eyes and another week flies by. It's already time to do it again, folks. This Saturday night's dust up in Southern California will conclude the opening segment of the 2012 Monster Energy Supercross season, and what a start it has been. As you peruse the championship points, there are some things that may raise an eye brow while others appear to be fairly expected. Ryan Villopoto is leading with Chad Reed, Ryan Dungey and James Stewart closely in tow. As morbidly expected, we've lost some of our beloved to injuries. Respect. That said, the manner which said points came to fruit has been spectacular. Each of the big four has grabbed a "W" but only the defending champion has garnered a pair. When the checkers flew at A1, the forecast looked a lot like San Diego weather. As we've seen, this storm is variable. Like a tornado, she can change her ferocity and direction at any moment and with every drop of the gate.
The charge lands us in beautiful San Diego this time around. Hosting Marine stronghold Miramar, and the "32nd street Naval Station" she harbors most of the U.S. Pacific Fleet. The eighth largest city in these United States is also synonymous with exotic animals such as the San Diego Zoo, Sea World...the San Diego Chargers (Jurassic Park quote), but I digress. Be that as it may, this Saturday night will witness the madness coming to town. The sound and the fury of our passion. We're almost up to full song, my friends.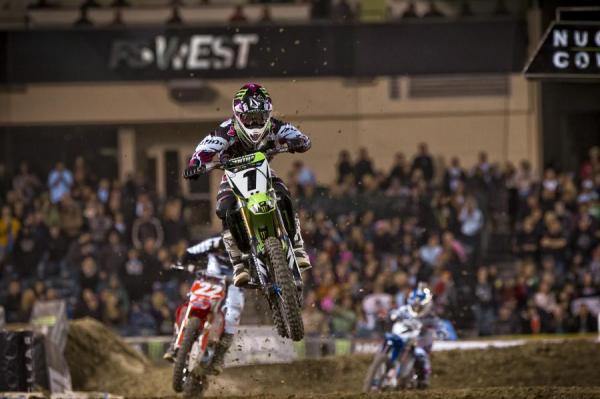 Villopoto leads the charge into San Diego.
Photo: Garth Milan
Moving forward in bench racing speak, RV Park remains the heat. Reedy, Bubba, and Dungey have shown they can get it done, but baring a few fluke starts and one off night, the rider carrying the red number plate to the line this weekend wears the bull's eye on his back. A burden he more than is primed to carry. Why? Because of his corner speed. Ryan's corners are better than the rest and by that nomenclature his alpha male status remains steadfast. The Thunder and Stew have shown the capacity to carry the mail, but they both have to step up their basic cornering fundamentals if they want to win again. Ryan is such a rampaging beast on the track, but he is going so terrifyingly fast that he "OJ's'" to the face of berms and jump faces and this isn't good for his long-time bum wrist. I personally thought that is what bit him around the halfway point in Oakland. Plus, if you watch any highlight clip of RV you can clearly see he frequents the edge. Much like Ricky Carmichael. Which, actually worked out pretty good. Ahem. Watch the number-one's helmet through the corners. It is centered and his form is 100 percent moving forward with extreme prejudice. Speed defined.
What does Reed need to work on? Nothing. He's sitting in a comfy championship seat and can rely on his experience to soldier on. Chad's solace is the one chink in RV's armour -- which is Ryan's occasional poor starts and overwhelming aggressiveness. Chad is the most prolific podium finisher in all of supercross history. When he's ready to unfurl the heavy artillery, he can. But, it's still too early to type in the access codes. Ho, ho. He is in a position to win by attrition and consistency and he can do just that. What I love about Chad is he is a true racer's racer. Not the fastest practice, or heat race badass, but when it is time to put it on the money, "Two-Two" is ready to answer the bell. I'd like to see him get mean this time around the block. Go get some, son.
Then we have the James Stewart question. While Jedi esque, he looks like he is going to bail at any moment to me. His front end isn't positive, and he doesn't look "in the track" a lot of times. They found something at Oakland, which I think was simply softer dirt, but as mentioned he is beat up now. But, he's gnarly. Very, very gnarly. Stewart remains an anomaly. He could be ready to burn their ass, or just robot to a top four. When the bikes are pointed straight and are navigating a timing section, nobody is better than #7. Like I said, the man's corners were great in Oakland, and he looked even better at A2 before he stacked it up hard. He has to stop doing that. Period. Now he's banged up and probably didn't ride very much this week.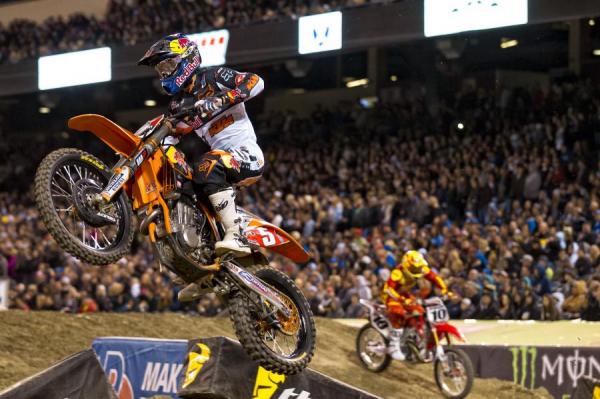 Dungey is looking to gain ground on RV and Reed in San Diego.
Photo: Garth Milan
At the tail of this group is Dungey, who hasn't gotten off the line in the last two weekends. There is a lot of uncertainty and parody with the four-horsemen, but one constant is the start. None of them has come through the pack to win yet. I think Dungey could do a lot with a holeshot and get his name back in the fight where it belongs. He needs to make a statement before the east coast swing takes place and I think he can do just that. Ryan goes faster with confidence and he need to put his balls on the gas tank and get there. He's done it before but needs to become born again hard. Now.
The rest of the boys, well, I think Andrew Short and Justin Brayton have the juice to get in there, but they have to get a holeshot and dig deeper. There have been some rumblings from Kevin Windham, and the song remains the same for him. Get your ass off the gate and run, son. Run hard.
Meanwhile the tiddler division has caught me with a deft upper-cut. I truly thought Dean Wilson and Tyla Rattray were going to roll over this crew. I saw Dean reel in Barcia at Atlanta last year then watched him go nuts in the outdoors. I thought he was primed to dominate. Well, he isn't. Instead, the rider that posturized the field at Hangtown 2010 has placed his kung fu grip around the 2012 West Coast title belt. That man being Eli Tomac. The kid is straight crushing it and doesn't look to be offering any quarter. Last time to dance for these boys for a while. Great weekend to make an impression. Nothing between you and the starting gate, but 15 laps and glory. Capture it.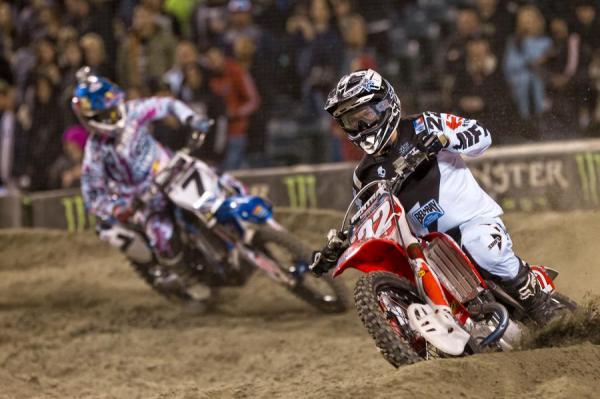 Stewart (far) sits fourth in points behind Villopoto, Reed (near) and Dungey.
Photo: Garth Milan
Here we go again. This is what it's all about. Time to roll up the sleeves before the East Coast swing and get into the meat of this debacle. Who do you love this time around? I'm going with James Stewart. May be a far off call, but only when you put a beast in a corner do you really see his teeth. He'll need teeth, talons and more to beat Villopoto. He has them. So do Reed, Dungey, and...you get it.
Let's roll. This time we're back on the attack, LIVE ON SPEED. Let's get it the hell up in here, boys! Who's ready to see the show again!? Who has the juice!? This one has the smell of something weird, so let's crack the knuckles and get ready to watch the crew do work.
Thanks for reading, see you next week.