Dodger Stadium
Los Angeles

,

CA
Los Angeles
Monster Energy AMA Supercross Championship
Interviews: Steve Matthes and Jason Weigandt
James Stewart, JGRMX/Toyota/Yamaha, third place in SX class
Racer X: First podium of the year. Something to build on?
James Stewart: Yeah, for sure. Considering how practice went today and how the heat race went and even with a fall in the main event. We can start somewhere. The starts are better, so that was a good thing. Just keep building. We still need to work on the bike a lot and once we get there, I think we'll be fine.
We only got one practice. How much did that affect you?
Well, if I would've rode the whole practice it would've been alright, but I rode about two laps then crashed on the next one, so three total laps on the track. I was still trying to figure out what were they jumping and what was going on. I don't know if the practice hurt. Just being a little beat up from the crash probably was worse than what actually happened.
How was the crash on you? It looked pretty bad on video.
I bent the handlebar on my chest. It was alright. I think, like I said, one of the positives was that the starts were good and I think we just need to keep working and figure it out. I mean, I rode around the first ten laps, kinda started finding a rhythm. So it was all good.
I feel like the tracks haven't been suited to you technically early on. Would you agree?
Yeah, I think Phoenix was a little better because the dirt was different, it was slippery. But for sure they haven't. They've been good trails and it's tough. You set up for one thing and then you get here. There was supposed to be no whoops here and then there are whoops. Sand there and then there's no sand. I mean, it's doable, so it may be alright.
How was that accident and the red flag? Not only were you probably worried about Canard and Morais, who are guys you race against, but staying warm, staying loose, staying focused?
It was probably good for me. I got to ride and my heart rate was up and it was chilling. It was only one lap, you weren't even warm yet. It wasn't a big deal. You're just concerned about the riders. Any time there's a red flag it means there's a rider down. Ryan's beat up pretty bad and I hear Trey is not too bad, but hopefully they'll both be fine.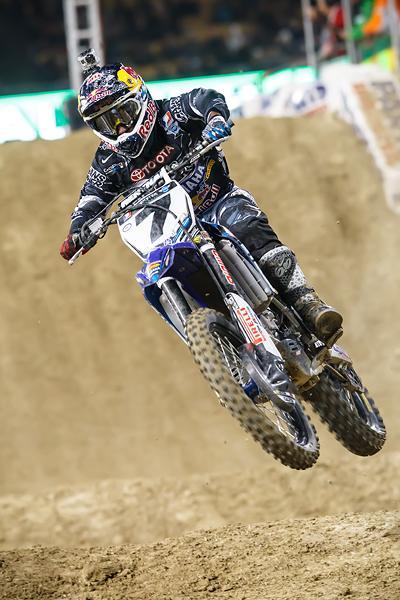 "The starts are better, so that was a good thing. Just keep building." - James Stewart
Photo: Simon Cudby
Ryan Dungey, Red Bull KTM, second place in SX class

Racer X: How was it?
Ryan Dungey:  It was good. I think, first off, I expected it to be a lot more muddy when they pulled the tarps off earlier, but the track was actually really bone dry in a lot of areas. There were a couple wet spots from the rain coming in. But they did a good job prepping it. Practice went really good for the time we had on the track; 12 minutes. In the heat race, we actually tried a few things, experimenting a little bit and ended up being ok. It gave us a good direction on which way to work with the bike in the main. I feel like we made some great decisions and good choices and the bike fit really comfortable.
Got off to a good start in the first start, then there was that restart and I hope everyone was ok. There were a lot of guys missing on the line that second time, but hopefully everybody's ok. Got off to another good start. Not as good as the first one, but I was sitting in about fourth. We tried to slowly and steadily make the passes from there. A couple guys made some mistakes. James made a mistake when he was in front of me in second and I almost got wrapped up in that. But I was able to get from there to a clear track and by that time, Chad had 2, 3, 4 seconds on me and I tried to close the gap but we played cat and mouse. He rode a solid race tonight.
But the Red Bull KTM tonight felt good. I feel like we have a good setup, just need to keep making minor adjustments, a little bit of progress along the way. I think that's better. But all in all, I feel like it was a great night and everybody did a good job, and we'll try to just keep carrying this momentum forward. There's a lot of racing left.
You're the points leader, but is that a question I should even bother asking?
It's cool for the guys and for myself and it's great to have a little added bonus to run the red number plate. It's nice and we work hard. At the same time, like you said, it's really early. It's only race 3 of 17, so you know the drill. Just keep sticking to one race at a time and focus on living in the moment and just try to keep winning these races and keep consistent, put ourselves in a good position.
Are you picking your spots, kind of seeing how it goes down? Or is it like go to the front, go to the front, go to the front?
I guess get to the front with whatever it takes to get to the front. Not put yourself in jeopardy.
Are you letting the race play out?
Yes and no. I mean, I think it's important you make those passes happen and go because if a guy might be holding you up then you gotta get around him. Cause if you stick behind the guy, then guys sneak up on you and then you start getting into that and then you lose positions and you get shuffled around. But tonight, Weimer got taken out by James and James made a mistake, I found myself in second and then just ran it in for second. It's so important to get a good start these days because 20 laps is a good lengthy race, but in some cases, once the guy out front gets away, there's no catching him unless he makes a huge mistake, which is really random. So getting a good start and just being there from the get go and try and put a stamp on it at the end.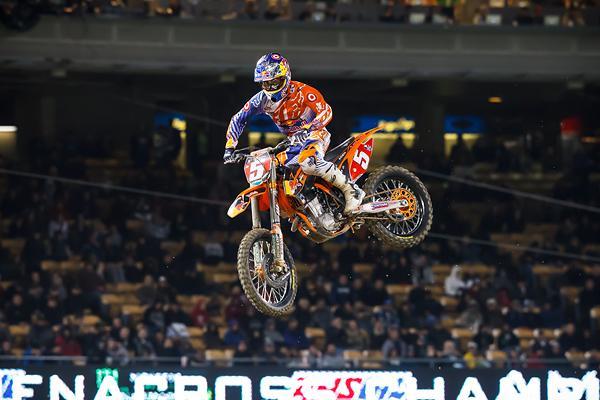 "It's cool for the guys and for myself and it's great to have a little added bonus to run the red number plate." - Ryan Dungey
Photo: Simon Cudby
Zach Osborne, BikeIt/Cosworth Yamaha, third place in SX Lites class
First career podium tonight! You've been on the verge of getting it, so congratulations.
Zach Osborne: It's actually my third career podium.
No, but in supercross.
Yeah.
Where?
Toronto and Vancouver. You should know this.
The World rounds? Oh yeah, we're not counting those.
I'm just kidding. No, it feels great. I'm so happy. It's been a long time. It's been a long four years to get back to racing supercross and I always knew that I could do it. I've put in so much work. I'm super blessed to have the opportunity. My parents and my fiancé Brittany have been behind me for so long and made a lot of sacrifices for me to race in Europe and do what I've done. I gotta give it up to them, mainly.
All day long you were on it, right from practice. Were you just extra comfortable with the track or something?
No, I'm just starting to feel more confident with it and more comfortable. I feel good, my bike's really good. Everything is awesome. I feel more and more comfortable each week with it. I've been riding supercross for three months now and to race it is different, obviously, but I'm starting to feel more comfortable each week. Especially today with a twelve minute practice, I thought I did well to adjust to the track quick and be there from the get go.
Good battle with Davalos there.
Yeah, like I said last weekend, my biggest problem is that I didn't make stern passes and tonight I made one. And that probably made my race to be honest.
So one more race? Just one? Are you sure?
I don't know, we'll see. Honestly, it's not up to me. If we go home, then cool with me. If not, then that's cool with me too.
Is it your British mechanic that wants to go back to the motherland?
No, honeslty he's bummed on it. It's so short and so little work to do to the bike.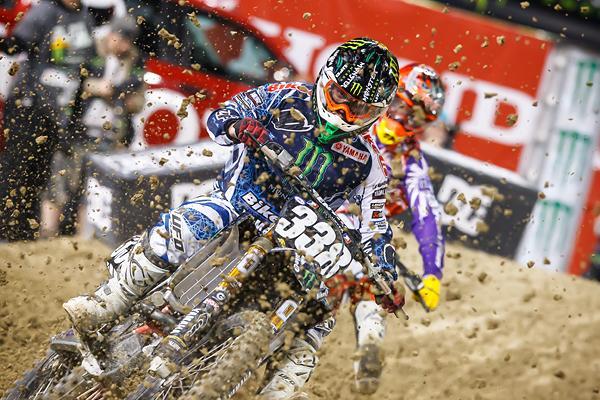 "I don't know, we'll see. Honestly, it's not up to me. If we go home, then cool with me. If not, then that's cool with me too." - Zach Osborne
Photo: Simon Cudby
Nick Wey, Motosport.com/TiLube/Foremost Kawasaki, thirteenth place in SX class
We had Morais and Canard go down. How did that restart affect you, sitting on the line? It had to be a little bit of a bummer.
To be honest, I came inside and I saw Morais and Canard coming together almost off the takeoff, so I skidded up the face and doubled the triple, luckily, and landed in the mud. And when I was getting my bike going, the flagger said no hurry because it's gonna be a red flag and I looked up and it didn't look too good. So I was happy Morais was moving around when he came off the track and hopefully Trey's ok too. That's super unfortunate. But it was a tough night for me, having a big crash last weekend and being so sore. I probably wouldn't have been able to even compete tonight if it weren't for the Asterisk Mobile Medical Crew helping me out and getting me loosened up. But the shortened schedule didn't help at all with me and I kind of got loosened up midway through the last chance and I just kind of did some laps and I ended up thirteenth, which is not where I want to be. I definitely have what it takes to run where I want to, but I just need to get healed up and work with the team a little bit more to get my confidence up.
LCQ was gnarly. Good battle.
Yeah, it's just unfortunate that I was in the LCQ.
But, it was intense. It's like that all year. Justin Brayton missed the main event. Every week there seems to be some really top names and great riders missing out.
For sure. It's definitely a tough class and as a spectator, you can see that everybody but Ryan's not making too many moves off the start. And I think that's why we see stuff like this happen off the first lap the last couple of weeks because everybody's so focused in the sport right now. There's a lot of talented riders in the field and everybody wants it just as bad as everyone and, unfortunately, crashes like this happen unless we can get something on the track that's gonna separate some people.
Speaking of the track, hard to pass out there. Not a lot of passing going on.
I'm just saying it seems like that's been the case from the get go and that's what I'm saying about people maybe trying to make some moves that aren't as smart early so they can get track position because it is so hard to make up time and make passes.
Watching the guys, it looked like it got beat up quick too. Holes everywhere.
They laid the dry dirt down and then it kind of got soft underneath, so it just kind of got chuckholed all night. But we can't criticize the series at all because we're all very fortunate. The pinnacle of the sport is supercross. Everybody can bench race and say this and that. But the bottom line is the bikes and the riders right now are at a level where it's definitely getting more dangerous because everyone's putting it on the line every week.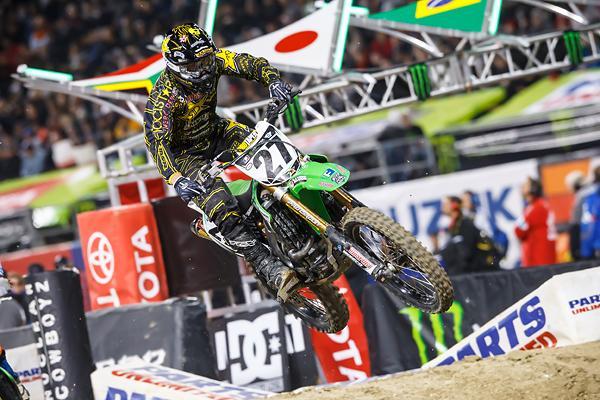 "It's definitely a tough class and as a spectator, you can see that everybody but Ryan's not making too many moves off the start." - Nick Wey
Photo: Simon Cudby