Dodger Stadium
Los Angeles

,

CA
Los Angeles
Monster Energy AMA Supercross Championship
Interviews: Steve Matthes, Aaron Hansel and Jason Weigandt
Brett Metcalfe, Yoshimura Suzuki, fifth in SX class
Racer X: What has changed? Last week was pretty good too.
Brett Metcalfe: We just worked out some things. My off-season wasn't very good and we missed a lot of time and we missed a lot of things. Coming here, we were gambling on some things. I didn't really start on pace. So we're just chipping away and this is what I wanted to do. Just chip away and work on things. This is, for me, a little earlier than I expected anyway. This is just a huge bonus for us.
Did you expect to be able to make that kind of progress, then?
I'd hoped so. Today was huge strides. I came in with a fresh mind today. I was sick all week, didn't ride, and so in a way it hurt me out there, I couldn't breathe. But in a way that was refreshing for me. I trusted the team to make some good changes and they really worked out what I was upset with and I think I had one of the best bikes on the track tonight. Now we can chip away with consistency with my riding. That's something we haven't had yet this year. So now I just gotta keep getting stronger.
The race, take me through that. You had a pretty good start.
Yeah, I just want to say, first of all, that it's just devastating to hear about Trey again. I think everyone in the field was, but Trey's a good friend to me and I'm just really bummed to hear it. And, obviously, Mo as well. I just wish them a speedy recovery.
It helped me. I was eighth off that first start and I messed it up, so that restart gave me another chance and I nailed the start much better. I don't even know where I was. But I was up there, so it was better and all I wanted to do was just bang away 20 laps that were solid and consistent. I wanted to fight. That's all I did know. And I was able to ride the way I can. That was the biggest thing I was taking from tonight was that I was able to ride to my ability. And that's something we haven't been able to do.
So you've got a real positive direction to take these next couple races.
Really positive. We've found the zone and where we need to be with the bike and my riding. So now I just need to get stronger and work on closing up the gap. I was there at the start with those guys and they really checked out, so we've got some work to do. The progress was huge. This is earlier for me than expected, so I'm really happy with it. But it's never over. I've gotta keep going.
This week, the news came out! Bigger news than just race results.
Big news. Obviously the big news I knew a month ago.
Sure. And the hardest part is don't tell anybody.
I mean, every parent obviously goes through this sort of thing. But it's just cool, the response from the whole motocross community and everyone congratulating us is really cool. It's nice to have. It's a good feeling. I think everything this week was just a mind clear and come out swinging and here we go.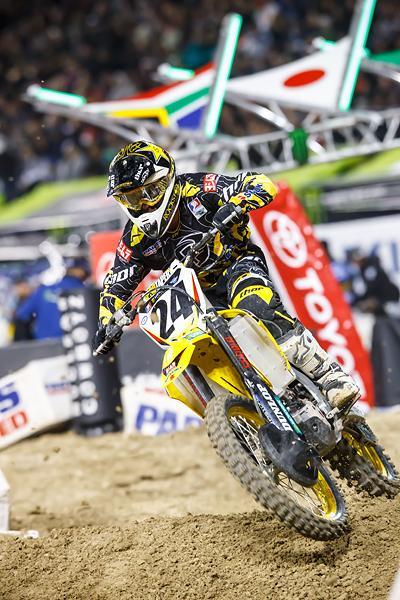 "Today was huge strides. I came in with a fresh mind today." - Brett Metcalfe
Photo: Simon Cudby
Marvin Musquin, Red Bull KTM, nineteenth in SX Lites class
Racer X: What happened out there? You're walking around. You look ok.
Marvin Musquin: I'm in one piece. That's a good thing. I was riding good. I had fun and I was really happy about my race speed and time. I was really close to Wilson and he didn't jump the last triple in the rhythm section and I landed too far and too much on the left side in the corner. It was soft and muddy and I didn't expect that my bike would stop when I landed. I hit my handlebars really bad and I couldn't breathe after that crash. And that's why I didn't keep going.
But now you feel ok?
Now I feel ok. I feel really sore, but there are no broken ribs or anything. I mean, I hope. I'll get checked tomorrow and this week with an x-ray and stuff. But it sucks because I almost took the holeshot. But we went outside the track with the rider. I was around the top ten and then came back fourth. It was a good race. The track was really rough and it was a tough race. But I felt really good on my Red Bull KTM bike, so that's a good thing. And I'll be ready for next weekend.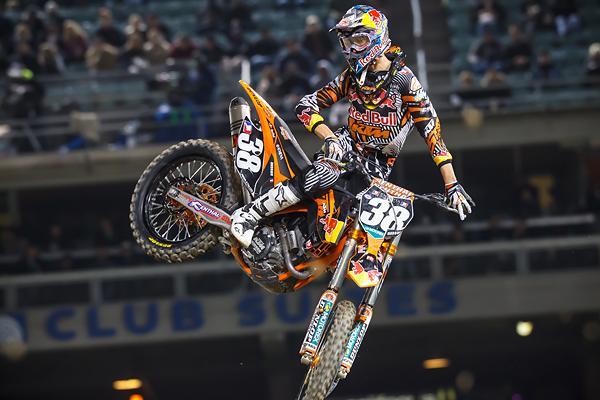 "I'm in one piece. That's a good thing." - Marvin Musquin
Photo: Simon Cudby
Davi Millsaps, JGRMX/Toyota/Yamaha, sixth in SX class

Racer X: How was it?
It was better than it's been. My team and I did a couple more things this week to get me more comfortable on the bike. It worked. It's getting better. I've rode really good this week during the week, so I had that going into this weekend for me. I didn't ride all 20 laps like I should have. The last five laps, I started getting into a groove and riding better. So I just gotta go from that. Move forward from this race and take all the goods out of this race and move it towards next weekend and the races to come. Work on the negatives and take all the positives.
There was definitely something that you could point at from the first two and then here, what you did different and what you could keep doing.
Like I said, we did a lot of things on the bike to get me comfortable. I don't know, man, it's just the whole thing. I'm tired of getting outside the top ten. I worked really hard this week on the bike, myself, riding and everything. I had a lot of people behind me: my mechanic, my trainer Pablo, my wife, and the whole team. They've been pushing me and pushing me. And Ezra for sure. I talked to him after the heat race and he told me to pull my head out of my butt and make it happen tonight.  I think he was kind of pumped on tonight, being that 16, 13, then a 6. It was definitely a good start and I look forward to keep working. It can only get better with me, Yogi, Pablo, Ben, the team and everyone just keep putting our heads down and moving forward.
What happened in that heat race? When you hit James, did that mess you up? Because then it took a few laps for you to start going again.
It took my front brake cover and pushed it all the way down to where the rotor was getting stuck on it. My front end was locking up the whole time. It was hard to ride it because it kept locking up over the jumps and going into the corners and stuff. That's what happened there.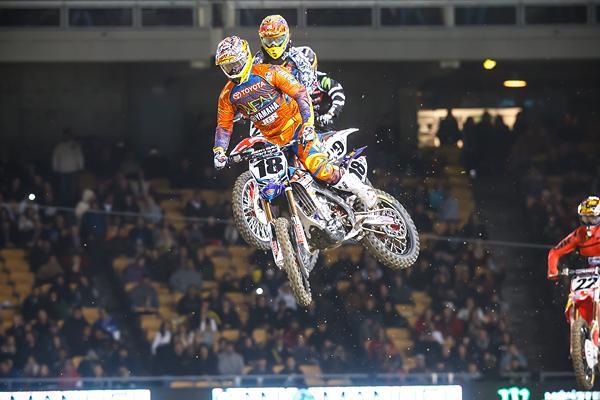 "I'm tired of getting outside the top ten. I worked really hard this week on the bike, myself, riding and everything." - Davi Millsaps
Photo: Simon Cudby
Dean Wilson, Monster Energy Pro Circuit Kawasaki, second in SX Lites class
To get second obviously wasn't what I wanted, but I collected good points. It was tough, because I got a bad start and had to come through the pack. By the time I got in second, Tomac was gone. It was nice to get a second and get good points though. I know what I need to work on this week, and I'm going to work hard this week and maybe get a win next weekend.
The track looked like it was really hard to pass on. How was it having to come through the pack?
The track was pretty hard to pass, but not terrible, there were some spots. The only way to pass was to really throw it in there in the corners, you kind of had to throw in a front wheel. It was tough, the track was really slick out there, and there wasn't much traction. You had to be calm and patient. I'm happy to walk away safely. After watching the 450s, watching those boys getting hurt, I hate seeing it. To walk away safely is nice.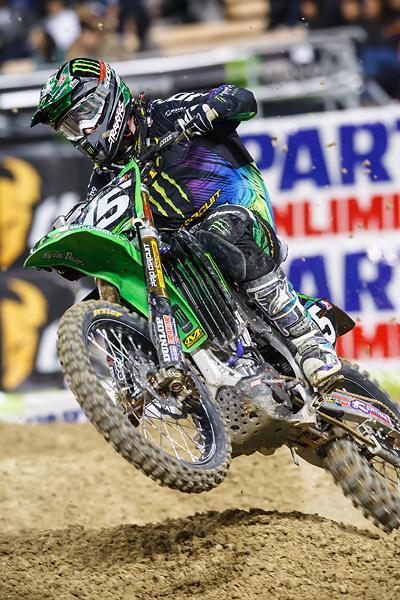 "The only way to pass was to really throw it in there in the corners, you kind of had to throw in a front wheel." - Dean Wilson
Photo: Simon Cudby