Dodger Stadium
Los Angeles

,

CA
Los Angeles
Monster Energy AMA Supercross Championship
We don't know when the year will come when you can officially count Chad Reed out on winning races and contending for titles. In his tenth season in the Supercross class, Reed notched a win on Saturday night in Los Angeles, and sits just four points out of the series lead in the early going. And yet, he's still learning and still finding ways to improve. We asked him about that after the race.
Racer X: You won the race. Congrats.
Chad Reed: Yeah it was good. It took only three goes of it to get one this year. That's good. Better than last year! I was actually motivated, I think it was you that put some stats on Racer X, and the winner of round three has won 10 of the last 13 championships? So I'm just trying to give myself good odds I guess!
Well I'm glad you're reading. But we did have another stat that was pointed out.
What was that one? Maybe I saw that, too.
Well, I discovered that in 2008 and 2009, you and James won 40 of 58 races. But in the last two seasons, the Ryans have won 37 of 58. I saw those numbers and it was like, "Whoa, have the new kids taken over and we haven't realized it?"
Well, so what you're saying is, me and James need to step it up and win some races?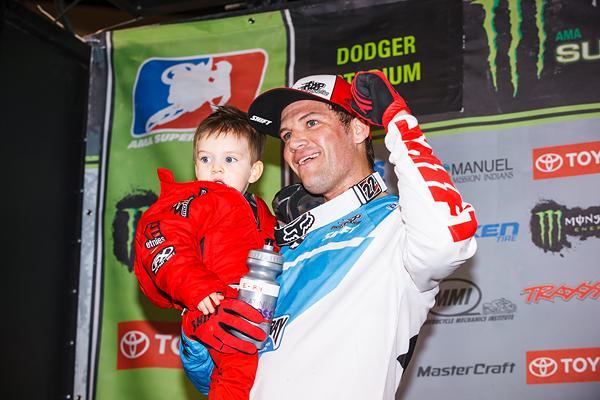 Reed celebrates his first win of 2012 with his son, Tate.
Photo: Simon Cudby
Well, you got one.
Well we need to forget about each other and maybe team up and go after some more!
It does seem like you two find each other a lot out there.
We do, and clearly I was a good target because when I went by him it seemed like he was just cruising out there, but then when I got past him it seemed like it fired him up a bit. I also want to apologize to Jake [Weimer]. I just saw a green bike, and I kind of assumed it was Ryan [Villopoto]. Those guys look so similar out there, same bike and same gear. I hadn't seen a number on it yet, so I guess that's a good thing, it shows how focused I was on getting to the front and getting there fast, and just doing everything I could to move forward and make good, clean passes. You know, you never want to say you're thankful for getting a second chance at a good start, because it [the red flag and restart] came at the expense of two good guys getting hurt. I feel so bad for those guys. But it most certainly was a better start for me in the second one, and I was just able to ride good clean laps. I was able to be aggressive, and we had good front end feel. We made a change on tires today, and it was good, it was what we've been looking for.
You fell in a right hand turn at Anaheim 1, you fell in a right hand turn in your heat race last week, and a right hand turn in your heat race tonight. Is this in any way related? Were you having a problem washing the front?
I've been struggling with front-end feel. When you're pushing on the front and everything seems good, and then all of a sudden you're lying on the ground, that's not good. For the main event, we went back to a tire we rode the majority of last season on. And I hadn't used that tire since, man, I want to say Salt Lake City last year, when I started riding the factory bike. I kind of went to a different tire that was good on the factory bike, and I hadn't really questioned it. But we were struggling with front-end feel, so I decided to open up that can of worms and use something we used last year. It gave me that feeling. As riders, you're always chasing things, you're never ever happy, and you're always trying to improve things. As a team owner you have to put plans in place to get better in our weak areas. We've been working during the week. The results in Phoenix didn't show how good I felt throughout the day. But we had a good week this week, and then I struggled in practice, and crashed in my heat. Yeah, so it was a typical race where I would do well—you know, struggle all day and then have to turn it around in the main event.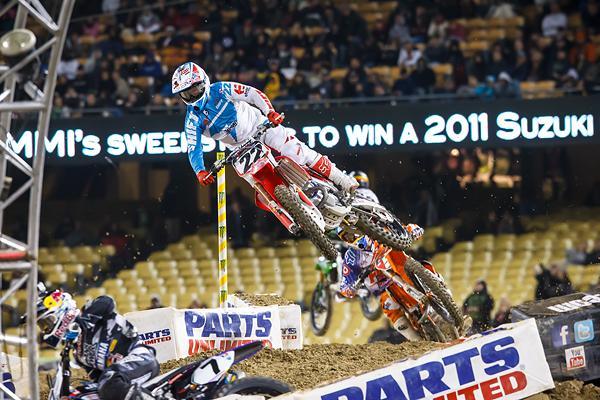 Reed now sits just four points back of Ryan Dungey as the series heads to Oakland.
Photo: Simon Cudby
You've been at this for ten years in this class. But no matter what, are you always going to be chasing things in the early races, making bike changes, things like that? Is it impossible to get it dead on right at the first race of the year?
This year was so different than every other year. But really, no year is exactly the same; you're always faced with different challenges. Unfortunately I spent four years in a row switching around with different manufacturers. So I felt this year we were sticking with the same team on the same bike, so that would make us better, and adding two new guys who I thought would make us better, and obviously we have factory Honda equipment which I thought would make us better. So all things were good, the only downside was the rider took off about five weeks, because I got hurt. I was out from about November 19 through December 20 or something, and even at that, I was riding because I felt I had to. In a perfect world I wouldn't have rode that early; I would have given it more time. So I'm struggling a bit with a thumb injury, and still it kinds of limits me to one or two days during the week. You know, you feel best when you're ripping motos and going to the gym. I've been able to do the gym work and ride my mountain bike, but I haven't been able to do my motos. And I think you could tell. At the first race I wasn't able to have that aggression lap after lap. The second race, I just wasn't able to dig like I normally would have. But I think it's getting better. We're sneaking in some motos during the week, and it's making a difference. Obviously tonight I felt more comfortable.