Chase Field
Phoenix

,

AZ
Phoenix
Monster Energy AMA Supercross Championship
By Aaron Hansel and Chase Stallo
When we're into the early season, no one knows exactly what to expect in Monster Energy Supercross, but we still have some expectations. And through the first two rounds, many things we didn't expect to happen, happened. Here are our thoughts. What are yours?

Big Names Come Up Short Again:
For the second straight week some big-named riders failed to qualify for the main. Josh Grant, Broc Tickle, Jeff Alessi, Jason Thomas, Ben LaMay, Ryan Morais and Austin Stroupe failed to make the big show in the SX class, while Matt Moss, Nick Paluzzi, Ryan Marmont and Ryan Sipes fell short in the Lites class. And Stroupe also missed the main at A1! This time the speedy Rockstar Valli-Star Yamaha rider knocked himself out in a heat race. For many riders, the whole struggling to make the main event thing could become a reoccurring theme as both the SX and Lites class look as deep as ever.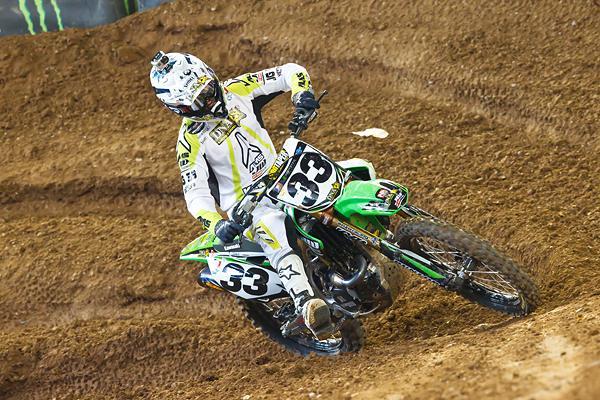 Grant was one of many talented riders to miss the main in Phoenix.
Photo: Simon Cudby
Jean Carlo Who?
Last week Aussi Jackson Richardson surprised the industry by qualifying for the Lites main in Anaheim. This week it was Brazil's Jean Carlo Ramos' turn. To be quite honest we don't know much about Ramos, but we probably will soon.

Rattray Leads the West:
Tyla Rattray has always been known for his motocross prowess, but this year Rattray is proving that he can be just as consistent in supercross. It's just his second supercross season, so improvement was to be expected, but most didn't expect him to be leading the points race after two rounds. Rattray has yet to capture that elusive first SX win, but in a class that features at least seven legitimate contenders stealing points, he may not have to.

Brayton Falters:
After a fourth place finish at the opening round in Anaheim, many were wondering if Justin Brayton was going to turn the "Big Five" into the "Big Six." Phoenix had other plans. Brayton struggled to a fourteenth at Phoenix after early crashes. Can he rebound in L.A. and put his name back into "Big Six" talks?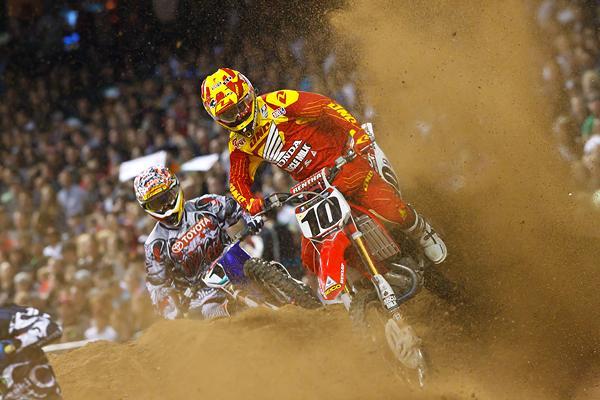 Can Brayton rebound in L.A.?
Photo: Simon Cudby
Down Goes RV:
Ryan Villopoto uncharacteristically crashed twice in Phoenix, one being his fault (in the heat race), the other being a product of him being in the wrong place at the wrong time (the main). Don't expect this to happen often—as Villopoto is one of the more controlled riders out there—but it was definitely a big surprise!      

James Stewart Takes Eighth Place:
Stewart doesn't exactly have a reliable track record of starting the season out well, but there weren't a whole lot of people that thought he would be sitting seventh in the points after failing to break into the top five in the first two rounds of the season. How long will it be before Stewart makes his return to the podium?

Zach Osborne Goes to the Front:
Zach hasn't raced supercross since 2008 and has been off in Europe racing GPs ever since. His indoor skills have come back remarkably quickly, as he pressured Rattray for a podium spot early in the main before finishing sixth.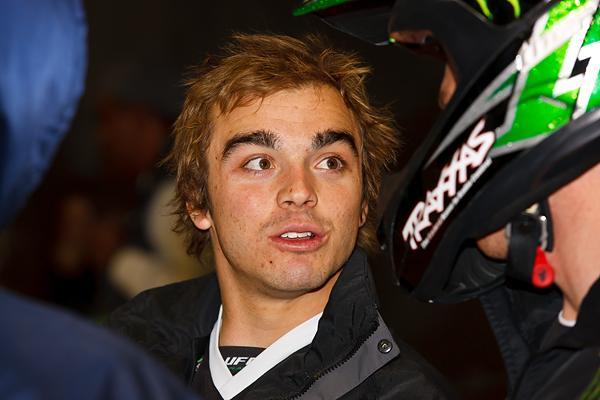 Zach Osborne has been one of the more pleasant surprises of 2012.
Photo: Simon Cudby
Jake Weimer Finishes in the Runner-up Spot:
We all know Jake Weimer is fast, and really, the fact that he finished in second place maybe isn't a huge surprise. The thing that is surprising is that Phoenix was only Weimer's fourth supercross race in the premier class. Not a lot of guys can say they've done that well so soon, especially in a field this deep.
Jimmy Albertson's Articulation:
Albertson had a rough night in Phoenix. A crash in the main resulted in six broken teeth, a mild concussion, and a sore shoulder. Surprisingly, even with a busted up grill, Albertson is still able to annunciate clearly and communicate effectively, which comes in very handy when we call to check on his condition for stories like this.

Sickness:
Something was going around in Phoenix and it wasn't good luck. Stewart, Dean Wilson, and Ryan Morais were all feeling the effects of illness. Morais failed to qualify, Stewart finished in eighth, yet Wilson was able to successfully fight through it for a race win. With a result like that, maybe Wilson should show up under the weather for the remainder of the season. Now that would be a surprise.