Los Angeles, CA
Los Angeles
Monster Energy AMA Supercross Championship
Round two of the 2012 Monster Energy Supercross Championship rolled into Fee-nix this weekend at the still-very-nice Chase Field (seriously, if you want to talk about aging well, Chase Field is 13 years old and still feels very new. It's nice and open, and even has a restaurant in left field.) It's the Michelle Pfieffer of domes! Contrast that to the only seven years older Georgia Dome in Atlanta or Rogers Center in Toronto. These places take "dark and dank" to a whole new level. So I'm saying good job to Arizona on designing and building a building that still looks awesome.
For round two, there were some juicy subplots that were developing such as:
Judging off his A1 ride, would Ryan Villopoto just lap the field?
Would James Stewart show up with Metzelers on?
What about Cole Seely? Was he for real?
Which heavy hitters would follow Josh Hill, Austin Stroupe, Nick Wey and others at Anaheim and miss the main in Phoenix? Twenty spots open, 549 good riders is not good math for the riders.
When Ryan Dungey went to KTM there was plenty of skepticism and doubt (some from this corner, actually) and more than a few people wondered if it was a smart move. Dungey was betting on an OEM that had never made the podium in the premier supercross class and was going to be riding on a brand new bike. Dungey got a lot of money from KTM, and left the brand that had brought him from B class obscurity to a winner. From the outside, it was going to take more than belief in Roger DeCoster to make this a success. After all, it doesn't matter how much belief you have in a Belgian legend, if your bike's not working when you're 4th gear wide open in the whoops, you're going to hit the ground.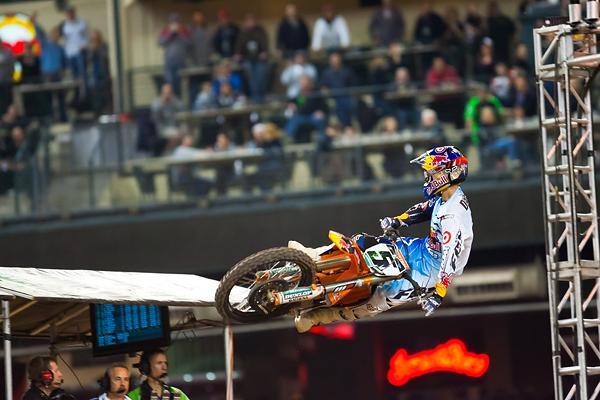 Dungey is now tied for the points lead with Ryan Villopoto after his victory in Phoenix.
Photo: Andrew Fredrickson
Seems like it's all working pretty well though! In a display of dominance, Dungey grabbed the holeshot and never looked back as he led all twenty laps to take his first win of the season, and KTM's first win ever in the big bike class. This topped his podium from last week, where he also rode great. Dungey didn't have the best heat race in Phoenix, so he gave zero indication that he was going to come up so strong later in the main. But with a start, a clear track and his bike working well, Dungey just took off from everyone else. Congrats to Dungey and all the people at KTM including Frankie [Musquin's mechanic] even though he probably had the least to do with Dungey's win.
Jake Weimer was one of the surprises last week at Anaheim when he came from the back to end up fifth. I guess we shouldn't have been that surprised as he qualified fifth at Anaheim and this weekend in Phoenix, he was fifth again. And really, Weimer rides a factory Kawasaki, his teammate and friend is gazillion-time race winner Ryan Villopoto and his trainer is Aldon Baker. By all accounts, Weimer follows the program that RV follows. Rides the same, eats the same, trains the same. Maybe we shouldn't be that surprised.
Anyways, Weimer won his first-ever 450 heat, and then in the main he rode behind Dungey to finish second. Weimer's ride was very good and even better for him, after the race he looked like he could do another twenty.
Ryan Villopoto is tied for the points lead with Ryan Dungey after two rounds but he's got to be a bit worried as he crashed in his heat and main in Phoenix. One of the crashes was his fault, one wasn't. If you count him going off the track and almost crashing in his heat race last week, that's three out of the four races he's been in where he's had some sort of issue. The Moto Gods just sometimes strike like that, sometime things go your way and sometimes they don't. It's a trend that I'm sure RV will want to stop ASAP.
Even with his crash in the sand in Phoenix, the ginger warrior still got up and ripped through the pack to get the third spot. Based on his domination last week and the way he came from almost last to third this week, there's no doubt that Villopoto has the most speed in the field right now. He just has to harness it, stay out of trouble and he'll be fine.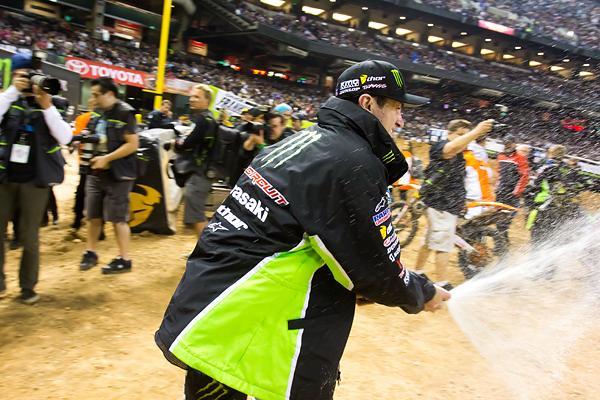 Dean Wilson celebrates his first victory of 2012.
Photo: Andrew Fredrickson
Last week we were all worried about Pro Circuit's Dean Wilson, as he had an uncharacteristic ride where he stayed in third all race until a dorky fall later on relegated him to sixth. For a title favorite, it was a bit ominous and worrisome for Wilson and his camp. That's just not what guys who win titles do! Don't worry though, the wee Scottish lad we all know so well is back and all right as Wilson led wire to wire for the win in Phoenix.
Afterwards it was refreshing to hear Dean say he might have been a bit over confident last week. Everyone was blowing him up about how good he was, how he had the title in the bag, and the rest. He said that with the hype and buzz of Anaheim 1, he was distracted all day. He believed the hype (no word on if he had t-shirts made or not) and it kind of blew up on him. As I said, it's refreshing to hear a rider be honest, let his guard down and tell it like it is.
Tyla Rattray is the points leader after two rounds and even though he rides for the Pro Circuit team (I'm starting to think that I could make the night show on one of those bikes. Their effort is that good), that's a bit of a surprise. Rattray's not known as a supercross guy but what he is known as is a guy that's in shape, works hard, goes fast and is consistent. Rattray's trainer Aldon Baker has the points leader in the 250 class (Rattray) the rider who's tied for first in 450 (RV) and also Weimer. Quite a roll he's on but then again, he wouldn't know because he doesn't ever look at a roll due to its high fat content.
James Stewart was feeling under the weather and skipped the second timed practice.  (And on another note, can we universally get everyone in the pits together to finally just call the practices by their right number? There are three total practices but only the final two are timed. But still there are three total. Some teams and riders only count the timed practices so when they say, "Second practice, I jumped the quad" it's actually the third one they are referring to. Some teams say, "My rider sucked in the second practice" and they really mean the second practice. Yeah, the first practice is untimed and really short but can we all admit that it is a real live practice with bikes and jumps? All of us end up doing this "Who's on first routine" when describing a certain event happening in a certain practice. Got it? Good. So Stewart skipped the third practice and truthfully, even though he was under the weather, I don't think Stewie likes riding all the practices. He told me on a podcast once that he's got the track down early, knows what he can and can't do and many times he just waits it out.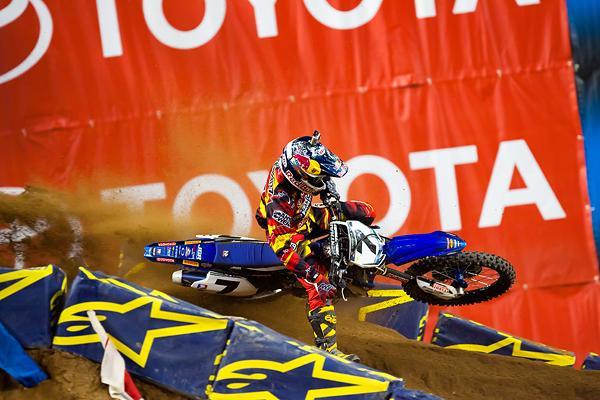 Can Stewart rebound in L.A. after another sub-par performance at Phoenix.
Photo: Andrew Fredrickson
This week he was the fastest guy after the first timed practice (second practice, people) before dropping to sixth overall after the third practice ended up being faster. No worries though, Stewie looked pretty good in winning his heat. He quaded some massive jump and was set to do some damage in the main. Or at least he was set until the gate dropped and he got an average start. After blitzing through the pack, and (like the Jeffersons) movin' on up, he fell in the sand and that was it for his run to the roses. Stewart's had a couple of rough (for him) races to start his JGR Yamaha career and sits 17 points back after two rounds. I touched base with team manager Jeremy Albrecht this week and he said they're working on starts because those seem to be Stewie's issues right now. Maybe he'll turn up with a hydraulic clutch on his bike like his teammate Davi Millsaps because right now, what he's doing isn't working.
Last we had Tiregate and this week, we had everyone reacting to Tiregate. I spoke with JGR manager Jeremy Albrecht and he admitted that Yamaha wasn't very pumped on the team for what they did and that he sort of thought he could get away with running a Dunlop in the third practice, but admitted that was silly thinking. I took an informal poll of some key guys on other teams and they all pretty much sided with what JGR did. If Pirelli was cool with it (and they were) then JGR did the right thing in trying to keep a star rider happy. As a matter of fact Dan Betley, motorman to factory Honda told me about the time he worked as a mechanic to Jeff Stanton in '89 and were contracted to run Dunlops. At the time, Bridgestone had a superior rear tire and after testing it, Jeff decided he preferred the 'Stone over the Dunlop. Much to Dunlop's displeasure, Stanton ended up running that tire the rest of the nationals with Dunlop stickers.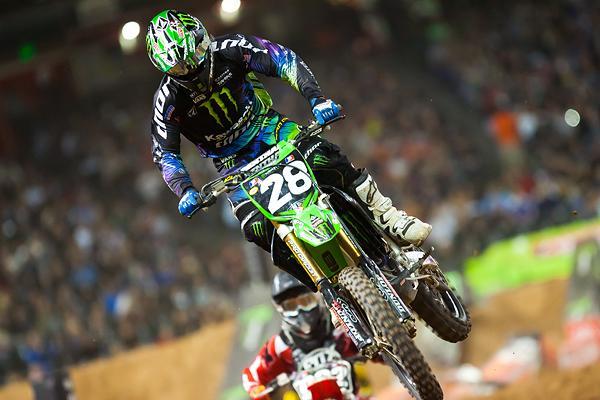 Tyla Rattray has taken over control of the red-plate in the Lites class.
Photo: Andrew Fredrickson
As I was saying, the teams I spoke to would have done the same thing to keep the rider happy and prevent any problems with the team/rider relationship. A lot of them said this as they poured another companies' oil in their bikes or used different goggles or pistons than the stickers on their bikes indicated they would. This stuff goes on all the time in the pits but it's usually not as important and as blatant as Tiregate was.
Let's take a look at the results shall we?
Lites West Overall
1. Dean Wilson Kaw
2. Marvin Musquin KTM
3. Tyla Rattray Kaw
4. Eli Tomac Hon- Tomac's had the fastest lap both races but he's got 3-4 finishes in the two mains. He's got to get off the gate if he wants to win.
5. Cole Seely Hon- Sure Seely got fifth but he was still very fast in Phoenix. He didn't show anything to make anyone think his win at A1 was a fluke deal.
6. Zach Osborne Yam- Zach has been a surprise early in the year with his rides and I'm just going to say it right here. He will be racing in America next year, we know he can ride outdoors (based on strong GP rides) and now we know he can ride supercross.
7. Jason Anderson Suz- It's early but so far Anderson looks to be much improved over last year.
8. Nico Izzi Yam
9. Max Anstie Hon
10. Travis Baker Hon- Baker was up there before crashing. Ping was impressed by his ride.
11. Michael Leib Hon- I guess riding a Husky in Europe doesn't wreck your self-confidence completely.
12. Billy Laninovich Kaw- Great story here unfolding with Bad Billy, he told me he's going to try and race some east coast on a 450 as well.
13. Bruce Rutherford Hon
14. Vince Friese Hon
15. Teddy Maier Hon- Teddy is probably the highest placing rider after two rounds with the least amount of help. He's been up in Canada for the last few years but he did get a shot with the TLD Honda team a couple of years ago but broke his leg.
16. Scott Champion Hon
17. Gareth Swanepoel Yam
18. Jean Carlo Ramos Hon- He's from Brazil, I guess. That's about all I know.
19. Adam Chatfield Hon
20. Martin Davalos Suz- Fantasy league killer to everyone, ladies and gentlemen, I present to you Martin Davalos! Next weekend, no one will pick him and he'll podium.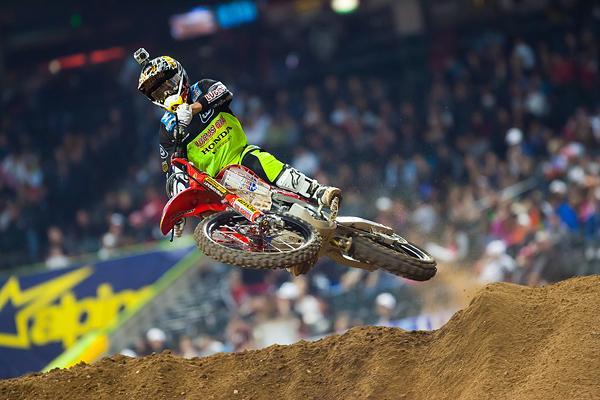 Back-to-back top tens for T-Bake to open the season.
Photo: Andrew Fredrickson
Supercross Overall
1. Ryan Dungey KTM
2. Jake Weimer Kaw
3. Ryan Villopoto Kaw
4. Kevin Windham Hon- Windham was great in Phoenix and it's not that big of a surprise really. The track was slippery and took throttle control which is Windham's specialty. He rode great and was close to his 983rd podium.
5. Chad Reed Hon- There was a section after the third turn where the riders would double, jump on and then off. In practice, Reed tripled in and determined it was slower. There was no need to do that rhythm in the race, but still, it was pretty good jump with not much run.
6. Andrew Short Hon- Shorty's not where he wants to be right now so that means his Anaheim and Phoenix finishes are pretty good. He looks much better than at any point than he did last year.
7. Trey Canard Hon- Canard was back and a seventh is nothing to be ashamed about.
8. James Stewart Yam
9. Brett Metcalfe Suz- Metty was way better this week than Anaheim even though he only finished two spots better he rode better. The aliens that kidnapped him last week returned him back to earth.
10. Josh Hansen Kaw- 10-10 in two races is pretty good for Hansen -- who most people thought would have wild swings in his results.
11. Ivan Tedesco Kaw- Tedesco got caught up in RV's crash and this wasn't where Ivan thought he would be after a couple of races. But he's shown speed.
12. Kyle Chisholm Kaw- Chiz was not happy with his ride and thought he could have done much better but was fighting it all night long.
13. Davi Millsaps Yam
14. Justin Brayton Hon- Brayton crashed. Thems the breaks.
15. Chris Blose Kaw- Blose rode great in the heat coming from the back to make the main. He's made both mains while heavy hitters like Broc Tickle, Josh Grant and Nick Wey have missed out. Blose is solid and probably underrated.
16. Mike Alessi Suz
17. Kyle Partridge Kaw
18. Tommy Hahn Hon- Tommy Hahn broke his lower leg and will be out for a while. Bummer deal for both Tommy and his brother Wilbur who's also hurt.
19. Nick Wey Kaw- Wey got landed on by Albertson and DNF'd.
20. Jimmy Albertson Suz- Albertson landed on Wey and DNF'd.
There are bad nights and then there are nights like the Rockstar/Valli/Star Yamaha team had. Austin Stroupe didn't qualify after crashing out, Ryan Morais was sick and didn't make the cut. Ryan Sipes got cleaned out in the 250 LCQ and was another DNQ. At least Nico Izzi ended up eighth and Gareth Swanepoel made the main. Otherwise it was grim over there. Did I ever mention the time that when I worked at KTM in 2000 and we had five riders that all made the motos and didn't score a single point? Good times!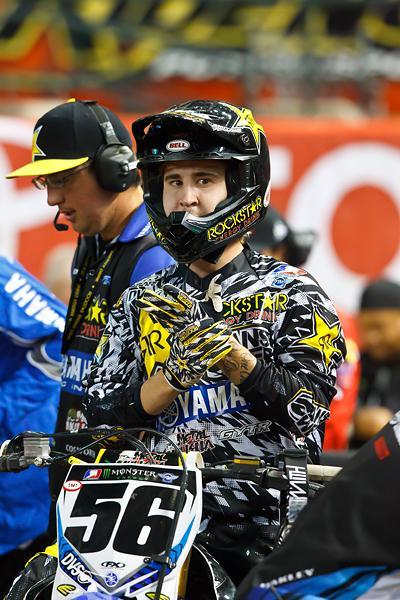 It's been a rocky start to the 2012 season for Austin Stroupe.
Photo: Simon Cudby
Some bullet points here folks:
-At Anaheim, Osborne had a practice bike with some goodies on it because his race bike hadn't made it to America yet. That changed at Phoenix as he's riding his Euro bike conformed to AMA rules. And the thing looks pretty good as well. As I said on the Racer X Podcast show, good to see Ohlins having a shot at their first podium since Hakan Carlqvist at Carlsbad in '83.
- A couple of years ago there was a little mini controversy when Kevin Windham started running production forks revalved by Factory Connection (his main sponsor). He was off the gravy train known as works forks and depending on who you talked you, it was either his choice or he was super pissed off about being forced to do it. Well I noticed that he's got the works stuff back on and when I asked the Honda guys, they said he's had the works stuff on for a while now. Who knew? Not me.
- Speaking of Windham, his transfer in the opening ceremonies was, once again, pretty sick. After track walk I asked him what he was going to do and after he explained it to me I indicated that I wasn't that impressed. I mean, he's done some pretty gnarly stuff and what he was telling me was certainly good but I thought he could do better. Until he walked me over there and I saw the lip and then I realized that I'm an idiot.
-  Brett Michaels was in the house! As were former MLB players Randy Johnson and Jim Edmonds! Two of those guys are to be admired and idolized as American badasses. I'll let you guess which two.
Thanks for reading, email me at
matthes@racerxonline.com
if you want to chat about Phoenix or anything else for that matter.