Chase Field
Phoenix

,

AZ
Phoenix
Monster Energy AMA Supercross Championship
After a strong ride and a podium finish at the Monster Energy Supercross opener in Anaheim last weekend, it was clear Ryan Dungey wasn't missing a beat after his switch from Suzuki to Red Bull KTM. He took it up a notch in Phoenix by jetting off with the holeshot and checking out en route to a win. Afterwards, we talked to him about the triumph.
Racer X: Did you think that within two rounds, you'd get a win? Was that a realistic goal? Are you exceeding your expectations?
Ryan Dungey: No. I think, I guess to start it off, I race to win. Nothing more, nothing less. There's gonna' be some nights where you don't always win, but at the same time, tonight was a big step to get that win, especially for KTM, their first win in the United States. I think it was a big win for all of us. When I signed that contract, I made that commitment to myself that hey, I'm on the best bike out there and I've got the best people around me and I never look back. Although tonight was tonight and there's a lot more racing left, I think it's important that we keep moving in the right direction and try to keep this momentum moving forward.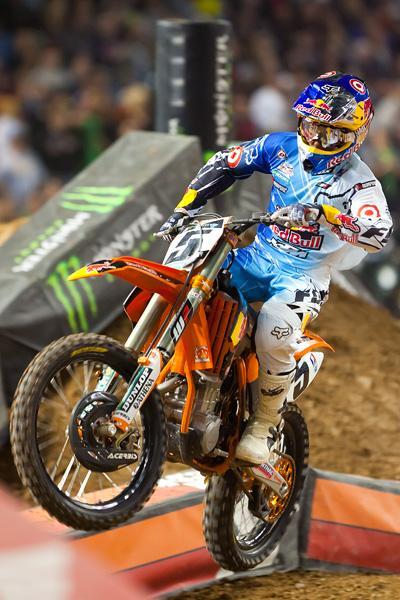 It took Dungey all of two races to bring home KTMs first-ever SX win.
Photo: Andrew Fredrickson
When you made that choice, there had to have been some people who were like, "KTM, really? These guys have never been on the podium before." Did you ever doubt it yourself?
No, not at all. I mean, we had a great off-season of testing. I've said it a couple of times, but I'll say it again, what Austria had to do on the turnaround to get this bike ready was really short. I think a lot of guys worked through the holidays and stuff to make this happen. That in itself was great. It was a huge commitment and a lot of heart in my eyes. So, to be able to have a team like that, that believes in you and you believe in them right there I think makes a happy team, which, down the road, you hope for success. It was a big improvement. Last weekend, I didn't get off to the greatest start and I got shuffled around a little bit, which you saw, Ryan got away. And Chad, too. Then tonight, it made it so much nicer to get a start, obviously, and you can ride your own lines. I was able to build that little bit of a cushion to ride the whole 20 laps consistently and by myself. That's always key. You're not getting pushed around, you're not getting taken out.
Well it had to be a relief, because last year the starts just were not coming often in supercross. It's been a while--in supercross--since you've been up front like that off the start, right?
I mean last year was last year. It was a great year even though we didn't win the title, we were still there to the end. This year, we've still got a lot of racing left. This is only round two of seventeen, but I'm glad we were able to get this win in under our belt and I think for myself and the team, it'll be a big step. I've seen the countless hours that the team puts in, that my family put in, that I put in. It's a team effort. It takes a lot of people to make a lot of things go right and I'm just really happy. Tonight was a big win, but I gotta' give a lot of credit to the team and the man above and I'm just really fortunate I'm able to walk out of here.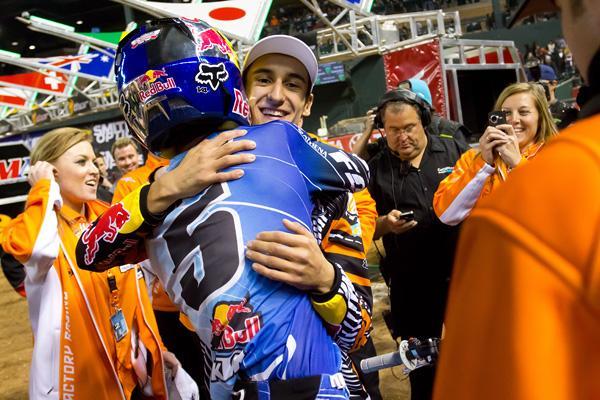 Dungey celebrates his first win of 2012 with Red Bull KTM Lites rider Marvin Musquin.
Photo: Andrew Fredrickson
Now, because this is a new bike, are there massive gains you think you can still make, or do you feel like you're pretty much where you need to be?
I think the massive gains, we've tried to find those in the off-season. I think we've got a great setup. It's always going to be a little fine tuning here and there. I think it's important we have an open mind for newer and better things, if we can find it. And I know we're always going to be on the lookout and be sure to keep trying to improve in areas, if we can, and not settle.
But you're already kind of there. You're not in, "We gotta' change this, we gotta change that, we're just getting started" mode. Are you where you want to be?
Yeah, I mean to win races, that's the ticket. But as the season goes on, it gets more and more heated and it gets more intense and we've got to be ready for that. It's gonna take a lot of race wins and, at the same time, being consistent and being there every single weekend. Like I said, this was a big step in the right direction for the whole team.