Phoenix, AZ
Phoenix
Monster Energy AMA Supercross Championship
It's a whole new world on this Monday morning, as KTM has delivered a win in the premiere class of AMA Supercross for the first time in their history. Here's what our edit staff thinks of the accomplishment, and you can tell us what you think below.
Davey Coombs
We all knew that KTM was finally going to win a premier-class SX as soon as they hired Ryan Dungey to ride for them in 2012, though I include myself in the many who thought it might take a little longer than two races to happen. The Austrians—both from KTM and their main sponsor Red Bull—are deeply committed to success in the Monster Energy AMA Supercross Championship, and somewhere over in Mattighofen they must have been celebrating the news early Sunday morning.
KTM's inability to win here at night seemed like an institutional challenge. Supercross is simply not very big in Europe, and while the company can point to many FIM World Motocross Championships going all the way back to Gennady Moiseev in the seventies, they could not even get a 125 SX win here until 2001, and their first major win until last night (and Marvin Musquin's runner-up finish in the Lites main makes this the best night ever for KTM in American Supercross).
Now it's obvious more wins are to come. Until they do, here's a tip of the visor to some of the men who tried in vain to make it to the winner's circle (or even the box) on KTMs: Mike Fisher, Mike Alessi, Grant Langston, Andrew Short, Nick Wey, Travis Preston, Josh Summey, Shayne King, Cliff Palmer, Mark Musselman, Boo Stichter, John Finkledey... Even Ken Roczen a couple times last year.
I would spell "congratulations" with a K here but that would be too gimmicky. Regardless, it's something we will likely say again to KTM many times in the future.
Jason Weigandt
Dungey's big win here isn't a testament to a new bike, it's a testament to KTM's entire philosophy of producing them. Always known as the lean, nimble company that can quickly produce whatever is needed at a moment's notice--125s, 150s, 200s, 250s, 300s, 350s, 450s, 505s, 525s and two and four strokes—this is the ultimate expression of KTM's unique ability to find a new goal and attack it immediately. This time, less than a year after it became clear their 350 experiment would not succeed at the top level of U.S. racing, they put together an all-new 450 and made it competitive. A task that could have taken years for others has taken months for them.
But it's easy to praise KTM after they have won a race. Before they did, many (including myself) doubted a victory would come so quickly. But that's because we judged Dungey's move to orange by comparing KTM to other brands. Lately, we've seen radical new bikes from other manufacturers result in nit-picking problems for their factory teams. Those brands ironed out their problems after a few seasons of racing, so it seemed liked Dungey would arrive with a bike that was good now, and great later.
But that's not how it works for this brand. You want a 150 two-stroke enduro bike? They've got hard core enduro people ingrained into that company, so if you want it, they'll make it and make it work.
Now they have more experienced supercross hands running the show. And with direct and constant contact between the U.S. race team and the factory back in Austria, this U.S. arm had full control over the production base they would work for 2012. Where other brands roll out new production bikes and tell the race teams to adapt, KTM built a team, and then had the team tell them how to build the bike. This win is not about the machine, it's about the process that built it.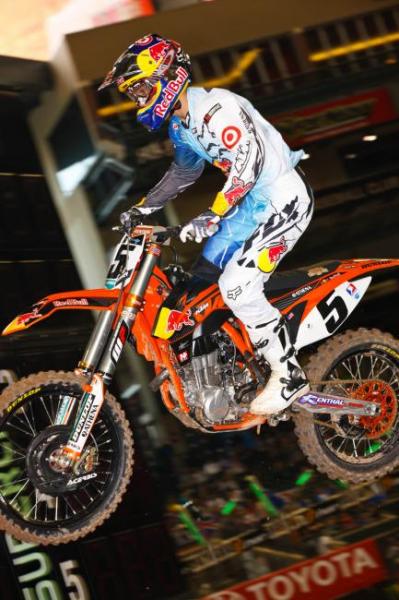 The first win of many?
Cudby photo
Aaron Hansel
That didn't take long, did it? Just two rounds into the 2012 season, the Orange Brigade has notched the very first supercross win in the history of the company, thanks to Ryan Dungey's impeccable performance in Phoenix.
I'd be lying if I said I wasn't a little surprised. After all, Dungey was only able to take a single win last year, and that was on a well-developed bike, not to mention a team with a history of winning races. But when you look at Dungey's professional history, is it really that surprising? The guy won both major titles in just his rookie year, and was a serious contender the year after. With that in mind, a winless year for Dungey almost seems like a bigger surprise than his victory in Phoenix.
It isn't like KTM is approaching this season at quarter-throttle, either; supplying Dungey with sub-par machinery simply wasn't an option. For one, what's the point of shelling out the kind of money a superstar like Dungey commands if you aren't serious about winning? Secondly, giving Dungey a bike that wasn't competitive would have made the brand look awful, which is something you know KTM wasn't willing to do, especially on the heels of the 350 debacle.
Dungey proved to the world he can win on his KTM, and he did it with fifteen races remaining in the season. Suddenly, the distant possibility of an orange championship just became a very real reality.
Steve Matthes
Working for Kelly Smith, I was a mechanic on factory KTM for its first two seasons fielding a full-factory effort in the U.S. It wasn't always the smoothest sailing but while I was there, Smith managed to win a muddy Mt Morris AMA national for KTM's first ever win in America, and the next year, we had Grant Langston come up a busted wheel short of winning the AMA 125 National Motocross Championship. Aside from Langston, there was a motley group of riders and I remember one time, our team manager insisted we put these silver covers on our bikes while they were under the tent. On them were the words "KTM. Shhhhh, the beast is sleeping." Truthfully, it was sort of embarrassing.
Our bikes weren't that good, our riders weren't that good and we were hardly a "beast" of a team. It was a little laughable actually. After two years, I was gone and the Langston won the '03 national title, but then came many more years of so-so results.
Until Saturday night. In only his second race on a new KTM, Ryan Dungey captured the win in Phoenix with a wire-to-wire win and as you've read, the first ever for KTM in the premier class. It's come way sooner than most thought it would and it came when, for the first time in his career, he came under some doubt as to whether he picked the right team. Sure he believed in Roger DeCoster and Ian Harrison, but was KTM capable of delivering a machine that would really be able to win?
The brand had promised that much to Jeremy McGrath and failed. But this time they had new people, new technology and a new commitment to winning, led at the very top by Worldwide head of KTM Racing Pit Beirer, who then put Stefan Everts in place over in Europe. It was Pit that first reached out to Roger DeCoster. Beirer, who once was a top level GP racer, knew that in order for the bike to sell, they had to race and win in the U.S. After so many stops and starts by the Austrian brand when it came to racing in America, they finally appear to have it right. And having it right starts with having the right man at the top and that is DeCoster. With no DeCoster, there is no Dungey and with no Dungey, there are no historic wins.
On top of big salaries paid to Dungey, DeCoster, Ken Roczen and Marvin Musquin, there are the enormous costs that come with scrapping what was still a pretty new bike and starting all over again with a new frame, motor and everything else. KTM is banking on the "Win on Sunday, sell on Monday" philosophy and so far, they've got the first part down.
And much sooner than many of us thought. Congrats to KTM, the beast is no longer sleeping.