Chase Field
Phoenix

,

AZ
Phoenix
Monster Energy AMA Supercross Championship
A week ago in Anaheim,
Ryan Dungey
delivered Red Bull KTM their first ever podium in Monster Energy Supercross. For a brand that had never found success at the elite level of U.S. racing, the A1 podium was a start. For round two in Phoenix, all they needed was a start.
And Dungey got one, ripping off a holeshot in the Phoenix main event and jetting off to an uncontested race win. He led all 20 laps, and the outcome was never in doubt. But there was craziness everywhere for a lot of riders, including last week's Anaheim winner Ryan Villopoto, who crashed in a sand section on the first lap and went to just about last place. Villopoto's Monster Energy Kawasaki teammate Jake Weimer jumped into second place and set a good pace, pulling away from the rest of the field just slightly en route to his first career SX Class podium.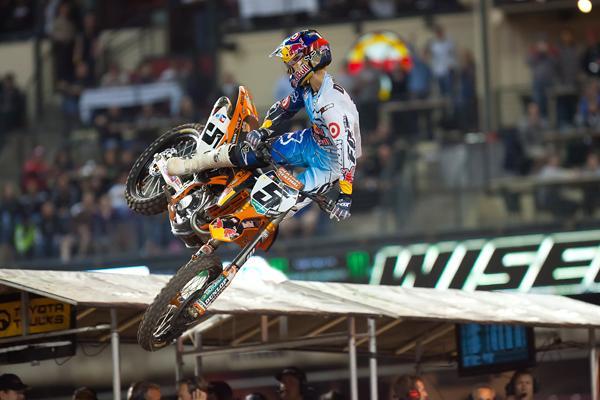 Except for what you see in this photo, Ryan Dungey has not looked back since switching to KTM.
Andrew Fredrickson photo
GEICO Honda's Kevin Windham sat third for most of the way. Then came a torrid battle between the likes of TwoTwo Motorsports Bel-Ray Racing's Chad Reed, Yoshimura Suzuki's Brett Metcalfe, Honda Muscle Milk's Trey Canard, Supercross.com Honda's Andrew Short and others. Then James Stewart joined the fray on his JGR Toyota Yamaha. The crowd cheered as Stewart and Reed passed back and forth a bit, but Stewart seemed set to head forward and at least grab a top-five finish. But then Stewart crashed in the exact same spot Villopoto did, and went way back.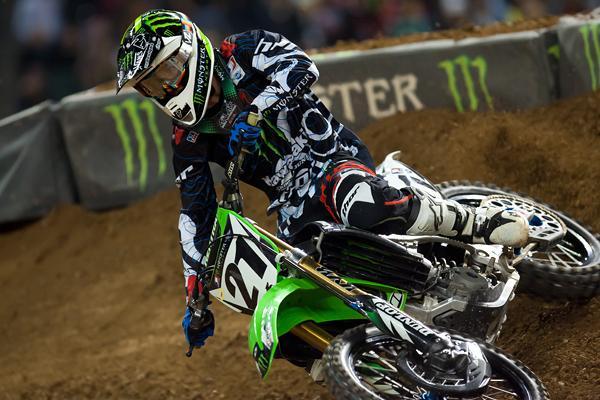 Jake Weimer scored a solid second-place finish.
Andrew Fredrickson photo
By then, Villopoto was on his way forward. He sliced and diced his way past Canard, Reed, Short and Metcalfe, then put in a huge charge down the stretch to catch Windham late and execute a pass to salvage a podium. From last place! By doing so, he leaves Phoenix tied for the points lead with Dungey. Windham took fourth and Reed took fifth. Villopoto and Dungey are now tied for the points lead after each posting first and third-place finishes in the first two rounds. Look for a pair of red number plate backgrounds next weekend!
Short took sixth ahead of Canard, Stewart in eighth, and Metcalfe and Hansen rounded out the top ten.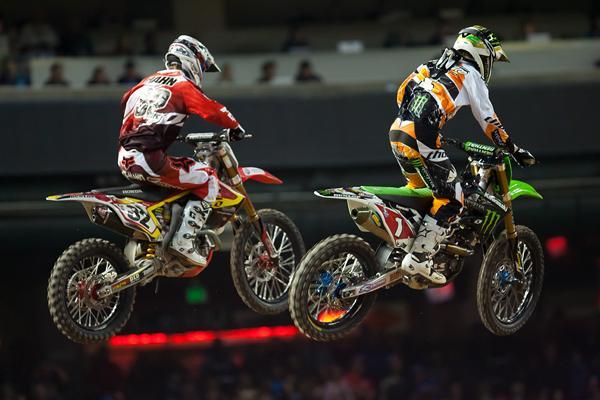 Ryan Villopoto, seen here passing Tommy Hahn, came from last place to third place after crashing on lap one.
Andrew Fredrickson photo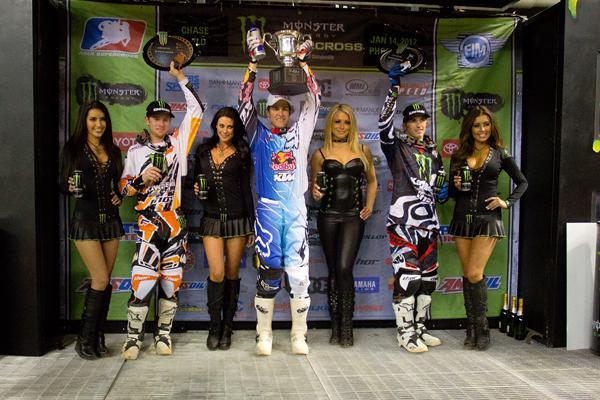 The SX class podium.
Andrew Fredrickson photo
In the Lites class, Monster Energy Pro Circuit Kawasaki's Dean Wilson erased a bad night at Anaheim with a dominating ride for the win in Phoenix. He took the early lead away from his teammate Tyla Rattray and set sail from there. Rattray then had a battle with Red Bull KTM's Marvin Musquin, and Musquin made the pass and got into second. Wilson pulled away from there.
Eli Tomac set some blistering laps in his heat race, but got a terrible start in the main and had to come from about 15th. He caught up to a big battle between Travis Baker, Jason Anderson, Martin Davalos and last week's winner Cole Seely. Baker then went down. Seely and Tomac moved past the Rockstar Suzuki teammates of Anderson and Davalos,and set their sights on fourth place Zach Osborne. Osborne was fast early, even pressing Rattray at times for third, but eventually ran into pressure from Seely and Tomac. Seely made the pass and Tomac followed him through. Tomac pressed Seely and then made a bump and run pass to get fourth. They both went after the podium, but ran out of time, as Rattray hung tough in third, with Musquin in second and Wilson snagging the win. Tomac and Seely rounded out the top five.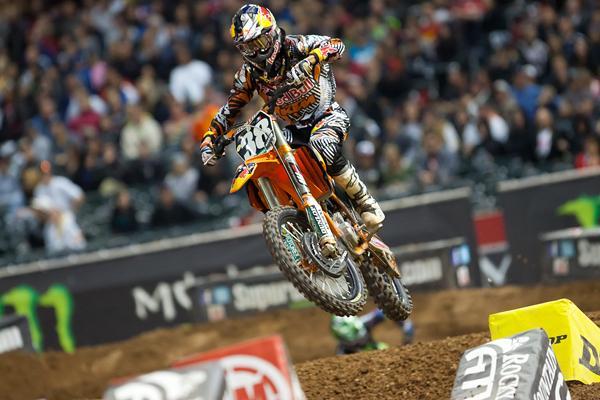 KTM already had a great night going when Marvin Musquin finished second in the Lites main.
Andrew Fredrickson photo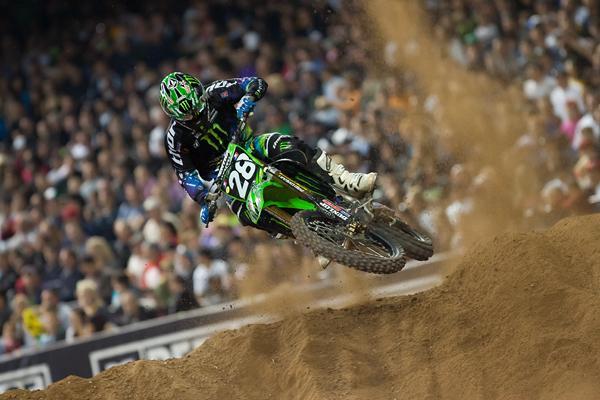 Tyla Rattray was third, and also took over the Lites West points lead when coupled with his runner-up ride at Anaheim.
Andrew Fredrickson photo

Look for interviews, stories and analysis on Racer X Online all week long.
Results:
Monster Energy Supercross Round 2: Phoenix, Arizona
Main Event
1. R. Dungey
2. J. Weimer
3. R. Villopoto
4. K. Windham
5. C. Reed
6. A. Short
7. T. Canard
8. J. Stewart
9. B. Metcalfe
10. J. Hansen
11. I. Tedesco
12. K. Chisholm
13. D. Millsaps
14. J. Brayton
15. C. Blose
16. M. Alessi
17. K. Partridge
18. T. Hahn
19. N. Wey
20. J. Albertson
Supercross Class Season Standings
1.     Ryan Dungey, Belle Plaine, Minn., KTM – 45
2.     Ryan Villopoto, Poulsbo, Wash., Kawasaki – 45
3.     Chad Reed, Dade City, Fla., Honda – 38
4.     Jake Weimer, Rupert, Idaho, Kawasaki – 38
5.     Kevin Windham, Centreville, Miss., Honda – 31
6.     Andrew Short, Smithville, Texas, Honda – 29
7.     James Stewart, Haines City, Fla., Yamaha – 28
8.     Justin Brayton, Murrieta, Calif., Honda – 25
9.     Josh Hansen, Elbert, Colo., Kawasaki – 22
10.  Brett Metcalfe, Lake Elsinore, Calif., Suzuki – 22
Main Event
1. D. Wilson
2. M. Musquin
3. T. Rattray
4. E. Tomac
5. C. Seely
6. Z. Osborne
7. J. Anderson
8. N. Izzi
9. M. Anstie
10. T. Baker
11. M. Leib
12. B. Laninovich
13. B. Rutherford
14. V. Friese
15. T. Maier
16. S. Champion
17. G. Swanepoel
18. J. Ramos
19. A. Chatfield
20. M. Davalos
Western Regional Supercross Lites Class Season Standings
1.     Tyla Rattray, Wildomar, Calif., Kawasaki – 42
2.     Cole Seely, Murrieta, Calif., Honda – 41
3.     Dean Wilson, Menifee, Calif., Kawasaki – 40
4.     Marvin Musquin, Murrieta, Calif., KTM – 40
5.     Eli Tomac, Cortez, Colo., Honda – 38
6.     Jason Anderson, Edgewood, N.M., Suzuki – 28
7.     Zach Osborne, Chesterfield, S.C., Yamaha – 27
8.     Travis Baker, Temecula, Calif., Honda – 22
9.     Nico Izzi, Menifee, Calif., Yamaha – 22
10.  Max Anstie, Hemet, Calif., Honda – 17