Chase Field
Phoenix

,

AZ
Phoenix
Monster Energy AMA Supercross Championship
Hello, everyone, and welcome to the Rev Up.
The game is afoot, ladies and gentlemen. The 2012 Anaheim Supercross didn't burn up the pages of the history book, or serve as the "instant classic" we all hoped for, but she was live on SPEED and we all saw a great show. For me, I don't get so hyped up for A1 to be the mother of all barn burners as much as simply the onset of the championship. The new beginning to the end. Everyone was jacked up to get rolling and now we're ready for more. And damn right there is more on the way. Still a padload of racing to go. Nobody won, or lost, the championship last Saturday night.
The boys went out and did a little peacocking and paraded their prowess for the opening salvo. New bikes, gear, and teams and so on and so forth. The consummate professional knows the power of a stone-face poker hand. Ah, but what's solid about our sport is all of that premeditated banter takes a different turn when the gate drops.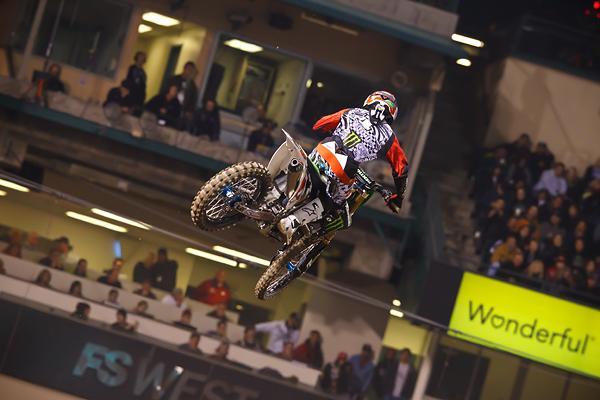 Will the RV show continue in Phoenix?
Photo: Simon Cudby
Ryan Villopoto went out and took care of business. Not to go all BROtocross, but he "owned." Chad Reed looked like he was way, way better than he began 2011, and with him being a notorious slow starter to a championship run, I look for him to be nails in about three weeks. Those two were the nuts in the field, but from there it got weird. Ryan Dungey looked faster than I thought he would. His new bike looks and handles very "Japanese," and he looks smooth on it. He'll be stealthy. Then there was the skittish-looking James Stewart. I seriously doubted I was going to be calling him that coming into the race, but he's had a lot going on. Not to defend him, but switching teams—especially that team—was a big deal. Also, Stewart is the only one of the main guys who airs his charge openly, whether on the mic or on the social networks. Like it or not, it's better entertainment, and it's real. But I think he mind-games himself for races like the Anaheim opener. Phoenix hasn't been nice to #7, but he'll podium.
Who knows what the rest has in store? Ivan Tedesco was/is fast, Andrew Short looked great in his heat race, and Jake Weimer logged a top-five. Josh Hansen, Brett Metcalfe, Davi Millsaps, Josh Grant, and the rest could have been shockers, but they weren't. As the season wears on, most of those guys will podium. They'll be heard.
Meanwhile, the tiddler crew could see five guys win in their division—although Cole Seely proved last season's speed is the real deal. Big win. I guarantee you it was quiet around the Monster Energy/Pro Circuit hauler as they folded up the tents. That said, I got action they don't lose another main event. Maybe Seely gets the title, but Tyla Rattray and Dean Wilson will win the rest. I hope somebody beats them, but I don't think they will. Seely could still win the title being consistent if Styla or Wilson stack it up when they don't dominate. Bold talk? I don't think so.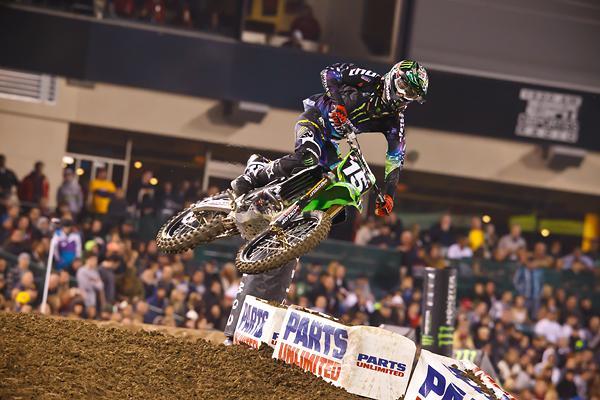 Wilson needs to rebound in Phoenix after a sub-par performance in Anaheim.
Photo: Simon Cudby
In regards to the track at Anaheim, I didn't like it, but I liked where their heads were. That said, we've shown that we can make or break the design of a racetrack, but the prime factor is the dirt. With better/different dirt we'll see a different dynamic of race. The dirt at Anaheim has been weird since the late '80s. Watch that tape of Ricky Johnson and David Bailey and look at the dirt and the berms. Phoenix, historically, has great dirt that produce berm-fanning abandon. I call it "great," but the dirt at Phoenix is looser than what we saw last weekend. It will make for great corners. This does not bode well for anyone other than Ryan Villopoto fans. RV Park is on the rampage. Let's see if he can keep the run going.
What's more, the new season is here. You hear me? We can all look forward to seeing the boys master the art of shredding sixteen more times. Recent history has seen some big races at Phoenix, son. Big races and a lot of drama. Hey, folks, she's coming up this Saturday night! We got a little taste of what's on the way last weekend, but how much do we really know?
This is why we run the races, ladies and gentlemen.
The game is afoot. Sixteen to go.
Thanks for reading, see you next week.