Angel Stadium
Anaheim

,

CA
Anaheim I (A1)
Monster Energy AMA Supercross Championship
All the buzz, stories and questions from Anaheim cover just about every finishing position except one—the guy who actually won the race. There weren't many doubts about Ryan Villopoto coming into the race, and there are absolutely none coming out of it, as the Monster Energy Kawasaki rider demolished the field en route to his second-straight Anaheim 1 win.
There really wasn't much to ask the defending Monster Energy Supercross Champion, but we came up with a few questions, anyway.
Racer X: Were people actually watching you during the race?
Ryan Villopoto: Not from what I heard.
So you heard cheers out there while you were riding?
Oh yeah.
Where are you compared to last year?
I feel a lot better. Fitness wise, especially. So I'm happy with that side of things. The track was a little longer in the lap times compared to a lot of tracks, we were doing a minute laps, so that is what, maybe 10 seconds longer than most tracks? I felt good about how I felt for the 20 laps. I did back it down a little at the end, but the way I felt coming off the track, I'm confident in my program.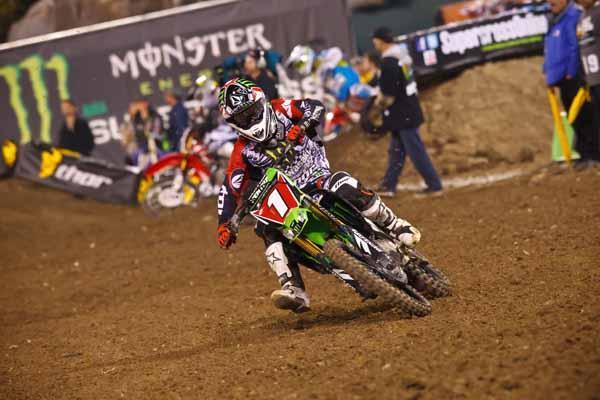 Villopoto dominated the field en route to his second straight victory at Anaheim 1.
Photo: SImon Cudby
Yeah when did you first hook up with Aldon?
After Pala last year. So last September.
Right. So compare working with him for just four months before last year's opener, and now a year and four months before this one.
Well, the thing is, when I started, I was coming from not doing anything, since I had a broken leg. So that's big.
Is there anything to talk about in this race?
Yeah I had one moment. There was a triple onto a table top, I almost went over the bars. I don't remember what lap it was or anything. But at some point, I almost crashed there. That was it.
Hearing quite a bit about the track. What did you think?
I liked the track because it was safe. I think they can still do that and make it more like a regular supercross track. It was an odd track, but, I think it wasn't too bad. It made it tough to race a 450 on, because there were a lot of tight turns, and slow sections where you're turning. It's hard because of the weight of the bike and the power. It was okay though.
What happened in the heat race?
It didn't go as well as I hoped, I almost went down at the start, and I went off the track. I did alright, came through the pack, and started riding well toward the end.
In the main event you got a good start.
Yeah I got a good start, and that's obviously everything in supercross.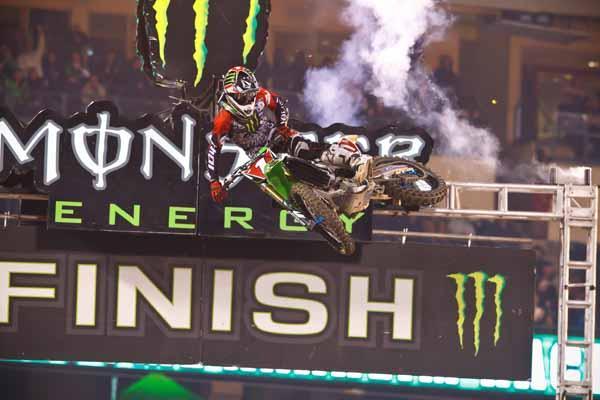 Villopoto won A1 last year en route to his first SX title. Will 2012 prove to be more of the same?
Photo: Simon Cudby
Were you marking the rest of the guys?
I could see Chad, and seeing it just little by little, and maybe four or five laps in I could see it was getting bigger every lap.
Okay so no one ever knows exactly where they stand before the opener, but, you are the champion so you had to have some confidence already. Do you take something out of this?
I'm definitely happy with it.
So this helps build some confidence.
Of course it does.
But you won some races last year, too, including the opener. So this isn't just a contunuation of that?
You come into the first race wanting to show that you're ready. And I think this did that.