Angel Stadium
Anaheim

,

CA
Anaheim I (A1)
Monster Energy AMA Supercross Championship
Our man David Pingree informed us that Lucas Oil Troy Lee Designs Honda's Cole Seely was flying in the pre season, and had the speed to deliver wins and even a title. But transferring speed from the test track into speed at the opener isn't an automatic. Seely figured it out, though, and rode a smart race to take an early lead and maintain it to the end. Here's what the California kid had to say after the Anaheim win.
Racer X: How did you feel coming into this one? You had a great season last year with some wins, and we heard you were going very fast in the pre season. But no one knows exactly where they stand before the opener.
Cole Seely: Well, the goal was to win, everyone wants to win, but the real goal at the opener is to put yourself in position for the championship and look at the big picture. So I told myself coming in that I had to be at least top five—at the bare minimum, top five. Just to set myself up for a good season. This is as good as it gets coming in. I was pretty confident before the race, but at the same time I was also very nervous, because no one knows how fast everyone is. I felt like I put some good laps in in practice, and that made me feel good. In the heat race I didn't get a good start, but I put in some good laps again, and that made me even more confident for the main. Then I got a good start in the main.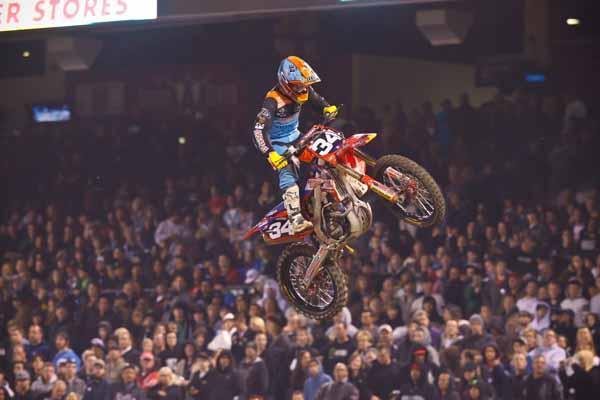 The California kid, Cole Seely, took the opening round win in Anaheim.
Photo: Simon Cudby
Were you managing the race up front? You got by Wilson quickly, then it seemed like you waited to find your spot to get around Rattray. And once you got him, you didn't check out, you just kind of maintained it.
It was kind of weird. As soon as I got into the lead, I tried to pull away, but it seemed the harder I tried the more mistakes I made. The track was, I guess the best way to describe it was, it was odd. It's not your typical supercross track. The infield wasn't full of 90-degree turns and 180-degree turns, it was like a snake section. I think it was good, it suited my riding style well. But like I said, the more I pushed it the more mistakes I made. So I just tried to settle into a nice pace and ride a mistake-free race. The more I settled in, the better my lap times were, and the more I was able to pull away.
Did you have more if you needed it? If anyone tried to make a run at you could you have found more speed?
Well, I was hoping no one was going to come up and make a run for it (laughs)! But I do think that if anyone did come up, I could have pushed it a little more, or if they got me, I could have been able learn their lines and try to get them back. I felt comfortable, I felt really comfortable on the bike, and that's definitely an awesome feeling coming into next weekend.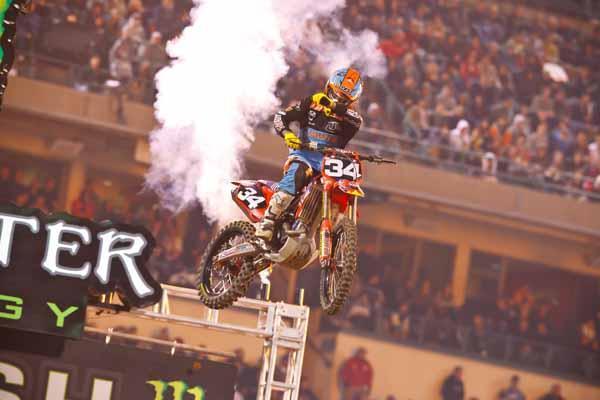 For the first time in his career, Seely leads the Lites West points standings.
Photo: Simon Cudby
Well that's the next thing I want to ask you. You've won races before but you've never been the points leader like this. Can you block that out and just treat this race like business as usual?
Um, yeah, it's just going to be another week. I'm not going to slack off, obviously, I'm just going to put in my laps and my training and be ready for Phoenix.
So no pressure now?
I think I'll be less nervous going into the next one. A1, everyone is nervous about A1, because of all the hype, and you don't know where you stand. It's nice to have the first one out of the way, and it's even nicer to have the first one out of the way coming out on top.