Metal Mulisha General Brian Deegan has built an empire in business, and has also enjoyed great success personally in freestyle motocross, off-road truck racing and even rally car racing at the X Games. But his roots lie in motocross and supercross, and the time is finally right for Deegan to dig back into the sport. The Metal Mulisha has been announced as the casual clothing sponsor of team Valli Motorsports/Star Racing Yamaha, but Deegan plans on a much closer involvement than just sending the team some hats and shirts.
We caught up with Deegan, the winner of the 125 Class at the 1997 LA SX, to ask about his new venture.
Racer X Online: Okay Brian, explain the situation here. The Mulisha is now tied in with the newly-merged Valli/Star Yamaha team.
Brian Deegan: It's something that I've been wanting to do for a long time. I wanted to get back into supercross and motocross. I grew up racing, coming through the amateur ranks, turning pro, and winning a supercross. I ended up walking away to start freestyle motocross with a lot of the guys who helped build that sport. But I missed racing, and a big part of me always wanted to come back and race again. But obviously those days are done, and I moved into truck racing instead. But I always wanted to get back into the sport, and through my relationship with (Valli Motorsports Owner) Chad Lanza, we were friends and started talking. We were working toward it, and then we had a meeting with factory Yamaha, and they were totally supportive with it, too. So things started moving forward. Then Star Racing became part of the equation, which was awesome because I've been totally pumped on what they've been doing in the Lites class with guys like Sipes and Cunningham and Swanepoel. So it's a great deal and it's a start. We're just going to keep growing from here.
So on the outside it says the Metal Mulisha is the official casual clothing sponsor of the team, but it sounds like you're a little more involved than that.
For sure. It's gone a bunch of different ways. Our first shot, we were going to do our own full-blown race team. But as it went on, we decided, let's just be the casual wear sponsor of the whole team, Lites and 450s, and we'll do gear for Nico Izzi. We'll start there and grow the relationship. Next year we'll get bigger and deeper, and maybe move some of the Mulisha guys toward Yamaha bikes. We're starting a relationship there. I've been around and I feel like I have quite a bit of experience, and I can help market this program. I can be another face for the team, and maybe bring in more help. We all have a lot to offer each other.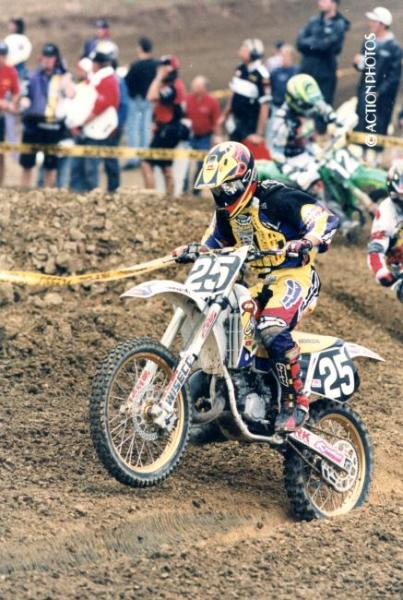 Deegan is getting back to his roots in 2012.
Photo: Thom Veety
How involved will you be? Obviously with Lanza and (Star Owner) Bobby Reagan they have capable hands already.
Yeah I talk to those guys quite a bit. For me, I'd like to be at every race. But I have a truck racing career, and I like to ride myself, and we also have a Mulisha monster truck coming to Monster Jam this year. So I have a lot going on, but I'm coming to as many races as I can, and that also includes the outdoor races.
You've had success in a variety of different styles of racing, and of course freestyle as well. I'd think some elements of all of that competition, certainly the mental side, can carry over. Do you see yourself working with the riders and using that experience?
I think so. I'm just starting to get to know some of these guys, but I think as much as they'll let me help, I'll help. It's been a long time since I've raced supercross, but I've done a lot of things and I know what it takes to win, definitely on the mental side. I've always trained super hard and I still train super hard. There are a lot of team managers that don't have the cred that maybe I do. Maybe they'll listen to the guy but not really take it in, you know? So maybe with my credibility they'll want to hear what I have to say. But really right now, I'm just there to be friends with the guys and have fun. I'm there for them if they need me.
If you look at the things you've done—supercross, freestyle, truck racing, and most recently what you've done at X Games in a rally car on both dirt and pavement—pretty much anything you've tried, you've figured out a way to get right at the top, or win. So there has to be some competitive fire in you that can help with this.
Absolutely. And that's why I've waited so long. I've had other offers before, but I wasn't going to do it unless I was with a team that I knew had a chance of winning or running up front. Absolutely, the reason I'm part of this is to win races. The cool guy scene is nice in freestyle, but in racing, the credibility comes from winning races. I want to walk around the pits and be proud of the team I'm associated with, and have people look at us and not just think the Mulisha is some big show. We want to succeed in everything that we do, car races, truck races, dirt bikes, whatever it is, I want to win it. Freestyle is a different world. I love it, but racing is where my roots are.

Metal Mulisha is backing the Star/Valli Yamaha team for 2012.
Photo: Garth Milan

Do you take a little extra pride in coming into a sport that other people are already doing, and figuring it out and going after those guys, like you did in rally?
That's something that takes a lot of time and sacrifice. People don't understand that. Coming in and trying to master a new sport in a short amount of time and beat the best guys, it's not easy. But I used everything I learned from moto—I watch tape, I practice, I do everything I would the way I approached it when I raced motocross. I only do it if I can do the best I can, and I plan on winning. For sure there are a lot of guys who do things to fill spots and just get out there. If that's the case with me, I'd rather just stay at home and chill out.
The Mulisha started as this counter-culture thing. What does it say that now Yamaha is all about working with you?
It's crazy how everything comes full circle. When we started freestyle, we were definitely the black sheep of dirt bikes. We were the rebels. The sport grew and got huge, all kinds of money started coming in. Then supercross was growing, too, and it even became part of X Games, and it all started meshing together again. Now every freestyle guy wants to be a factory motocrosser. They all want to wear the gear, they want a Pro Circuit pipe and silencer on their bike, they want to look factory. I think it's all become professional enough where factories want to be involved. They see the youth we draw and they want to be involved—it's definitely not what it was 15 years ago. I'm stoked. My whole career I wanted to be a factory rider, and I just missed that. So I'm stoked to be involved now. I'm so pumped! I was fortunate enough to build a good brand, and now I want to give back where it all started.
One last thing: any chance the guys will ride with giant spikes on their shoulder pads, old school Mulisha style?
(Laughs) I told the guys to have fun with this, and our image, obviously it is what it is. But we're there to be serious and we want people to take us seriously, too.