Although the 2011 season was packed with amazing depth and competition, one very capable rider was left on the sidelines for most of it. A pair of torn ACLs ruined Josh Grant's year and left him looking for work—at one point, he even considered off-road truck racing instead of dirt bikes. Now finally secure with a new deal on the Jeff Ward/Mike Kranyak team riding Kawasakis, Grant gets us back up to speed on his past year in this week's Monday Coversation. As always with JG, he says what he thinks and doesn't hold back.
Racer X Online: Josh Grant! Where have you been?
Josh Grant: I'm back home in California, recovering from those knee injuries. I thought that was best for my career in the long term, maybe not for the short term, but we weren't as worried about that. And I've also gotten to spend a lot of time with my little guy, Wyatt, being a dad. I've gotten to watch him grow up, while instead I would have been traveling at the races.
What exactly where the injuries?
Well it started in Phoenix, with, yeah, what's his name? Jeff [Alessi]? So that set me back, I ended up having ACL and meniscus surgery. I was starting to work my way back, not quite perfect yet, but well enough where I could race, and I came back and did Budds Creek. Then at Colorado I ended up hurting my other knee in practice, I crashed on a high-speed sweeper. I didn't think it was that bad at first, but in the race my knee popped out. I still didn't think it was that bad, but I found out I had torn the ACL in my other knee. So then I didn't know what to do. It was my only year with Honda so I wanted to prove what I could do, so I ended up going to RedBud with one torn ACL and the other knee not fully recovered. I just figured that was my only option—they said I wouldn't be able to do more damage to it.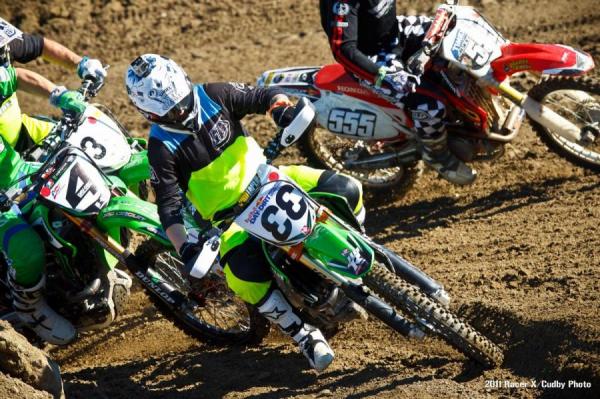 Grant testing out the new Kawasaki at the Day in the Dirt this past weekend.
Photo: Simon Cudby
I ran the first moto and I think I finished seventh. Second moto I was in about the same spot, the knee wasn't feeling too bad because I had it taped up so much I could barely even move it. Then with a lap or two laps to go, I ended up getting it caught where it was uncomfortable and I couldn't pop it back in. I had to pull off, and I figured right then that it wasn't worth tearing myself up even though I wasn't in it for any kind of championship points—it was just trying to keep my job at Honda. I made that decision with [Team Manager] Erik Kehoe and the guys up there, and I told them it was better to have my knee fixed and we'll figure out the rest when the season is over. I got the other knee fixed, and I was sitting on the couch with both knees kinda' jacked up.
I know everyone was okay with you taking the time to get the knee right, but at the same time, no one was guaranteeing you would have a job when you got back?
Right. I made that decision knowing that probably wasn't going to happen, but at that point I didn't really care. I know I'm a top guy and I know I can run with these guys, so I'll get a job somewhere. It was a matter of making sure I could race for the next ten years, not just six races at the end of the 2011 season.
I'm sure you were hoping to come back to Honda. Did you have talks with them for 2012?
Yeah we had negotiations to set up a deal. But then they had gotten some new sponsors who were coming in and willing to fork over quite a bit of money for a different rider. They had to go that route, it wasn't the guys at Honda, you know, Kehoe was telling me he was pretty stoked with me and how I was handling everything, and he wanted me to be back at Honda. But it was more of an upper management thing were they decided to go for the money for another sponsor. I can't blame them, it's a business decision. I'm not bummed, I like everyone over there and we had a lot of fun. At the same time, I've got to worry about me, so that's what I did.
Other Honda teams were popping up, like the new Brooks/McGrath team. Were you looking at Honda teams first?
Yeah I was looking at Honda teams first. My main goal was to be there [on Hondas]. I got some calls from Larry and what not, but it didn't seem right. It just didn't seem like the way to go, you know, second fiddle to someone I felt like I could go out and beat. So I just didn't like that situation, so I just kind of held off and said, "If I don't race this year, then I don't race this year. I'm not going to be that guy."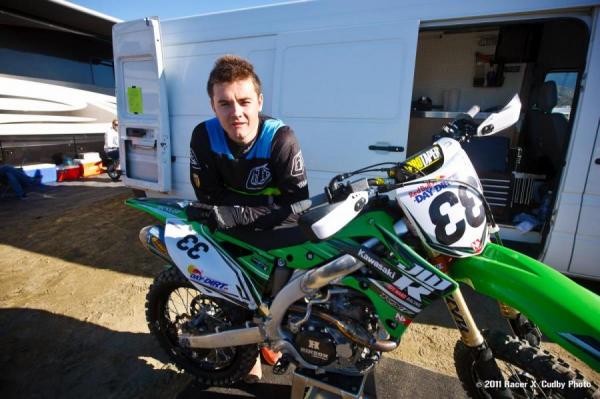 After an injury filled 2011 season, Grant is hoping to be ready in time for A1.
Photo: Simon Cudby
Really?
Yeah. Even though I had both knee surgeries, it was going to be a time crunch to be ready for Anaheim anyway. It was like, what am I going to do? I was talking to some companies about maybe racing off-road trucks in the Lucas Oil Off-Road Series. Then I get a call from my dad, who told me Mike Kranyak was going to keep racing with L&M Racing or whatever. He asked me what I thought, and I told him it all depended on the circumstances of what bike and things like that. So it all came together.
Wow! So you were really looking for other things to do outside of racing?
Yeah. I knew trying to come back super quick was going to be a hard deal, because I've always been kind of chasing these injuries coming into the season, and I didn't want to be doing that again.
And you were recovering from a shoulder injury coming into 2011, right?
That was the year before, when I tore my shoulder the week before Anaheim.
But in 2010 you hurt your shoulder at Southwick. Did you feel 100 percent prepared for Anaheim in 2011?
I was feeling ready to go. Maybe I didn't have all the time I wanted, I did have shoulder surgery, but I was clicking along pretty good. Trey [Canard] and I had a pretty good program going. I think I finished ninth at Anaheim 1, and I was just trying to get the ball rolling and get moving. Until Phoenix.
So this team with Jeff Ward and Mike Kranyak, no one knows much about it yet. What's the program like?
Well, what's good is, my family has always been friends with Mike Kranyak, who owned L&M when Stewart was there and stuff. Larry left, but we still have all the equipment, all the machines, everything to have a team. It was just about getting bikes and support and going racing. Now we have Jeff Ward coming on to be a team owner—he and Mike linked up and said let's go racing.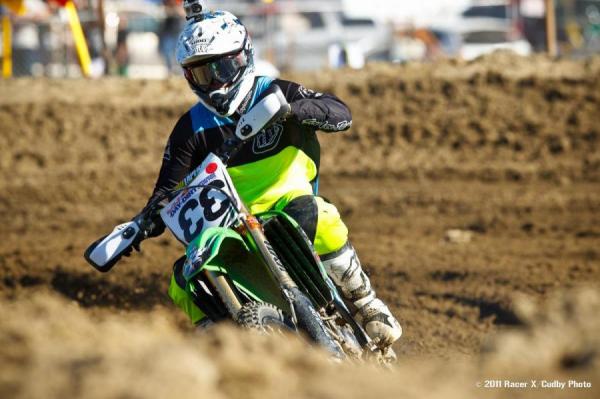 This will be the first time Grant has ridden Kawasaki full time since his days on an 85.
Photo: Simon Cudby
Have you ever ridden Kawasakis before?
Not really! The last time I had ridden a Kawi was on 85s at World Mini. It's been awhile!
So have you been riding much?
I just got released to ride last week, so I rode last weekend. I know we only have a few weeks left for Anaheim. If I'm not 100 percent ready, I'm not going to race. I'll wait. But yeah, the program around me seems good and I'm comfortable. We don't have all of our stuff lined up as far as sponsors go, so I'm riding a stock bike with an FMF pipe. But I felt comfortable as soon as I got out there.
Sounds like you and the team are building a little late, so neither of you are expecting to win Anaheim right out of the gate.
Right. My goal is to get out of Anaheim with some points, get the season rolling and build from there. I was lucky to sign a two-year deal with Mike, and job security has become the most important thing in this sport. I told him with these one-year deals, okay, you get on a new bike, you learn it, you're just getting into the swing of things, and then the season is over. I'm excited to be part of a good group of people—it says a lot that those guys [staff] all decided to stay over there.
It just has to be a sense of relief to get a good deal and be able to take that pressure off.
Yeah, and that was my goal. Coming right off the bat I may not have the best results. The last year, I haven't been able to race solidly. I'd be coming off the couch and doing what I could—at RedBud I was hurt, coming off the couch and running top ten. I thought that was pretty good. So now it's back to the work and willpower to make everything go right. I've found the right program. Jeff Ward has helped me a lot with trying to build the right program instead of just coming off the couch and racing again.