FMF Power/Poynt TUF Honda's Jeff Gibson is right in the thick of the AMA Arenacross Championship hunt. The 2009 AX Champ started the year with podium finishes, and then strung together back-to-back wins on Saturday night in Baltimore, Maryland and Friday night in Madison, Wisconsin. A tough break on Saturday night in Madison left him to salvage a fifth-place finish, but when we rang the Ohio native on Monday morning, we found out he is plenty happy with his season so far.
Racer X: Overall, Jeff, it's been a good season so far. You're battling Tyler Bowers for the Arenacross points lead, and you have two wins.
Jeff Gibson: Absolutely, I had a few good nights. I won Saturday night in Baltimore, then on Friday night in Madison I got a good start, was able to pull away really quick. I checked out and rode my own race, it was a good night for me. On Saturday night I didn't get the best start in the main, I was kind of mid pack. I was coming up through, I was really happy with my riding, and I was making good passes. I had actually gotten up to third or fourth, and I was right behind Nathan Skaggs. He made a mistake in a turn and lost the back end, he spun out right in front of me and I had nowhere to go. I ran into him and went down myself. That allowed [Josh] Demuth and Kelly Smith to get back by me. I caught back up to them but just ran out of laps. But I wasn't disappointed at all, I rode really well and I know mistakes happen—some things are out of my hands. So you just take the good with the bad.
It was a good night in Des Moines because you were on the podium, but it seems like you stepped up since then with the two wins. Did you change anything?
We changed a little bit with the bike. Des Moines, that was the first time on the bike with the motor and everything completely done. I was able to do a little bit of testing and make some changes. Also, on opening night, you're always dealing with the nerves a little bit, so you're just trying to get that one out of the way without any major problems. That's what I was able to do in Des Moines. From there I've been trying to keep the ball rolling. I'm not even looking at the points right now, I'm just trying to take it one race at a time, and just have fun. That seems to be working right now.

With his win Friday night in Madison, Gibson now leads Tyler Bowers in the Arenacross Class points standings.
Photo: Simon Cudby
The schedule has been redesigned quite a bit this year, so we'll have this big break in the middle of the series for the holidays, and then come back in January. Are there things you know you can work on when you have the time, or do you want to keep things where they are?
I just want to keep working like I have been. With the season starting really early, I didn't really get to start my training the way I wanted, it was like, "Uh oh I need to get going now!" There are always things to work on. So I have a few things I have to get situated, and we'll take it from there. But mostly, we're going to keep doing what we're already doing.
The whole key in Arenacross is consistency, one bad race can ruin a championship run. But like you experienced on Saturday, a big crash or mistake, a disaster, seems like it's always just inches away in this series.
With Arenacross it's always like that. It's so tight and intense, you really need to limit the damage. There are nights where I've been down in the first turn, almost got lapped, and was only able to come back to get an eleventh or something. And that was the year I won the championship! It's tough to be perfect, but you just need to limit the damage and try your best to stay out of that carnage.
You mentioned how you had good starts with your two wins, but had a tough race when you had to come through the pack. When you don't get the start, do you go into damage control immediately?
You just have to take it race by race. Every time you're on the track, you have to do the best you can, no matter if you're in second, or second to last. I'm just trying to focus forward and do the best I can.
When the series switched back to 250s this year, a lot of people said, "Oh the 250 will work so much better for Gibson." But you'd said you don't care, you were just as comfortable on the 450.
Right. I think I did pretty well on the 450 last year, I won some races and was in the hunt for the championship. This year I'm up there again, so I feel like the TUF Racing bike, I know our bikes are always going to be good. I'm just happy to be racing, 250 or 450 doesn't matter, I'm having fun.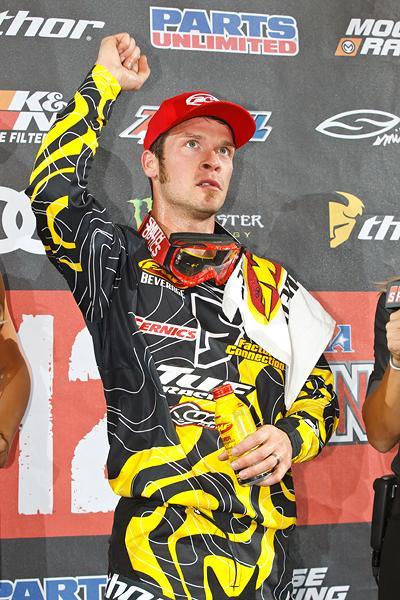 Gibson celebrating his first podium of the year in Des Moines.
Photo: Simon Cudby
That's the thing about Arenacross, you all seem to get along.
Yeah in Arenacross, everyone seems to be friends. You can't really hide out in the semi all weekend long, we all get put into the same little pit area inside the building, we're downstairs underneath the seats of the arena. So we're hanging out all weekend. Plus, it seems like the entire top ten of the series is from Ohio anyway! So we grew up knowing each other. We all get along, we grew up racing together, so it's a good time on weekends.
Tyler Bowers told me he looked up to you when he was racing 65s in Arenacross, and you were the hot new pro guy. How strange is it that you're now racing each other?
Oh absolutely, I actually remember watching Tyler on 50s! I remember him jumping 50 or 60-foot doubles on his Cobra 50! He was always a wild one when he was younger. He was always a good rider.
Okay well keep up the good work and we'll talk to you as the season goes on.
Thanks. Just want to thank the FMF Power/Poynt Thor Tuff Honda team. And the Lord, most of all, and my family and friends for the support.