By: Alex Gobert // MotoOnline.com.au
A new winner emerged in the Hunter Valley round of the Monster Energy Super X, Australasian Supercross Championship, at Maitland Oval on Saturday.
Raceline Pirelli Suzuki's Lawson Bopping captured his first Pro Open class victory in the Triple Header main event, which consisted of three 10-lap finals back-to-back.
Bopping, 21, scored 2-2-2 results in a consistent effort, handing him the overall win and rocketing him to fourth in the standings despite a DNF in last month's rain-soaked season opener.
"I'm so happy, this is the best feeling," Bopping said. "Who would have thought that three seconds would get me the overall? I'm over the moon. The track was really slick and the whoops were rutted, but I'd just like to thank Raceline Pirelli Suzuki because they have worked so hard.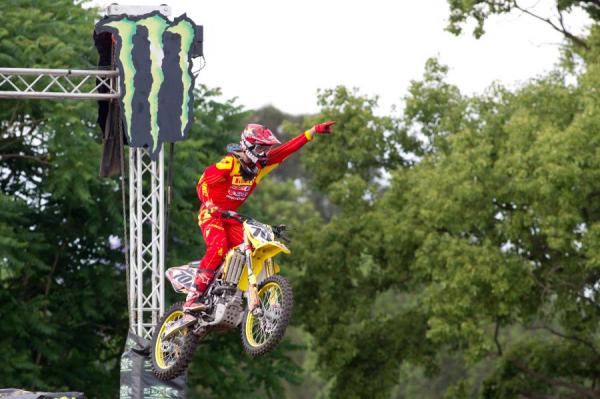 Rookie Lawson Bopping captured his first career overall at Maitland.
Photo: Rice Photography
"I got a great start in that last one, saw Jay [Marmont] behind me, but I knew he had a bad first race. I wanted to beat him, but I'll take second to get the overall. I want to keep this going next weekend at the final round."
Bopping topped new series leader and four-time outdoor champion Jay Marmont (CDR Yamaha) in Maitland. Marmont rebounded from a dramatic first turn crash in the opening race to take two wins, asserting himself as the new points leader with his customary 'never say die' attitude.
With 8-1-1 finishes, Marmont now holds a vital five-point advantage with one round to go. Tye Simmonds (JDR Motorex KTM) was sixth on the night, now second behind Marmont in the standings.
A further three points behind Simmonds is Dan McCoy, the Motul Pirelli Suzuki rider who was eighth in Maitland, while Bopping is now just seven points behind him.
Rounding out the podium was American visitor Chris Blose for Hart and Huntington/InsureMyRide, winner of the first final before racing to 16-3 finishes despite a crash in final number two.
Finishing fourth and fifth for the round were Todd Waters (Carlton Dry Honda Thor Racing) and former U.S. regular Dan Reardon (JDR Motorex KTM), who continues to gain momentum.
Monster Energy Kawasaki's Billy Mackenzie finished ninth on the night, dropping one position in the championship standings to fifth with a single round remaining.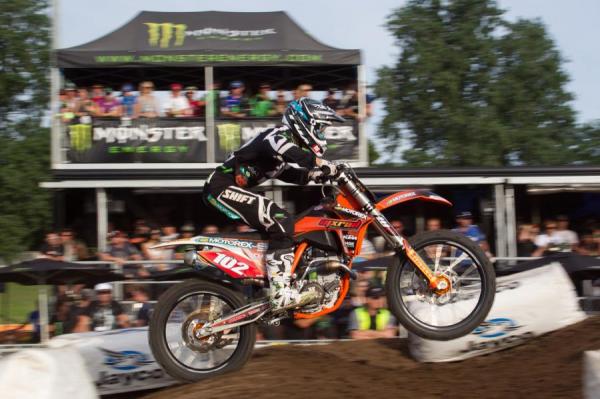 Matt Moss extended his points lead with his overall in Maitland.
Photo: Rice Photography
Matt Moss placed himself in the box seat for the Pro Lites championship, winning the overall at Maitland after three action-packed eight-lap races that made up the Triple Header.
Moss finished with 2-2-1 results for the afternoon, a pivotal moment in the series as he now enjoys a 22-point lead entering next weekend's final round in Queensland.
"I knew it would be tough here today, but I'd really like to thank the JDR team, my girlfriend, family, trainer and the Moss Institute," Moss said. "It's been a great season so far, but there's one to go so hopefully I can wrap it up before heading to America next year."
Second overall after a consistent performance was Dean Ferris, the Monster Energy Kawasaki rider's highlight of the night coming as he took the win in final number two.
Yamaha's Luke Arbon rounded out the podium in third with 6-7-2 finishes. Fourth was American Gavin Faith, while finishing fifth was Team 07 Axis Motorsports Honda's Adam Monea.
Winning the first final of the night was Carlton Dry Honda Thor Racing's Faith, but he crashed on the opening lap of race three to ruin his hopes of the overall.
Another rider to suffer tough luck was Motul Pirelli Suzuki's Steven Clarke, crashing out while leading final three. The British contender suffered a suspected broken wrist.
The Under 19s class saw Raceline Pirelli Suzuki's Errol Willis continue his sweep of the series, winning comfortable after holeshotting in the main event. Sam Martin (Suzuki) and Tom Larsen-Moss (Yamaha) completed the top three. Wilson now enjoys a commanding 25-point lead in the series.
In the Junior Development class it was Kurt Waterman who won ahead of fellow Honda rider Hayden Melross, while Yamaha's series leader Billy Jackson was third.
Monster Energy Super X will meet its final destination next weekend at Ipswich in Queensland, the season finale set to take place on Saturday, November 19th.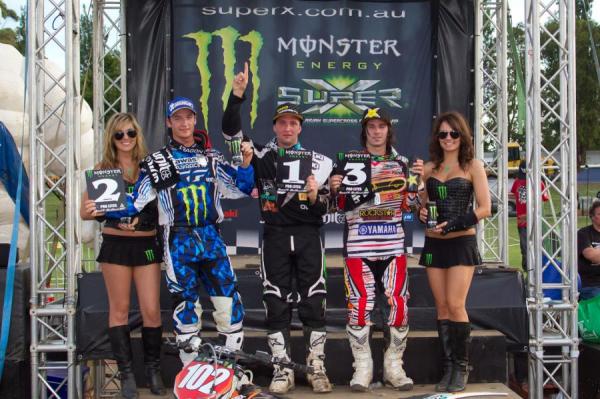 Ferris, Moss, and Arbon rounded out the Pro Lites podium.
Photo: Rice Photography
2011 Super X, Australasian Supercross Championship
Round Four – Maitland, NSW
Pro Open Results:
1. Lawson Bopping
2. Jay Marmont
3. Chris Blose
4. Todd Waters
5. Dan Reardon
6. Tye Simmonds
7. Cody Mackie
8. Daniel McCoy
9. Billy Mackenzie
10. Ryan Marmont
Pro Open Standings:
1. Jay Marmont 80
2. Tye Simmonds 75
3. Daniel McCoy 72
4. Lawson Bopping 65
5. Billy Mackenzie 61
6. Todd Waters 56
7. Dan Reardon 55
8. Ryan Marmont 52
9. Chris Blose 47
10. Michael Phillips 39
Pro Lites Results:
1. Matt Moss
2. Dean Ferris
3. Luke Arbon
4. Gavin Faith
5. Adam Monea
7. Robbie Marshall
8. Luke Styke
9. Nicholas Sutherland
10. James Booth-Elliott
Pro Lites Standings:
1. Matt Moss 93
2. Luke Styke 71
3. Brendan Harrison 70
4. Steven Clarke 68
5. Gavin Faith 67
6. Adam Monea 57
7. Dean Ferris 52
8. Luke Arbon 52
9. Robbie Marshall 47
10. Kirk Gibbs 37
Under 19s Results:
1. Errol Willis
2. Sam Martin
3. Thomas Larsen-Moss
4. Sam Duncanson
5. Geran Stapleton
6. Brayden Constable
7. Jarrad Davis
8. Tristen Cachia
9. Luke Reardon
10. Jack McNeice
Under 19s Standings:
1. Errol Willis 75
2. Geran Stapleton 50
3. Corey Lucas 48
4. Sam Duncanson 43
5. Thomas Larsen-Moss 38
6. Tristen Cachia 38
7. Mitch Norris 37
8. Brayden Constable 32
9. Jarrad Davis 30
10. Jake Williams 29
Junior Development Results:
1. Kurt Waterman
2. Hayden Mellross
3. Billy Jackson
4. Joel Wightman
5. Lenny Magyar
6. Nathan Crawford
7. Jake Donaher
8. Aaron Hart
9. Mitchell Nichols
10. Miles Stanley
Junior Development Standings:
1. Billy Jackson 60
2. Hayden Mellross 54
3. Joel Wightman 53
4. Kurt Waterman 50
5. Lenny Magyar 46
6. Joel Dinsdale 40
7. Mitchell Nichols 32
8. Aaron Hart 29
9. Jake Donaher 28
10. Jordan Noles 26