Last week we covered and compared
Ricky Carmichael
's 2005 season with
Ryan Villopoto
's 2011 season—as they are the only two riders to ever go undefeated, capturing four major crowns in the same year (RC won the AMA Supercross and Motocross titles, the Motocross of Nations and the U.S. Open Supercross in 2005, and RV won AMA SX and MX, MXoN and the Monster Energy Cup this year). Of course, they're not the only riders to ever log a superb year with a bunch of titles and bonuses, but they're the only ones to get through the whole season without losing something they were shooting for.
Here are some other examples:
Jeff Emig: In 1997, Fro won both the AMA 250 Supercross and Motocross Championships and also the King of Bercy crown in France. But the Motocross des Nations effort for Team USA sputtered.
Jeremy McGrath: MC won the AMA 250 Supercross and Motocross Championships, but did not compete in the Motocross des Nations.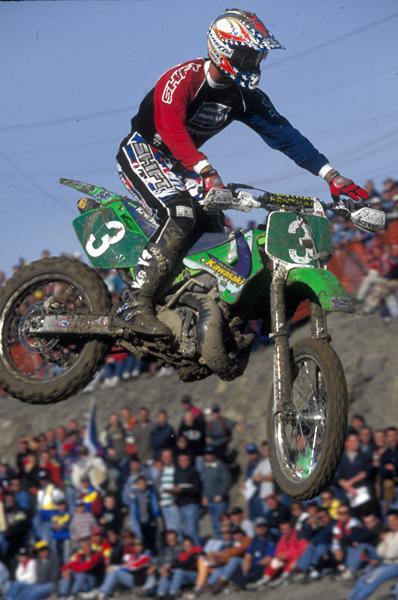 Emig was a Motocross des Nations win away from being perfect in '97.
Photo: Racer X Archives
Jeff Stanton: Man, this guy came close to winning everything he competed in for a year. In 1989, 1990 and 1992, Stanton won both the AMA Supercross and Motocross titles, and that's why we affectionately call him Six-Time. In '89 and '90, Stanton also led Team USA to wins at the Motocross des Nations. But back in those days, the AMA also ran a 500cc MX National tour when the 250 class finished up, and Stanton, in one of the biggest mysteries ever, somehow never won that title despite a penchant for big bikes.
Rick Johnson: RJ dominated the sport during the late 1980s, and grabbed two AMA titles and a Motocross des Nations win in 1986, 1987 and 1988. But like Stanton, RJ could never quite seal the deal for all three AMA titles he competed for in a given season—he won 250 SX and MX in '86, but David Bailey bested him for the 500cc title. He won 250 and 500 MX in '87, but Jeff Ward edged him in Supercross. He won the SX and 500 MX title in '88, but Ward got him in 250 Motocross. Winning them all isn't easy!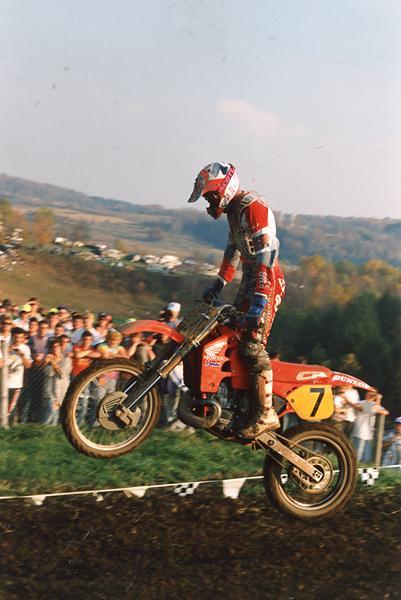 Mr. Six-Time, Jeff Stanton.
Photo: Thom Veety
Jeff Ward: Ward mimicked Villopoto's 2011 season in many ways back in 1985, taking his Kawasaki to a closely contested Supercross Championship over Yamaha's Broc Glover, and then narrowly edging Honda's Johnny O'Mara for the 250 MX Championship. Back then the 500s ran as a separate series so Wardy won everything he could compete for—and he also led Team USA to a win at the Motocross of Nations. This is about as close as anyone gets to matching RC and RV, but Ward didn't have a signature off-season supercross win to cap his year (O'Mara won the Paris-Bercy SX in 1985).
Jean-Michel Bayle: JMB did something no other rider will ever do. In 1991, he managed to win all three AMA titles in one season, AMA Supercross and AMA 250 and 500 Motocross. But France didn't win the Motocross des Nations and Stanton edged JMB for the Paris-Bercy SX win. Still, this was a season for the ages.