Welcome to Racerhead. Been a long week.
The Monster Energy Cup in Las Vegas was as an extraordinary event. It was no regular supercross by any means. In some ways (prize money, razzle-dazzle) it was better. In other ways (rider and industry participation, crowd, track design, perfect presentation and cadence) it was not. But the fastest guys won, the drama was palpable, and a motocross rider earned himself $1 million—the biggest single payday in motorcycle racing history.
But then it all seemed to go to hell, with three separate tragedies connected to the races. First was the mysterious death of Nick Hoffman, Michael Byrne's former mechanic. The 30-year-old from West Palm Beach was found dead in his hotel room on Sunday morning. The cause of death has not been reported.
The second tragedy was more removed from the race. While I was in Vegas last week I helped Tom White hook up Chip Ganassi and his crew with tickets and all for the Monster Energy Cup (thanks, Feld; thanks, EJ) and he came out to the race to check it out. Ganassi, one of the most respected men in all of motorsports, actually grew up around Pittsburgh and raced at my parents' first track, Appalachia Lake. He was also the main sponsor for Jeff Ward when Wardy made a go of an open-wheel racing career. Anyway, at the race he was apparently asking all kinds of questions from people like Mitch Payton about what it takes to be a team owner in motocross, what kind of budget is needed, and more. Could Ganassi follow Gibbs Racing into our sport? That would be fantastic.
But then on Sunday, Chip's weekend turned horrible when his former driver Dan Wheldon died in that tragic crash on Lap 11 of the Las Vegas Indy Car race. I was on a plane back home when it happened, but on the news I saw Chip, obviously torn up by the loss of his friend, telling the world, "Today we lost a little bit of IndyCar...."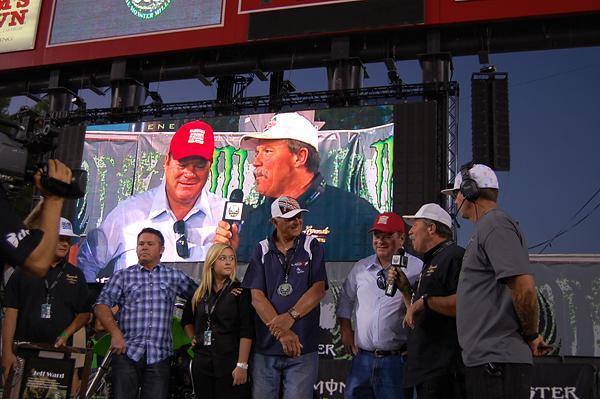 Chip Ganassi at the MEC in Las Vegas last Saturday night.
The highly respected Wheldon, who hailed from England and was the winner of the 2011 Indianapolis 500, left behind his wife and two young boys. This weekend all of the drivers in NASCAR will wear a decal in honor of their fallen fellow racer.
Also racing at Las Vegas Speedway was Ricky Carmichael, and he was leading the Camping World Truck Race early when someone hit him from behind and caused a multi-car crash. The carnage of that collision was minor compared to the ugly scene the next day, which has caused a lot of hand-wringing and second-guessing about whether those cars belong on a banked oval like that.
Carmichael was doing double duty on Saturday—after the truck race he headed over to the Monster Energy Cup to do some TV broadcasting for the SPEED TV live broadcast. He was one of many Monster Energy-backed athletes who were there for the big weekend. Another was Rick Huseman and his brother Jeff Huseman, two of the best off-road truck racers in the sport. They were returning home from Las Vegas in a small airplane when it crashed near Barstow, California, killing both men and a third person.
Our thoughts and prayers go out to all of the victims of these tragedies.
Looking ahead to 2012 and the Anaheim Supercross kickoff, we will hear officially what James Stewart is riding on Tuesday when he holds a presser to announce his new deal—Matthes and Weege will have more on that later on. The bonus here is that Stewart will be riding outdoors again, which is something everyone involved in the series has been hoping would happen. It will make next summer even better than the one we just completed.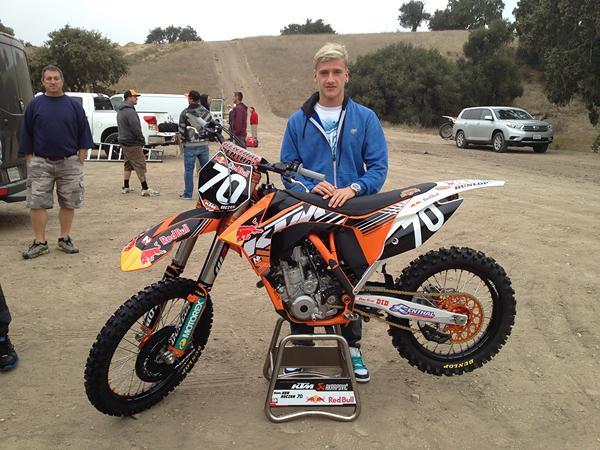 Ken Roczen debuted his #70 KTM for Simon Cudby today.
Photo: Simon Cudby
Ken Roczen
, the incoming MX2 World Champion, went out to Zaca Station, near Buellton, California, with his team today for some testing and photos. Simon Cudby was there to snap a few shots of the kid who will certainly be an instant contender in both AMA Supercross Lites and AMA Motocross. He was also wearing his new #70, which instantly brings to mind a young
Ricky Carmichael
for many American Motocross fans.
He was also wearing some slick Fox Racing gear, which brings me to the GEICO Honda team. They will not be wearing Fox in 2012, apparently because GEICO, the team's title sponsor, wants a different look for the team and will be rolling out some kind of special new gear. That means the Fox Racing stable will lose Justin Barcia, Eli Tomac, Wil Hahn, and Justin Bogle in one fell swoop if this comes to pass.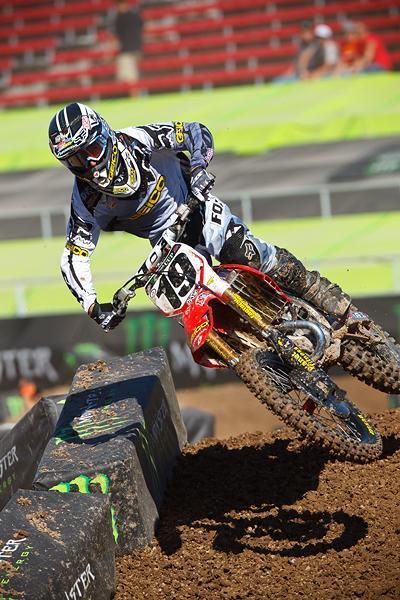 Eli Tomac and friends may have a different tailor in 2012.
Photo: Simon Cudby
In leaving Las Vegas, I have to say I was shocked by just how solid, fast, and confident
Ryan Villopoto
looked, and not surprised at all that
Ryan Dungey
adapted as quickly to his KTM as he did to finish second. But the biggest surprise was the solid outing in the first main event by
Ben Townley
, who hasn't raced AMA Supercross in who knows how long. BT101 is still on the free-agent market, and some smart team is going to grab him for next summer, because a healthy Townley could run with RV outdoors in 2007 ... but it's been that long since he's been truly healthy. Now the plan is to sit out SX and be ready to go in May when the 2012 Lucas Oil AMA Pro Motocross Championship opens on May 19 at the
Hangtown
Classic.
Okay, let's get into some really, really deep bench racing. Check out this site (first part, second part) about the history of motocross in Russia that Scott Wallenberg found.
Here's the kicker: According to site, the first "motocross racing" in Russia took place in 1898! That's a full twenty-six years before what most consider the first motocross race, the Southern Scot Scrambles on Camberley Heath in England in 1924: "The first motocross racing was organized on the 8th of November, 1898. The two-way distance was 41,6 km long, the road from the railway-station Alexandrovskaya (near Detskoye village) till the turn to the station Strelna was chosen as the event venue."
Obviously, bikes that old would look more like bicycles than motorcycles, but the small engines that propelled those bikes technically make them motorcycles! The site also says Russia was hosting a national motocross series beginning in 1928 (when it was called the Soviet Union) all the way up until 1941, when war broke out with Germany.
What does it all mean? Bryan Stealey, who covered the history of that first motocross race in England a few years back in Racer X Illustrated (August '02), is going to have to get his butt on an Aeroflot jetliner and head to Russia!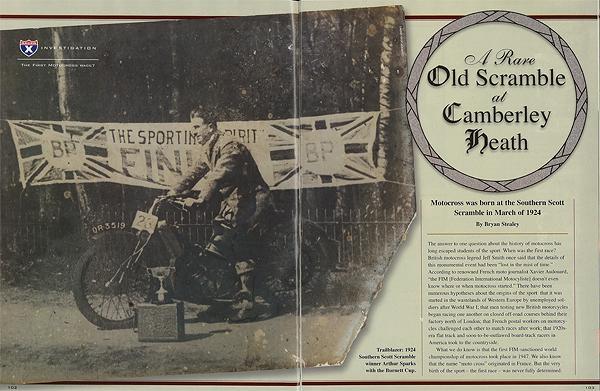 Okay, here's Jason Weigandt:
Now that it seems James Stewart's deal with JGR is on the way, other pieces can fall into place. So even if you're not a JS7 fan, this move has an impact—and all over the place at that. I know teams in the Can-Am Grand National Cross Country Series are even sweating which way James is going to go, because it could make a difference in which brands have the leftover budget for other series' and other riders next year.
Speaking of budgets, people are pretty fast on the James-took-to-money-to-go-with-Yamaha-and-JGR bandwagon. You may have a point, but we will probably know more once the official announcement comes out and we have a chance to talk to James about the decision. From what I hear, though, that decision was made difficult because Suzuki is still in a bit of a transitional state. Last week a PR finally emerged stating that the factory Suzuki effort was indeed being taken over by Yoshimura, as we expected, but in general, Suzuki ended up with a blip in their racing plans at the exact worst time. While Yamaha and other brands had their T's crossed and I's dotted, budgets set and offers made, Suzuki was in the middle of a transition and couldn't be quite as aggressive. You're dealing with set plans from one brand versus plans that will hopefully pan out (but haven't yet) for another.
Also, the Suzuki-Rockstar connection and Stewart-Red Bull connection wasn't a factor in negotiations. I'm hearing Rockstar and Makita are out at Suzuki for 2012 so this didn't turn into an energy drink war.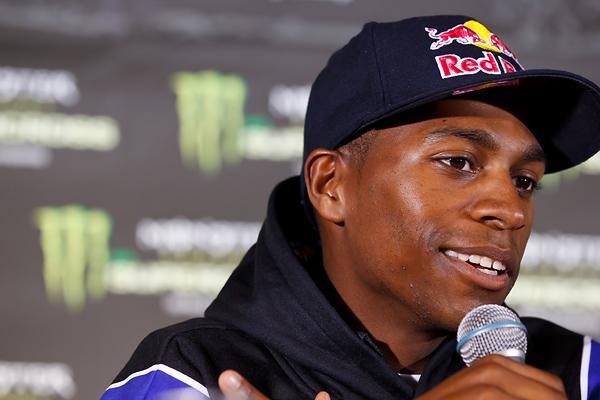 Expect an announcment from Stewart and JGR on Tuesday.
Photo: Simon Cudby
Also, I do know that Stewart liked the JGR Yamaha more than he expected to, and it seems that bike is quite a bit different than the Yamaha he rode in 2011. Will it be different enough to deliver a championship in 2012? That's the ultimate question, but then again, when isn't it? In racing, you live and die by the results, and all decisions look wise if some race wins get mixed in.
Other things are happening. We hear Andrew Short is back on the bike for the first time since his elbow/wrist injuries in late summer. And Ivan Tedesco is back on the bike for the first time since knee/hip surgeries after supercross. And other free agents may soon have rides—where will Josh Grant end up? Will Ben Townley get a ride? Will Brett Metcalfe have a teammate? Will Stewart at JGR? I bet we know all of this by November 1. And now that the Monster Energy Cup is over, this is the best news we have to cover.
Here's Steve Matthes:
The Monster Energy is over and another lost weekend in Las Vegas for many in the industry has come and gone.
I've spoken and written everything I can on the Monster Energy Cup, from doing a podcast with Jason Thomas and Jimmy Albertson to Observations to a Pulpmx Point/Counterpoint to James Lissimore doing a Pulpmx ME Cup photo report. There simply isn't anything else to say about the race.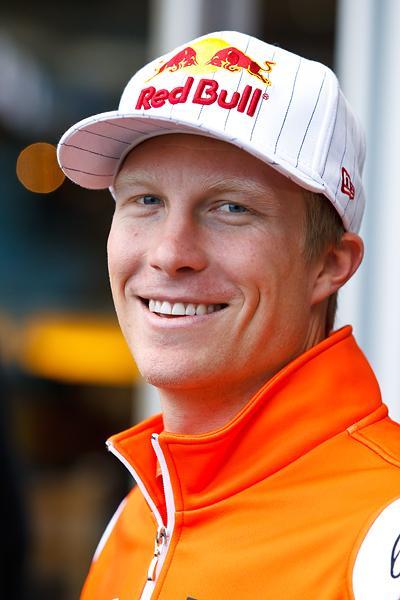 Short is back on the bike and prepping for 2012.
Photo: Simon Cudby
Was it a home run? No, as I said in the Point/Counterpoint, but it was a solid double up the middle and the folks at Feld will make some tweaks and come back next year.
So now that we've gotten past the hump of the Monster Energy Cup, up next is the Bercy Supercross in Paris next Friday night. I'll be going over and checking everything out, so stay tuned to Racer X for updates and make sure you follow @racerxonline.com as well as my own account @pulpmx on Twitter to get the play-by-play.
American riders like last year's champion, Justin Barcia, his teammate Eli Tomac, Mike Alessi, Kyle Chisholm, and factory Kawasaki's Jake Weimer will all be lining up to take a swing at claiming the prestigious King of Bercy title.
It's always a good time to go over there hang out, watch some intense racing, and hey, there's even going to be a Dogger sighting! The 1985 125 National Champion, Ron Lechien, will be making the trip over to promote one of his sponsors, JT Racing.
And finally, thank you James Stewart for finally making a decision. Now we can all rest.
There's a press conference on Tuesday at JGR Yamaha to announce the Stewart signing, and this is huge for the JGR guys and their sponsors. We've always known that Coy Gibbs was coming into the sport to be up front and so far, the results have been mixed a bit. This is the statement by JGR that they're in the running and stepping up. With Stewart doing the outdoors as well, the team has a real chance of taking both titles next year and as well as being a big roll of the dice for JGR, it's also a real coup for Pirelli ties. With Bridgestone pulling out a few years back, it's left Dunlop as the only real choice for the riders and teams in the pits.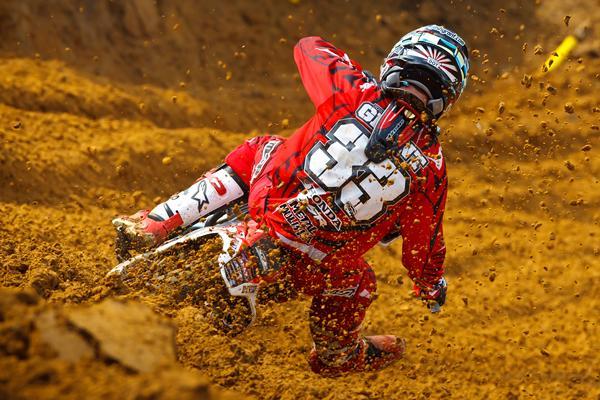 Where will Josh Grant land for 2012?
Photo: Simon Cudby
Enter Pirelli with JGR and to me competition is always good for the sport. The Pirelli guys have a crap ton of World Championships in Europe, and now with Stewart they have their best shot at an AMA title as well. It's interesting to me that Stewart rode the JGR Yamaha twice and must have thought the bike/tire package was much better than his L&M Yamaha of last year. We all know blue wasn't JS7's first choice for a bike, so him signing with JGR raises the Hmmm Level to super-mega-interested to see if this works.
Look for Kyle Chisholm to be the third guy on the BTOSports.com/BBMX Suzuki team next year with Michael Byrne and Jason "I Love Finland" Thomas. The team is also rumored to be using JGR engines and suspension next year, which is a big step up for the BBMX guys as well as the JGR guys.
As far as the second guy at JGR, I've long thought it was going to be Davi Millsaps but it appears that he may want more money than the guys there can do, so rumors are he's sniffing around the "Laremy McBrooks" team. It's been reported that Kyle Regal is there but checking in with Larry Brooks, it appears that's not the case yet.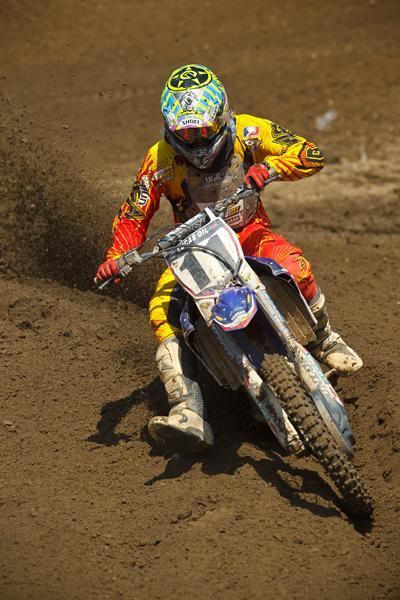 Is Chisholm on his way to BTOSports.com/BBMX Suzuki?
Photo: Simon Cudby
Josh Grant to the Jeff Ward Racing (formerly L&M) team? I think that's going to work out. Team manager Paul DeLaurier has been fielding phone calls left and right from riders looking to jump on that spot and by all indications, it looks like they will be on Kawasakis.
Thanks for coming out, see you next week. Tip your waiter.
Now to Ping:
In another move that shows Dave Gowland moving the Rockstar/Suzuki 250 team in the right direction, the team has hired Randy Lawrence as the team trainer/coach. Randy has been around the sport for a long time as a mechanic and as a trainer and he knows how to bring out the best in riders. He has won championships with McGrath as a mechanic and even more titles with Villopoto and Weimer. This year he'll have Anderson, Davalos, Hewitt and Wharton to work with. I expect good things from those riders and that team next year. It has always surprised me that more teams don't subscribe to the team trainer concept. They spend seven figures putting a team together and paying riders and then just hope they show up prepared and ready at A1. Top riders can afford to have their own trainer but for younger riders or guys not making big money that isn't an option. You think stick and ball teams just let their athletes prepare any way they want? I'm guessing no.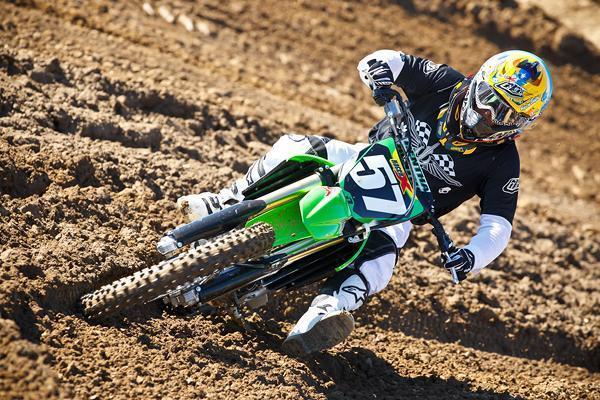 Ping and the rest of the west coast Racer X crew tested all the 250cc new models this week.
Photo: Simon Cudby
I think we are going to hear very soon what riders land on the MC/Brooks Honda team. I know a couple of the guys they are talking to and it sounds like it may happen soon. As for the Wardy/Kranyak team it seems like they have to get a manufacturer nailed down first. At least one of the guys they are talking to is waiting to see what color bikes they ride before he signs. I still think it will be green.
Did you catch the Racer X 2012 250cc Shootout we posted this week? Our staff rode the new models and gave their feedback right HERE. It's a good year to buy a 250F.
We also held the 2012 450 shootout this week but we enlisted the help of some very fast test riders for this one. Ron Lechien, Micky Dymond, Grant Langston and Billy Laninovich helped me run through each manufacturers offering for 2012. Stay tuned to this site for that when it posts very soon.
PanicRev has a big event going on this Sunday at Relevant/PanicREV with guest speaker Johnny Campbell. Johnny will be sharing about his life, his career, and about loosing Ox this year. Check out more HERE.
Okay, here are a few random notes:
The iconic photographer Paul Buckley, know for the famous "Buckley Berm" at Southwick, is now giving graphic design a shot. Check out his first attempt.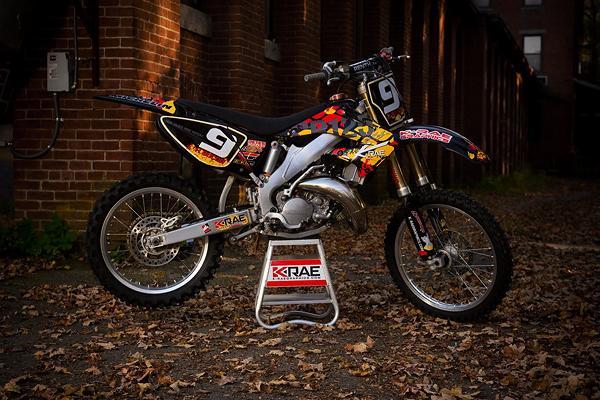 Our friend Greco Gaspar sent us this email this week: "Some teams in Brazil are asking me about foreign riders that could race here next season. Do you have contacts of good riders that might be interested? Hope to hear from you soon." If anyone is interested, drop us a line at letters@racerxonline.com and we'll put you in touch with Greco.
Check out this cool video from Matt Wozney of the legendary Rio Bravo track as riders take to it for the AMA Outlaw452.com Main Event Series, which my friend Larry Hughes has been hosting for the last five years in the Houston area. Rio Bravo is a historic track as its the place where Jammin' Jimmy Weinert became the first American to win a Trans-AMA and beat the Europeans, way back in 1973. If you listen at the beginning of the vid you will hear Larry discuss that history a little; Hughes is a first-class bench racer working for Parts Unlimited or his own Main Event Promotions.
Saturday night marks two firsts for the popular Endurocross Series. One, this will be its first ever visit to Boise, Idaho, and two, because the track venue the Idaho Center is larger than a normal arena floor, it allowed the track crew more space to get creative with the infamous water pond section so there will be a "double pond" for the riders to negotiate! The riders will splash into the first pond and then hop out into a second pond, with logs lining the exit of course. Wet logs are not easy so you can expect this obstacle to cause some chaos. The region also has an abundance of rocks and logs so the racers and spectators are going to be in for a real treat on Saturday.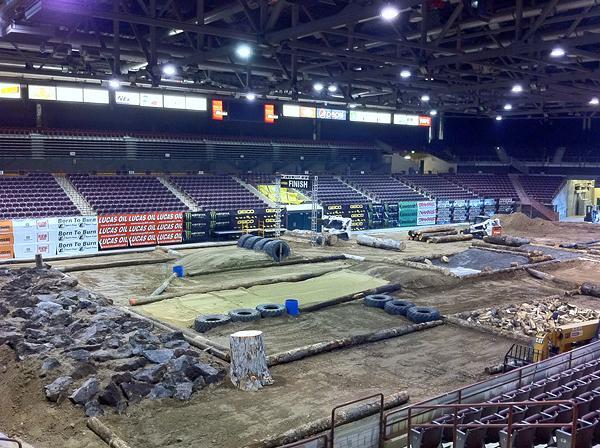 Ticket holders will also be treated to a free pre-race concert from the Blues Addicts courtesy of Husqvarna and Moto Tech.
Video by Buttery Films
of Bryce Vallee already hard at work prepping for SX with new trainer Dave "Ping" Pingree at the Lapalia SX track in Temecula.
That's Ping with the big straw hat.
That's it for this week in motocross. Thanks for reading Racerhead. See you at the races.