Las Vegas, NV
Monster Energy Cup
Monster Energy Cup
You just never really have an off-season in this sport. It seems like it was only a few crepes ago that I was standing in a field in France watching the Motocross des Nations. A couple weeks later and I'm in Sam Boyd Stadium in my hometown of Las Vegas watching something called the Monster Energy Cup. And in two more weeks, I'll be in Paris at the annual Bercy Supercross. The grind doesn't stop!
But this Observations report is about the ME Cup and everything that it was all about. Coming into the event, I thought it was pretty cool idea. Three main events, run what ya brung, a big purse, an amateur 250 class, a Supermini class and a hybrid track designed by Ricky Carmichael and Jeremy McGrath that was supposed to combine motocross with supercross. It was a cornucopia of new stuff to check out.
Oh yeah, and the folks at Feld put up a one million dollar bounty to any one rider that was able to sweep all three ten-lap main events. But in talking to Ryan Villopoto and Kevin Windham on Thursday, none of them really thought that was something that could happen. The chances of one rider sweeping all the main events are pretty slim right? No chance that happens, right?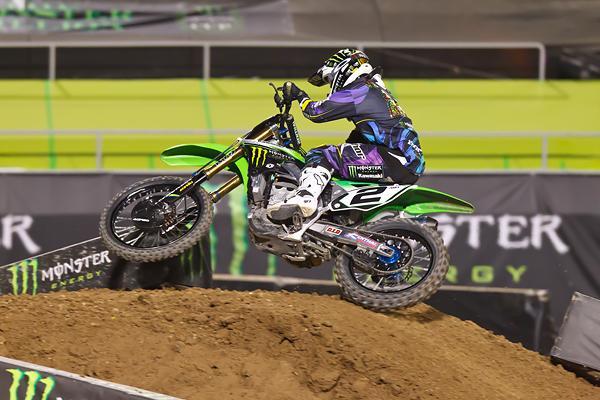 Sweeping the ME Cup was the cherry on top of an already incredible season for RV.
Photo: Simon Cudby
Uh no. Villopoto took his Kawasaki KX450F and did exactly that in a shockingly easy manner. It wasn't even close, the competition was Custer and he was the Indians. He got the starts, had the speed, ripped through the SX section, killed it in the motocross section and it was over. RV went 1-1-1, led every single lap of every main event and capped off his incredible year in the best possible way: by winning the one million dollars! He had a choice of a one-time payout of 500K or 50K over 20 years and he took the 20-year option which seems smart because if he blows all his millions on a booze filled debauchery run, he'll always have the 50K coming in for the next 20.
It was stunning how RV, a guy who really didn't want to do this race (he had to postpone his honeymoon that was all paid for and booked), came in so prepared and ready to crush it but then again, look at his main competition coming into the race:
Chad Reed: Not there.
James Stewart: Not there.
Trey Canard: Not there.
Ryan Dungey: Switched to KTM and didn't have that much time on the bike. Dungey was definitely thought to be a challenger to RV but there's still testing to do and kinks to work out.
Kevin Windham: KW was thought to be a possible upset pick as he rides the slippery hard pack dirt well but let's face it, Windham probably wasn't motoing down like he normally would be and took the last few months off after pulling out of the nationals. He wasn't going to be 100 percent ready, but he was someone who could get frisky and pull off a main event win.
After that, it was riders like Brett Metcalfe, Justin Brayton, Jake Weimer and Marvin Musquin—all good riders but not in the class of Villopoto yet.
So RV was the favorite to win, but to sweep all three motos, in the stunning fashion that he did? No way. Great job by him, and what a season for the ginger warrior.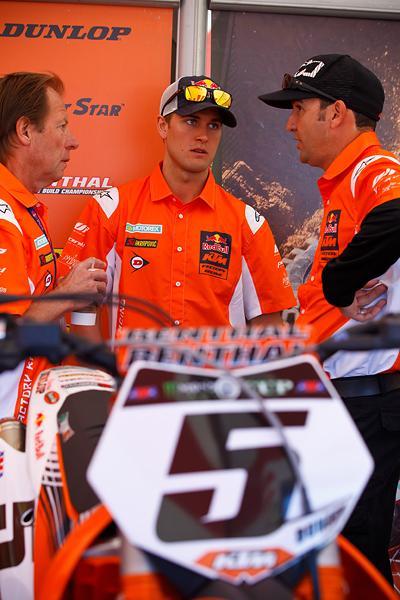 When all was said and done, Dungey and KTM had a successful debut at the ME Cup.
Photo: Simon Cudby
I think that even though he got beat, Ryan Dungey has nothing to be worried about. On the new KTM he performed admirably to 3-2-2 finishes and took home a little bit of cash for his efforts. And the amount that he and the team learned from racing was invaluable. There is nothing like racing, and I can't tell you how many times as a former mechanic you would settle on a setting on a Wednesday out at the test track only to see it not work because the rider picked up his pace on race day. There's nothing like racing to work the kinks out and golf claps to Ryan and KTM for showing up. Really, when Anaheim rolls around no one is going to be wondering if Ryan Villopoto can continue his momentum from the Monster Energy Cup that took place in October. There's a full two months in between.
So how did Dungey look? Well, I thought that for some reason he looked like a monster on the KTM. I don't think the KTM is a smaller bike than his old Suzuki but it sure looked like he was a bigger rider on orange. He was still the fast, calm and not-wanting-to-stick-it-in-there Ryan Dungey, but all in all a nice debut for the team. I thought that when he clipped some jumps or something wasn't exactly right the bike seemed to step out on him out there but that's nothing that some more time won't fix.
What Ryan and the KTM team are attempting to do is huge. They are trying to get a bike that's brand-new [Dungey's KTM SXF450 does not share many parts with the production bike down on your dealer floor] onto the top step of a supercross podium. This is a manufacturer that's never made a podium in the premier class in supercross. And they're trying to do it with a new bike. Incredible effort will be needed by all involved to get this bike ironed out, built and homologated and ready to race by Anaheim. KTM's certainly a company on the move and they're spending money, but the learning curve is steep, there are lots of problems that could pop up and the rider has to be ready and on his game as well. Something tells me the last one will be handled.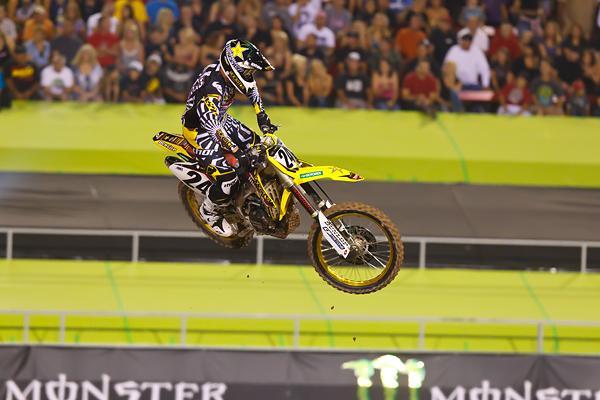 Steady Metty was at it again at the ME Cup, finishing third overall.
Photo: Simon Cudby
Third place on the night was Suzuki's Brett Metcalfe who was solid the whole night in all three races. But then again, he's Brett Metcalfe. That's what he is—solid. Metty was not far behind Dungey and on the track that didn't have much to separate anyone, Brett was right there if something happened to Dungey. He chased his old teammate each and every moto going 4-3-3 and showed that he's ready to go for 2012. Unfortunately for him, it's still another two and a half months until Anaheim.
At this point I feel like I need to answer the burning question. Did the Monster Energy Cup work? Well yes and no, really. I applaud Feld for thinking outside the box and trying something different with this race. The million dollars won by RV will certainly attract headlines to the sport (unfortunately the race was overshadowed in the mainstream press by the tragic passing of Indycar driver Dan Wheldon at the Las Vegas Speedway the next day) and was a cool idea. This race was born out of the US Open which most people felt had run its course and as I said, something new is always good.
The lap times were around 1:30 and it made for a little bit of a long main event. With a lot of the track outside, there wasn't much to see all the time inside the stadium. I love the amateur races they added and I like the track going into the stands but really, I think the track didn't promote much racing. To a man, the riders told me "fun track to ride, not fun to race on" as passing was limited and not many took place. I think they missed the mark on the number of laps and the track design/build. But you know what? They'll tinker with it for next year, have a few more top guys committed and it can be a great race. It can work and there was a lot more to like than there was to not like.
Mike Alessi made his Suzuki debut at the ME Cup and the results were mixed. It could be argued that Alessi had more success on a Suzuki than he had ever had before and now that Mike is out at KTM, he went back to the brand that he feels comfortable on. And certainly early on Mike looked great as he set the third fastest time in practice before disaster struck in the second practice when he crashed heavily at the end of the sand whoops. And that was effectively it for Mike's night. Sure he actually went 6-21 (his shifter either broke or fell off and he dnf'd)-6, but you could see that he was timid in the sand section and had no chance of showing what he really had. The crash shook him up and he ended up fading to the back in the two motos that he did race in.
I don't know what Ryan Dungey did to Alessi but in the third main event there seemed to be some very hard and aggressive riding by Mike to keep Dungey behind him. Usually there's a little bit of courtesy among the top guys and we all know that Mike's not on Dungey's level in supercross, so it was assumed that Mike would let Dungey slip by without too much fight, but oh no, Mike rammed Ryan, blocked him and generally made Dungey's life miserable until Ryan got by and motored away.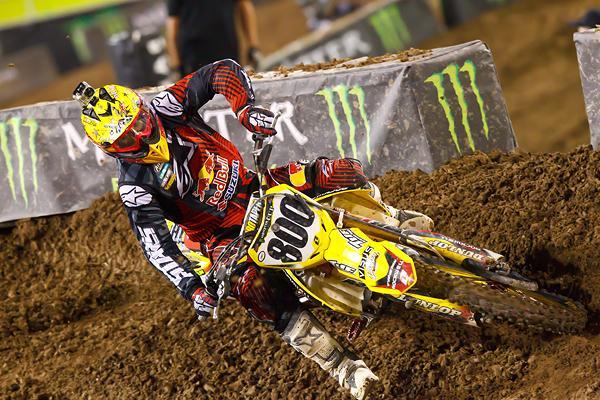 Is Alessi headed to Motoconcepts?
Photo: Simon Cudby
I really never could believe that Team Alessi was prepared to go racing all year on their own dime like Tony Alessi told me. Even with some help from sponsors, the costs of overhead for a guy like Mike added to the expenses of travelling to the races each and every week is way too much in my opinion. Tony mentioned partnering up with the Rockwell Watch team (which is what he did this weekend) but I can't see where they have the dollars to hit the road. Well we found out on Monday on the Pulpmx Show that Motoconcepts Yamaha team manager David Vuillemin quit the job after being told that the team was going with Alessi as its main rider. So it appears that a deal is seemingly coming together and sources claim that Mike's on his way to North Carolina to ride a JGR Yamaha real soon. The fact that JGR is trying a few guys out on the bike tells me that the James Stewart to JGR thing may not be happening. Or JGR is doing this to pressure James into making a decision. (Wait, this just in, Racer X is now reporting that the James Stewart to JGR deal is done).
The Pro Circuit team had three riders on the 450 for this race in Broc Tickle, Josh Hansen and Ben Townley, and it wasn't an ideal night for the team that's used to doing so well at the races. Townley was strong in the first main event (2nd) but then his black cloud followed him in the form of a bent chain guide that the team never caught in the second main. It made BT think that the motor was going or the wheel was bent and he pulled off in both of the last two main events.
Still it was an impressive first moto for a guy looking hard for a ride for the AMA outdoor series. Was it enough to catch anyone's eye? I'm not sure. With Ben, the main thing is for him to stay healthy and at this point, he hasn't been able to. It's a risk for any team to pick him up no doubt about it but the reward is there dangling in front of you like a carrot.
Broc Tickle was fast in practice but couldn't do much in the three main events. He didn't seem to get the starts and that was what this whole race was about—the start. Still his speed was good and he didn't do anything to make anyone think he isn't going to be a good 450 guy next year.
And Josh Hansen, well he wasn't very good either. Coming into the race with a bit of an injury (a crash in practice), Hanny told SPEED TV that he was only racing because team owner Mitch Payton told him to (nice to throw the one guy that salvaged your career under the bus while you ride your last race for him) and it showed that he'd rather not have been out there. From asking to be in the B practice (instead of the regular fast guy one he was supposed to be in. You know, the one where you match yourself up against the best riders, pick up some lines and see where you can get better) I suppose that was an indicator that it wasn't going to be a good night.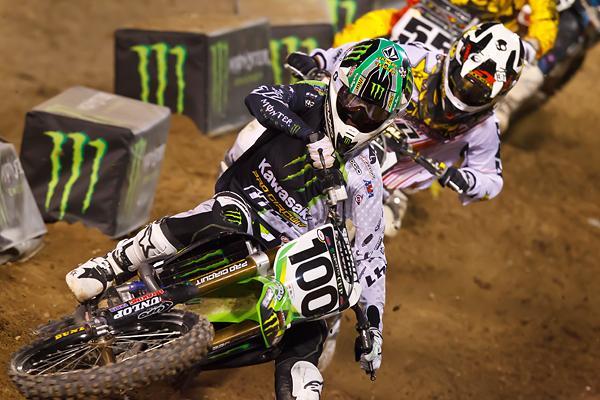 Hansen struggled in the mains after an suffering a big crash in practice.
Photo: Simon Cudby
On a brighter note a couple of 250 riders that moved up on 450s had great nights. Martin Davalos and Eli Tomac both grabbed some bigger bikes and ended up fourth and fifth overall on the night and in the first main event, Tomac was very impressive. Davalos got the fourth by being consistent in each and every main event, which wasn't easy to do. Tomac was just fast and although there's not much to the guy, weight wise, he seemed to manhandle that 450 pretty well.
Let's take a look at the results shall we?
Pro Overall
1. Ryan Villopoto (1-1-1) Kaw
2. Ryan Dungey (3-2-2) KTM
3. Brett Metcalfe (4-3-3) Suz
4. Martin Davalos (7-7-5) Suz
5. Eli Tomac (5-4-10) Hon- Tomac was the surprise no doubt about it.
6. Kyle Chisholm (9-9-7) Yam- Nice to see Chiz get some results after his injuries this past year.
7. Nick Wey (14-11-4) Kaw- Nick debuted his Kawasaki and was doing just ok until the last moto when he rode to a strong 4th. He was immediately better than he had been at any point this past season. Sometimes, certain bikes just work better for certain guys.
8. Jimmy Albertson (11-10-8) Yam- Top Jimmy had a good night despite spraining the crap out of his ankle in the first main event. His Valli Yamaha team is merging with Star Racing to be a Star Racing 450 team with two riders and apparently, Austin Stroupe has one spot secured. So Albertson's going for the other ride and I hope he gets it.
9. Jake Weimer (12-6-11) Kaw- After the race Weimer was hurting from the roost from the outdoor section where I guess there were some gnarly rocks out there.
10. Mike Alessi (6-21-6) Suz
11. Marvin Musquin (8-8-17) KTM- Musquin was solid on the KTM 350 until the last main event where he got into a ram-a-thon contest with Kyle Partridge out there. He just pulled off the track after the finish effectively giving Partridge the win.
12. Justin Brayton (13-5-18) Hon
13. Kevin Windham (15-14-12) Hon- Windham had to make the main event via the LCQ and it was a lot of riding overall for the veteran. He didn't stand a chance from his crappy gate position and did the best he could do with what he had.
14. Chris Blose (10-16-15) Kaw- This was Blose's farewell ride with the Hart & Huntington crew and he's now off to Australia to race in that series while trying to find a ride over here next year.
15. Ben Townley (2-19-20) Kaw
16. Broc Tickle (16-18-9) Kaw
17. Cole Seely (21-12-13) Hon- I don't know, I just thought Seely would be better. Not sure what happened.
18. Kyle Partridge (18-15-14) Kaw- Partridge rode great to get into the main event and after that he was a bit winded out there for the long main events.
19. Jarred Browne (17-13-19) Yam
20. Nick Paluzzi (20-22-16) Suz
21.  Josh Hansen (22-17-21) Kaw
22. Weston Peick (19-20-22) Kaw
There were a couple of amateur classes tossed into the program and they were cool to see. Josh Hill's brother, Justin, pulled off the win in the 250 class, which was stocked with A and B riders from Loretta Lynn's. Hill won his class with a 4-1 as new GEICO amateur hotshot Zach Bell went 1-4 and Cole Thompson and Austin Politelli went 2-3 and 3-2. It was a four-way tie for first with Hill getting the overall. Bonkers!

Tomac was a pleasant surprise in his 450 debut.
Photo: Simon Cudby
The Supermini class was won by Adam Cianciarulo who had an easy time of it in the first moto, but the was pressured by new KTM rider Cooper Webb in the second moto. AC92 looked smooth and in control the whole time and unfortunately for me, the expected carnage that we used to see at the US Open with the 85's didn't materialize. Or maybe the kids are just that good nowadays.
That's all I got from the ME Cup, good times and a good show. With a few tweaks here and there, the folks at Feld could have something really cool on their hands. Want to chat? Email me at matthes@racerxonline.com.