Sam Boyd Stadium
Las Vegas

,

NV
Monster Energy Cup
Monster Energy Cup
Ryan Villopoto just completed arguably the greatest season ever for a rider in the U.S.—topping off his Monster Energy Supercross and Lucas Oil AMA Pro Motocross Championships with a Motocross of Nations win, and now, a three-race sweep and $1 Million bounty at the Monster Energy Cup.
Racer X: Ryan Villopoto, you are the Monster Energy Cup million dollar winner. Man, you really killed it tonight. You looked great.
Ryan Villopoto: Yeah, dude.
You rode really good. You were on it. How's that sandwich?
It's really good.
A million dollars….
It is. Man they got Mandingo Pickles full sliced on there.
So seriously, though. You were on it.
Hey, how about my tweet the other day about pickles? I didn't even get a hit-back or nothing!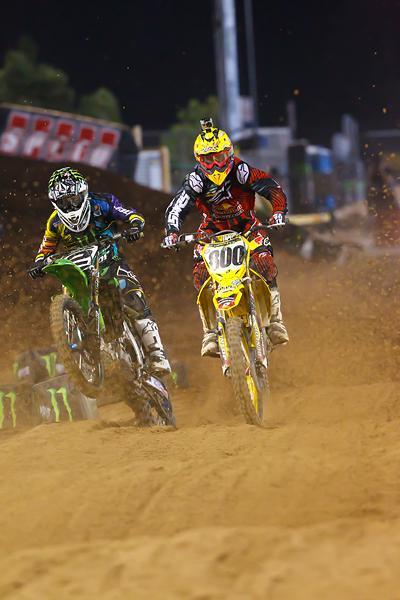 Ryan Villopoto caped off an amazing season with a clean sweep at the Monster Energy Cup.
Photo: Simon Cudby
Let's talk about the race. Pretty easy?
Eh. I mean, they were only because of my starts. But obviously if I wouldn't have had the starts I had, they would've been hard.
Looked to me like you didn't always get the greatest jump, but once you shifted to third, you yarded those dudes.
It's Kawasaki. What'd you expect?
What'd you think of the track? It looked fun.
The inner—the stuff inside the stadium—wasn't too bad. It was one lined. But they need to do something about the dirt outside. It was really rocky. Other than that, it was fun. I was fortunate enough to have three awesome starts and the third one I had to get around Mike [Alessi], and I did that right away.
Aside from the start, there must have been other places where you were killing it.
I didn't see the lap-time sheets, but yeah, lap times were good. I mean, obviously it was a little bit everywhere, I guess.
What are you going to spend the money on?
Black #2.
Black #2?
Yeah, roulette table. Let's go. What'd you think? Is that a good idea?
As a poor journalist, no. That's not a good idea. You should invest that in a high yield bond.
Woah! Woah!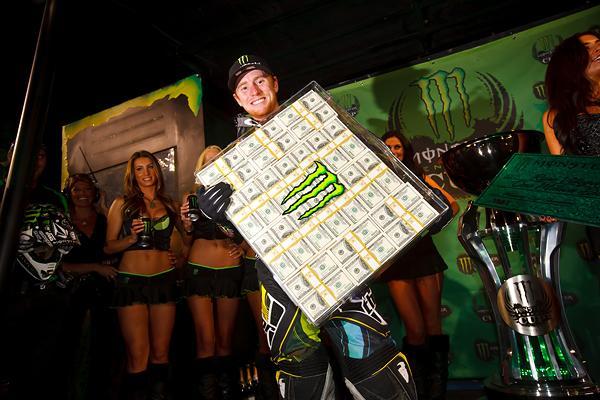 Villopoto and the Monster Million.
Photo: Simon Cudby
Anyways, we talked on Thursday and you said it's gonna be tough to win all three races.
If I hadn't had the starts I had, it would've been tough to win all three.
Obviously you're in shape, but what about the format? Three ten-lappers. Guys I've talked to so far are like it's a lot of riding.
Well, when the lap times are a minute twenty-eight, yeah, it's a lot of riding. It was a lot of riding, actually.
I tweeted before the first main event that I did not like your gate selection. I thought you didn't go far enough inside. Clearly I don't know what I'm talking about. But did you see something in that gate?
I hit that gate every time. Every time. Same one.
I know. But Dungey was on the inside of you and Metty was on the inside of you.
Yeah, but if you didn't see my qualifier, I started down that way, around where Dungey started that last time. And I got pinched bad in the turn. So I moved over a couple. That's why.
OK. Well Ryan Villopoto, you've won the Monster Energy Cup and a million dollars. You glad you did the race?
Are you gonna come out with us tonight, Matthes?
I don't know.
Ah, you should.