With the birth of the Monster Energy Cup comes the end of the U.S. Open, which ran from 1998 through 2009 at the MGM Grand Garden Arena in Las Vegas. The U.S. Open shares very little with this weekend's race—besides being an off-season event in Vegas, just about everything else is different.
But hopefully the show is as good. While some versions of the U.S. Open turned out better than others, it did pack great drama at times. Before it's spot in history is replaced with a new event, we run through the top moments of the past.
1998: The inaugural event is supposed to be the Jeremy McGrath show, as Fox sponsors the deal and MC is their main man—and the AMA SX Champion. But he gets bad starts in both the Friday and Saturday races, and Kawasaki's Damon Huffman wins the overall, and $100,000. Strangely enough, MC never wins the U.S. Open.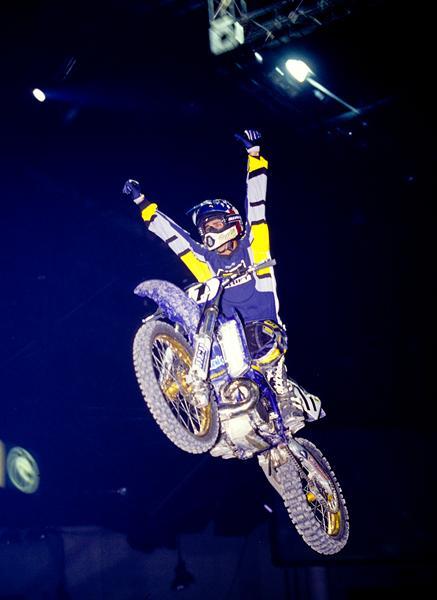 Emig celebrates his 1999 U.S. Open win aboard a privateer Yamaha.
Photo: Simon Cudby
1999: A dramatic one, as Jeff Emig wins it on a privateer Yamaha, just a few months after getting fired from Team Kawasaki.
2000: Ricky Carmichael dominates it on a Kawasaki and proclaims he has sights set on McGrath's supercross championship for 2001. He makes good on that proclamation.
20001: Tons of hype here. Carmichael switches to Hondas and shows up at the last moment on his new ride. But McGrath is back, too, sporting a revised Yamaha and a new training program, all designed to take down RC. McGrath gets bad starts again, while RC jets off with the wins.
2002: Carmichael is the overwhelming favorite, but he crashes on night one and Mike LaRocco takes advantage to steal the win, leading him to the overall and $100,000. And while Carmichael is fighting through traffic, he runs into a new rival—a young Chad Reed.
2003: RC has won the AMA Supercross Championship again, but Reed ended the season winning six straight. We later find out, also, that RC comes into this one sporting a torn ACL. On night one, Reed and his Yamaha teammate David Vuillemin take Carmichael down, and Reed goes on to win the overall.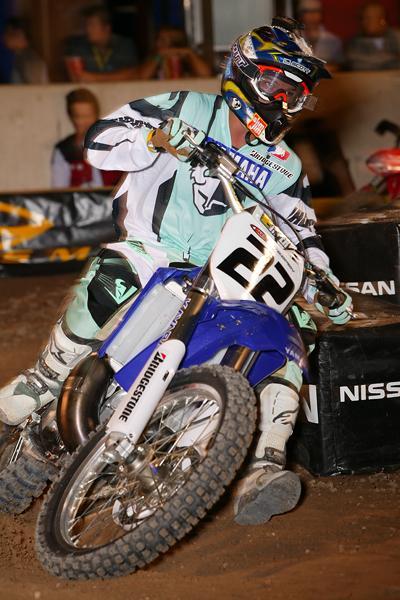 Chad Reed en route to back-to-back victories in 2004.
Photo: Simon Cudby
2004: Rematch time. Carmichael is making his racing debut on his new Suzuki RM250. He leads Reed for a while on Friday, but Reed gets around. On night two, RC appears to have the race won until he falls, and then runs into clutch problems. Reed wins again.
2005: Carmichael wins the '05 SX crown on a 250 two-stroke, but selects the RM-Z450 for the U.S. Open. James Stewart plans to challenge him on a KX250, but James pulls out of the race with an illness the day of the event. RC wins easily.
2006: A great one. The purse ups to $250,000 if a rider can log the fastest lap in the "superpole" qualifying hot lap, and then holeshots and wins the main events on Friday and Saturday night. Stewart gets the fast lap, holeshot and win on Friday. Kevin Windham bests Stewart's lap time on Saturday night, though, ending Stewart's bid for the big money. In the Saturday night main, David Vuillemin leads for a while with Carmichael behind him, but Stewart passes them both to take the lead. Carmichael keeps the pressure on, and Stewart stalls in a tight corner. Carmichael has nowhere to go, so he tries wheeling over a hay bale, but he ends up crashing. Stewart kicks his bike back to life, rides past, and takes the win.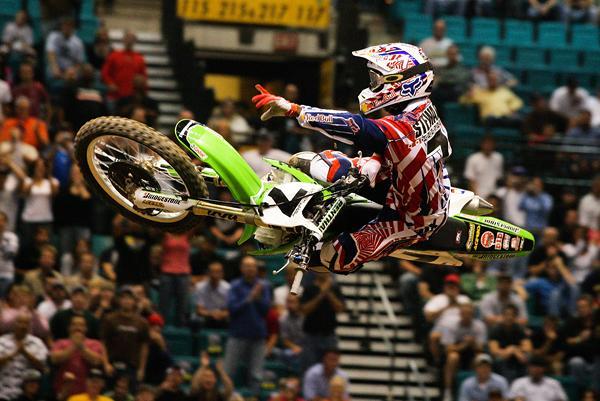 James Stewart celebrating his 2006 U.S. Open win.
Photo: Simon Cudby
2007: This is the wildest one ever. Chad Reed scores the trifecta on Friday night, putting him in the running for $250,000 if he can get a holeshot and win Saturday night's main. He wants that money, badly, so even though he doesn't get the jump off the start, he holds it on late into the first turn, igniting a massive first-turn crash. Jake Weimer wins the Saturday night main, Grant Langston's consistency lands him the overall win.
2008: Reed is now on a Suzuki, Stewart on a Yamaha. They battle hard—even bumping in mid air at one point—and Stewart takes the win.
2009: Reed has just signed with Kawasaki and doesn't have time to be ready to race. Stewart appears to have it easy, but Ryan Villopoto shows up at the last moment, his first race since ACL surgery in May. RV gives Stewart a brief challenge, but Bubba has this one dialed in and goes on to be the last-ever U.S. Open winner.