Welcome to Racerhead, and Racer X Online—the official website of the off-season!
Now is the time of year where we all transition. The long season of racing is pretty much over, with the exception of the Monster Energy Cup in two weeks' time in Las Vegas. The whole motocross world is waiting for the pieces to fall into place for 2012. When will we see Ryan Dungey on an orange bike? Where will James Stewart end up? What will Chad Reed's team be riding? Will Chad have a teammate? Is JGR switching colors? Who will be on the new Larry Brooks/Jeremy McGrath Honda team? Will Christophe Pourcel be on it? Where will Mike Alessi end up? Whither Li'l Hanny? Malcolm Stewart on a KTM?
There are all kinds of unanswered questions. We have a lot of guesses, and some pretty good ideas, but there's not much set in stone right now.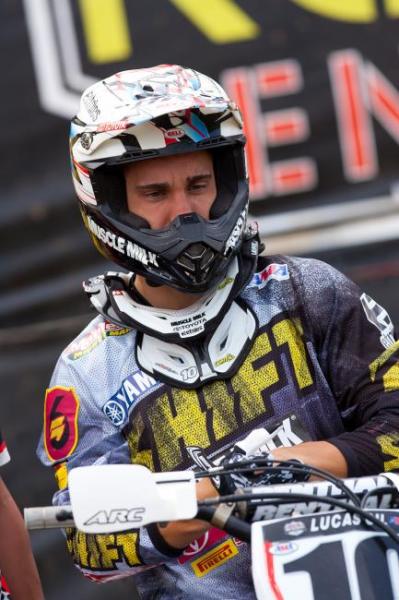 It became official today; Brayton will be on American Honda for 2012.
Photo: Andrew Fredrickson
One piece fell into place today with Team Honda—we now know that Justin Brayton has joined Trey Canard on the factory team. We also know that KTM has a pair of MX2 World Champions teamed up in Marvin Musquin and Ken Roczen. Brett Metcalfe is the only Suzuki 450 rider—so far.
Kawasaki seems to have its house mostly in order, with SX/MX champ Ryan Villopoto and Jake Weimer under the Monster Energy Kawasaki tent on 450s and Dean Wilson, Blake Baggett, and Darryn Durham on Mitch Payton's Monster Energy/Pro Circuit Kawasaki team. Broc Tickle will be on a 450, but will he be joined by Tyla Rattray?
GEICO Honda gets Justin Barcia back, plus Eli Tomac, Wil Hahn, and Justin Bogle.... Ivan Tedesco is all set for Hart & Huntington again. Tony Cairoli is staying in Europe and will keep trying to close in on Stefan Everts' all-time record of ten world titles (as great as #222 is, he's only halfway there).
Beyond that, it's all pretty much wait-and-see. Jason Weigandt did try to sum it up, or at least give everyone a status report, earlier today on Racer X Online.
As for the Monster Cup, that race is getting more and more interesting as it approaches. We've seen previews of the track, we get the PR on who's racing, and we can't wait to see what everyone shows up on. It will also mark a chance to see who's been doing work during the off-season, and could just be the perfect bridge between the end of this season and the Anaheim kickoff for 2012. Who am I betting on? Right now, Kevin Windham. Why? Vegas owes him one.
And speaking of K-Dub, his annual Party in the Pasture was supposed to be next weekend, but it got pushed back to November 12. If you've never been to his place in Centreville, Mississippi (or even just Mississippi, for the matter), it's worth the trip for this. Windham's party is for a charitable cause (he helps underwrite a local school), and he gets everyone from country star Craig Morgan to FMX star "Cowboy" Kenny Bartram there for the best backyard party I have ever attended. As the event gets closer, we will post more details.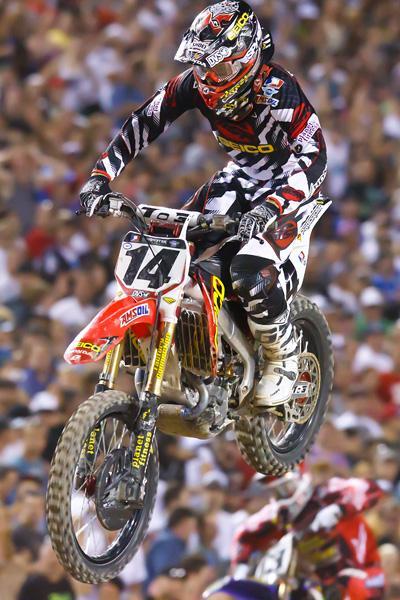 Windham will be a force at the Monster Energy Cup.
Photo: Simon Cudby
Congratulations to Mike Alessi and his new bride, Danielle. After dating for many years, they decided to tie the knot last weekend. They join Broc and Jessica Tickle as newlyweds, soon to be joined by Ryan and Kristen Villopoto.
If you missed Troy Adamitis' exceptional TV documentary about Loretta Lynn's Ranch and the Red Bull AMA Amateur National Motocross Championships, carve out a half hour for yourself this weekend to watch The Heart of Motocross. It's now posted on our sister site, www.racertvonline.com.
Adamitis and his crew—just like Wes Williams and the gang at Vurb Moto, and Todd Huffman and his Motocross Files team—has been doing some amazing work in the trenches of motocross, and this film really sums up what it takes to be successful in amateur motocross today. Enjoy!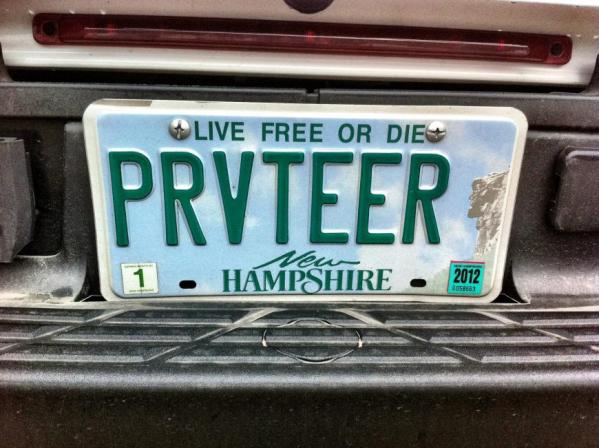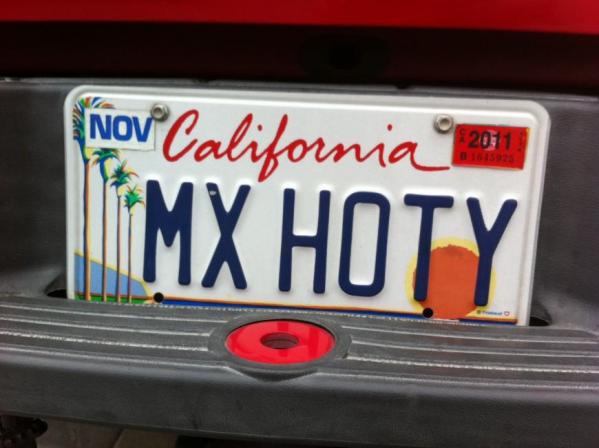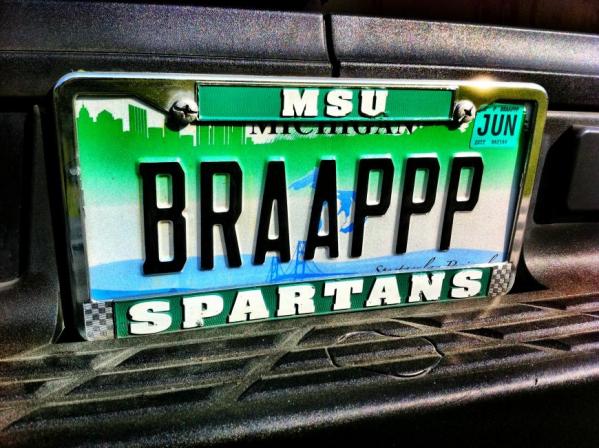 If you're a Facebook fan of American Motocross, you've probably noticed the new "Moto Plate of the Day" feature. It's part of an ongoing project by the MX Sports and Racer X staff to find as many moto-related vanity plates as possible in the next year. Just become a fan of American Motocross on Facebook and you'll be able to see them roll out all throughout the off-season.
I spotted this in the pits at the Motocross of Nations. I believe it belonged to the team from the Ukraine. World's smallest bike trailer?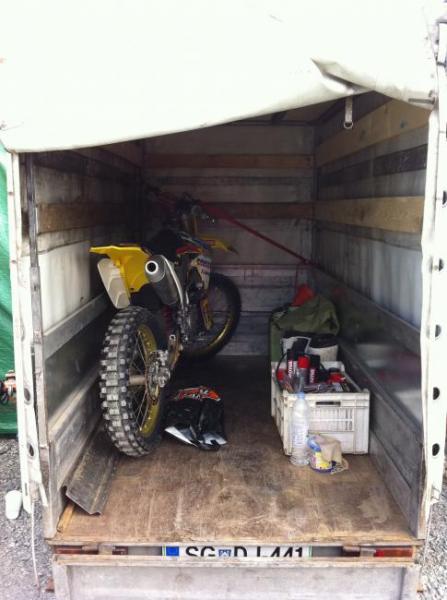 Chad Reed sent out an interesting tweet today—in reply to "If @js7 can't get a ride for Vegas can he borrow a real bike???", he wrote: "yep let's get him testing:)..." MotoConcepts' David Vuillemin had this to offer on the situation: "I have my personal YZ250 ready to go for @js7 ... Brap Braaappp!"
Okay, let me turn it over to the aforementioned Weege right here:
I moved to a nice new neighborhood in North Carolina a few months ago, and it seemed like a great place to raise a family. However, the last week has been trying. A light fixture caused an electrical short and wiped out power to half the house, then an outbreak of mice crawled in through the fireplace. Last night, some teenagers were tearing up the streets in a pick-up truck and bashing everyone's trash cans. And today, well, we've had a news helicopter circling overhead for about an hour now. And one of our neighbors just called. Apparently there has been a murder about two blocks away. Murder! Domestic dispute. I swear this is usually a nice neighborhood, and if you want proof, you can turn on the local Channel 14 News, apparently, and see live shots of just how nice it is.
Did you know the term Silly Season dates back to old British press? When Parliament was out on summer break (usually in August), the newspapers wouldn't have any real news to report, so stories usually had to focus on more bizarre events and strange rumors.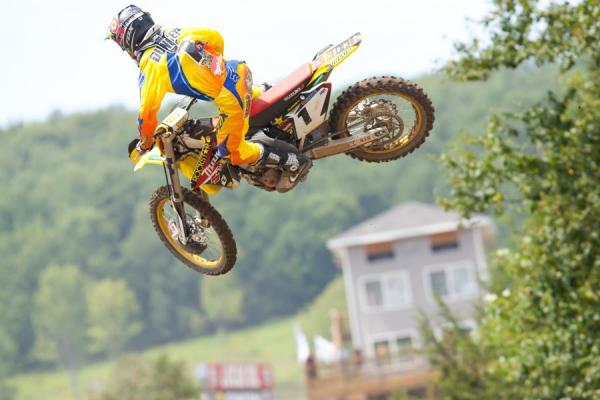 Expect an official announcement regarding Dungey very soon.
Photo: Andrew Fredrickson
So that's where we are in motorsports when the races are done and the only news to report revolves around team plans for next year. The old August time of year even fits motocross well, too. Except this year—we were still focused on the final few races of the season because the championship battles were so close. No more wait-'till-next-year talk. Also, not many people really have their 2012 plans in place yet. We've seen some late silly seasons over the past few years, but this may end up being the latest...
At least the latest since 1996-'97, when Jeremy McGrath waited until 14 days before the first race to let the world know he was leaving Honda and riding a Suzuki after four straight AMA Supercross titles. That didn't work out too well for Jeremy, though he did finish second to Jeff Emig in the standings. But he was on blue the next year and fast as ever, tacking on three more titles to his record collection.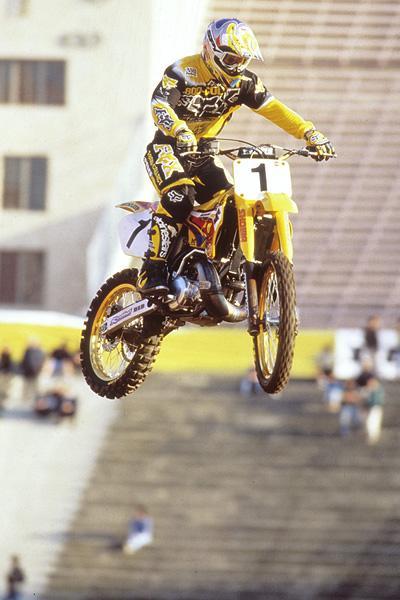 Jeremy McGrath's Suzuki deal in '97 didn't come through until 14 days before Anaheim.
I swear every day I hear something new on James Stewart. A few months ago, a highly-respected source told me James had another year on his Yamaha deal and it was going to take a mountain of money for another team to buy that out. And, plus, the Japanese teams don't really like to do business like that. So why was James maybe considering a switch? Because he apparently did not have another year with Yamaha. The confusion probably goes back to the whole Stewart/Brooks/L&M Racing breakup, which we can't get anyone involved to really comment on. Trust me, we've asked. Here's the "M" in that equation's take on it, Mike Kranyak.
So I guess this means James is free to shop. But I've felt all along there's at least a chance he stays blue. This isn't 2006, when a rider like Stewart could write his own ticket at a variety of brands. All the riders have to weigh what they want versus what the manufacturers are able to give them. Unless you're Chad Reed, who just straight-up said he wanted to ride a Honda and found a way to make that happen. Will James be able to do the same, for whatever brand he wants to ride?
How many fingers and toes do you have? You may only just barely be able to count the number of teams that are supposed to contend for podiums on 450s next year. Really, I'm counting five major OEM factory teams, TwoTwo Motorsports, JGR, the new Brooks/McGrath team with Hondas, L&M (who claims in an interview this week that they're still racing, although since they don't have a rider, a brand, or a sponsor, I have to wonder), GEICO Honda (Windham), Hart and Huntington, and maybe even a separate team for Stewart. That's 12 teams. Also Pro Circuit will have a 450 for Broc Tickle. All these employment opportunities sounds great if you're a racer, but I'm not sure how much cash any of these teams can afford to provide. These are strange times. Did I mention there was a murder in my neighborhood today?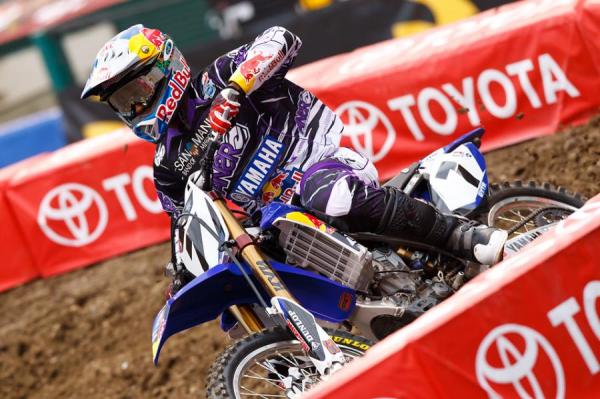 There have been numerous rumors floating around Stewart this off-season.
Photo: Simon Cudby
And this just in! The long-awaited Monster Energy Cup track map will be revealed on Monday morning. Lots of stories about how wild this track will be. Should be interesting!
That's it from Weege in Charlotte; here's Ping in SoCal:
I talked with Ben Townley this week and the Kiwi is headed stateside again for the Monster Energy Cup. He is going to be on a Pro Circuit 450 in place of his pal Tyla Rattray, who is vacationing in South Africa at the moment. Ben could be a spoiler in Sam Boyd Stadium. People forget he has an East Region Supercross Championship on his resume. They don't just give those things away, folks. Ben is still looking around for a ride here in the U.S. for 2012. Hopefully something comes together for him.
I got to ride out at Starwest MX this week. I had been hearing rumors that the place was shutting down, but those are unfounded. The facility is under new management and they have plans to expand the course and add in a vet track as soon as next week. They have been doing a great job of prep and the layout is a ton of fun. If you haven't been out there in a while, you should check it out.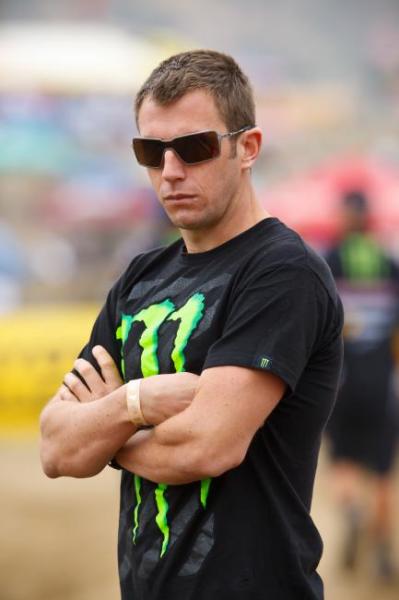 It was confirmed this week that Townley will be racing the Monster Energy Cup.
Photo: Simon Cudby
I've given up on the silly-season gossip. I'm so sick of the guessing and speculating. If we all just wait patiently I can absolutely guarantee we'll find out where all the riders are going … before Anaheim, anyway. Really, the only guys left to stress out about are Stewart and Reed, and I'm just going to let it be a big surprise when their PRs come out sometime in the next three months. Honda did finally announce their plans, and though it wasn't really a surprise, what a good group they have over there. How do you not like Brayton, Canard, or Fiolek? I defy you to tell me you don't like one of them. It's a solid team and hopefully they all stay healthy.
KTM's American invasion is set to happen, ladies and gentleman. If you think Dungey will be slow on that 450, you are dead wrong. And if you think Roczen and Musquin aren't going to win a gaggle of races, you are wrong also. I think 2011 was a building year for KTM here in America, and while they still have some work to do, the staff over there is extremely capable of doing some winning in 2012.
Okay, here's Steve Matthes from sunny, hot, windy Las Vegas:
It's that time of the year when the leaves turn colors, the Raiders start ruling the NFL, and the Toronto Maple Leafs plan out their parade route for the Stanley Cup. At least that's my world, anyways.
It's also the time where the riders and teams are switching brands and eyeing each other up like two kids at a junior high dance. First there's the quick glance, then the loving stare, then the complete going at it in dad's Fiero. At least this is how I imagine Kenny Watson and Josh Hansen completed their signing, as Hanny is going to the H&H squad next year.
The James Stewart saga is entering the home stretch right now and we should know real soon what Stewart's going to do. My prediction is a Suzuki on either the JGR crew or the factory truck. I just don't see how he goes back to a Yamaha but stranger things have happened. There's another team that's talking to him that I don't think is going to happen but if it does work out, consider what it's going to be like trying to get through your day without your head because it will explode if this does indeed come to fruition.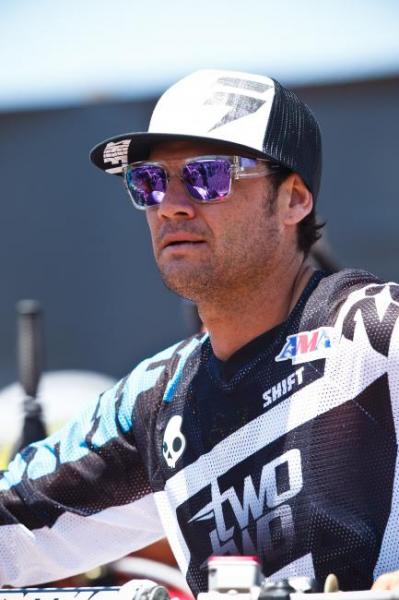 We all know where Reed will be next season, but will he have a teammate?
Photo: Simon Cudby
Did you catch that interview with Sergio Avanto who was the suspension engineer on the L&M team last year? It's a very great conversation that, if you read between the lines, indicates that James and the crew were frustrated with the Yamaha YZ450F. I know from talking to others around that crew that there was frustration that the bike wasn't able to do what James wanted it to do and I have to say, as I said in the interview, I somewhat agree with them.
But then there's this flip-side to that argument. The new Yamaha YZ450F should be applauded for its innovative concepts (although some of it has been done before, remember the Cannondale? DC just shuddered) and forward-thinking approach to building a motorcycle. History shows us that when Honda debuted the 2009 CRF450R, the riders really didn't like it. Ivan Tedesco, Davi Millsaps and Kevin Windham were all quiet critics of the bike that entire season. Well, the guys at Honda learned a lot about the bike (listen to my Shane Drew podcast for more on that), they got the data acquisition figured out and now many would say it's now the best bike on the track. Maybe the same could happen with the Yamaha? I'm just saying that perhaps in time, when more is learned about that bike (remember the teams all got it super late in 2009), it could turn out to be a world-beater.
I think that whatever JGR decides to do (and team manager Jeremy Albrecht told me they were hoping to know today), Davi Millsaps will go back there. The Millsaps/JGR union started off rocky in supercross but eventually it got a lot better with the help of Davi getting better results and trainer/coach Ezra Lusk helping out as well.
Editors Note: New information today says that JGR is going to stick with Yamahas.
Interesting read this week with Mike Kranyak of the L&M team where he announced his intentions to go racing again. They have some great people over there like Paul DeLaurier, Chris McAvoy, Oscar Weirdman and others and I'm glad that those guys can keep on keeping on. I'm just not sure with what bikes, what sponsor or what rider. How about this? DeLaurier is manager and a Canadian and maybe he gives a shot to a young Canadian like Colton Facciotti? Just spitballing there, folks.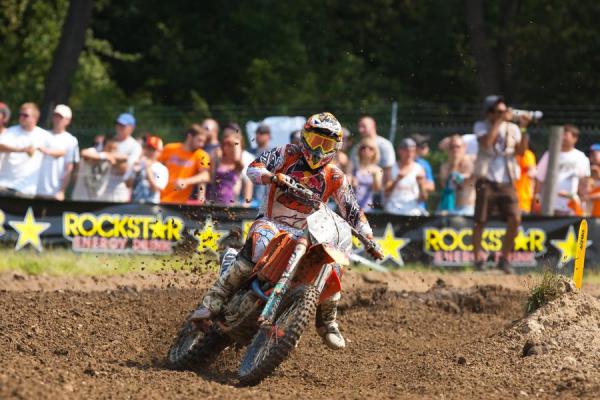 Where will Alessi end up for the 2012 season?
Photo: Andrew Fredrickson
In other silly season crew changes, John Mitcheff of the Valli Yamaha team is back over to Pro Circuit as a crew chief or motor guy. Something like that anyways. John or Throttle as many people call him worked there before for many years with riders Ivan Tedesco and Ryan Villopoto. Also, Valli Yamaha mechanic Jeremy Hoyer has apparently been hired by the Brooks/McGrath team but I can't get Larry to ever call me or text me back so who knows for sure.
Hey, the Montreal SX is this weekend and it's the longest running supercross in North America. Did you know that? Well it is and if you want to follow American riders like Matt Goerke, Teddy Maier and Jason Thomas as well as Canadian top amateur Cole Thompson making his sx debut, check out directmotocross.com as well as @directmx on Twitter. Kyle Carruthers and James Lissimore will have that thing covered top to bottom like Poutine.
Check out Pulpmx.com for an honest look at the top 20 in both the 250 and 450 classes when you get a chance. But that's only when you've read everything there is to read here on Racer X.
That's it from Matthes, so let's wrap this up with some random notes:
We're a couple of weeks into the submission period for the 2nd Annual GoPro / Racer X Amateur Film Festival, and we've already received a surprising number of entries. Unfortunately, way too many of them don't qualify for the contest. We know that contest rules are often disregarded, but you just can't do that for this contest. There a specific requirements you must follow if you want you're entry to count. If you're going to enter, read the rules carefully before you do anything. It's the only way you can win all the loot from GoPro, MSR, Answer, Pro Taper, and Racer X.
A note from Racer X reader Joe Stanley in Waterford, Michigan
"I recently broke my neck in a tractor rollover accident at our club track, Bulldogs 'the Southwick of the midwest'. I am very fortunate to have no spinal cord compromise and am thankful each day for that gift in what was a bad situation. I want to thank all the Racer X staff for everything you do with Racer X magazine, Racer X Online, and Matthes' awesome podcasts! Being a very active guy it has been a bit rough to be in recuperation mode! With your awesome content it makes my days go that much better. My prognosis is a full recovery by March, which will be perfect since we usually start riding in April. Next season I'll stick to riding my bike…not riding the tractor!"
Want to own a piece of history? Check this out. Contact Browndogwilson@gmail.com for more information.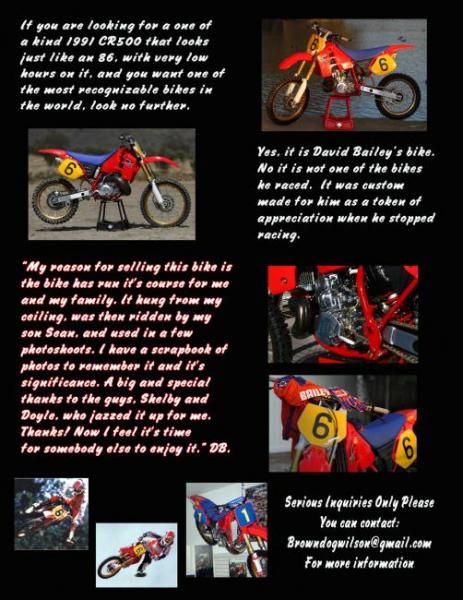 This week's digital edition of Cycle News has an interesting interview with Christophe Pourcel.
A special congratulations to Ellie and Pete Gail on their first little rider, Charlie Mac—he'll be atop the podium in no time!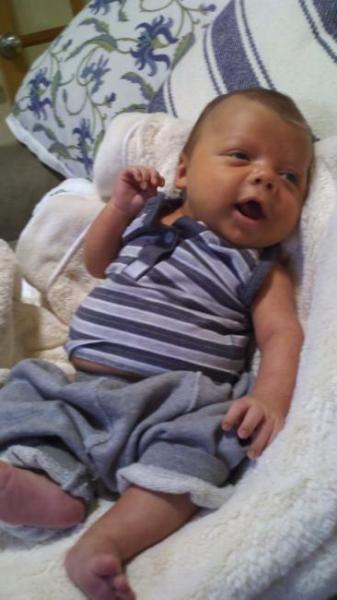 That's all for this week—thanks for reading Racerhead. See you at the races.