The last several seasons have been a roller coaster ride for the L&M Racing team. Having had considerable success in the past (AMA Supercross championships in 2008 and 2009 with Chad Reed and James Stewart), they have struggled the last couple of years to get back into championship form. Stewart, their star rider, was out for most of 2010, and halfway into 2011 parted ways with the team. It also appears that Larry Brooks, who most considered the front-man of the effort, will be back with a different (and brand new) team for 2012. But that doesn't mean L&M is finished. We got in touch with Mike Kranyak, the "M" in L&M Racing, to get the story on how the team plans to reassert itself as one of the dominant forces of motorcycle racing.
Racer X: Why don't we start off by getting a background of how you became a founder of the L&M team.
Mike Kranyak: Well, I've been involved in dirt bikes and different forms of racing for 40 years. It's been a lifelong passion of mine. Both of my sons raced, and when my youngest son got to be around 18, he went racing with a Lites team. It was a lot of fun, and it got us thinking about going a little bit bigger. So I decided to put together a team with Larry Brooks and it kind of went from there.
In the past, the fans have always seen Larry Brooks at the forefront, as far as being at the races and doing interviews on television. What was your role with the team?
I was the money behind it, as well as the general direction. Larry and I decided together how we wanted to do this thing, but at the end of the day, the direction was mine. So, I provided the direction and capital.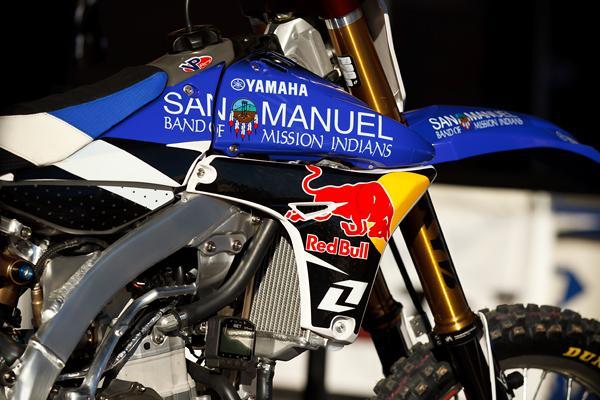 Stewart and San Manuel are gone for the 2012 season, but L&M Racing looks to continue to go racing.
Photo: Simon Cudby
I'm going to go out on a limb and say that the last two years haven't lived up to your expectations.
We've definitely had some rough spots in the road, but all-in-all we won a couple of championships, which I'm very proud of. We're taking the same team that we won those championships with into the 2012 season. We've got a great team, we've got a great facility, and all of our employees are intact. We're going to move forward and put out a good effort for 2012.
Regarding those rough spots, can you tell us what happened with James Stewart parting ways with the team last year?
I would prefer not to talk about what happened with James. We've got some outstanding issues, and I'd like to leave it at that for now. I'd love to be able to talk about it, but at the same time, we have some ongoing issues that haven't been resolved yet. Until they are, I'd rather not talk about it.
Okay, can you tell us about what you've got going for 2012?
For 2012, we don't have anything concrete. Because of what's transpired with James, we've kind of changed things up; we're going to go racing, but we're just not sure at this point who we're going with or how we're doing it, but we do have plans on going racing in 2012 with our existing crew. We've got the same crew we've always had, with the exception of Larry, and we've got our eyes on a couple of top riders. And when I say top, I'm talking top-ten riders. We're also talking with different people about getting involved on different levels of participation. So right now, we're wide open.
Have you been in talks with any specific riders?
Not personally, but Paul DeLaurier has. Paul is the manager right now. We've talked off the record with them, but I don't want to put any names out there right now.
Would you consider this to be a rebuilding year, or are you chasing a championship?
You know what? We might be chasing a championship. We certainly have a crew that's capable of it, and that's where they belong. But at this point, it's definitely a rebuilding year, and whether it's a top-ten, a top-twenty, or a top-three, it's still up in the air. We've got some options that run the whole spectrum.
Are you going to field a Lites squad as well?
That could happen, but at this point I'm inclined to say it's just going to be 450s. You never know...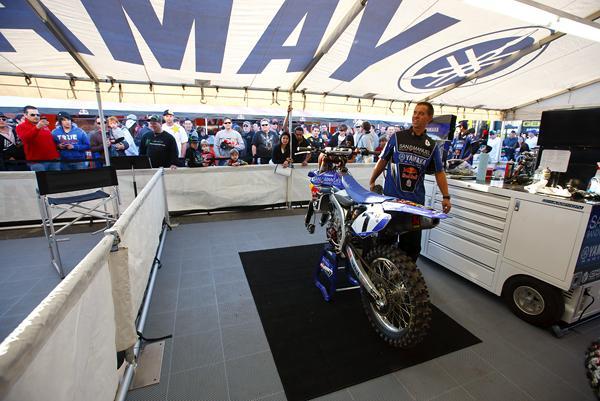 L&M will return the same crew from the 2011 squad, minus Larry Brooks and James Stewart.
Photo: Simon Cudby
Have you decided on a team name?
It'll probably stay L&M. That's an existing company. I don't have any need to change it. It might change down the road, but right now it'll stay L&M.
Is it going to be an indoor-only team again?
That's one thing I can tell you for sure, it won't be supercross-only.
Who is sponsoring the team?
Right now we don't have any sponsors lined up. I have an existing relationship with Yamaha that may or may not end. But we've moved on from San Manuel. They were a wonderful sponsor, and I hope to see them at the races. I'd also like to thank them, as well as Yamaha and Red Bull, for being such great sponsors and contributing so much to our program.
Okay, Mike, what'd we miss?
I think we covered it all pretty well. I'd just like to put it out there that we're going to make every attempt to go racing. We have what I believe to be the best team in the sport. Everyone is highly qualified and works very well together. They've been together for ten years, and they're absolutely the best at what they do. We're going to go out there and try to make something happen in 2012.