St. Jean d'Angely
St. Jean d'Angely

,

France
Motocross of Nations
Motocross of Nations
It wasn't easy, but it wasn't a shock either. Team USA won its seventh straight Motocross of Nations in France last weekend in an excellent, exciting race. The race has been diced and sliced and argued back and forth ever since the checkered flag fell on the two Ryans as one, but I think it's time to settle it by simply putting it this way: Scoreboard.
Ryan Villopoto just had three great weekends. First he won the Steel City nailbiter, snatching that first-moto win away from Ryan Dungey in the last turn and titling the momentum on the American Motocross tour back his way. Then he took the title at Pala the following Saturday. Then he comes to Europe and completes an RC-in-'05 trifecta, leading Team USA to the Motocross of Nations win. He is now 4-0 as a member of Team USA, and now he's going off to get married.
And Ryan Dungey has change swirling all around him, yet he did his job too, earning his third straight win to give him a 3-0 record. Dungey now moves over to KTM but back in with Roger DeCoster and Ian Harrison. What he's losing, though, is a proven motorcycle in the Rockstar/Makita Suzuki and the most successful mechanic in the history of the sport, Mike Gosselaar. More on that later.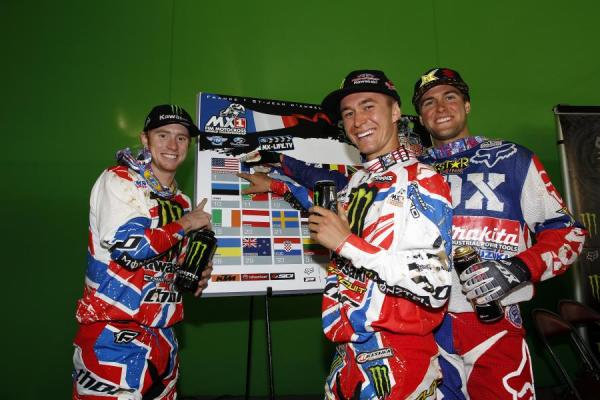 Scoreboard. Yeah, we went there.
Photo: Ray Archer
As for Blake Baggett, he needs to remember that Team USA would not have won if he hadn't scratched out what he could from his crashes on the tricky track, and he and his folks should be proud not only of the way he rode but how he carried himself after such culture (and results) shock. But Blake should recall that Ricky Carmichael started out 0-2 as a member of Team USA, and Steve Lamson lost his first time out to a 16-year-old Frenchman named Sebastien Tortelli. This was his first time in Europe, though there's really nothing to prepare you for the shock and awe of a Motocross of Nations.
And congratulations to Roger DeCoster and the AMA folks. This was our twenty-second win since 1981, when DeCoster first cobbled together a team and got America back in that race and straight to the top. It means a lot to Roger and his assistant team manager, Mitch Payton, to win this race, and they go about it with great intensity. Everyone waits for a U.S. rider to make a mistake, but even when they do, they know how to recover, and the other guys step up.
I was also stoked for Australia to get on the box, and especially for Chad Reed to win again. And I really wish Pourcel's back wheel hadn't fallen apart and that Tony Cairoli would keep it up on two wheels, because I would have loved to see those guys up there too.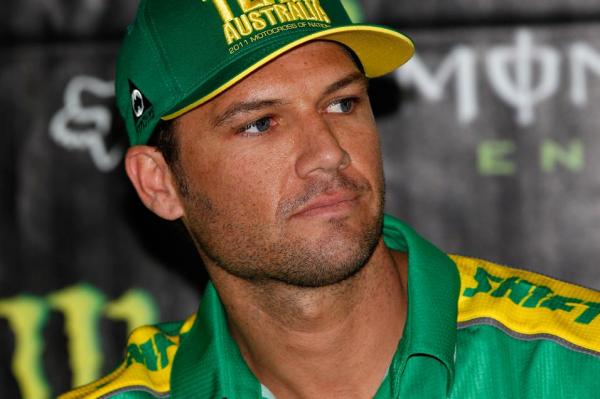 Reed and the rest of Team Australia finally got on the podium at the MXoN.
Photo: Ray Archer
And people get ready, because Ken Roczen is coming in a hurry. Supercross '12 and next summer's American Motocross tour are going to be epic. This kid is worth coming out to watch.
So who will be the team that stops Team USA's streak this time? All good things come to an end. Will it be Belgium in the sand? Or a team that's never won the MXoN before, like Australia or maybe South Africa? I actually came up with this week's Maxima List of 10 Teams That Have Never Won the MXoN. It's meant to be humorous, not scientific, so forgive for leaving some big hitters like Germany and The Netherlands.
Mikey Neale has been producing incredible videos all year long over on the Continent and now he's got one to share from the MXoN:
Everyone here at the Racer X HQ in WV of the USA is still celebrating. It's been beer-thirty ever since the news dropped that we'd won the whole shooting match. No, not the Motocross of Nations—we've come to expect that—but rather
being named Website of the Year
by Geoff Meyer in his annual MX Large and Motocross Illustrated Awards.
Also, congrats to our Grand Prix contributor Adam Wheeler on being named Journalist of the Year, as well as Mikey Neale, who makes those really cool videos of the Grand Prix tour. Neale was also named Youthstream's MX Videographer of the Year, so it's a clean sweep for Mikey.
And here's a nod to Alex Hodgkinson, the Professor himself (as in Back to the Future, not Gary Bailey), on being named Journalist of the Year at the Youthstream Year-End Awards. Alex has been a strong presence on the Grand Prix tour for a long time, and he's been known to ruffle a feather or three. Alex does his own www.mx-pure.com site, the one that called our riders "a bunch of pampered arseholes" after they mostly passed on the U.S. Grand Prix in May. Don't worry, I made sure to mention that those pampered arseholes just won again when I saw him in the press room in France. He laughed, then jumped in his DeLorean and drove away. Just kidding! Alex is a great character and lives, loves, breathes, and writes motocross.
I've been away from the family too long, as well as football—I haven't seen a live play this year! With #2 Louisiana State University coming into Morgantown to take on our #16 West Virginia Mountaineers, tomorrow should be epic. But first I have promised some backyard time with the family, so away I go. Here's Steve Matthes and the rest of the guys with more on the MXoN '12:
This Racerhead update is not coming to you from France or Pala or Steel City or an airplane or a hotel. Nope, this update is coming to you from my couch in (Viva!) Las Vegas and I don't know what you think of that, but that's pretty sweet.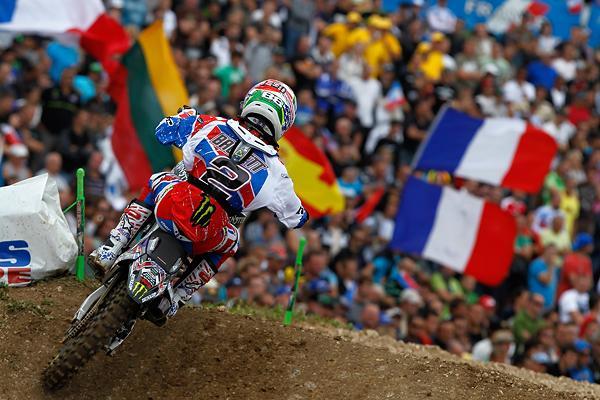 Baggett showed a lot of heart in his first appearance at the MXoN
Photo: Ray Archer
The long season is over. I missed one race this year (St. Louis) but also travelled to Lommel, Belgium, for a Grand Prix, and of course France for the just-completed Motocross of Nations. It's good to have an off-season for sure, as the week-in-week-out travel grind as well as deadlines hurt my creativity. I have some ideas for some funny stuff but you end up on this giant treadmill of just plowing through work that has to get done (and that's all I really know about treadmills, by the way). So I guess what I'm saying is I look forward to relaxing a bit at home and producing some more quality writing.
I had a good time there in France and if you want to know more about what I thought about that race (besides the 3,000+ words in Observations) you can check out the BTOSports.com Racer X Podcasts I did with DC, Zach Osborne and Josh Coppins; the Osborne and Coppins ones will be out early next week so check out all of those.
Looking ahead to 2012, the MXoN is going to be held in Lommel, which is the deep-sand track I went to this summer. I know you're thinking that the reason I must have went there is because Roger DeCoster asked me to go and scope it out for the 2012 team but you would be wrong; I just went because I wanted to see a GP at the legendary track and to watch the sand masters of Europe go at it.
And yes, it's deep rough sand, and yes, it's going to be tough for Team America to keep this run going, but to read the armchair critics saying the USA is doomed to fail there is laughable. In fact, they go into the 2012 MXoN as the favorites in my book. Sure, there aren't that many sand tracks on the nationals, but guess what: there's sand in Florida, where most of our top guys live for at least half the year, including Villopoto and Dungey.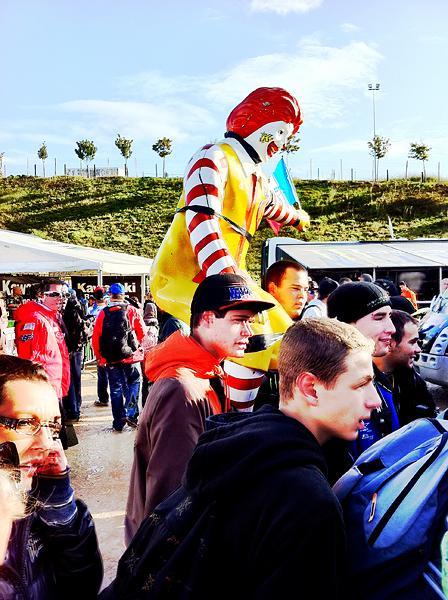 We'll let this one speak for itself.
Photo: DC
Also,
James Stewart
is strongly rumored to be doing the outdoors next year as well, so one would think he'd be a top candidate for the team, along with
Ryan Dungey
and
Ryan Villopoto
. Who would ride the 250, you ask? How about RV? That would be epic. And if one of those guys is hurt or they want to select a kid for the 250s, well,
Justin Barcia
seems to ride the sand pretty well....
One of the things not many people brought up as to why the USA dominated that third moto is their fitness seemed to be very strong. Villopoto ended up third in his moto behind Gauthier Paulin and Jeffrey Herlings in the second moto and then with about a 30-minute break, all three of those guys were back on the line to race again. Paulin and Herlings didn't have the same speed as their first time out while RV seemed to have even more in the tank, no problem. Just an "Observation" in regards to the energy sapping sand of Lommel.
Want some silly season news? Okay, then, let's hit it up.
- James Stewart to JGR seems like it's chugging along nicely and should get done. And it should be on Suzukis as well, with Stewart doing a full season of supercross and motocross.
- Everyone's favorite Summercross winner, Tim Ferry, has been reunited with Trey Canard in a training/coaching capacity. Ferry had gone over to L&M to test for them but jumped back to Canard for the upcoming season. Ferry and his old trainer Dean Golich will help to keep Trey from going nuts and eating all the bonbons in the Honda truck.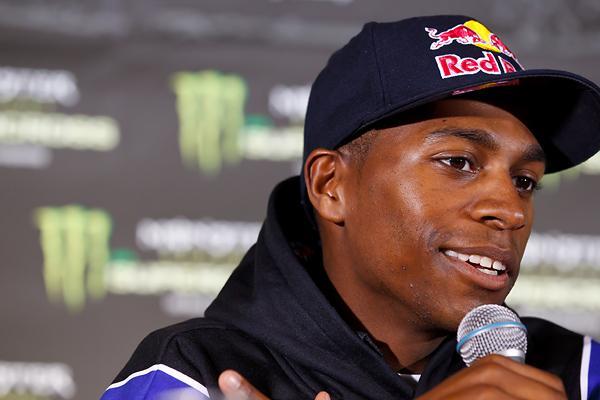 Is Stewart headed to JGR on a Suzuki?
Photo: Simon Cudby
- Chad Reed still hasn't decided on a bike for the upcoming season, but he should know real soon what he's going to do on that end. He has hired Mike Gosselaar to be his crew chief over there at TwoTwo Motorsports. I'm guessing the bike is red (and good for you, Reedy, that first-moto was kick-ass in France).
- I think Andrew Short will end up back at KTM as Ryan Dungey's teammate (rumors have it that Dungey is over in Austria right now riding and getting acquainted with all his new KTM friends) or he'll go to the Larry Brooks/Jeremy McGrath Honda team, but I would bet on KTM once again. Oh and on a 450, not a 350.
- Darryn Durham is indeed going to Pro Circuit next year, and he's already instilled himself as the heavy favorite in the "I don't know, man, I saw him at the test track and he's going to surprise" sweepstakes.
- Nico Izzi and Broc Tickle are going to be the undercard at the MGM Grand in the next Mayweather/Ortiz fight. I might have made that last sentence up.
That's all I've got. Thanks for coming out and reading this. See you next week. Oh yeah, check out Pulpmx.com, the Pulpmx Show, and buy the Pulpmx app.
Here's Ping:
Wait, did Matthes just say he has been on a giant treadmill? That would be some awesome silly season news to report if Steve went the same route as Steve Cox and pulled up to Anaheim slimmed down and showing off his bicep to anyone who will stop long enough to look it.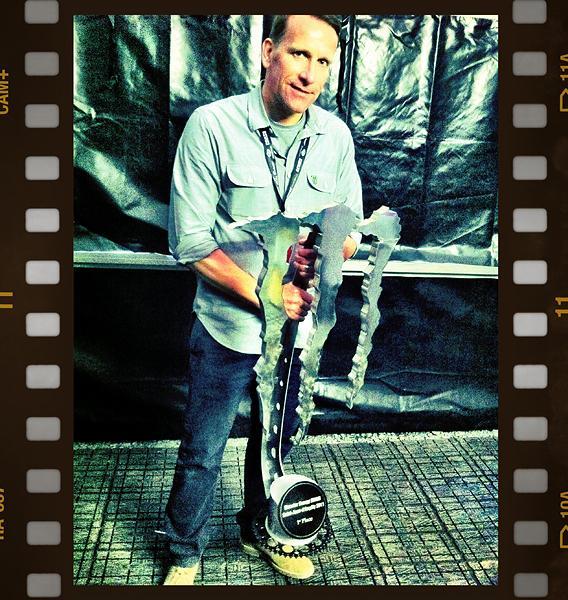 Photo: DC
Not a lot to report from my neck of the woods this week. I want to congratulate Ryan, Ryan, and Blake for a job well done in France. I was following via Twitter feed, and I was getting a little nervous heading into the final moto, as I'm sure many American moto fans were. But our guys made it happen when it counted and the Peter Chamberlain Trophy came to the U.S. once again.
I've got to believe that the sheer size of the U.S. entourage is intimidating for other countries. Other nations have a handful of people in their camp, but when the U.S. wins it looks like a graduating high-school class photo on that podium. There literally isn't enough room up there for all the people we bring over. Anyway, congrats to our guys and also to the dozens of people surrounding them on the podium.
What off-season? The test tracks have already been buzzing with supercross testing in preparation for the Monster Cup in Vegas. Todd Jendro says there will not be whoops or triples on the track, though, so maybe Starwest would be a better practice track? That is going to be an interesting race.
Have a great weekend and enjoy the fact that there is no race this Saturday. Before you know it, the 2012 season will be here.
Over to Jason Weigandt:
I didn't attend the Motocross of Nations, but like Ping, I want to say congrats to Team USA, all of the AMA-based riders like Reedy and Metty and Musquin and more, and thank God that The Man decided to settle here rather than, say, Belgium when he was done racing.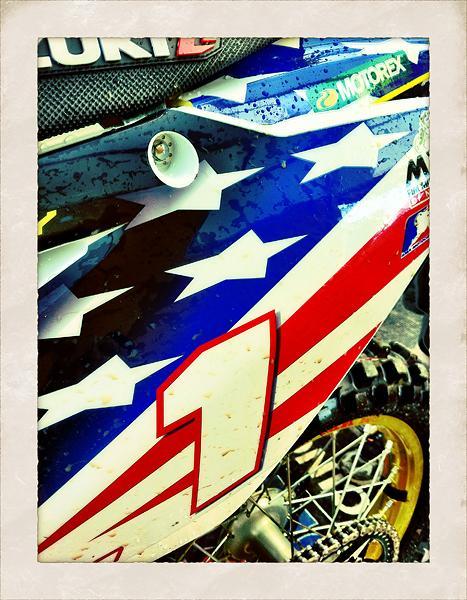 Photo: DC
As for the American front, from what I'm hearing, I think Metcalfe may just be back under a standalone Suzuki truck just like he was this year, once all this Suzuki-to-Yoshimura stuff works itself out. Did you know that, two years ago, most of the Suzuki mechanics actually became Yoshimura employees? You didn't because the change took place behind the scenes and everything still looked the same out front. This could be the same here—well, except they won't have Dungey under that tent anymore.
Meanwhile, I know everyone is buzzing about Stewart to JGR, and I for one would like to see it happen, if only to get James to bust out one of his Lambos in a drag race on local streets against Kyle Busch and a Lexus LF-A. Get Bubba's World on that!
But while I didn't attend the Nations, I know someone who did. Just like last week, I share a letter from my rich English Uncle, Lord Alfred Weigandt. Beware of bias!
Oh, hello. Lord Alfred Weigandt here, just enjoying me scotch and drowning in my sorrows. Once again, the septic tanks have won the Trophy des Nations, and once again powered on merely by the powers of luck and happenstance. Racing is a cruel mistress, and I understand her natural attraction to the strapping lads of the British team, the pull of an Aussie accent, and, even her penchant for the dashing style of the French and I-talians. But for once I wish she would cheat on them and shag up with the Yanks on a Sunday afternoon.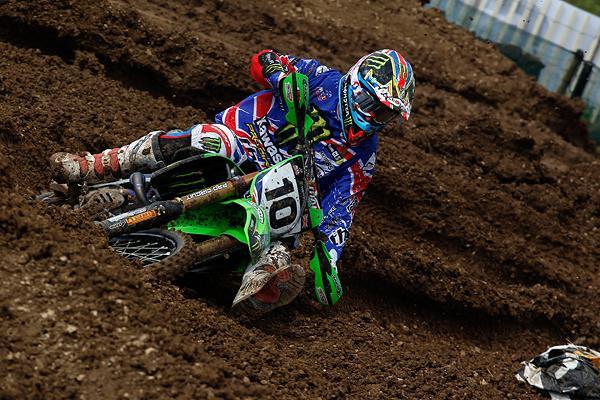 Searle and the British had a strong run in France finishing fourth overall.
Photo: Ray Archer

Oh but it started so bloody brilliant, when the mighty Brit boys led the way after the first moto! Dean-O, using nationalistic pride to ride through the pain of a broken wrist, did it for his country (er, countries). And of course Tommy Searle was positively brilliant on his 450. While the three-moto format may induce attrition as a determining factor in the results, we all know that when everyone was fresh, and before lady luck had made her bias shown, the boys of GB held the lead on points. If this were the one-moto format from 2003, we would have brought Mr. Chamberlain's ashes home!
The Yanks were struggling, Ryan Dungey not able to compete with the speed of speedy Chad "Speedy" Reedy, nor even the 250cc world-beater Ken Roczen. Moto two further illustrated the speed differential between racing on the continent, when Frenchman Gautier Paulin—not even a full-time 450 rider—cruised to an easy win, straight-up, over Ryan What's-his-opoto. I admit, things began to go sideways for the Brits, but who do we have to blame for that? Mr. Wilson would have won both MX2 motos going away had he not been dealing with wrist fatigue, no doubt an injury incurred on the many American StadiumCross style jumps he's forced to ride on. Don't believe this? Look no further than Marvin Musquin, who is no longer the same man who dominated 250cc racing the last two years. It took a mere one year in the U.S. to cause a significant drop in Marvin's level. And this drop started, no shocker, at last year's Trophy des, where he scored a pair of DNFs. And where did that race take place? America, of course.
So France was hobbled by the Americanized Marv Attack, as were the Brits by Dean Wilson's injury. Tennis Elbow? How about StadiumCross Wrist?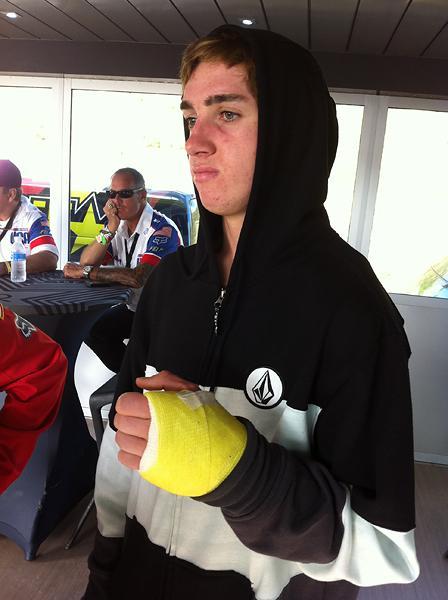 Wilson showing off his new cast in France.
Photo: DC
Same for the Aussies. While Chad Reed has proven impervious to the hazards of the whoops and triples, the StadiumCross lifestyle has now infected the Aussie-based JDR KTM team, which employs Matt Moss. How else to explain how this team, which summarily cleaned up in Australian Lites racing for the last two years, suddenly could not keep Mossy's bike running for the second MX2 moto? Sorry, mates, we run two motos over here, not this silly Qualifier/Feature race deal like the attention-span starved Yanks like to play in their soccer buildings.
Heading into the third moto, we all know what question was about to be answered. During this summer's AMA Motocross, with the Ryans battling with Reedy (and, might I add, the Ryans were behind Reed before the StadiumCross jump tripped him up like Mallory on Mt. Everest), the real question was not about Dungey v. Villo. No, the world really wanted to see how they would measure up against the super-talent sitting on the sidelines. All summer, there was a Yamaha rider who may not have gotten on famously with his machine, but was no doubt enjoying being famous down at his place in Florida. Put him on familiar equipment, like a Kawasaki, and the sport could change drastically. Yes, everyone wanted to know, how would the Ryans stack up against the most talented, most accomplished, and, dare I say, the Fastest Man on the Planet?
No, silly, I'm not talking about Searle—I'm talking of Christophe Pourcel!
Hide no more. Villopoto had caught a break after CP unleashed a straight-up whipping on him at the 2007 Phoenix StadiumCross (beating RV in the same manner Gautier Paulin did in moto two). The StadiumCross jumps busted CP's leg at the next round. Then came his unfortunate crash at the Irish GP later that year (luck of the Irish? It doesn't exist, mate). CP lost an entire year of racing, and when he returned in '09 to tackle the AMA Lites scene, Villopoto, no shocker, moved up to 450s.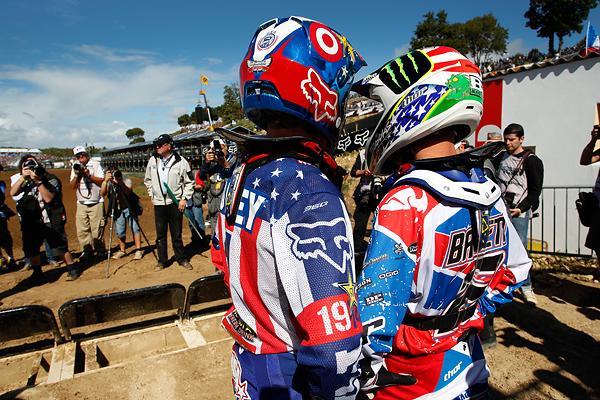 Dungey and Baggett talk pre-race strategy.
Photo: Ray Archer

Pourcel's crash had left him with internal injuries that effected his digestive system. How did he find the fuel to push through this? Because he had Dungey to feast on! Christophe ended Dungey's win streak at the Las Vegas StadiumCross Lites race, and then had the AMA Motocross Championship all but clinched when New England launched yet another shady anti-European operation and grenaded his engine at Southwick. What's next? An American political group adopting the name Tea Party?
As much as it pains me to write this, credit to the French this year. Even without Marvin at his best, they were still in contention for victory on home soil heading into the third moto. The trap had been laid before Team USA, with a fired-up Christophe Pourcel about to be unleashed from his cage of rage. And once again, he chomped down on Mr. Dungey!
I have no doubts that Super Man was next going to track down Villopoto. Villo had been running from Christophe for years, but he could not hide. Until, wait, what's this? The mousse tube came unraveled from Christophe's wheel? Blast! Bad racing luck again! Only this time, it was fairly obvious how it happened. Hmm, is the Bib Mousse not named after Bibendum, AKA The Michelin man, AKA a Frenchman? Oh the poor French. They always invent new ways to defeat themselves! Bloody hell.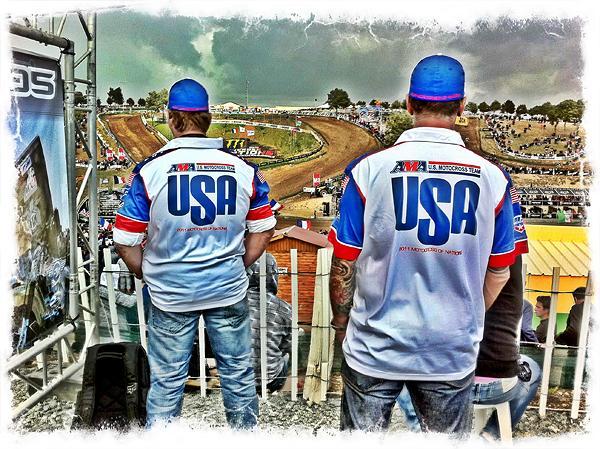 Photo: DC

Thanks to all of the Weigandts for that one!
We're a week into the 2nd Annual GoPro/Racer X Online Amateur Film Festival, and entries are already starting to trickle in. Amateur videographers are vying for a chance to win all the marbles, which include an insane prize package from GoPro, Racer X, Answer, MSR, and Pro Taper. To learn how to enter and get a complete list of prizes, head on over to filmfestival.racerxonline.com. There are still five weeks left to submit an entry.
Check out this video Mike LeGrand put together of Pennsylvania native and former Racer X cover boy Darryn Durham shredding a CR125 at his home track.
The Vintage Motocross des Nations is this weekend in Farleigh Castle, England, and it's shaping up as a great race for fans of yesteryear. David Bailey sent over some pieces that Team USA's Chuck Sun and Jim Gibson will be wearing. We'll have more on this cool race next week.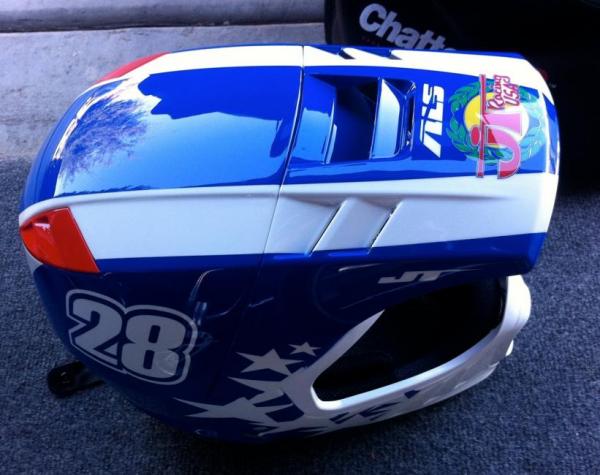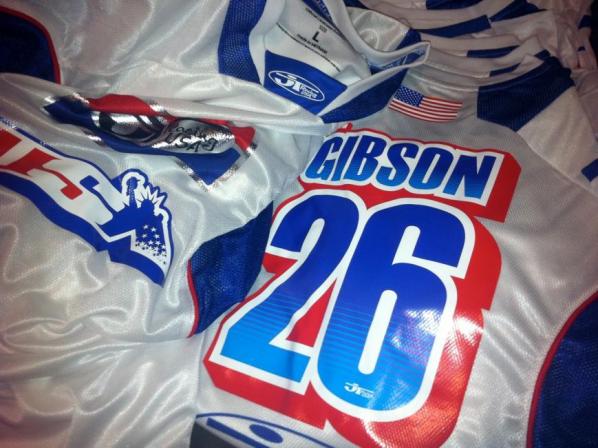 Here's a note from Rob Kinsey:
"My Eric Geboers 'Mr 875' Tribute Painting 4ft x 3ft made it, delivered safely by Ken Sourbutts & family, former mechanic to CCM works rider Bob Wright. This was my most complex commission thus far, balancing light issues on three images, researching colours etc as 125cc Suzuki and Honda 500cc as images were B/W. Central image is from a photo by iconic french Photographer, the late Pat Boulland, taken at Brazillian 250cc GP. I'm sure Pat would have loved it!"
Thanks for reading Racerhead, congratulations to Team USA, and see you at the races.