St. Jean d'Angely
St. Jean d'Angely

,

France
Motocross of Nations
Motocross of Nations
Jimmy Albertson- Team Puerto Rico- 3rd place B- Main
It was disappointing to me because we really wanted to come here and dominate the MXDN! [Laughs] The team struggled as a whole. I fell down both of my races, I went right over the fence in my first race. Brad Anderson sent me right over. I rode okay, but the rest of our guys had problems as well. It was a bad deal but I still had fun here.
The track was fun, I didn't go out for morning practice because it was muddy. But then it looked pretty good and I was thinking I should have gone out. In the first lap I washed my front end out over a jump and smashed myself into the face of a jump. After that I came through the pack, but what are you going to do when you're in last?
Dean Wilson- Team Great Britain- 9-27- 5th OA MX2 class
Not bad for us, I'm a little upset because I let the whole team down. After the first race we were first place and I was over the moon. Then the second race came and I sucked, I crashed a bunch. I came into this race with a sore wrist, I knew something was wrong with it but I didn't want to know what until after this race. Now I know that it's broken. Bad way to end the season but if there was time to get hurt, I guess it's right now.
Holding on was tough, I was trying to use the other hand out there with these big jumps. I didn't ride to my best capabilities and that sucked. I was sixth in my second moto and my bike crapped out for a bit and then it got better. I felt like I was about to pass Metcalfe but then I hit a huge rut and went over the bars. I was way back and then crashed again. I was so far back. I finished the race but it sucked getting lapped.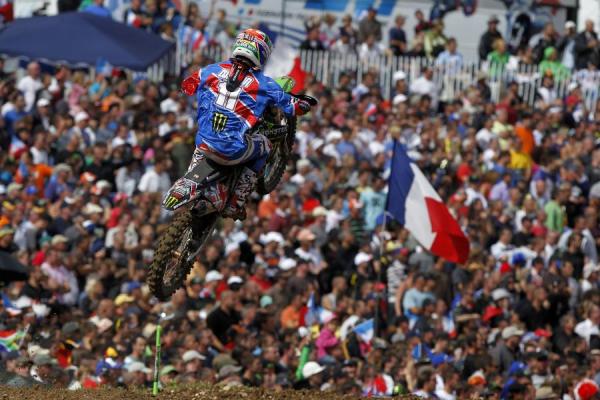 "Not bad for us, I'm a little upset because I let the whole team down." - Dean Wilson
Photo: Ray Archer
Tommy Searle- Team Great Britain 4-4- 3rd OA MX1 class
Today was good for me, every time I got on the 450, I got better. I need to improve a bit more because sometimes I get excited and forget I'm on a 450. I had the fourth fastest time on the 450 so that was good. The new Kawasaki bike with the traction [Launch Control button] on it is just amazing. I came out with good starts both times from the outside gate. I think the moment that stood out was when I was down and was so far behind from the leaders, I thought my nose was broken. But then when I was coming through the pack, passing some big names, it was great. I followed Reed through the pack and then passed him near the end. Those guys were so far in front of me at the start.
Gautier Paulin- Team France 1-8- 2nd OA MX3 Class
I am pretty happy and in my first moto I got a great start and was second. I was riding easy and not making any mistakes. Then I passed him and got the lead. It was easy because I had good lines. I tried to get some rest for the next moto but then I saw that Ryan Villopoto was coming strong so I had to pick it up. I won the moto and it was unbelievable. To be a French rider in front of the French fans, you can not imagine how good that is.
Yesterday I had a difficult moto in qualification. I started second behind Ryan and I was not happy with my bike set-up. My front tire wasn't good. But then we made some changes and I had the best time this morning and I was happy. I got a bad start in my second moto and was fighting through but it wasn't enough. I saw that Pourcel was off and I was worried for him because this is not a track to crash on. So I had to get an Australia rider to get second [overall for the French team] and that's what I did. In my mind, I don't want to look back on how it was. I gave it 100 percent and that's it. We had some bad luck and the American team was really strong. Second place is not so bad.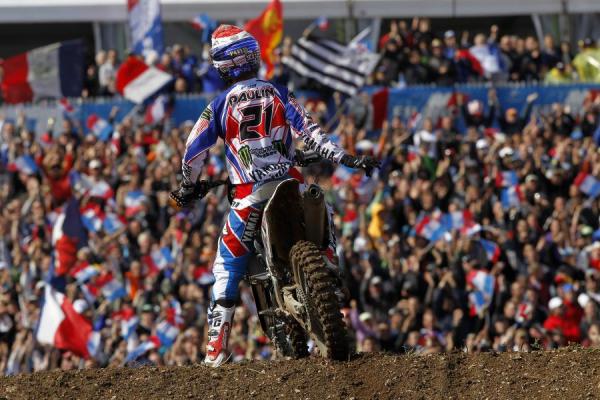 "To be a French rider in front of the French fans, you can not imagine how good that is." - Gautier Paulin.
Photo: Ray Archer
Chad Reed- Team Australia 1-7-4th OA MX1 Class
Honestly, since the crash at Millville it has been very clear I didn't have what I did pre-crash. No disrespect to the two Ryans but I felt like I had them covered. I was twenty plus points up at one point. Oh well, coming out here I felt better and better all the time and in that first moto when it started raining, I started to enjoy it and push it in the right areas. I pulled away from those guys and it was sweet to do that. It was a nice feeling to get the monkey off your back a little bit.
These MXDNs have always got me as an individual and as a team and really this team wasn't any better. I came out of the shower after my moto and I ran down to the pits, threw on a headset and couldn't see Mossy [Matt Moss] anywhere. But then they told me that his bike wasn't able to even get going. But we could drop that so it didn't matter. The win wasn't the goal for us, you want it and you say it but as a team, you got to look at the three guys on USA and they can get it done.
I'm pumped to finally get a podium for our country, it's been a long time and it's finally worked out.
Brett Metcalfe- Team Australia 7-10- 6th OA MX2 Class
It's a huge honor to finish on the podium here as a team. We definitely had second there for a bit but then I looked back and Reed was gone. I was like "oh no" but then I went down a lap or two later. Hopefully this breaks something in the future years and we can focus on actually being a top three team and not just trying to be a top three team.
It was really difficult to get a set-up for this track that works. There aren't any tracks in the USA that are like this one. It's hard to set up your bike for 70 percent rock, 30 percent dirt. I think every US-based rider was struggling with this track today. It was gnarly and it got rough which was good to slow it down a bit. I thought that second moto was the best I'd enjoyed the track all weekend.