St. Jean d'Angely, France
Motocross of Nations
Motocross of Nations
Racerhead is coming to you on zero hours of sleep since 6 a.m. Thursday, and right now it's late Friday night near St. Jean d'Angely, France. A long day's work, straight to the airport, a bouncy flight across the North Atlantic, and then the five-hour drive to the racetrack to see how things were shaping up for the 2011 FIM Motocross of Nations.... And I wouldn't trade it for anything!
With a remarkable, exciting Lucas Oil AMA Pro Motocross Championship finally complete, the motocross world has turned its attention to the beautiful circuit here in the west of France to bring the world's fastest racing nations (except Canada) together for the big "team" championships. Team USA is the favorite, to probably no one's surprise, since many of the top riders from other countries are dinged up—and with the exception of Russia, they are all pretty much smaller, and with less talent to choose from.
With Team USA's Ryan Dungey (1), Blake Baggett (2), and Ryan Villopoto (3) all looking and feeling good, the biggest shock of the day would be if the Yanks don't prevail on Sunday. But riders like Dean Wilson (Great Britain), Tony Cairoli (Italy), and Ken Roczen (Germany) could all be race winners, as could Australia's Chad Reed or Brett Metcalfe, or even England's Tommy Searle. But it would be hard for a trio to get in there and knock off the three riders entered by Team USA. Should the Americans win, this would mark their seventh consecutive success at the MXoN.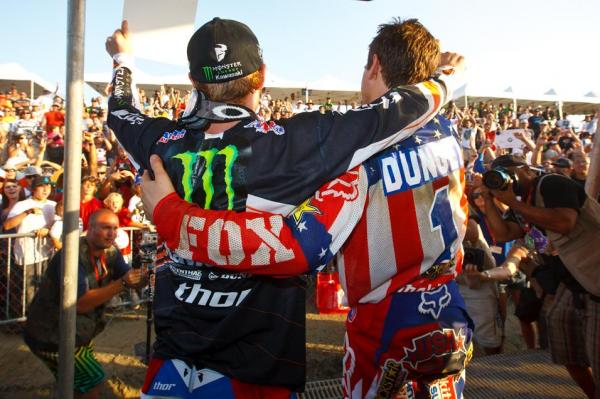 The Ryans and Team USA are the heavy favorites in France.
Photo: Simon Cudby
If you want to watch the MXoN live, tune it to www.mx-life.tv and get yourself signed up for the pay-per-view online. They will show tomorrow's heat races, followed by the three main events on Sunday. You can also check out the films we're working on with www.vurbmoto.com on their site as well as Racer X Online. And for info all weekend long, tune it right here to www.racerxonline.com.
Okay, because I got here late, I turned on the tape recorder and got a preview from one man—The Man. But before I do, here are the wildest rumors circulating the pits here in France—none of which I have any info on, so take ALL of this with a grain of salt:
Dean Wilson has a sore wrist, but it's been sore since before Pala, so he's going to be fine. James Stewart to JGR, but on Suzukis now. Mike Alessi also to Suzuki, but on his own team. Justin Brayton is already loving his new deal with Honda. RV is still wearing an FMF pipe. Ben Townley is hoping to get a ride in the States (actually, that's directly from him), but Josh Grant is said to be Honda/Larry Brooks/Jeremy McGrath's guy, and Team Kuwait, the very last team to enter, has zero chance to win this thing. Tyla Rattray and Broc Tickle on a new 450 Monster Energy-backed, Pro Circuit-powered 450 squad, but Josh Hansen will be riding for Hart & Huntington. Darryn Durham does have a Monster Energy/Pro Circuit Kawasaki deal, but it did not get signed before Mitch Payton left for France. And Mitch is staying with Pro Circuit.... Okay, last one not a stretch. Ryan Dungey is orange on Monday, period.
Okay, here's my talk with the winningest rider and team manager in the history of the MXoN, Team Belgium racer and Team USA Manager Roger DeCoster:
Roger, how has it been working with Ryan Dungey again?
It's been really good. As you know, I did not stay with Suzuki and it was difficult for me to leave Suzuki and also for Ryan, but we finally had a chance to talk about it now. Some of the bad feelings, many time they came from things that people say that are not true or they may have heard, but I don't think those people were telling the full story. Things didn't work out for me at Suzuki but now we're back together, working for Team USA, and it's been really good to work with him again.
Who are you getting help from with Suzuki over here?
Sylvain Geboers is helping as always. He is one of the smartest, coolest guys in the sport, and he has a great deal of knowledge to share. He is a really genuine guy, and he always helps us over here.
What about the support Blake Baggett is getting for Kawasaki? With Jan De Groot gone now, sadly, he was someone who always helped Team USA out.
There are several Kawasaki teams here in Europe that have been helping Mitch [Payton] out, so we are good there, and we always have the help and support from Alpinestars, and that helps us a great deal over here. They practically treat us all like a Formula One team or something.
Do you worry that Baggett might struggle with the amount of time he's had on the track over here? He's never actually been to Europe!
[Laughs] Yes, but compared to the time he gets at a U.S. supercross or outdoor national, he will have more than enough time—maybe too much time. By the time the weekend is over, it may seem like he will have too much time!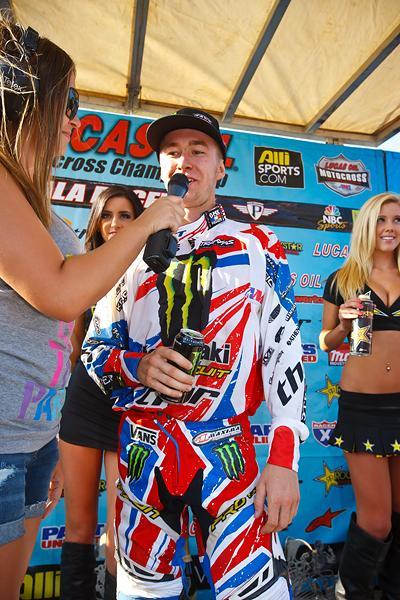 Baggett is the third memeber of Team USA.
Photo: Simon Cudby
He will likely see some familiar faces out there in the MX2 class, right? Dean Wilson, Marvin Musquin, Tyla Rattray.... But the other guys—the Ryans—the only guy left to compete, it seems like, is Tony Cairoli.
Yeah, and Tony, I am not sure Italy has much of a team because of injuries and all, but I know Tony would really like to win this finally. He lost his mom last week. I got to know him a little bit recently, and he's a really good guy—no BS whatsoever. Tony's a really serious guy, he loves motocross, and he's a big fan of racing in the U.S., but I think it's too late for him to come over now because he never really did supercross, but I'm afraid it's too late. I advised him to come over and practice, but I think racing at this point would be really risky. If you don't start really early … well, I haven't seen anybody make the transition well.
Finally, what is the strategy for Team USA this weekend?
The strategy is for us is not to beat ourselves. We just need to go out there and take care of things. It's been really great to see the two Ryans being friendly and working together and just really focused on the job they have together. I think they will do just fine. I am happy to see them hanging out together after racing so hard with one another after such a tough season, in both SX and MX. That's one thing that really impresses me about the American riders: they become teammates when they come to the Motocross of Nations, and they work together to win, and it shows in the results.
Good luck this weekend, Roger, and thanks for helping Team USA, year in, year out.
Thank you.
Okay, let me turn it over to the rest of the guys here and get back to the hotel and some bench-racing/sleep. Here's my list of the 10 Greatest American Moments of all time.
First up is Weege.
The good news is once the racing starts (and in Europe, that means tomorrow, because they hold actual qualifying races on Saturday and the main motos on Sunday), we'll have quite a unit ready to go with reports and info from "over there." DC and Steve Matthes will provide commentary, while our regular GP reporter and shooter, Adam Wheeler, will provide race reports and pics. All three of these guys know the U.S. and GP scenes well—heck, both DC and Matthes headed over to GPs earlier this year just to do some scouting for this event. Our crew knows the race, knows the riders, and knows what's going on. So will you.
You can help yourself follow the show by watching it live online and following live timing and scoring.
Go here for Live Timing & Scoring.
Go here to watch the races live on the web.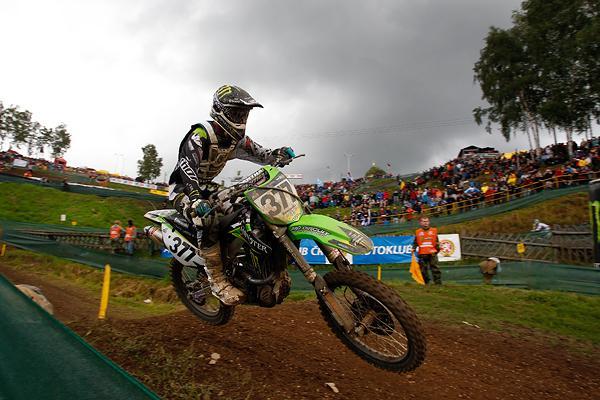 Can Pourcel lead France to victory in his home country?
Photo: Ray Archer
And here is the schedule for the races. Keep in mind France is six hours ahead of Eastern U.S. time and nine hours ahead of Pacific. So get up early each day to follow it all.
Sat Sep 17, 2011 (Based on Eastern Standard Time)
06:00 - LIVE Motocross Of Nations Live Studio Show
08:20 - LIVE Qualifying Race MX1
09:20 - LIVE Qualifying Race MX2
10:20 - LIVE Qualifying Race Open
Sun Sep 18, 2011 (Based on Eastern Standard Time)
07:00 - LIVE MXON Race 1 (MX1 + MX2)
08:30 - LIVE MXON Race 2 (MX2 + Open)
10:00 - LIVE MXON Race 3 (MX1 + Open)
11:15 - LIVE Exclusive interviews
All the times are relative to your computer clock (GMT-0400)
In addition, Racer X has teamed with our friends at Vurb Moto to put together videos and galleries throughout the weekend. They have already put together quite a few things:
http://vurbmoto.com/theatre/mxon-2011-preview/6962/ (Preview Vid)
http://vurbmoto.com/theatre/taking-world-day-1/6980/ (Practice Vid)
http://vurbmoto.com/media/uploads/darkroom/2011/20110915-mxon-2011-team-practice/mxon-2011-team-practice-12_latest.jpg ( Photo Gallery)
http://vurbmoto.com/darkroom/calm-storm/6988/ (Photo Gallery)
Your best move is to stick with our website and our Twitter feed (@racerxonline) and you'll get all the links and all the news you need.
Now, maybe you're wondering where we make connections with folks like Vurb Moto and other sites. Well, you'd be surprised. Last year we held the first Racer X Amateur Film Festival, and the winner, DS164Edits' Danny Stuart, ended up becoming a regular part of our Racer X Films crew on the Racer X Motocross Show. It pays to dream, people.
Well, it's that time of year again: the 2nd Annual GoPro/Racer X Amateur Film festival has begun! Submissions are now being accepted for our yearly motocross video contest, and it's going to be killer. Our friends at GoPro, Answer Racing, MSR, and Pro Taper have pitched in to help us create unbelievable prize packages, and and we're even going to hire the winner to do an exclusive video for Racer X Online.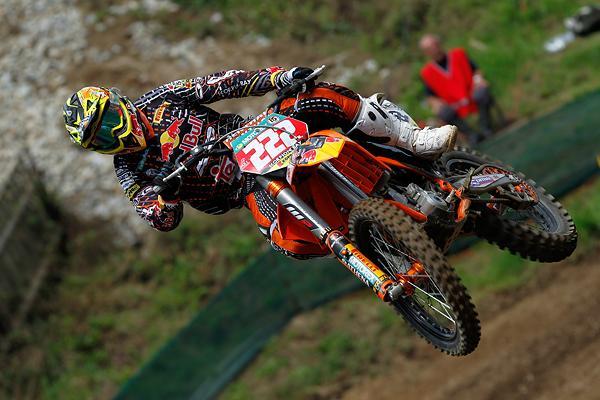 Cairoli will do battle with the Ryans in France.
Photo: Ray Archer
Learn more about the 2011 GoPro/Racer X Amateur Film Festival here, and please pass the word on to your friends and relatives who are into action sports and videography. This opportunity only comes along once a year!
Now, just because you enter (or even win), this comp doesn't mean you'll be working for us next year—but it's certainly a good way to get your video skills out in front of the industry. Good luck.
Okay, let's talk about the actual racing part at the 'Nations. As always, most of us based in the U.S. are a little geographically biased, basing our chances to win mostly on the strength of Team USA. Truth is, Team USA's performance doesn't matter so much if the other nations have trouble putting three strong riders into the event, which is usually an issue. You can argue forever about which nations produce the fastest motocross riders, but when it comes to depth, Team USA is usually able to come up with a strong team no matter what, while one injury can derail everyone else.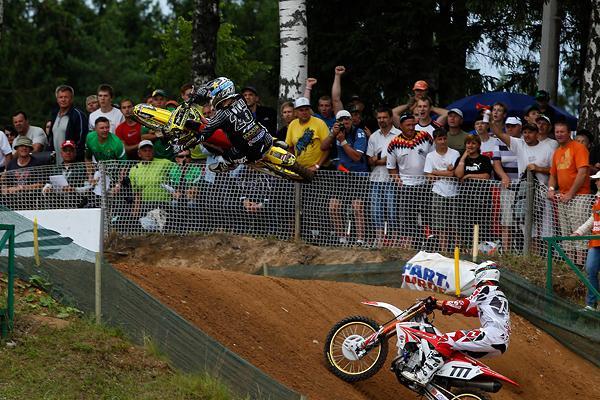 Team Belgium took a big hit when Clement Desalle was sidelined due to injury.
Photo: Ray Archer
This year that's certainly the case, with Belgium, France, Italy, and Germany losing their best-ranked MX1 riders to injury (Clement Desalle, Steven Frossard, David Phillpearts, and Max Nagl). Only France is able to find a replacement on the same level in Christophe Pourcel, and that's why most believe the French can still give Team USA a fight. And Australia has all three riders they wanted in Chad Reed, Brett Metcalfe, and Matt Moss. For some reason, though, Oz seems cursed at this event. Maybe not this time?
Other nations have one or two fast riders, but three is a challenge. Last year, when
Ben Townley
took
Andrew Short
down, Team USA was in trouble. The Germans held the advantage heading into the final moto based on the strength of Nagl and
Ken Roczen
. But their third rider, Marcus Shiffer, while good, wasn't going to be able to go out and win a moto for the team. That's what strikes a lot of the comp—winning a moto or a class with your best guy is achievable. Having all three riders log great results is difficult.
But let's not forget, along those lines, all the great individual battles that will shape up this weekend. We'll see match-ups this weekend that we won't see anywhere else, like Dungey, Reed, Tony Cairoli, Pourcel, Tommy Searle, and Tyla Rattray in MX1. And a brewing 250 battle with Dean Wilson, Blake Baggett, Ken Roczen and Marvin Musquin. This is going to be good!
So among the team battles, watch the individual ones, as well. We all know a little AMA versus the GPs duel can light a years worth of bench racing.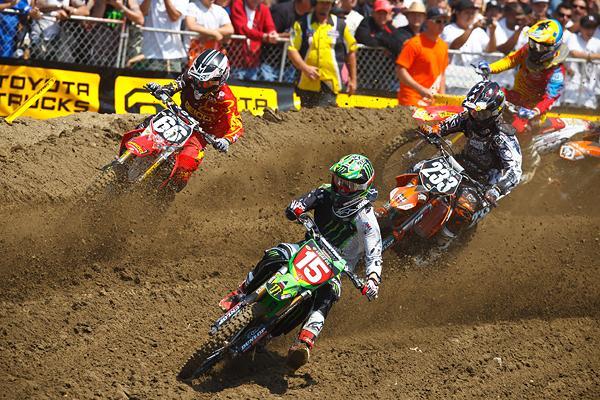 After wrapping up his first career AMA Motocross Title Dean Wilson will lead Great Britain at the MXoN.
Photo: Simon Cudby
Here's a letter we got this week from a reader named Glenn:
"Pascal Bal of Belgium won the FIM World Vet Championship MX series in Gaildorf. He operated on a shoestring budget and could not afford to make the USGP at Glen Helen. He was the only Vet without a backup bike. But amazingly he won the Championship riding a YZ 450 at the Netherlands race but switched to a YZ250 two-stroke and won the Championship. Unfortunately none of the magazines even reported on the results. Maybe you could give the guy a mention in your Racerhead."
Consider it done. Now, here's Ping:
The Go Pro Crossover Challenge blasted off last week in conjunction with the national and, as you might imagine, the Pala course had everyone a little nervous. The jumps were peaked up—particularly the two doubles on the finish-line straight—and at least a few of the surfers, skaters, skiers, snowmobilers, and BMX guys hit them with a little too much throttle at times. We joked that a couple of the guys (yeah, I'm talking to you, Peanut and Tony) tripled the finish-line double. It was easy to do. Trust me.
Shaun Palmer, Daron Rahlves, and the rest of the adrenaline junkies who showed up had a good time, and as far as I know everyone made it out relatively unscathed. Of course I didn't stick around for the post-race party, which was rife with Pabst Blue Ribbon, so maybe I'm speaking too soon. 
Running in conjunction with the Crossover event was the media challenge, which was an all-125 affair this year. We had a great group of editors show up and a few special guests including Grant Langston, Phil Lawrence, and Billy Laninovich. It was really fun to hear a pack of 125s on the track again. I don't want to get into a debate here, I'm just saying it was a lot of fun and hopefully something that continues as the Crossover Challenge (and media event) moves forward.
Josh Hansen is hard to miss when he's going riding. Aside from the PC Kawasaki, Hanny has one of the most unique trucks I've ever seen. It looks like he parked it down at the LA Coliseum for about a week and then picked it up and drove it home. I kind of like it.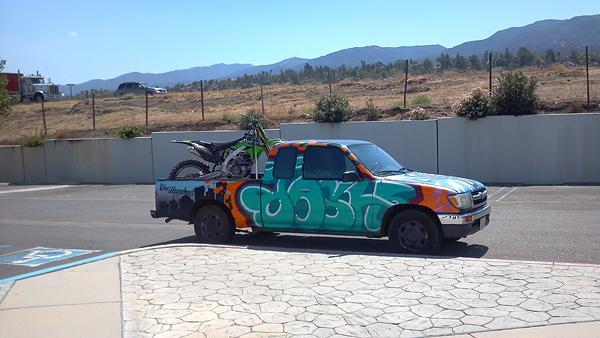 We've attended a couple of 2012 bike introductions recently. Multi-time national motocross champion Mike Kiedrowski came out to help us shake down the new Honda CRF250 at Piru Raceway. Mike has been busy working on a new career, but he still gets out and rides occasionally, and he hasn't lost much speed. He loved the new Honda and was amazed at how well the bike handled right out of the crate. Check back for the video that Matt Francis made with the MX Kied soon.
Yamaha also released their 2012 lineup to the media. Our test rider Phil Lawrence put each of the YZFs through their paces and gives his thoughts in this Matt Francis video. "Factory" Phil can still get down, as this Matty Fran photo clearly shows. Not bad for a 40-year old.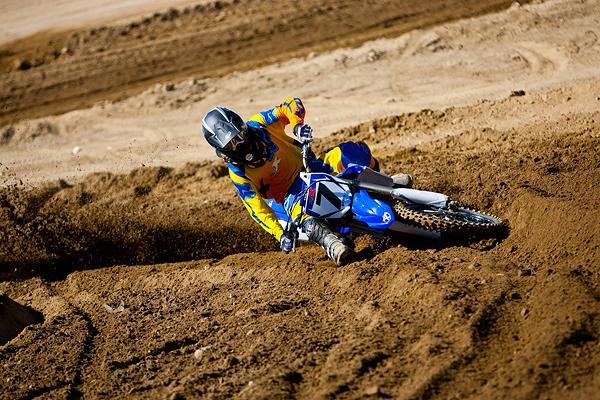 Now here's Matthes, live from France:
Bonjour from Paris! And if you check the date, you'll realize that I'm not here for the Bercy SX, so it has to be Motocross of Nations time. I've been here at the Novotel in Bercy (thanks, Xavier!) for the last couple of days hanging out next to the grass-walled arena and taking in the sights of Paris. I've been here a bunch before but my lovely wife, Angie, has never been to Europe, so seeing as how she is with me, I'm trying to give her the whole Paris experience.
And we just got back from the shops on the Champs Elysee and I'm feeling it. My wallet is struggling. It feels like it just went twelve rounds against Tyson. We're now getting ready to head to the town of Saintes, where our hotel is, and then it's MXoN time for the next two days. I may or may not even run into DC when I get there.
By the way, thanks to Team Aussie and Chad Reed for hooking me up with a hotel room for the weekend. By the time I finalized everything, there was nothing really available for me. Luckily, Australia had a few extra rooms, and even though I'm paying for it, I'm thankful to even get a room. Seeing as how Canada doesn't have a team this year, perhaps this generosity of the Aussies could sway me to their side. After all, have you ever seen all the people with Team USA garb at one of these MXoNs? Trust me, they don't need any help in the cheering section!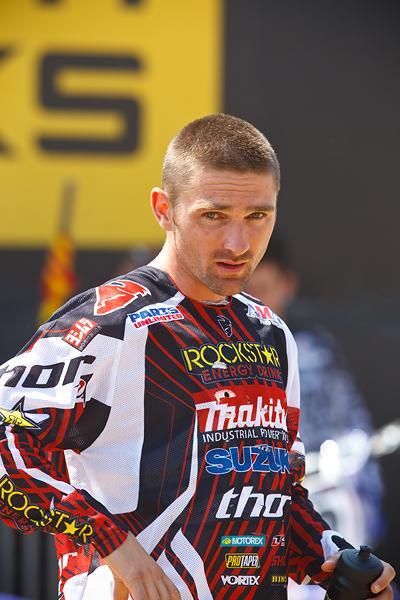 Team Australia will need a big weekend from Metcalfe if they want to challange the USA and France.
Photo: Simon Cudby
And really, despite producing world-class talent like
Chad Reed
,
Brett Metcalfe
,
Michael Byrne
, the late Andrew McFarlane and others, Team Yellow and Green's best result at the Olympics of MX is still the '88 team team of Jeff Leisk, Craig Dack and Glen Bell who secured the fourth spot. Yes, you heard it right, Australia has never made the podium at the MXDN and that folks, is amazing.
You know what? Hotel room or not, I think this is the year it comes together for the guys. Reed, Metcalfe, and Matt Moss will be strong and with Germany, Belgium, and Italy weaker than normal, I think it's prime time for the Aussies to grab a spot on the box.
Barring disaster, though, it will be Team USA and France duking it out on hills in France. It should be a great race. I will be working the Twitter for Racer X most of the weekend so stay tuned to that. I'll also have my own account going (@pulpmx) so follow both and get the news of the weekend.
Okay got to go. The Pulpmx Show will be back next Monday to talk all about this race and whatever else Kenny wants to talk about.
Thanks, Matthes. And since it's Motocross of Nations time, Jason Weigandt's rich old English uncle Lord Alfred Weigandt just had to check in with a prediction. He's been doing that on this website for at least ten years, and he's almost always wrong—but it's usually a fun read. Here we go!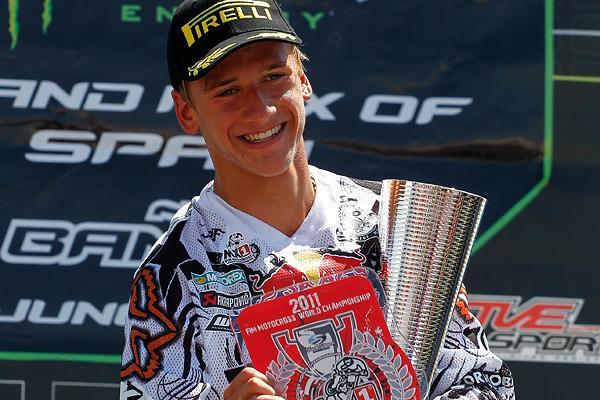 MX2 Champion Ken Roczen leads an injury riddled Team Germany into France.
Photo: Ray Archer
Oh 'ello! Lord Alfred Weigandt here saying to ignore any twits who claim to be me on Twitter, and to pay attention to the words I say here. Trophy des Nations is here this weekend and with it another glorious opportunity for Team Great Britain (the only team, I remind you, with an adjective like great in the team name) to reclaim its rightful spot atop the motocross world. The mighty Brits won the first ever running of this event in 1947, and I believe we shall do the same this year!
Our team consists of new American dominator Dean Wilson in MX2, along with previous American star Tommy Searle in his long-awaited 450 debut, and the very capable Brad Anderson in the Open division. Unlike most teams, which are assembled mid-stream and not without some controversy, the 2011 British squad has been carefully groomed through the years just for this moment.
You think it was an accident that Tommy Boy spent two years in the U.S. before coming back over to Europe this year? Please. The lad took down very careful notes regarding the tendencies of American riders, and then shared this intelligence with his team. And oh, don't go hoping that the Yanks were able to gain similar information from Tommy. Mates, you can't teach intelligence! Tommy Boy has it and he will use this information to the team's advantage this year. Factor in that with his refound form on European-style tracks, and he should be unbeatable this year. I'm very excited, in addition, to see Tommy Boy and Tyla Rattray reacquaint themselves with, um, themselves this weekend, only now on 450s. Their tremendous 2008 MX2 battle has still left scars across the Continent. I expect the intensity of this battle to carry them forward as the class of the 450 field.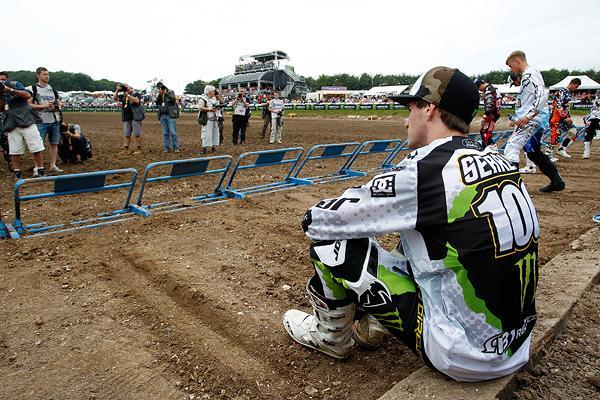 Tommy Searle will be on the 450 this weekend for Great Britain.
Photo: Ray Archer
But oh, the Yanks say they have Ryan Villopoto and Ryan Dungey? Well, consider that at the final race of their season, 250 rider Justin Barcia used his Paris-Bercy 450 experience to very nearly beat them both! And Barcia wasn't even on the same level as Mr. Wilson in motocross. Translation: Wilson will win the overall in both of his motos this weekend! Yes, avenge O'Show's ride at Maggioria! I for one can see why Mr. Villopoto was upset about being demoted to the MX3 class in favor of Dungey. He knows now he'll be facing the Hot Scottsman straight away in the first moto of the day.
Dungey will lock horns with his future competition in moto two—and the future is now, Mr. Dungey! You shall not luck into wins this time. We know well he only rode to victory last year due to a home track advantage, and he was profoundly beaten by both Antonio "Super Tony" Cairoli and Chad Reed at this race in 2009. A first-turn crash wiped out Super Tony and Super Chad in their second moto, but now back in Europe, these two will be back to their old tricks—showing Dungey the short way around the course.
Yes, the talented Mr. Reed shall be a factor, as well. First, he helped pay back an Australian debt to his true homeland by helping Dean-O win the American Championship. And, as they say, Good On You, Mate, for hiding your true speed in the last few American races to plan an attack here. And not to worry, we don't have any of those massive Stadium-Cross style jumps here on the Continent. Reedy, Metty and Mossy? That's the bees knees and the mutts nutts there! Aussie Aussie Aussie! Colony colony colony!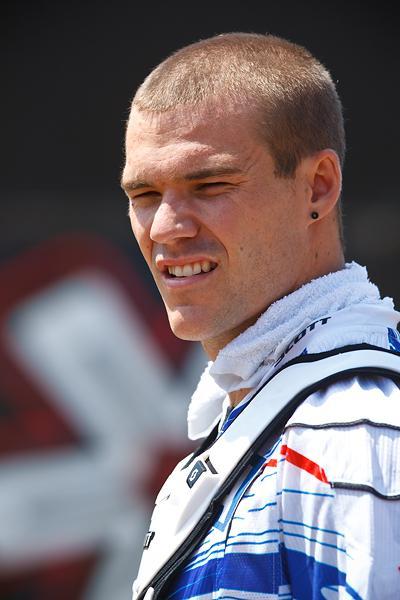 Gareth Swaenpoel hopes to lead South Africa to a spot on the podium.
Photo: Simon Cudby
Very excited about this weekend, with one caveat. The home track advantage to the French could open up a sad situation in which the Tricolours reign atop the podium. An old Englishman like myself would not be happy with this situation, however, methinks nothing would sour the American attitude for this race more than to see a man they rejected, Christophe Pourcel, dominate them and lead them to a loss against a hostile crowd. Oh, bloody brilliant. So for this one, I'll side with the home team if needed, but that's only for desperate times. With Team GB and Team Aussie coming on strong, I'll only really be rooting for the French to keep Team USA off the podium!
Okay and that's Alfie. A few more notes.
Props to Troy Lee Designs artist Hitoshi Takano who painted the TLD MXoN helmets we posted as wallpapers earlier this week.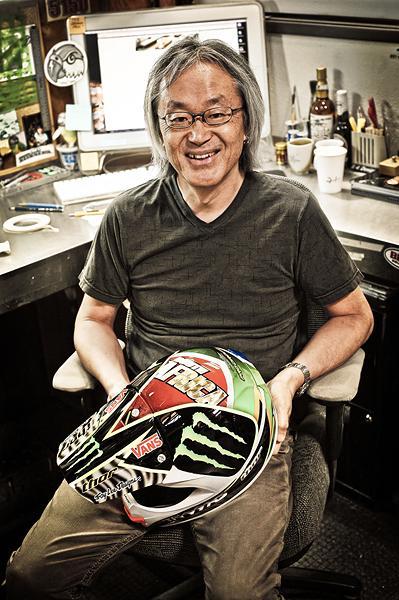 Here's our own Julie Kramer:
Last weekend I participated in my first (and definitely not my last!) Warrior Dash, and it just happened to be at Area 330 MX in Carrolton, Ohio.
According to their website, the Warrior Dash is a mud-crawling, fire-leaping, extreme run from hell. This fierce running series is held on the most challenging and rugged terrain across the globe. Warriors conquer extreme obstacles, push their limits and celebrate with kick-ass music, beer and warrior helmets.
The course was 3.1 miles all over the Area 330 property, and we had to encounter twelve different obstacles like the Deadweight Drifter (trudging through waist-deep water and climbing over logs), the Cargo Climb (climbing up and over a wall of cargo nets), the Warrior Roast (jumping over fire) and last Muddy Mayhem (crawling through a pool of mud under barbed wire). Muddy Mayhem was definitely my favorite—we crossed the finish line covered from head to toe in mud!
If you're looking for a challenging and fun event—and a hell of a party—check out www.warriordash.com and look for a dash near you. Anyone in for Budds Creek next May?
Check out this Military History Magazine (DC's kind of deal) with Steve McQueen on the cover: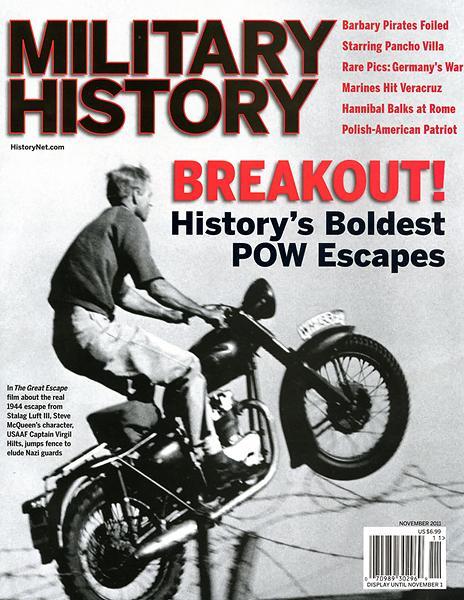 And we got this wild information: fan favorite Nick Wey and 1989 125 Supercross Champion Damon Bradshaw will compete in the first annual Idaho Supercross event. Bradshaw has an impressive 25 AMA Supercross wins and 10 AMA Outdoor National wins.
For detailed event information please check idahosupercross.com
We've heard rumors about this Idaho race for a while now, but this is the first I've heard of Wey competing. As for Bradshaw, the word was out that the Beast from the East would race this one, and all weekend at Pala, a target was pointed directly at Idaho's own Jake Weimer to take on Bradshaw in his home state. Yeah, most of the work day last Friday was spent teaching Jake some Bradshaw history. But did you know when Jake was coming through the minicycle ranks, Bradshaw once threatened to break Weimer's leg? Classic Bradshaw. Anyway, if Jake wants to extract some revenge he could go up there and take on Damon. At his own risk.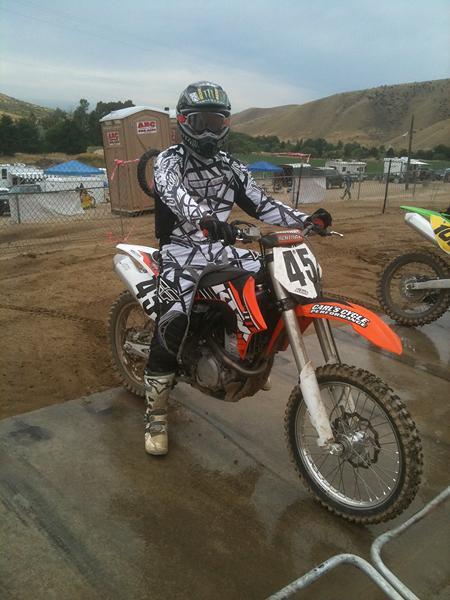 The "Beast from the East" Damon Bradshaw will be racing the Idaho SX.
Oh yeah, Pala. There was a big race over the weekend, but by now you've surely read everything there is to know about this event via our Race Report, The Moment, Observations, Sign of the Lap Times, Redux, Between the Motos, Open Mic, Monday Conversation, Notebook, and other outlets. We've covered that deal—this weekend it's time to enjoy the spectacle and celebration that is the Motocross of Nations.
Thank for reading Racerhead, bon boyage, and "Allez les Etats-Unis!"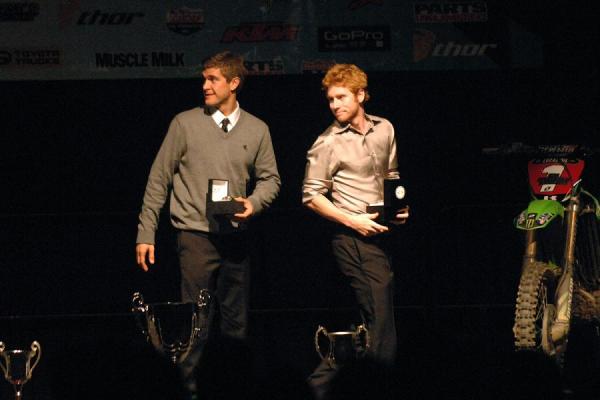 Photo: Carl Stone