St. Jean d'Angely
St. Jean d'Angely

,

France
Motocross of Nations
Motocross of Nations
10. ANYTHING CAN HAPPEN:
Luck plays a bigger factor at this race more than any other, because it's one day of racing for glory, instead of a series. Each team does get a throwaway score, but sometimes that's not enough. Back in 2000, the St. Jean D'Angely circuit also hosted the event, and the home French team was a favorite with USA race winners Stephane Roncada and Sebastien Tortelli on board, as well as 250 GP Champion Fredric Bolley. But Bolley was struck in the face with a rock in practice, breaking his nose and eliminating him from the event. With that, France's hopes were gone. Yes, anything can happen at any time at this event.
9. JET LAG: On Sunday, the top riders based in the U.S. were celebrating their season in California at the Lucas Oil AMA Pro Motocross Championship Awards Ceremony. The next day, most were already headed to Europe. Rarely does this race fall the very week after the last AMA National, and a lack of testing and training time, as well as big time-zone shifts could hurt anyone not based in Europe already.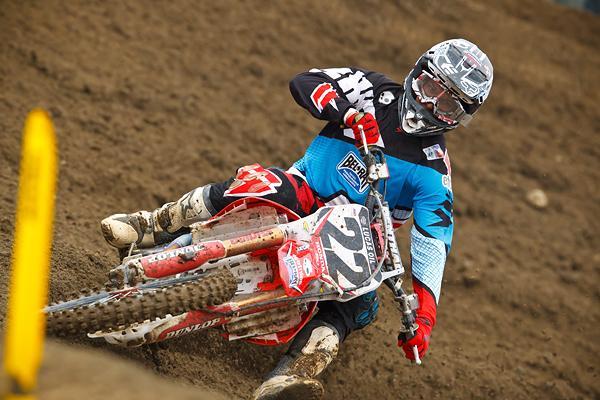 Chad Reed leads Team Australia into France.
Photo: Simon Cudby
8. BAD TIMING:
But, the GP tour only concluded last weekend, as well. And injuries at that race proved costly, such as to Team Germany's Max Nagl, who was fighting for second in the final standings but suffered a broken wrist. Also, Antonio Cairolli skipped that race due to the death of his mother. Will Super Tony be motivated to race this weekend?
7. THE CROWD: Nothing quite pumps up a crowd like a battle for national pride, and it will be on this weekend. 'Nuff said.
6. AUSSIE ATTEMPT: While Australia's international MX fortunes have definitely improved in the last decade, their MXoN results have not. Crashes and bad luck seem to ruin the team every time, like when Andrew McFarlane was knocked out of the '07 event before he even made it into the first turn of the first moto. Or when Michael Byrne got tangled up in mid air in 2009, and Reed was wiped out in a first turn crash in the final moto. Look for Reed, Brett Metcalfe and Matt Moss to try to least deliver a podium, if not go for the win if luck finally falls their way.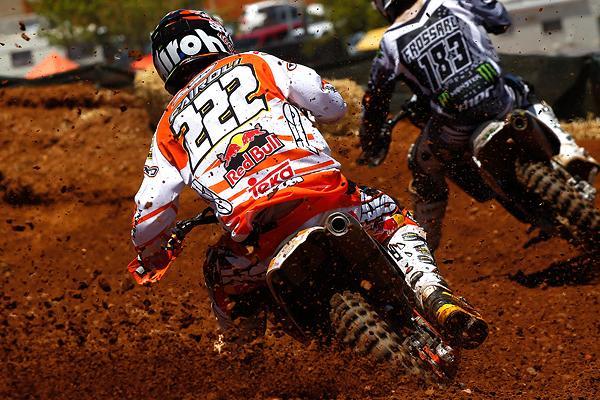 Can Cairolli lead Italy to victory?
Photo: Ray Archer
5. GATE PICKS:
This is a team race, and thus strategy plays a big role. Each team gets two gates in each moto, and each will have to decide which rider gets the good gate, and which gets the bad. Stick your MX2 rider on the inside and hope your 450 rider can pull through from the outside? Or so you just figure the 250 boys will be buried, anyway, and just have them make the supreme sacrifice? This will have a major impact on the results.
4. BIG BIKE DEBUTS: Shuffling lineups will lead to some interesting racing. Team South Africa, for example, will put 250 riders Gareth Swanepoel and Tyla Rattray on 450s for this event. English lad Tommy Searle is parking his 250 for a big bike. And young Dutchman Jeffrey Herlings, who finished second to Ken Roczen in the MX2 standings for 250s, is scheduled to ride the MX3 class on a KTM 350! No one knows where these riders should fit into the established 450 pack.
3. BAGGETT BOUNCE BACK: It may be no more than a mere coincidence, but the morning of the Unadilla National, Blake Baggett was named as the MX2 rider for Team USA. He has not won a moto since. His first-moto battle at Pala with Dean Wilson indicated El Chupacabra may be ready for a return. It needs to be, because Wilson, MX2 Champion Ken Roczen and homeboy Marvin Musquin will be ready.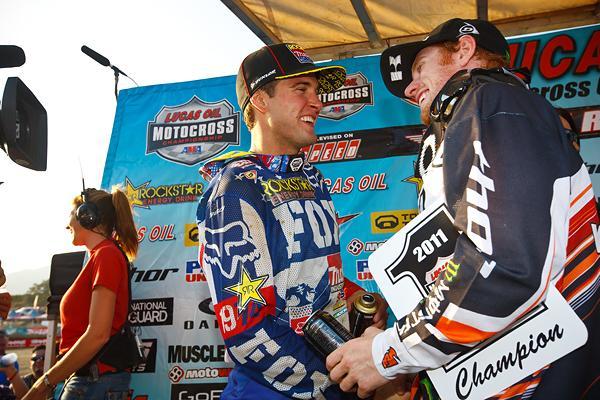 The Ryans lead the heavy favored Americans into France.
Photo: Simon Cudby
2. HOMECOMING: Injuries have stripped most countries besides the U.S. of hope, with the likes of Belgium (Clemente DeSalle), Italy (David Phillpearts) and Germany (Max Nagl) suffering. But even with their top rider injured, the host French team may be okay. Marvin Musquin has re-proven himself, and MX3 entrant Gutier Paulin just won last weekend's GP of Italy in his first 450 GP. But Paulin is no stranger to big bikes at this race, as he delivered a big blow to Ivan Tedesco in 2009. Steven Frossard was set to race MX1 after taking second in the standings, but a chest injury has knocked him out….in favor of Christophe Pourcel. If CP pulled the trigger here, a lot could change.
1. THE RYANS: Rarely has Team USA come into the event with two 450 riders so far at the top of their game, and so evenly matched. In the old days of this event, the top riders had to split a 250 and a 500. More recently, 450s have been accepted across the board, but often the very top of the AMA 450 MX Class features a rider from outside the USA. This time the Ryans went 1-2 in the U.S., and they are carrying momentum right into France. This could be scary for everyone else.