Let's just march out the cliché: Ryan Dungey won the battle but lost the war on Saturday at Pala Raceway, taking the 450 overall win with 2-1 scores but coming up 14 points shy of the 2011 Lucas Oil AMA Pro Motocross Championship. But he seemed happy, and not at all sad, about coming up short. After all, it was still a really good season. He spoke about it after the race.
Racer X Online: Great day, great season, but obviously you would have liked to have taken the plate. How was the day?
Ryan Dungey: Like you said, it was a great day. Lots of great racing. Long, hard fought season. It's a bummer that we didn't come out on top, but there's a sense of happiness, too. It was a lot of fun racing with Ryan, and I'm looking forward to racing him next year. Every race was hard fought. As a racer, you know, you go home and do your work every week and try to better yourself. It's a work in progress. This was definitely the most hard fought season of my career, and I think we did a great job considering what went on—and no excuses, it's racing.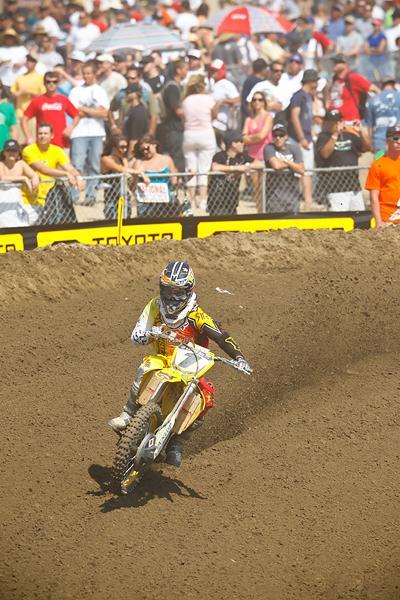 Dungey's overall at Pala was not enough to overtake Villopoto for the championship.
Photo: Simon Cudby
You seemed so relieved when the day was over. Were you just happy to get the win, or happy that the pressure of this season-long battle was over?
[Laughs] I don't know. Twenty-four motos, it's a long season, especially coming off of supercross, and it really takes a toll on the body. There aren't many breaks. I was just happy on the day, I think with everything coming down, it was good to end it this way. It's good to know I walked away and did everything I could. It's cool. To see Ryan [Villopoto], his wreck last year, you don't always come back from that. So a lot of credit to him and his team. I guess it's a little bit of a relief that it's over, but I'm really looking forward to going to the Motocross of Nations.
[Guy B of Vital MX asks the next question]
Ryan, any comment on next year's plans?
You're always asking me that! [Laughs] No, we'll see what next year brings. I'm just really happy on this year. Lot of challenges and adversity, but everyone pulled together and worked through it. I learned a lot, shoot, I wish I had known some of the stuff I learned this year last year. I'm really excited to get a little break after the des Nations and then get ready for 2012.
The previous big rivalry at the top of this sport was Chad Reed and James Stewart, and there was drama on and off the track with those two. It looks like somehow you and Ryan have been able to avoid that—it maybe got a little tense at times, but it never became a big issue. And then on the podium when it was over, you both seemed really happy.
I think there's a good amount of respect there. We grew up as amateurs, and even at the pro level, he's won some and I've won some. It's good. It's good to know that you can race a guy that hard and he's not going to clean you out. Like I said, there's a good amount of respect there. We race really clean, and it's nice for the fans to put on a good show like that. We want the sport to grow and get bigger, and I think 2011—with all the competition—was a good one to watch for the spectators. We'll see what 2012 brings, it will be interesting.
Over on the backside, one of the 180s, did I see some contact between you and Justin [Barcia]?
Yeah, actually up top, on that step up, I went to go inside and he overshot the turn. I thought he was going to go wide, so I got on the gas really hard, but he held on and I ran right into his footpeg. It put a hole in my stator, and I was leaking a little oil, so luckily I was able to finish. It was unintentional. Just good clean racing.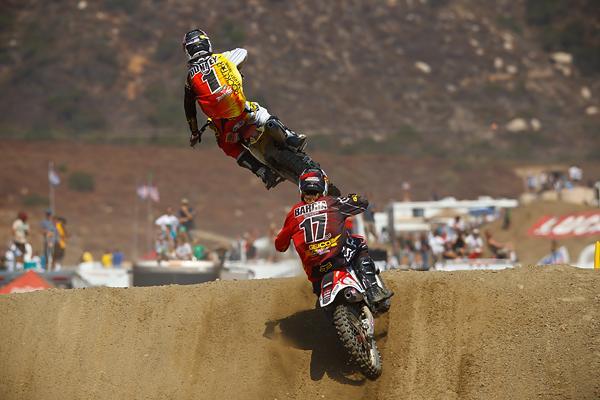 Dungey was able to hold off Justin Barcia for the overall.
Photo: Simon Cudby
Take us through those motos. Like Villopoto, you were getting rammed out of the gate both times.
Both motos, I just didn't get the best of starts. I had to come from ninth or tenth both times. I was able to work my way through, and me and Ryan kind of picked guys off on our way to the front. The first moto, we passed each other back and forth a few times. Second moto, a couple of guys went down as we were coming through. It was tough, it took a long time to go and get Barcia. I think Chad had a little bit of a fall. But it was nice to rebound, and it was nice to end the season with a win.
Did you run into Reed's bike in the first turn in the first moto?
I think I hit it. It was laying right in front of me and I knew my only chance was to go over the bike, or to go off the track into the haybales. I tried to go as far as I could to the inside, I think it did hit his bike, but I didn't run it over.
Did the same thing happen with Weimer's bike?
Actually, in both motos I ran over Weimer's bike! The first moto we were coming through the pack and he fell, and I was like, 'uh oh' so I just wheelied over his bike. He probably didn't like that, but I had nowhere to go. The second moto, like three turns in, I don't know what happened, but he went down, so I was like, "Well, I'm going to have to wheelie over it again." I felt bad, you know. But at that point it's either stop and pull your bike back, you know? You could lose a lot of time there. So I wheelied over it. Hopefully it didn't ruin his bike for the rest of the day.